The Tampa Bay Buccaneers defeated the Tennessee Titans on Saturday night, 30-14 continuing the second full week of preseason action in the NFL.
PFF's ReFocused series this season features immediate takeaways and a key to the victory from two Senior Analysts who graded the performance, watching every player, on every play of the game. For more data and analysis from the game, utilize our Premium Stats 2.0 dashboard to expand your knowledge on the key players, signature stats and much more.

FINAL SCORE
Tampa Bay Buccaneers 30, Tennessee Titans 14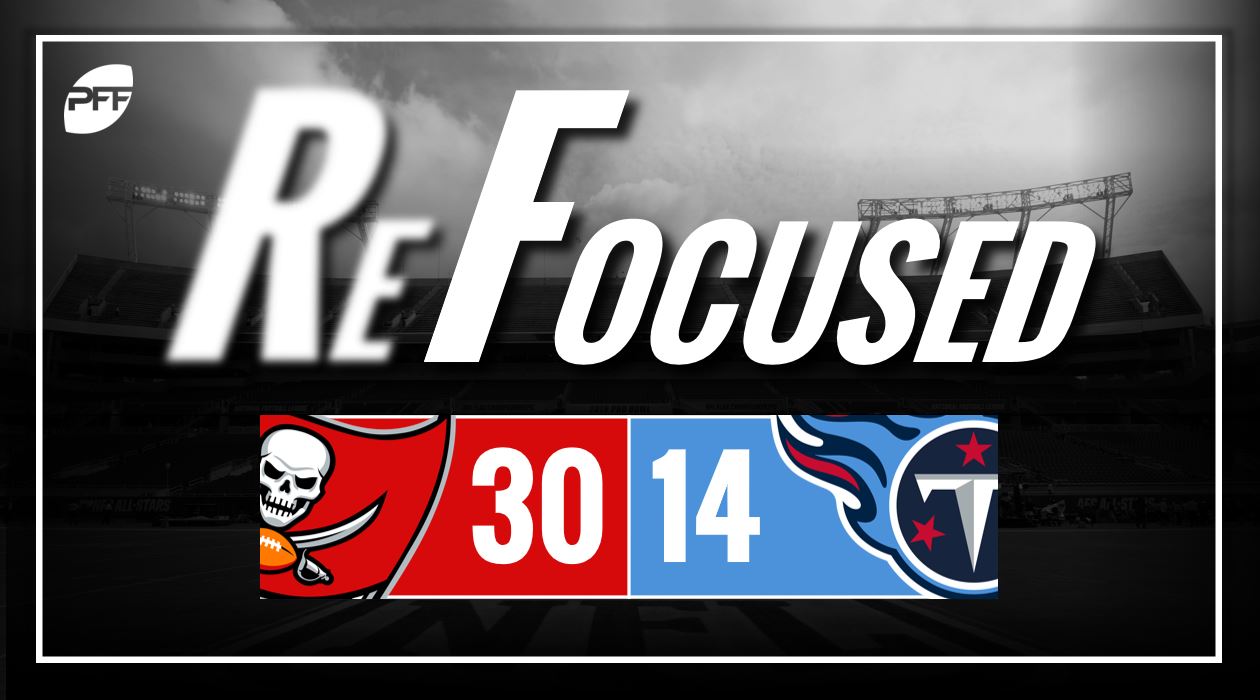 Analyst Takeaways

Four quarterbacks played in this one, but clearly Jameis Winston had the most control of the offense during his time on the field. He connected for two touchdown passes within 2:30 of each other including a perfectly placed back-shoulder throw to rookie WR Justin Watson out of Penn.
All is well that ends OK, but pass protection depth is likely going to be an issue. Despite just one unblocked sack on the stat sheet, there were multiple moments of quick wins and easy pressures only to go down as hurries due to the ball being out of Tampa quarterback's hands quickly.
Gerald McCoy has to love the new additions along the Bucs defensive line. His playmaking style used to be a liability at times because of the lack of playmakers around him. Now there is disruption up and down the Bucs front.
Jack Cichy is looking like a steal of a sixth-round pick. He couldn't stay on the field at Wisconsin with injury issues, but he seemed like the only playmaker on the Bucs defense after the first team left.

While Derrick Henry didn't do anything wrong Saturday night, Dion Lewis was clearly the more dynamic back. Lewis put All-Pro linebacker Lavonte David on skates in space as a receiver and was just as effective when running between the tackles.
Taywan Taylor's suddenness popped off the screen on both his touchdowns. He'll be tough to guard on the underneath route tree this season.
The Titans secondary couldn't really stop the Bucs passing attack, mainly led by Winston, regardless of which quarterback was on the field. However, the Titans front-four, led by Jurrell Casey, was more than enough on the pass-rush to constantly move the pocket and apply pressure, albeit against a lackluster offensive line.
KEY TO THE GAME
Tampa Bay: Watson's toe-tapping, back-shoulder catch near the end of the second quarter from Winston was the play of the game, and kept momentum on Tampa's side.
Tennessee: Taylor's early form this preseason is hopefully indicative of what we'll see in the regular season, as his offensive play was seemingly the only real highlight of the night for Tennessee.