Tavon Young led all rookie cornerbacks in overall grade (76.3) and coverage grade (75.6) in 2016, beating out the likes of Jalen Ramsey (72.8), Xavien Howard (61.0) and Eli Apple (58.9) among other notable names from the 2016 NFL draft class. Injuries combined with his switch to slot cornerback have slowed Young's development, but the Baltimore Ravens are confident he'll return to his 2016 form.
Per ESPN's Adam Schefter, Baltimore signed Young to a three-year, $29 million extension on Thursday, "making him the highest-paid nickel back" in the NFL.
Young's best tape, however, has come away from the slot.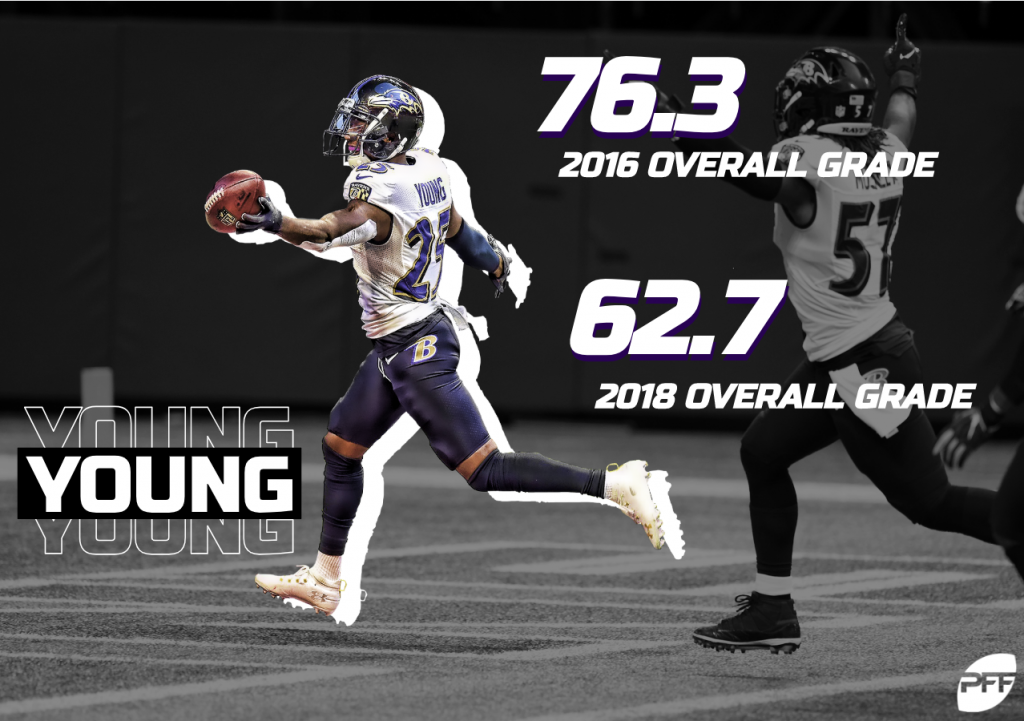 In his final two years at Temple (2014-15), Young earned an impressive 86.0 coverage grade across his 856 coverage snaps at outside cornerback, ranking tied for 18th among the 96 FBS cornerbacks with at least 600 coverage snaps played at outside cornerback in the two-year span. He also ranked fifth in forced incompletion percentage (17.4%), eighth in yards allowed per coverage snap and 14th in passer rating allowed (64.0) all at outside cornerback.
Young's success at outside cornerback in the latter years of his collegiate career followed him to the pros, as his high overall grade mentioned above was largely based on his play at outside cornerback with Baltimore in 2016.
In his debut NFL season, Young recorded eight forced incompletions and a 74.8 coverage grade across his 429 coverage snaps at outside cornerback. Conversely, he earned just a 66.7 coverage grade across his 99 coverage snaps in the slot in 2016, forcing zero incompletions in the process.
Forced to miss the entire 2017 season with a torn ACL, Young didn't get a chance to build on his stellar rookie campaign until this past season, but he didn't return to the field at the same position he left it; Baltimore moved him to slot cornerback.
Young played just nine coverage snaps at outside cornerback and another 355 in the slot in 2018. And while he did earn 65.0-plus coverage grades in six of his 15 games on the year, his performance didn't stack up well compared to his rookie season or the NFL's fellow slot corners.
Among the 42 cornerbacks with at least 150 coverage snaps played in the slot in 2018, Young ranked 28th in coverage grade (63.8) and 31st in passer rating allowed.
Young, of course, faced a steep learning curve in his transition to the slot having played just 18 coverage snaps in the slot in his last two years at Temple and 99 in his debut NFL season, and the fact that he was returning from a torn ACL didn't help things, either. His size (5-foot-10, 185 pounds) and current situation with Marlon Humphrey and Jimmy Smith still expected to play outside in Baltimore should keep him in the slot for the foreseeable future. Though he's the highest-paid nickel back in the NFL now, Young still needs a healthy offseason and added reps inside to take significant strides in now Year 4 of his career.