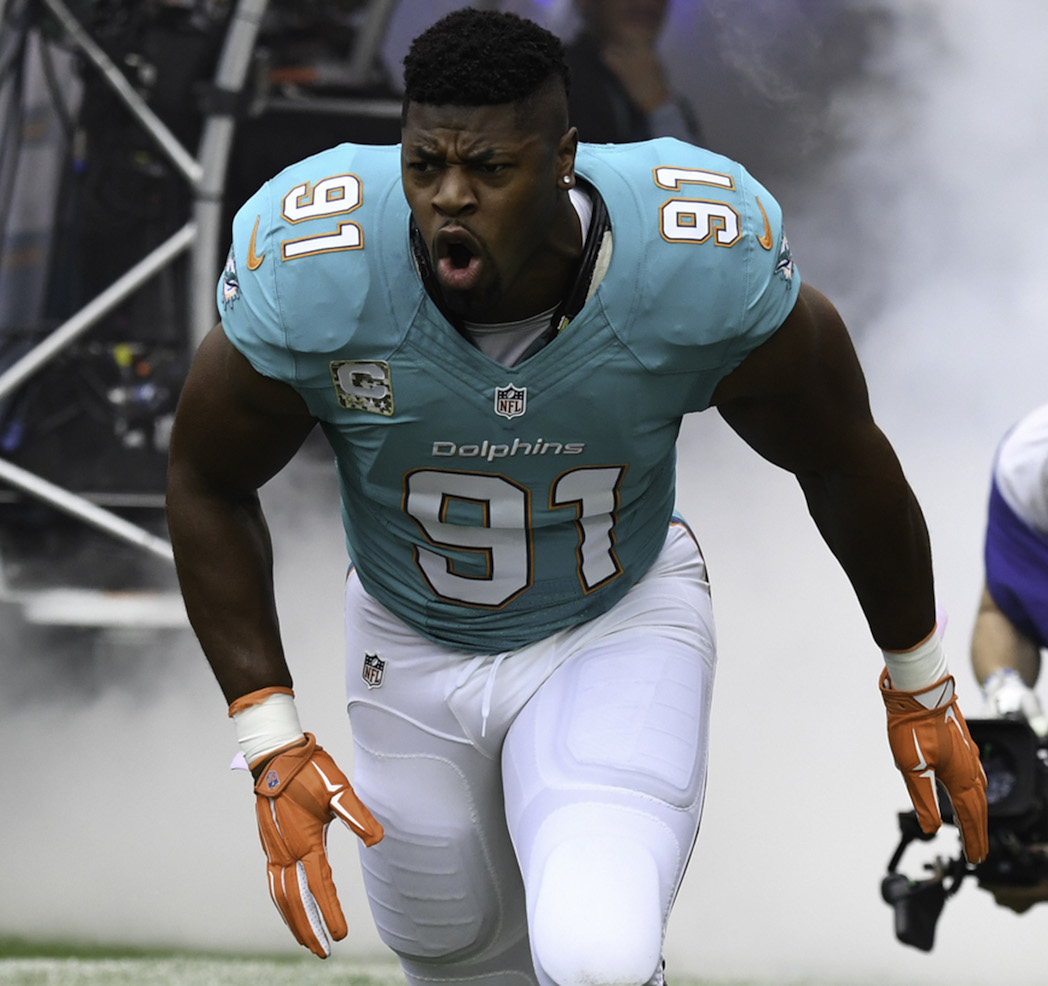 MIAMI GARDENS, FL - NOVEMBER 06: Cameron Wake #91 of the Miami Dolphins enters the field during player introductions before a NFL game against the New York Jets at Hard Rock Stadium on November 6, 2016 in Miami Gardens, Florida. (Photo by Ron Elkman/Sports Imagery/Getty Images)
We're through Week 7 of the NFL season and taking a look at how the rankings in another PFF Elite stat have come to form. This time, we're looking at the leaders in pass-rush productivity. PFF's pass-rush productivity measures pressure on a per-snap basis with a weighting toward sacks. Overall, it's a deeper dive into a player's pass-rushing efficiency that goes beyond just sacks and pressure rate.
Sacks can come in many different ways and are often luck based, so it's important to look at total pressures when evaluating pass-rushers.

Edge defenders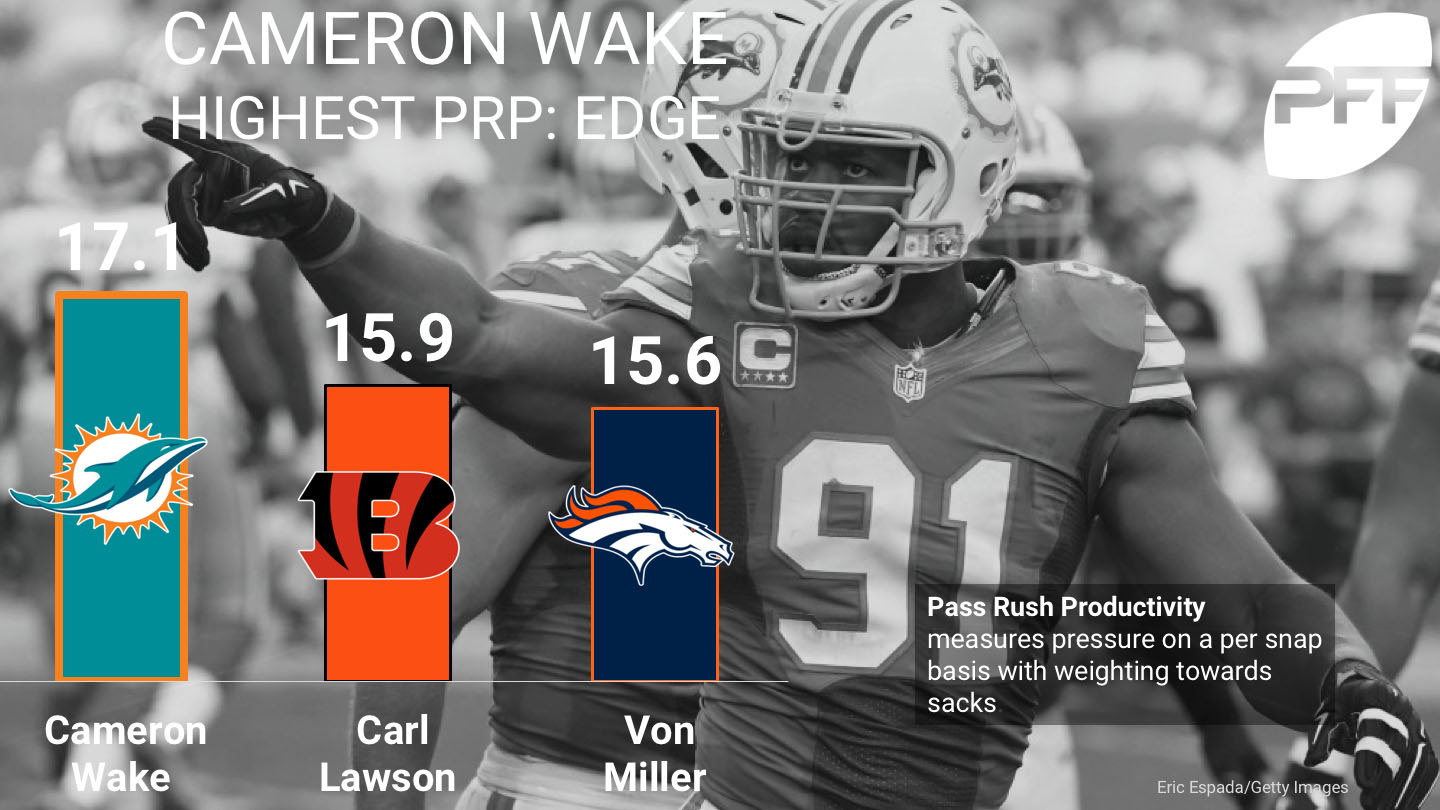 PFF Grade: 86.8
PFF Pass-Rush Productivity: 17.1
Wake has been the most productive edge defender getting after the quarterabck on a per snap basis in the NFL seven weeks into 2017. Seven of his 30 pressures have been sacks and since Week 2, the former Nittany Lion has been as consistently disruptive on opposing quarterbacks as any defender in the NFL, gathering at least four pressures in every game.
PFF Grade: 83.3
PFF Pass-Rush Productivity: 15.9
Lawson has not only been a productive rookie, but he has lived up to the first-round billing that PFF gave him coming out of college as our 14th overall player in the 2017 draft. Though three of his four sacks came in one game, he's been consistent, tallying at least two pressures in every game.
PFF Grade: 91.2
PFF Pass-Rush Productivity: 15.6
Like years past, Miller has been a force off the edge this season, tallying at least four pressures in every game except against Oakland. He leads all 3-4 outside linebackers with 35 pressures, tied with Chandler Jones through seven weeks.
PFF Grade: 87.6
PFF Pass-Rush Productivity: 15.0
Despite cooling off after an absolute tear to start the season, Lawrence still has accumulated at least one sack in every game this season. Speaking to that incredible start to his season, 26 of his 33 total pressures came in the first three weeks this year.
PFF Grade: 90.4
PFF Pass-Rush Productivity: 14.3
Ingram may have started off the season with six sacks in three games, but his play didn't drop off – if anything it's been more consistent. Teammate Joey Bosa gets a lot of the publicity from that defensive front in LA, but Ingram's 91.8 pass-rush grade that ranks first among all edge defenders.
Interior defenders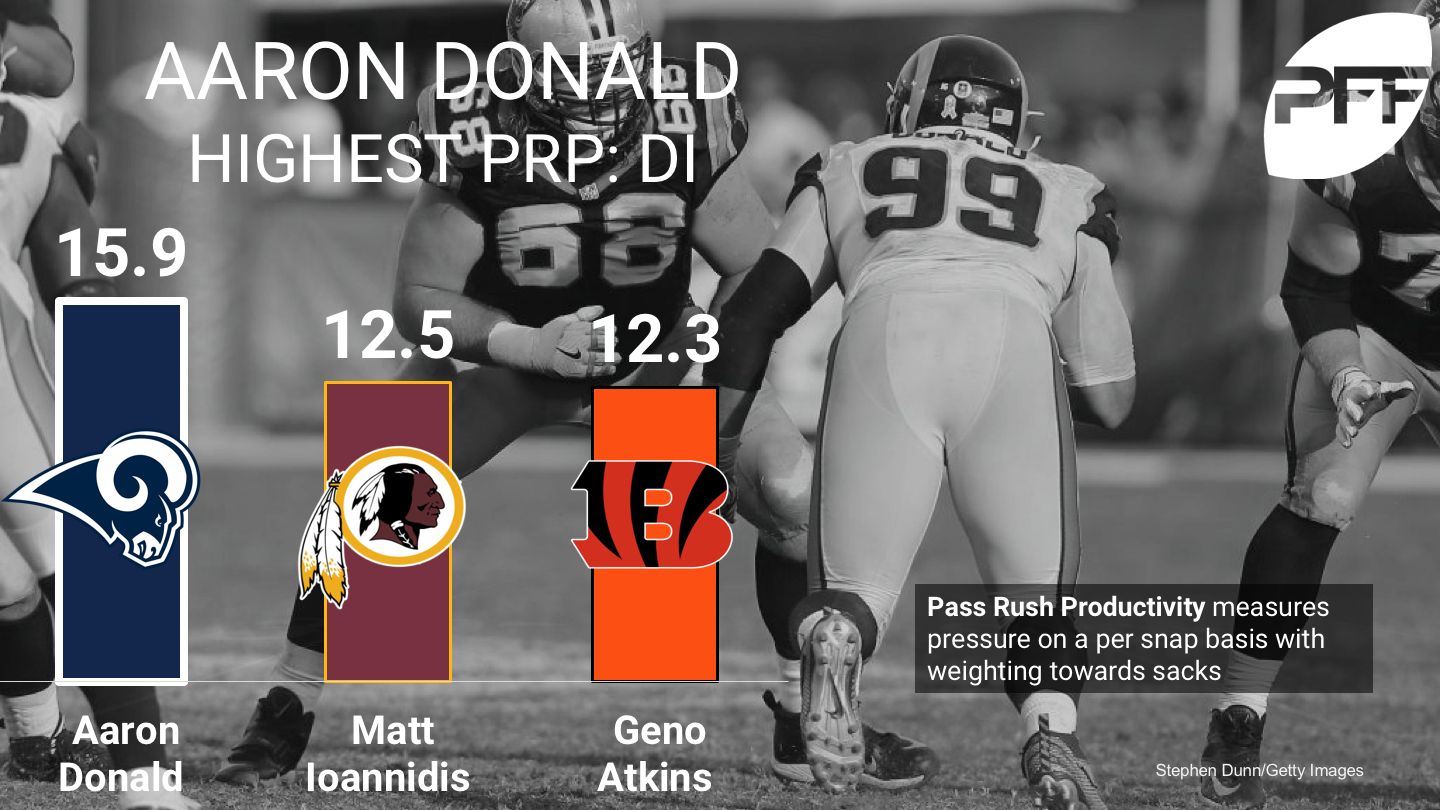 PFF Grade: 95.3
PFF Pass-Rush Productivity: 15.9
Donald has yet again proven why he's one of the best players in the NFL. In an era where getting after the quarterback quickly is as paramount as ever, Donald has accumulated 40 total pressures, three more than any other defender and nine clear of the next interior defender. His 94.8 pass-rush grade is far and away the best in the NFL with DeForest Buckner checking in at second with an 88.8.
PFF Grade: 84.2
PFF Pass-Rush Productivity: 12.5
Ioannidis is an unheralded name in his second year out of Temple as a fifth-round pick. From Weeks 2-6, he recorded 18 pressures on 104 pass-rush snaps including five against an impressive Raiders offensive line.
PFF Grade: 87.4
PFF Pass-Rush Productivity: 12.3
Atkins has flashed that dominance we've seen throughout his career this season with 26 total pressures. His game against Houston in Week 2 showcased how disruptive he can be as he racked up six pressures, including two sacks. Atkins has three or more pressures in all but one game this season.
PFF Grade: 87.3
PFF Pass-Rush Productivity: 12.0
Heyward has been fantastic both rushing the passer and stopping the run this season in what is on pace to be a career-year. What makes Heyward even more impressive is his 85.6 percent of snaps played is tops on this list, more than 5.0 percent ahead of Aaron Donald.
PFF Grade: 81.3
PFF Pass-Rush Productivity: 12.0
Allen was PFF's No. 2 overall prospect on the 2017 big board because his game film separated him from the strong defensive tackle class. Though he may be lost for an extended period of time, if not the season, Allen was hitting his groove tallying 11 pressures on just 66 pass-rushes over the past three games with Washington having carved out a specific role for him to get after the passer.