For teams looking to add talent to their receiving corps this offseason, the pending free-agent crop provides some intriguing options. Here we run down the list of the top wide receivers set to hit the open market in 2017.
1. Alshon Jeffery, Chicago Bears (77.6 overall grade in 2016)
Grading at an elite level in an injury-depleted 2015, Jeffery had high expectations under the franchise tag in 2016 that he didn't live up to. Injured again for four games this past season, Jeffery recorded a career-high drop rate of 8.77 and his lowest catch rate since his rookie year, at 56.5 percent. Also recording a career-low in touchdowns, Chicago quarterbacks threw seven interceptions when targeting the former South Carolina Gamecock. Jeffery just turned 27 years old, and when healthy, he can be a dominant wide receiver. Staying healthy, though, is key, and his injury history will dampen the market for him, but his ability and size will still land him a sizable contract this offseason.
2. Terrelle Pryor, Cleveland Browns (78.6)
Terrelle Pryor was grading as a top-10 WR before the Browns' bye week and Robert Griffin III took over starting duties. Pryor and RG3 never landed on the same page, and the wide receiver's production and grade took a hit, but the former Ohio State Buckeye still made the transition from failed pro QB to WR extremely well. Whether he stays in Cleveland or signs elsewhere, Pryor has shown to be a dominant force outside, and the sky is the limit for him if he has a stable quarterback situation. With remarkably natural hands, Pryor dropped just six passes (two in a game in which he tore ligaments in his thumb) and averaged 1.9 yards per route run over the first 12 weeks of the season.
3. DeSean Jackson, Washington Redskins (77.0)
DeSean Jackson continues to be a big-play threat player in the NFL, as he has averaged over 17 yards per reception each of the past three seasons, with his 17.9 mark ranking third in the league in 2016. His ability to take the top off a defense is still one of the best in the NFL, and presents a danger any time he is on the field. Jackson has never developed a complete WR skill-set, likely because he didn't need to early on in his career. Jackson will enter the 2017 season at the age of 30, so his production could decline, and his age will dampen his market. Regardless, Jackson still possesses game-changing speed and deep-receiving ability, and teams needing that extra element to their offense will come calling.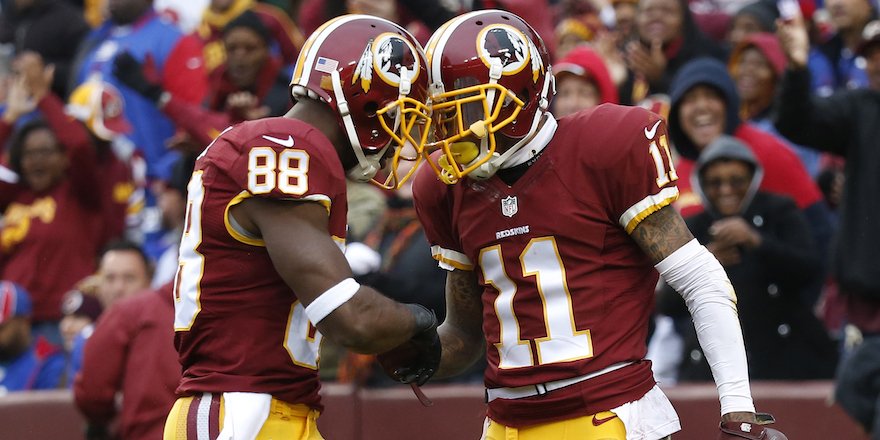 4. Pierre Garçon, Washington Redskins (85.8)
Pierre Garçon has been a quietly-good WR the past five seasons, despite gaining over 1,000 yards just twice in that span. Cracking a 70 percent catch rate in 2016 and averaging over 13 yards per reception for the first time since 2012, Garçon turned in the best season of his career. While the former Mount Union Raider will be 31 in 2016, his consistently good play will increase his market. Garçon is a complete wideout and is able to win in a variety of ways. With sure hands and consistent production for five straight seasons, any team looking to add an immediate, short-term starter would be hard-pressed to find a better player than Garçon.
5. Kenny Britt, Los Angeles Rams (76.5)
With Jared Goff and Case Keenum throwing passes to him, Kenny Britt gained over 1,000 receiving yards this past season. Britt has produced consistently-solid play in his career, but has never been a heavily-targeted receiver until 2016, when he topped 100 targets for the first time (109). Britt will turn 29 shortly after the 2017 season begins, but considering that his usage has been low throughout his career, his longevity might extend further than most. If Britt can produce at a solid level with the mess he dealt with in 2016, teams should see upside in the former first-round pick from Rutgers.
6. Kendall Wright, Tennessee Titans (74.6)
Wright has been a forgotten player for Tennessee the past two years, as he and QB Marcus Mariota haven't fully connected. Injuries have set him back in that time, as well, but if healthy, Wright is one of the best in the league in breaking tackles and gaining yards after the catch. A change of scenery might revive Wright's career, even if he never does live up to his first-round draft status.
7. Terrance Williams, Dallas Cowboys (74.7)
A solid No. 2/3 WR for Dallas the past four seasons, Terrance Williams likely won't see the same type of market Marvin Jones and Mohamed Sanu entered last offseason, but his strong play this past season will get him suitors. Catching 71.6 percent of his targets with just two drops, Williams did see his yards per reception drop to a career low 13.8, due largely to rookie QB Dak Prescott's 31st-ranked deep-attempt percentage. In fact, Williams saw the fewest number of deep targets in his career in 2016. That said, he showed another element to his game this past season with the ability to catch more passes at the short and intermediate levels.
8. Kenny Stills, Miami Dolphins (74.5)
With Drew Brees throwing Stills passes in 2014, the former Oklahoma Sooner excelled in his second pro season, as he was just 69 yards shy of 1,000 on just 63 catches. In a shocking offseason move, the Saints traded Stills to Miami, and his production took a hit in his first season with Ryan Tannehill as his quarterback. He bounced back in 2016, however, as he averaged 17.2 yards per reception and hauled in nine TDs. Stills has elite speed and has shown that, when utilized correctly, he can be a dangerous weapon.
9. Brandon LaFell, Cincinnati Bengals (75.7)
LaFell has had a pretty average career outside of a surprisingly bad 2015 with the Patriots. The former LSU Tiger found a bit of a resurgence with Andy Dalton under center this past season, as he dropped just two passes and yielded a passer rating of 106.1 when targeted. The concern for LaFell is that in the previous three seasons, he dropped 25 passes, so don't expect him to suddenly show an excellent pair of hands moving forward. LaFell is a solid, cheap option for teams looking to get value opposite of an already-established WR.
10. Kamar Aiken, Baltimore Ravens (58.6)
Aiken's 2016 season overall grade of 58.6 is more reflective of a "10 worst" article, but he was badly underused this past year, and earns this spot on the list because of his play in 2015. Injuries within Baltimore's receivng corps that year forced the former UCF Knight to No. 1 WR status, and he thrived in the role, grading as a top-10 in 2015, showing a good ability to break tackles. Aiken will likely command a very cheap contract this offseason, and has breakout potential if on the right team.