Edge defenders come at a premium in the NFL and teams are always looking to improve the effectiveness of their pass rush. This year's class offers some good options at both 4-3 defensive end and 3-4 outside linebacker,
To see Pro Football Focus' full NFL free-agent rankings featuring the top 50 players set to hit the market in 2017, click here.
Here's the list of the top offensive linemen set to hit free agency:
1. Melvin Ingram, Los Angeles Chargers (88.1 overall grade in 2016)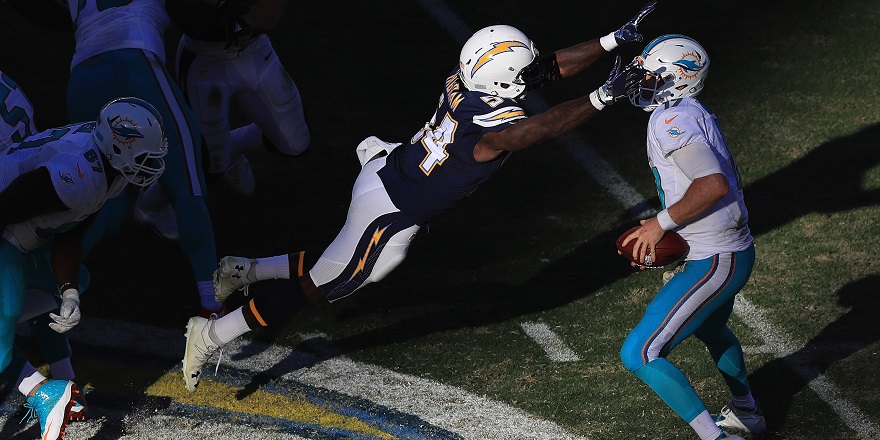 Over the first few years of his career, Ingram was not a game-changer that the Chargers had hoped he would be after selecting him in the first round of the 2012 draft. It's taken him a while but the last two years he has significantly improved his game as a full-time player. Ingram was tied for the third-most total pressures among edge defenders in 2016 with 72, the same amount he tallied in his first three seasons combined. The biggest area of improvement this past year was his run defense, where he had a career-high 19 run stops after previously grading as marginally above-average during his first four seasons. That combination led to him earning the sixth-highest overall grade among edge defenders in 2016. He's primarily played at outside linebacker for the Chargers and would fit best in a similar system. Ingram will be age 28 when the 2017 season kicks off. His relatively young age and performance trending upward the past two years give him the edge for the top spot in this year's free agent class.
2. Chandler Jones, Arizona Cardinals (87.4)
Jones is set to become a free agent after one year in Arizona following a trade last offseason with the New England Patriots. It seemed like Jones didn't get as much publicity this year in Arizona, but he actually had his most productive year of his career. He earned career-high grades in overall and pass-rushing grades, as well as 66 total pressures in the regular season. His 87.4 overall grade ranked seventh among edge defenders, just behind Ingram. That said, Jones may have had it a bit easier in the past as he was able to take advantage of some poor offensive lines in the NFC West. He has also never graded much better than average as a run defender and, despite his high sack numbers, hasn't graded as consistently as the top edge defenders in the league year-in and year-out. Jones has plenty of experience play in both two- and three-point stances, and should fit in just about any defense. Jones turns age 27 Feb. 27 and the team who ends up signing him can get the heart of Jones' prime for the full contract.
3. Jason Pierre-Paul, New York Giants (86.2)
It feels like Pierre-Paul is older than he actually is because he's already been in the league for seven seasons, but he just turned age 28 this past January. He has been a very good pass-rusher for most of his career, even after his offseason accident in 2015. While the sack numbers weren't there in the season that followed, Pierre-Paul played more than 260 fewer pass-rush snaps than in 2014, but his per-snap pass-rushing productivity ranked 11th among 4-3 defensive ends. He was having the most productive season of his career as a pass rusher in 2016 before going down with an injury in Week 13. His 54 total pressures were still tied for 10th-most at his position despite missing the final four and a half games of the regular season. JPP's run defense isn't talked about nearly as much as his pass-rushing ability, but he has consistently been one of the better run defenders at his position. He does have more playing time, and therefore more wear and tear on his body, than most 28-year-olds, but he's still in a good position to be an impactful pass rusher for a team.
4. Nick Perry, Green Bay Packers (82.2)
Perry makes the list for a second consecutive offseason after returning to the Packers on a one-year deal last season. Another former first-round pick, Perry did not live up to his draft status during his first contract and consistently graded average prior to 2016. Perry was given a one-year prove-it deal and his production shot up last season. He tallied career-highs in nearly every statistical category. He led all 3-4 outside linebackers with a 12.4 run-stop percentage. He's still far from an elite pass rusher, but his improvement put him in the same range as Chandler Jones, Jason Pierre-Paul and Jadeveon Clowney in pass-rushing productivity this past year. It's taken some time, but he's grown into playing as a 3-4 outside linebacker, and should still have the flexibility to play in a three-point stance as a defensive end, and on either side of the formation.
5. Jabaal Sheard, New England Patriots (79.6)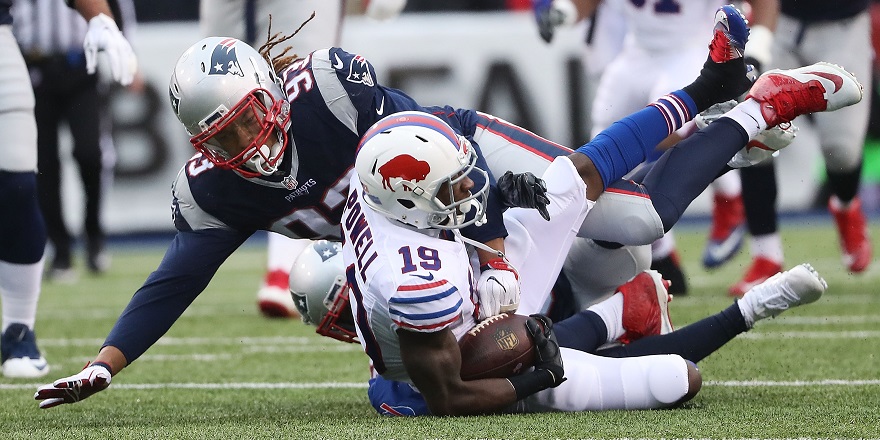 Sheard is just two seasons removed from a career year, and he still played very well last season on a slightly smaller snap count. Over the past two regular seasons, Sheard has 96 total pressures, including 14 sacks, which is even more impressive considering his 1,142 snaps aren't much more than some edge defenders reach in a single season. He's graded well as both a pass-rusher and run defender in two different systems. Sheard can play different positions and roles across a front-seven and could be a valuable chess piece for a defense.
6. John Simon, Houston Texans (78.3)
Simon's role with the Texans grew over the last two years, playing nearly 700 snaps in 2015, and then over 70 percent of snaps last season before getting injured. He has always been a good defender against the run, with above-average grades in the past three seasons. As a pass-rusher, he has steadily improved each year to where he had 26 total pressures on roughly 200 snaps rushing the quarterback. Simon will likely look for a team where he can further expand his role, although being strictly a 3-4 outside linebacker will somewhat limit his potential landing spots.
7. Mario Addison, Carolina Panthers (83.6)
Addison is coming off his most productive season of his career, and he did so while remaining a role player on limited snaps. He set career-highs in sacks, hurries, total pressures and defensive stops. From Week 8 through the end of the season, Addison recorded at least three total pressures in seven of the eight games he was active. He turns 30 just days prior to the start of the 2017 regular season, but Addison has never been given the opportunity for a large role in a defense, so he could be still an intriguing signing.
8. James Harrison, Pittsburgh Steelers (86.7)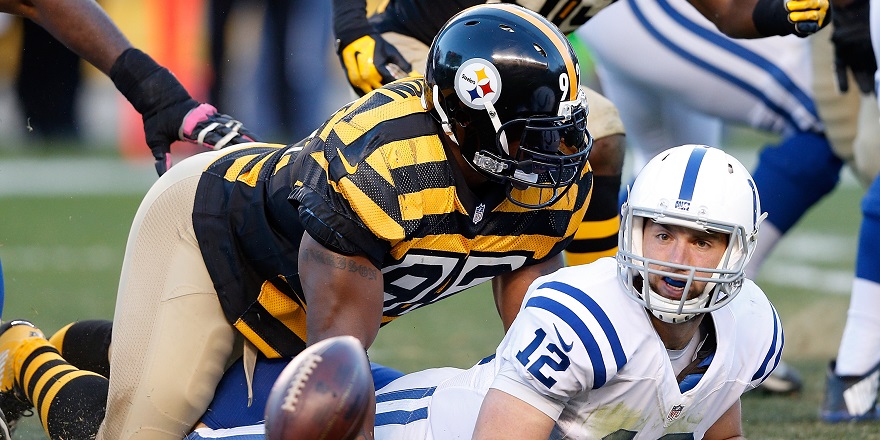 At age 38 — soon to be 39 — Father Time has yet to catch up to Harrison, and it's tough to tell when that will happen. He is still playing at a ridiculous level that makes it seem like he can still be an impactful player next season. He's finished among the top-five 3-4 outside linebackers in per-snap pass-rushing productivity for each of the past three years and even higher than a few of his years in the late-2000s. It's hard to envision Harrison playing outside of Pittsburgh again, but he may be worth a look for a contender looking to bring in a short-term upgrade.
9. DeMarcus Ware, Denver Broncos (77.4)
Following two seasons with injuries and average performance against the run, Ware is probably best suited for a situational pass-rushing role at this point in his career. If healthy though, Ware continues to prove he can be an impactful presence on a defense. He sacked the quarterback five times last season and had 26 total pressures on just over 200 pass-rush snaps. Ware ranked in the top-third of 3-4 outside linebackers in pass-rushing productivity.
10. Charles Johnson, Carolina Panthers (81.4)
Johnson has taken a step back as a pass-rusher from the high level he was at a few years ago, but he's still playing at a reasonable level. His biggest issues are that he's missed 10 games over the past two years and will be 31 years old for the 2017 season. While Johnson was never much of a run defender during his peak years as a pass-rusher, he's actually played very well against the run the past two years. He's coming off his best year yet and ranked among the top 20 edge defenders in run defense. If that trend continues and he can stay healthy to rebound a bit as a pass-rusher, then he certainly has value for a number of teams.