When considering the performances of the five rookie quarterbacks in Week 1 of the NFL preseason, it's been consistently reported that both Sam Darnold and Baker Mayfield played well. Beyond that? Well, consensus begins to break down and validity appears to be more a function of personal bias than any definitive standard.

Choosing the benchmark on which you judge, as you may expect, creates different results so let's consider five different metrics and rank the quarterbacks in each.
PFF Grade
We think this is the grand-daddy of them all as it considers every variable that matters. Over the course of time, PFF grades have served us well, not only in describing what took place but also when it comes to predicting what will happen going forward. As you may expect, it gets better with bigger sample sizes, but we'll go for now with what we have.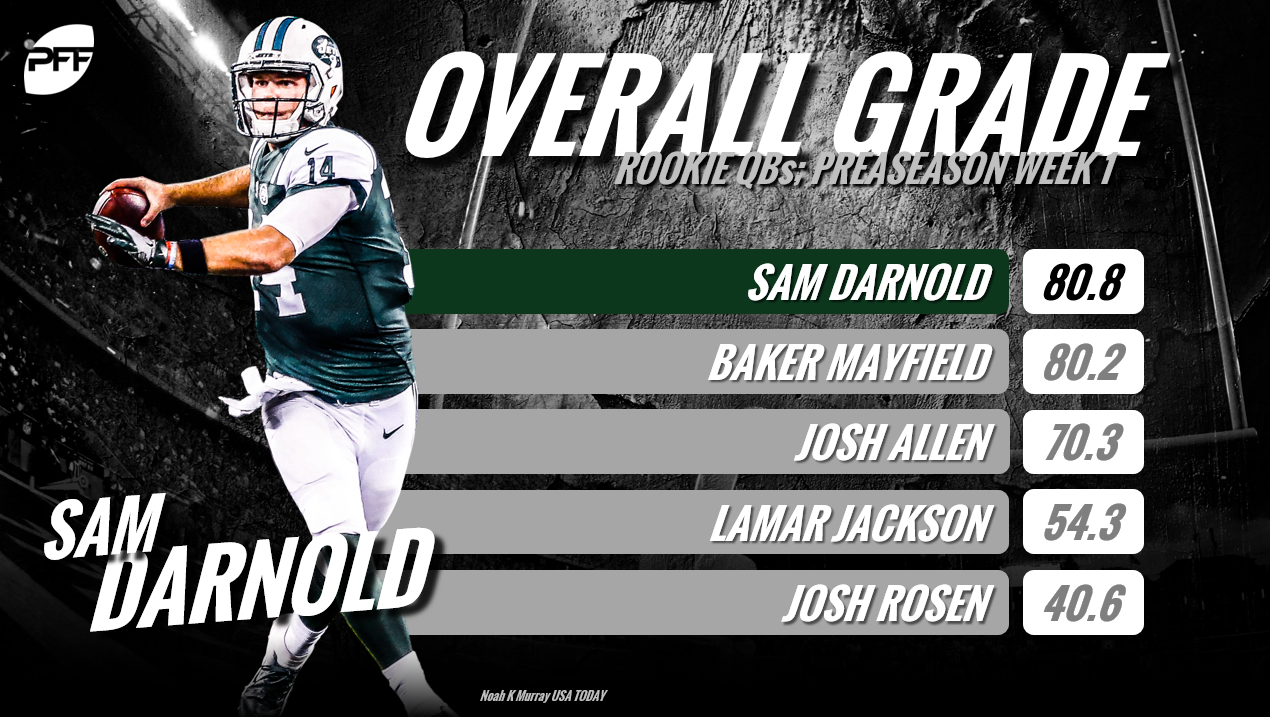 This is pretty much as you'd expect with the possible exception of Josh Rosen. I think he has been given something of a pass because of the issues with low snaps and pressure. While it's important to consider these factors, the bottom line is, he offset the two nice throws he did make with twice as many negative grades.
PFF Grade when kept clean
As our analytics team keep telling us, this is perhaps the biggest predictor of success going forward. All the great quarterbacks generally make hay when the sun shines.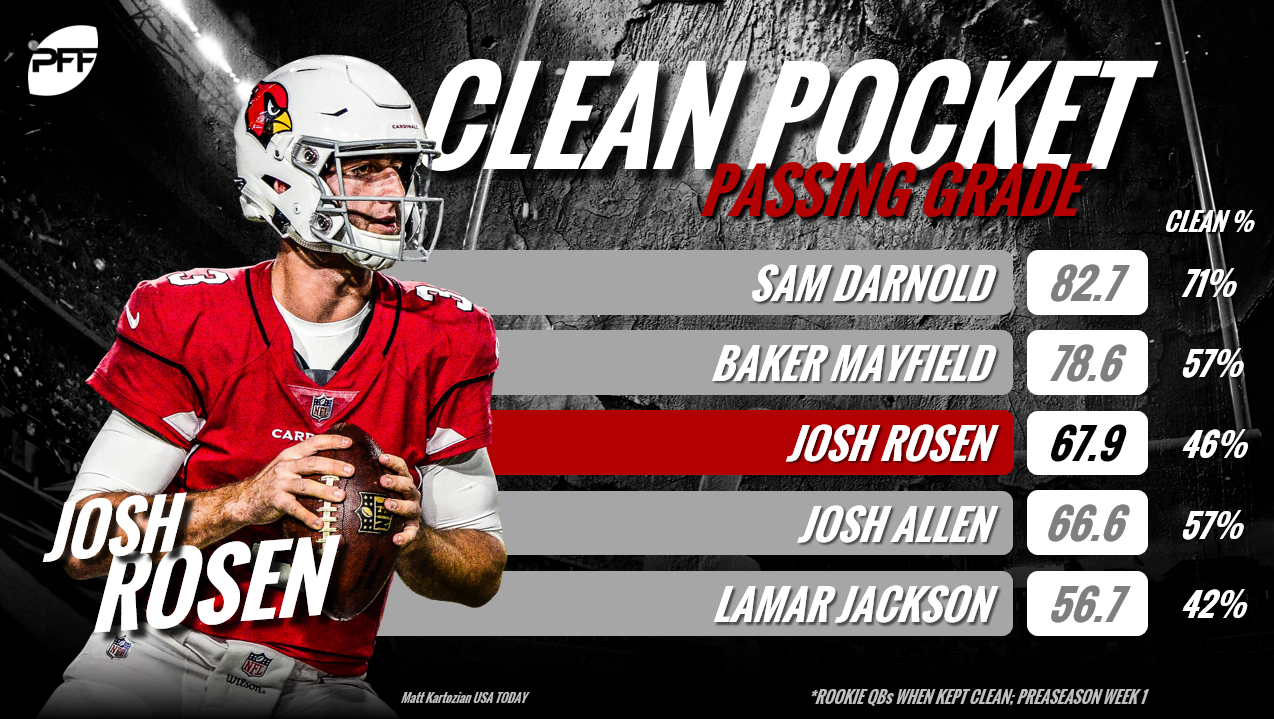 This was Rosen's biggest saving grace. From a stable pocket, he was at least above average for an NFL quarterback and ranked third here. The real question is, given the Cardinals concerns on the OL, will he either he (or Sam Bradford) see many clean throws?
PFF Grade when under pressure
Data generated when pressured is not a particularly stable metric but can often give us a glimpse into what happened in the past, most notably Eli Manning when winning his second Super Bowl when under consistent pressure for nearly the entire playoff run.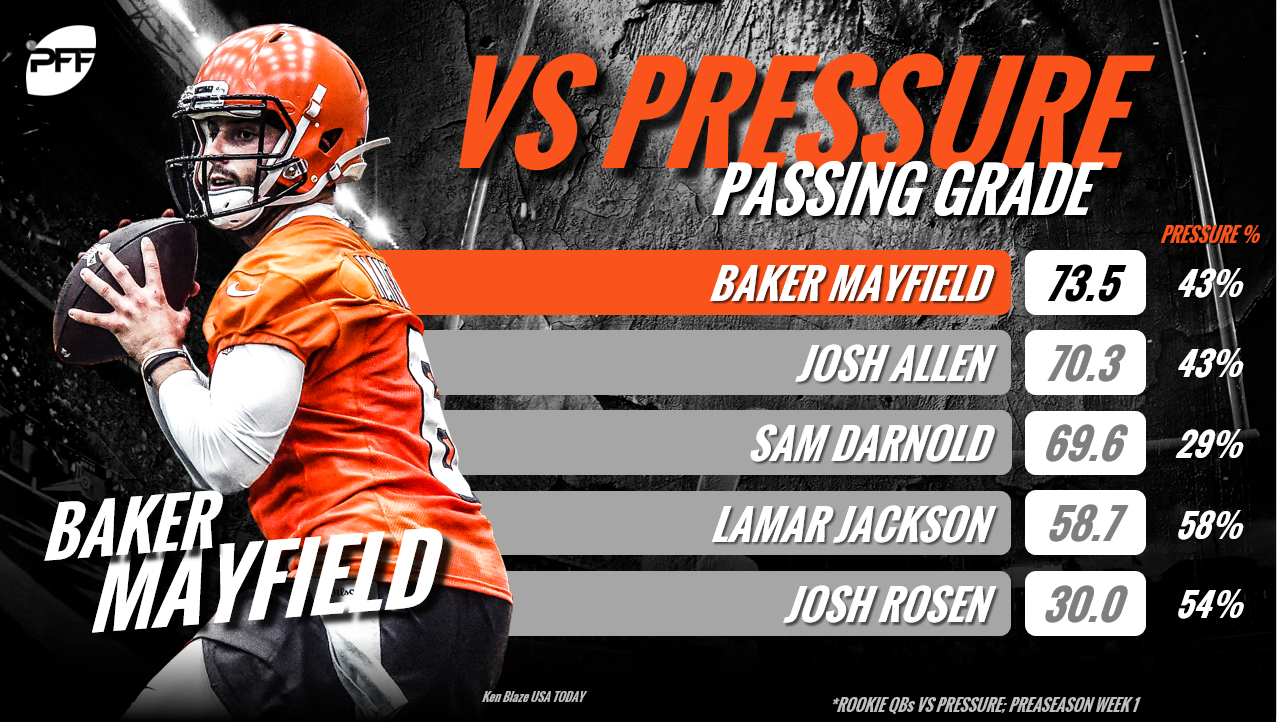 One of Mayfield's key strengths against the Giants was his ability when he was moved off his spot. When pressured, he manipulated his pocket extremely well, allowing him to make a number of downfield plays as he picked up 70 yards on four completions.
Lamar Jackson wasn't great under pressure but being harried on 58 percent of his dropbacks is a ton and that type of volume is always going to lead to issues even for the best players.
Ball location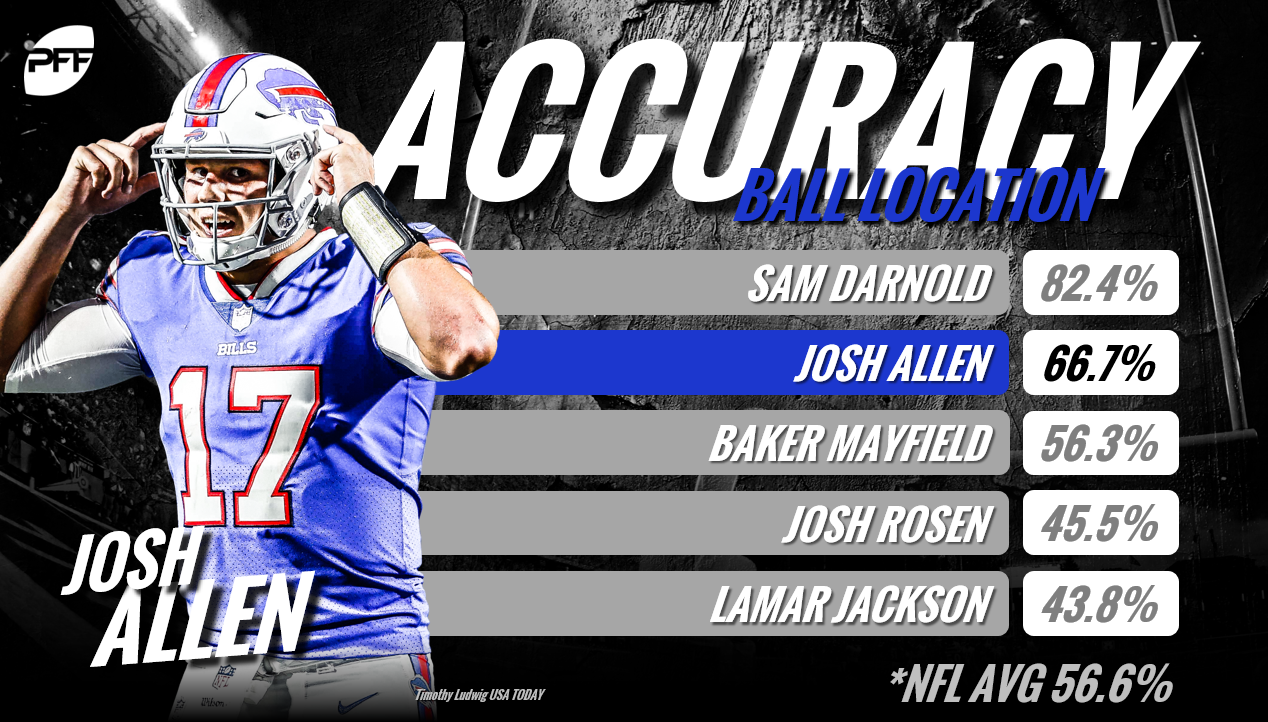 Although depth of target has some bearing on this, we've gone with the pure numbers and Darnold did everything that was expected of him despite an average depth of target (6.8) that was half some of the other guys. Perhaps the most surprising player in this mix was Josh Allen who easily exceeded his college accuracy number while pushing the ball well downfield – 16.7 yards on average.
Consistency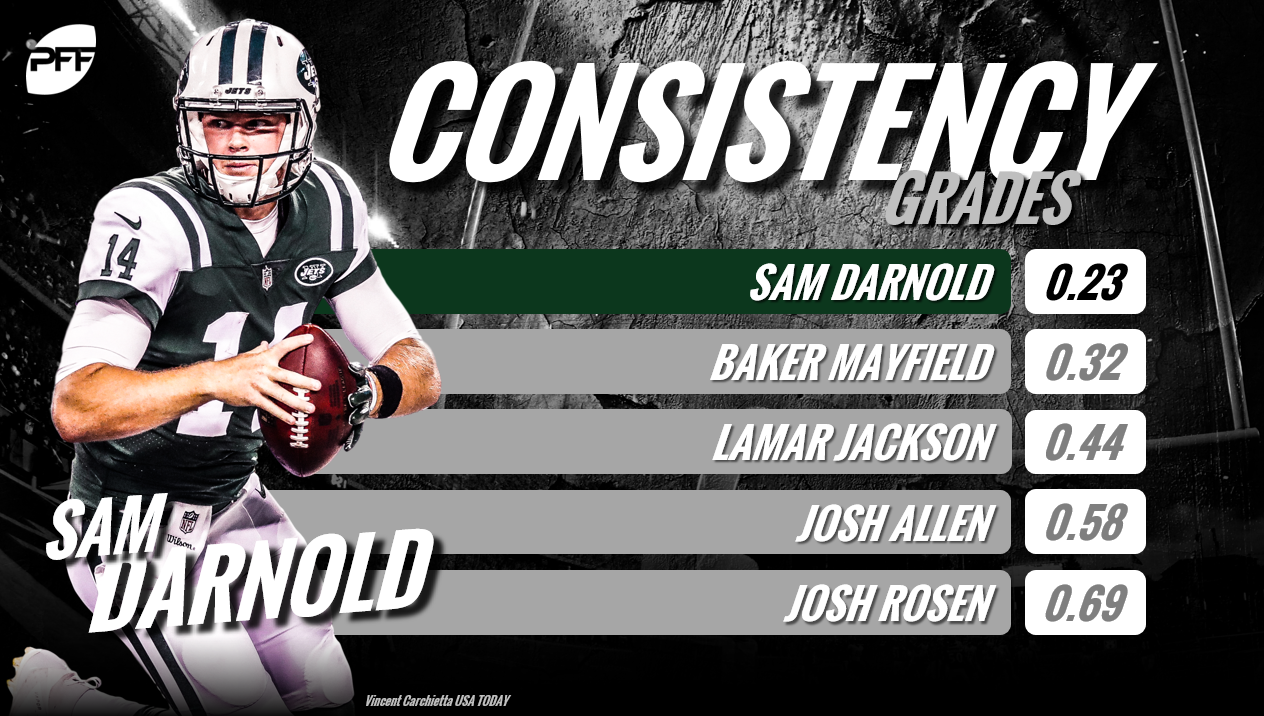 For a bit of fun, we've taken the standard deviation of our player grading as a measure of consistency. While Rosen was the most volatile, much of this was caused by his lower sample size. Allen on the other hand was the very definition of boom or bust; not only did he lead the group in PFF's "big-time throw" category with three, he also came tops (or should we say bottom) in our "turnover-worthy plays" metric with two.
Summary
There wasn't as much asked of Darnold as from the others but everything he did was right on the money. Mayfield was left in a bind at times by some "run, run, pass" play calling but despite this, he exceeded expectations. Allen was very much as advertised making some outrageously good throws and then offsetting those with some poor decisions. Rosen had the least snaps to make an impression and also the hardest set of circumstances and showed flashes. Jackson remains the biggest concern particularly from an accuracy standpoint and although he's shown some quality stuff as a runner, he's taken a lot of hits in the process.