[Editor's note: This article was published prior to the news reports that Patriots tight end Rob Gronkowski will have back surgery and could miss up to two months.]
With 12 weeks of the NFL season in the books, it's time to revisit Pro Football Focus' ranking of all 32 NFL receiving corps. All season long, the Patriots have remained atop the list, largely lifted by Rob Gronkowski and Martellus Bennett, but the rest of the top-five has seen some shifts.
For these rankings—and given the position's ever-increasing role within the passing offense—we've included tight ends as part of the receiving corps.
1. New England Patriots (Ranking through Week 6: 1)
Starters: WR Julian Edelman, WR Chris Hogan, TE Rob Gronkowski, TE Martellus Bennett
When fully healthy, this receiving corps simply creates too many matchup issues for opposing defenses not to be No 1. It's the "fully healthy" part that's been tricky for them. Gronkowski has managed a total of 352 snaps this season, and may continue to miss time.
2. Dallas Cowboys (4)
Starters: WR Dez Bryant, WR Terrance Williams, WR Cole Beasley, WR Brice Butler, TE Jason Witten
The emergence of Cole Beasley as one of the most productive slot receivers in the NFL has pushed the Cowboys to No. 2. Everyone knows what a nightmare Dez Bryant is on the outside, but Beasley has been equally devastating from the slot; only Miami's Jarvis Landry has more yards from inside than Beasley's 538. He's forced defenses to alter their coverages, creating separation with ease versus non-cornerbacks.
3. Washington Redskins (2)
Starters: WR Pierre Garçon, WR DeSean Jackson, WR Jamison Crowder, TE Jordan Reed, TE Vernon Davis
Yet another team that can throw four above-average options on the field at once. The Redskins may not have a sure-fire No. 1 receiver, but each has their own niche they excel within. What's most surprising about this unit is the resurgence of Vernon Davis. The maligned tight end has only 174 passing snaps on the season, but is second behind only Rob Gronkowski in yards per route run (2.57).
4. Oakland Raiders (5)
Starters: WR Amari Cooper, WR Michael Crabtree, WR Seth Roberts, TE Clive Walford
Arguably the best one-two WR punch in the NFL right now, Amari Cooper and Michael Crabtree take turns throwing out dominant performances. They are both within the top-32 in terms of yard per route run, and would be higher if Cooper didn't pass his drop issues from a year ago onto Crabtree. The former 49er leads the league with eight drops this season.
5. Denver Broncos (8)
Starters: WR Demaryius Thomas, WR Emmanuel Sanders, WR Jordan Norwood, TE Virgil Green
The other group in the conversation for best one-two receiving duo, Denver unfortunately has little else to get excited about. Cody Latimer never quite lived up to his draft status, and Jordan Norwood has been on four teams in eight years for a reason. The Broncos' top two wideouts, Demaryius Thomas and Emmanuel Sanders, have accounted for 56 percent of the team's total receiving yards on the season.
6. Atlanta Falcons (9)
Starters: WR Julio Jones, WR Mohamed Sanu, WR Taylor Gabriel, TE Jacob Tamme, TE Levine Toilolo
The Falcons get a little bump from earlier in the season because of the sneaky emergence of Taylor Gabriel. The third-year wideout has only notched 225 snaps on the season, but he's averaging 2.39 yards per route run on those plays—a figure higher than Antonio Brown's. Gabriel has seen his snap count steadily increase in recent weeks, and could be an even bigger factor down the stretch.
7. Arizona Cardinals (3)
Starters: WR Larry Fitzgerald, WR Michael Floyd, WR John Brown, TE Jermaine Gresham
Larry Fitzgerald is still Larry Fitzgerald, but the Cardinals take a tumble down this list because Mike Floyd has not been Mike Floyd. He's caught only 28 of his 57 targets, and hasn't broken a single tackle all season. The quarterback play hasn't helped, but Floyd has looked decidedly off in his own right.
8. New Orleans Saints (17)
Starters: WR Brandin Cooks, WR Michael Thomas, WR Willie Snead, TE Coby Fleener
The emergence of the league's best rookie receiver in Michael Thomas helped out the Saints' corps immensely. The Ohio State product looks every bit a No. 1 receiver, so much so that Brandin Cooks has started to publicly worry about his targets. Thomas has the fourth-most broken tackles (14) and owns a top-15 receiving grade entering Week 13.
9. Pittsburgh Steelers (11)
Starters: WR Antonio Brown, WR Sammie Coates, WR Markus Wheaton, WR Eli Rogers, TE Jesse James, TE Ladarius Green
Antonio Brown may not be on a record-breaking pace, but he still leads the NFL with 10 touchdowns. The most intriguing part of this corps, though, is offseason addition Ladarius Green. The tight end has been eased back in since returning from injury, with 34 snaps the last three weeks, but I don't think the Steelers are paying him $5 million per year to be a part-time player. Green has flashed top-tier receiving skills behind San Diego's Antonio Gates in the past, and had 67 yards in Pittsburgh's last game against Indianapolis.
10. New York Giants (10)
Starters: WR Odell Beckham Jr., WR Sterling Shepard, WR Victor Cruz, TE Will Tye
Sterling Shepard has been solid for a rookie, but this ranking is solely on the back of Odell Beckham Jr. Beckham may only be seventh in the NFL in receiving yards, but I can't think of a single receiver that has had more yards left on the field due to off-target throws. He's broken 15 tackles after the catch, and his eight touchdowns are fourth-most in the league.
11. Indianapolis Colts (12)
Starters: WR T.Y. Hilton, WR Donte Moncrief, WR Phillip Dorsett, TE Dwayne Allen
A unit that had so much promise at the beginning of the season has sadly disappointed. WR Donte Moncrief has missed time with injury, while TE Dwayne Allen still hasn't come close to matching his rookie production. The biggest letdown, though, has been 2015 first-rounder Phillip Dorsett. He's had multiple opportunities to showcase his talents, and repeatedly failed to deliver. His 1.06 yards per route run is 83rd out of 95 qualifying receivers this season.
12. Seattle Seahawks (7)
Starters: WR Doug Baldwin, WR Jermaine Kearse, WR Tyler Lockett, TE Jimmy Graham
I admittedly expected Tyler Lockett to build upon his outstanding rookie campaign, and that's why the Seahawks were ranked higher at the beginning of the year. He's been banged up and ineffective, though, as his yards-per-route-run mark dropped from 1.57 a season ago to 1.13 this year. TE Jimmy Graham and WR Doug Baldwin are nothing to sneeze at, however, as Baldwin has recorded the highest passer rating when targeted in the league (137.0).
13. Jacksonville Jaguars (6)
Starters: WR Allen Robinson, WR Allen Hurns, WR Marqise Lee, TE Julius Thomas
There is still little doubt in my mind that the Jaguars have the talent, but they've not come close to living up to it in 2016. Lee, Hurns, and Robinson all have at least six drops, while Hurns' 16.7 drop rate is the fourth-worst in the NFL. Jacksonville's receivers have obviously suffered from some poor quarterback play, but they haven't helped themselves, either.
14. Miami Dolphins (20)
Starters: WR DeVante Parker, WR Jarvis Landry, WR Kenny Stills, TE Dion Sims
It took him a while to get going, but DeVante Parker finally looks like the receiver worthy of his 14th-overall selection a year ago. Over the last three weeks, he's averaged 2.8 yards per route run and broken three tackles after the catch. A consistent secondary threat alongside Jarvis Landry should do wonders for the Miami offense.
15. Houston Texans (13)
Starters: WR DeAndre Hopkins, WR Will Fuller, WR Braxton Miller, TE C.J. Fiedorowicz
DeAndre Hopkins has done his best to try and carry this receiving corps, but both the rookie wideouts have been too inconsistent to push the Texans any higher on this list. Will Fuller had almost as many yards in his first two games (211) as he did in his next seven (238), while Braxton Miller's 0.38 yards per route run from the slot is dead last in the NFL.
16. Carolina Panthers (15)
Starters: WR Kelvin Benjamin, WR Devin Funchess, WR Ted Ginn, WR Philly Brown, TE Greg Olsen
It's amazing how consistently-great Greg Olsen has been at the tight end position with little fanfare. He's finished second in our receiving grading each of the past two seasons, and is currently first this season at the position. Simply put, Olsen is a model of consistency.
17. Kansas City Chiefs (26)
Starters: WR Jeremy Maclin, WR Albert Wilson, WR Chris Conley, WR Tyreek Hill, TE Travis Kelce
Kansas City is one of the biggest risers on this list because of the wildcard that is rookie Tyreek Hill. After the show he put on against the Broncos, he'll surely see his 24 snaps-per-game average begin to rise. Hill's 2.52 yards-per-route-run mark is third among all receivers.
18. Detroit Lions (16)
Starters: WR Golden Tate, WR Marvin Jones, WR Anquan Boldin, TE Eric Ebron
In what was supposed to finally be Eric Ebron's time to shine, we've decidedly seen more of the same. Ebron is 19th among starting tight ends in yards per route run, averaging just 1.57. To top it off, he's the lowest-graded run-blocking tight end in the league. Not ideal from a top-10 pick.
19. Green Bay Packers (19)
Starters: WR Jordy Nelson, WR Davante Adams, WR Randall Cobb, TE Richard Rodgers
12 weeks has felt like two seasons for Davante Adams. Through the first six weeks of the year, he had a catch rate of 57.7 percent and averaged 1.3 yards per route. Over the last six, his catch rate is 74.1 percent, and he's averaging 1.8 yards per route run. Quite the turnaround.
20. Cleveland Browns (25)
Starters: WR Terrelle Pryor, WR Andrew Hawkins, WR Ricardo Louis, TE Gary Barnidge
The transformation we've seen from Terrelle Pryor over the course of two years has been nothing short of astounding, and proves the value of athleticism at the receiver position. Pryor is eighth in the NFL in receiving yards. Eighth! He could very well go from being PFF's lowest-graded quarterback in 2013 to a top-five receiver in 2016.
21. San Diego Chargers (21)
Starters: WR Dontrelle Inman, WR Tyrell Williams, WR Travis Benjamin, TE Hunter Henry, TE Antonio Gates
If I would have told you heading into the season that the Chargers' two most effective offensive weapons this year would be Tyrell Williams and Hunter Henry, you probably would have thought I was nuts. That's exactly how it's played out, however. Williams is 14th among wideouts with a 2.06 yards-per-route-run average, while Henry is ninth among tight ends, at 1.95.
22. New York Jets (24)
Starters: WR Brandon Marshall, WR Quincy Enunwa, WR Devin Smith, TE Kellen Davis
Eric Decker's injury sealed the Jets' fate offensively this year, although Quincy Enunwa has proved himself a legitimately competent No. 2 at this point. His 1.76 yards per route run are 35th-best at the position, but his seven drops have been an issue.
23. Baltimore Ravens (28)
Starters: WR Steve Smith, WR Kamar Aiken, WR Mike Wallace, WR Breshad Perriman, TE Dennis Pitta
Mike Wallace made his money as a deep threat, but his revival in Baltimore has nothing to do with the long ball. Wallace has cleaned up on shallow crossing routes giving him room to run over the middle. Only 206 of his 792 yards have come on deep passes (throws traveling 20+ yards in the air), while he's gained 347 on balls caught within 10 yards of the line of scrimmage between the numbers.
24. Tampa Bay Buccaneers (23)
Starters: WR Mike Evans, WR Adam Humphries, TE Cameron Brate
Tampa Bay's receiving corps might as well be known as "The Mike Evans show." PFF's highest-graded receiver has 127 targets on the season already, 10 more than second place Antonio Brown. Cameron Brate has been a pleasant surprise at tight end, but there is little else in terms of talent at the receiver position here.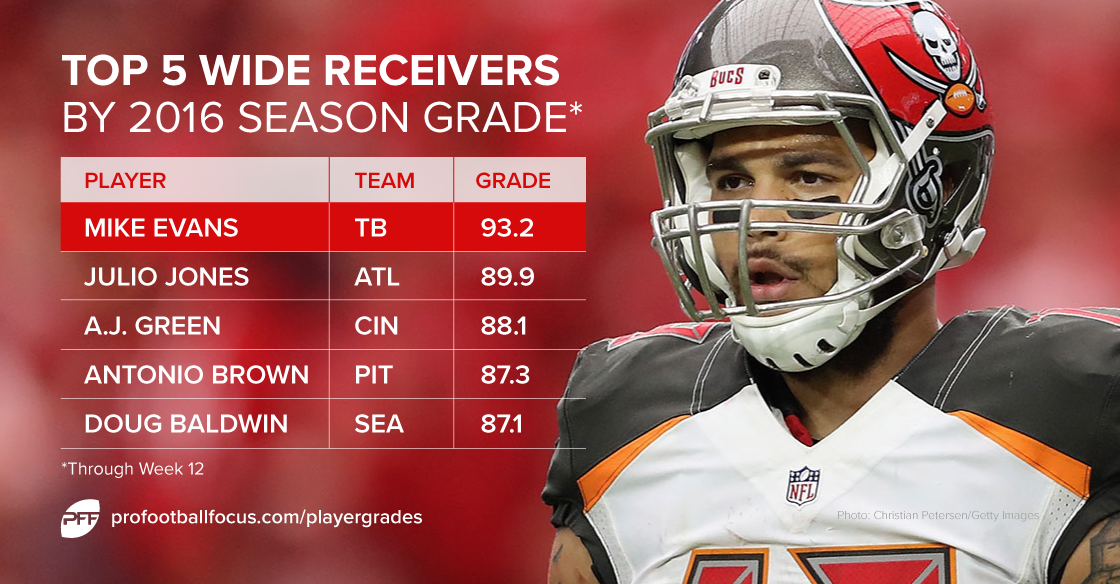 25. Minnesota Vikings (18)
Starters: WR Stefon Diggs, WR Adam Thielen, WR Charles Johnson, TE Kyle Rudolph
Stefon Diggs' season to date has been quite the oddity. His 78.8 percent catch rate is ninth-best at the position, but he'll have games where he seemingly disappears. 60 percent of his 747 yards came in just three games, and there's little explanation for it.
26. Buffalo Bills (31)
Starters: WR Sammy Watkins, WR Robert Woods, WR Marquise Goodwin, TE Charles Clay
Call this the Sammy Watkins bump. When I last did these rankings (entering Week 7), Watkins had just been declared out for a good deal of time, and the Bills' receiving corps was a mess. If Watkins can return to his 2015 form, where he had a 128.8 passer rating when targeted, the Buffalo receiving corps will be much improved.
27. Tennessee Titans (29)
Starters: WR Kendall Wright, WR Tajae Sharpe, WR Rishard Matthews, TE Delanie Walker
It's was very easy to overlook Rishard Matthews heading into this season. He was a seventh-round pick who never played more than 533 snaps in a single season over his first four years in the league, but he's always been productive when given a chance, and through 12 games in Tennessee, he's emerged as the Titans' No. 1 receiver. Matthews' 2.12 yards-per-route-run mark is 12th in the league, and he's dropped only one pass on the year.
28. Chicago Bears (22)
Starters: WR Alshon Jeffery, WR Cameron Meredith, WR Eddie Royal, TE Zach Miller
What was supposed to be a two-headed monster with Kevin White and Alshon Jeffery hasn't been a monster at all, with both currently out. The Bears just set a PFF-era (since 2006) single-game record with 12 drops against the Titans, so I think their ranking is justified.
29. Philadelphia Eagles (27)
Starters: WR Jordan Matthews, WR Nelson Agholor, WR Dorial Green-Beckham, TE Zach Ertz
As I stated entering Week 7, it's nearly impossible for an offense to have success through slot receivers alone, yet that's what the Eagles have at the moment. Zach Ertz and Jordan Matthews are the No. 1 and No. 2 options, and both spend the vast majority of their time split tight.
30. Los Angeles Rams (30)
Starters: WR Kenny Britt, WR Tavon Austin, WR Brian Quick, TE Lance Kendricks
Tavon Austin would be a nice third piece on a team with two stud receivers, but it's become abundantly clear at this point that he shouldn't be a first or second option. Austin is averaging only 9.1 yards per reception, and has seven drops on 51 opportunities.
31. Cincinnati Bengals (14)
Starters: WR Brandon LaFell, WR Tyler Boyd, TE Tyler Eifert
The Bengals' receiving corps losing A.J. Green is like the Panthers' secondary losing Josh Norman. He was the only thing holding this unit together, and now they're left trying to pick up the pieces. The only silver lining is that Tyler Eifert has looked fantastic since returning healthy, and is PFF's fourth-highest-graded tight end.
32. San Francisco 49ers (32)
Starters: WR Torrey Smith, WR Quinton Patton, WR Jeremy Kerley, TE Garrett Celek, TE Vance McDonald
Still dead last. There simply aren't many redeeming qualities about this group. The nicest thing I can say is that Jeremy Kerley is grading out above-average (74.3 overall grade this season).