Following a 45-42 win, defensive players usually aren't the first to receive praise, but Oakland Raiders rookie defensive interior Maurice Hurst was an exception to the rule in the team's shootout victory over the Cleveland Browns on Sunday.
The former Michigan standout recorded a career-high 90.5 overall grade, which led all Oakland defenders by a significant margin and ranked third among all interior defensive linemen with at least 25 defensive snaps in Week 4. Hurst also earned a 77.5 run-defense grade and 87.6 pass-rush grade, ranking 11th and fourth, respectively, among qualifiers.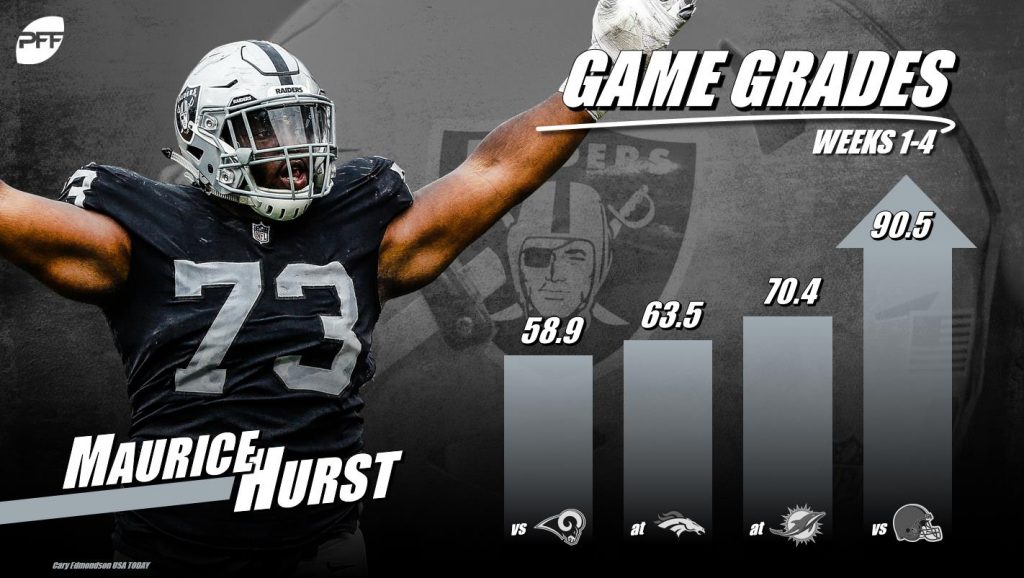 Hurst has now improved his overall, run-defense and pass-rush grade incrementally in each of his four regular season appearances. Most notably, he has increased his overall grade by a minimum of 4.6 grade points in each of that past four weeks, rising from a 58.9 overall grade against the Los Angeles Rams in Week 1 to his 90.5 overall grade in Week 4.
Though Hurst finished with just two total pressures in his duel with the Browns' interior offensive line, one of the two was an impressive strip sack of Cleveland rookie signal-caller Baker Mayfield that helped set Oakland up for a touchdown just three plays later. Browns guard Kevin Zeitler, who entered the game tied for first among all guards in pressures allowed (two), fell victim to Hurst's explosive burst off the snap and a well-executed rip with his inside arm to knock the ball loose from Mayfield's grasp while he was in the throwing motion. Hurst did beat his opposition on a third pass-rush snap, but the pass was off before he could record the pressure.
In his final season with the Wolverines (2017), Hurst spent most of his time in the backfield chasing down quarterbacks, as he recorded an FBS-high 49 total pressures en route to (another FBS-high) 91.0 pass-rush grade. Hurst's pass-rushing prowess against Zeitler & Co. is the first sign that he's able to carry such dominance to the NFL level – and likely the first of many.
Hurst also made the most of his 17 run-defense snaps against Cleveland, logging three tackles that all resulted in an offensive failure. The 6-foot-1, 291-pounder had struggled with double teams early in the season, but he is starting to turn things around in the run game with his ability to win one-on-one blocks and avoid disadvantages pre-snap alignments. His three defensive stops in the contest improved his season total from two to five.
A less than ideal start for Hurst still has him chasing a top-10 spot in terms of overall grade through four weeks, but his elite performance against Cleveland has helped propel him to a 79.1 overall grade that ranks 15th among qualifiers on the season. Hurst will look to continue to trend in an upward direction against shaky Los Angeles Chargers offensive line in Week 5.