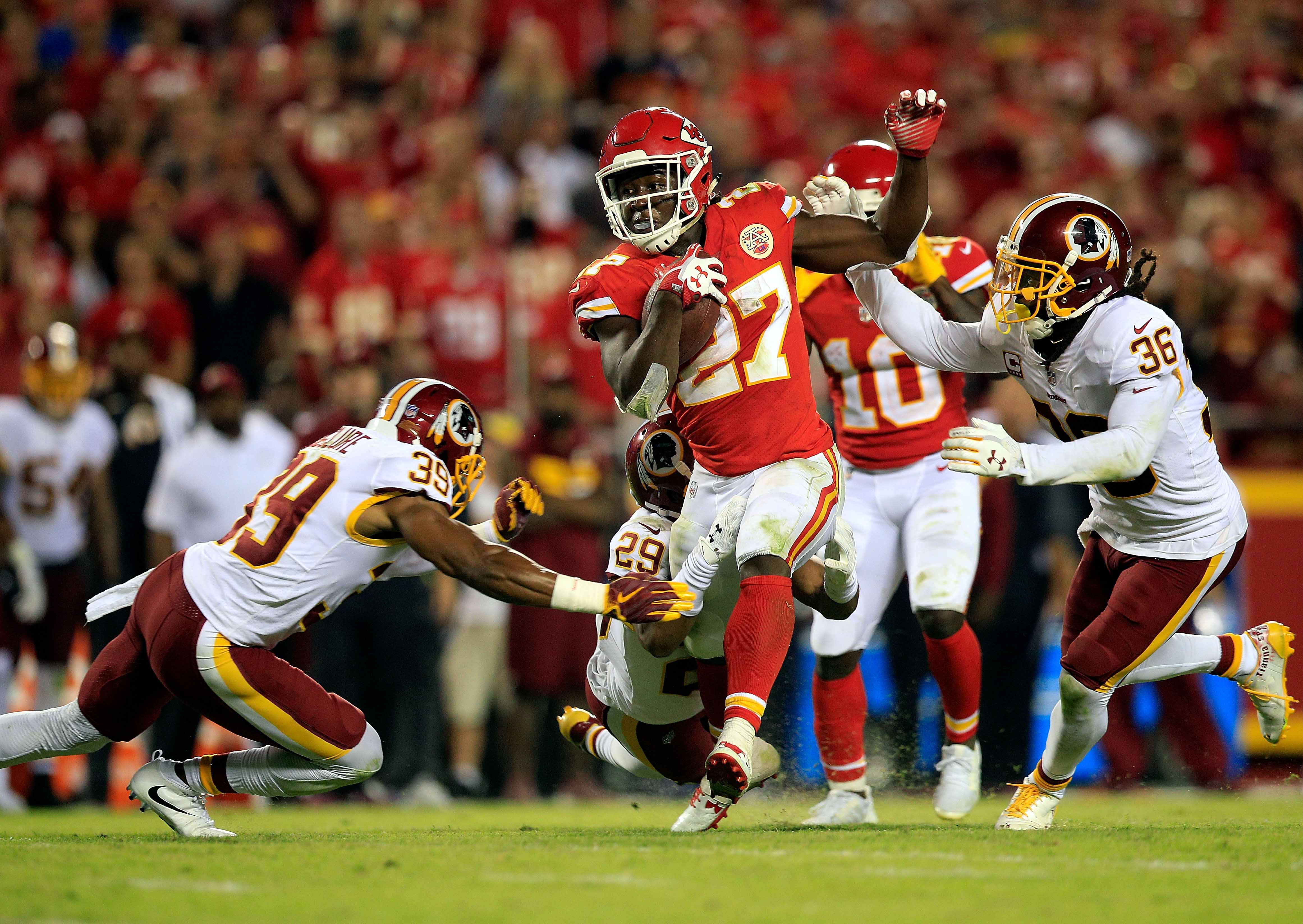 KANSAS CITY, MO - OCTOBER 02: Running back Kareem Hunt #27 of the Kansas City Chiefs carries the ball during the game against the Washington Redskins at Arrowhead Stadium on October 2, 2017 in Kansas City, Missouri. (Photo by Brian Davidson/Getty Images)
All season long, PFF will be tracking the rookies around the league to keep tabs on the race for Rookie of the Year. Below is our weekly check-in after the Week 4 games. Who is out in front in the race?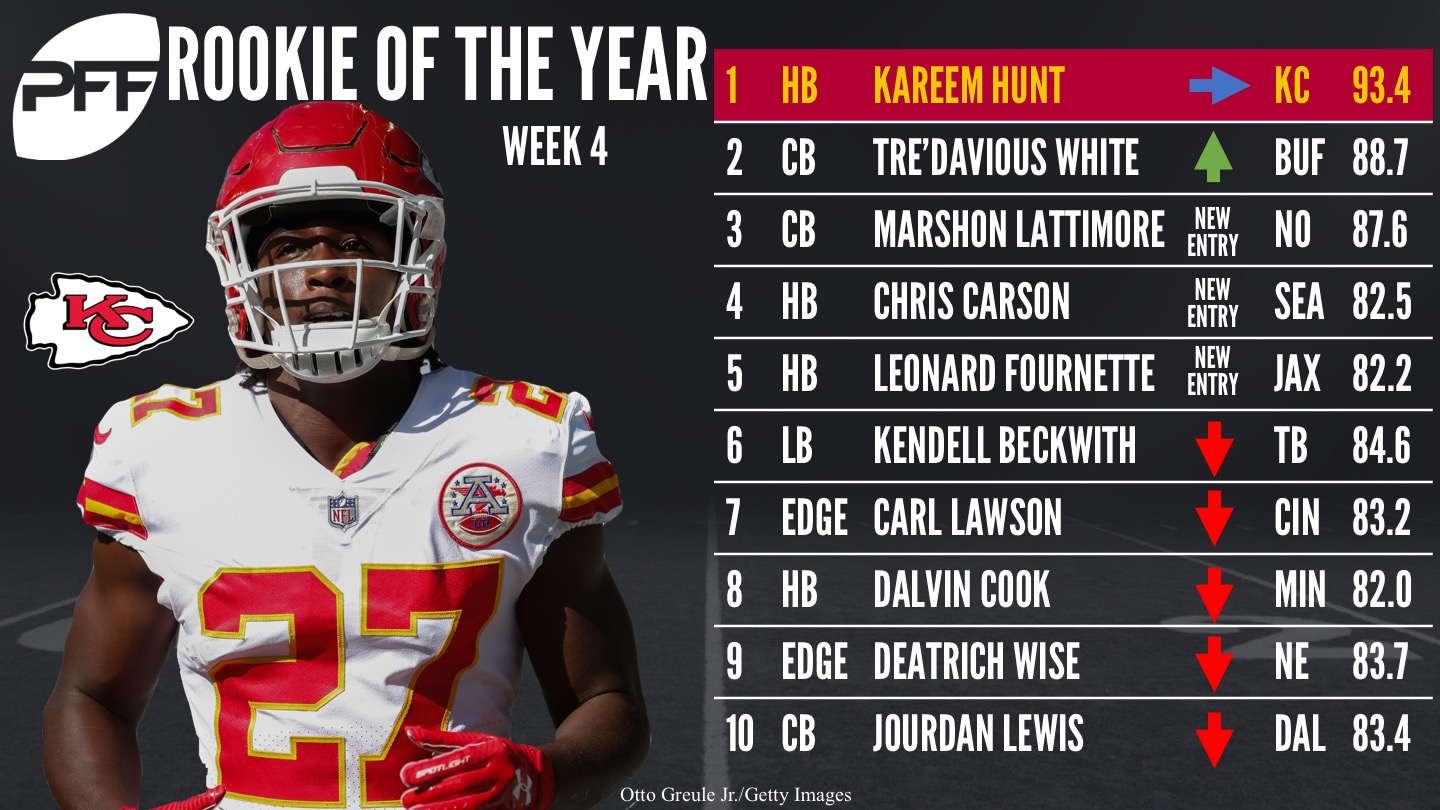 PFF Grade: 93.4
Elite Stat: Hunt ranks fourth among all running backs with an average of 3.76 yards after contact per attempt.
Four weeks into the season, four straight weeks that Hunt leads the race for rookie of the year. Hunt leads all halfbacks in terms of overall grade and he's the only player at his position to rank within the top five in terms of both running grade and receiving grade, in fact there aren't even any other backs who rank within the top-25 in terms of running grade while also ranking in the top five in receiving grade. Hunt has truly been in a class of his own to start the season.
PFF Grade: 88.7
Elite Stat: Opposing QBs have a 53.7 passer rating when targeting White in coverage this season, the 14th- lowest among cornerbacks.
During this year's draft, the Bills traded the 10th overall pick to move back in the first round, ultimately selecting White with the 27th overall pick while landing an additional first rounder from Kansas City for next season. One month into the season and that move could not be working out better for the Bills. White is our fifth-ranked cornerback in terms of overall grade and his 26.9 playmaker index percentage (percentage of targets he either got a pass breakup or interception on) is the second highest among all cornerbacks who've been targeted at least 15 times this season.
PFF Grade: 84.1
Elite Stat: Lattimore is being targeted once every 10.3 snaps in coverage, the 13th-best rate among cornerbacks.
Lattimore has played in three games so far as a professional, he's finished two of them with an overall grade better than 87.0, one of those against Tom Brady on a night where the Patriots offense was rolling (against everyone other than Lattimore). Lattimore ranks seventh among cornerbacks in terms of overall grade and his 87.2 coverage grade also ranks seventh.
PFF Grade: 82.5
Elite Stat: Carson ranks seventh among all HBs with an elusive rating of 60.6.
Coming into the season, there weren't many people who imagined a scenario where the Seahawks losing Chris Carson after four weeks would be a devastating blow to their offense. But alas, here we are, four weeks into the season, Carson placed on IR and most of us who never saw this coming are now wondering how the Seahawks will replace a key component of their offense. Carson currently ranks fifth among HBs in terms of overall grade with his 83.8 rushing grade ranking fourth.
PFF Grade: 82.2
Elite Stat: Fournette ranks eighth among HBs with an average of 2.23 yards per route run; Fournette has gained 125 receiving yards on 56 snaps in route through four weeks.
Fournette has finished three out of four weeks now with an overall grade of 77.8 or better, with the exception being a 44.6 grade he posted in Week 2. While he's yet to break the 85.0 mark in a game, his consistent good play has made him our sixth-highest ranked back in terms of overall grade and he's one of just six HBs to rank within the top-20 in terms of both rushing and receiving grade.
PFF Grade: 84.6
Elite Stat: Beckwith ranks seventh among all linebackers with a 12.2 run stop percentage.
After strong showings in his first two contests, a poor game against the Giants knocks Beckwith down a handful of spots on this list. Despite the throw-away game this past weekend though, Beckwith still ranks seventh among linebackers in terms of overall grade. He is just one of three linebackers to currently rank within the top 10 in terms of run defense while also ranking within the top 15 in terms of coverage.
PFF Grade: 83.2
Elite Stat: Lawson ranks fourth among all edge defenders with a 17.6 pass-rush productivity rating.
Lawson ranks 17th among all edge defenders in terms of overall grade and so far through four weeks, he's treated opposing offensive lines the same way the Kool-aid man treats a wall. The rookie from Auburn now ranks second with a total of 22 pressures and even managed to beat Joe Thomas (who's allowed just six total pressures all season) last week for two pressures.
PFF Grade: 82.0
Elite Stat: Cook has forced 18 missed tackles this season (on rushes and receptions combined), tied with LeGarrette Blount for the second highest total in the league.
Like Carson, Cook suffered a devastating injury on Sunday that's going to sideline him for quite a while. Unlike Carson though, many envisioned Cook becoming one of the better backs to emerge from this year's draft class, and he certainly didn't disappoint in the four weeks we were able watch him perform. Cook still has plenty to improve on in terms of receiving and pass blocking upon his return but he already looks like one of the most dangerous backs in football with the ball in his hands, evident by an 86.4 rushing grade that ranks third among halfbacks.
PFF Grade: 83.7
Elite Stat: Wise ranks sixth among edge defenders with a 15.9 pass rush productivity rating.
Wise ranks 15th among edge defenders and he's just one of 10 to have at least eight combined hits and sacks. Wise has totaled 14 pressures on just 69 pass-rush attempts so far this season, making him just one of six edge defenders who are getting pressure on at least 20.0 percent of their attempts.
PFF Grade: 83.4
Elite Stat: Lewis is allowing just 0.75 yards per coverage snap so far this season, the 23rd-lowest rate among cornerbacks.
Lewis ranks 17th among all cornerbacks in terms of overall grade and in addition to being a stalwart in coverage, he's excelled in run defense, where his 86.8 grade ranks sixth. One of Lewis' biggest strengths so far this season has been his tackling: the third-round pick from Michigan is one of 28 cornerbacks this season who have not missed a tackle, among that group his six total stops (four in pass defense, two in run defense) are the third-most.
*Editor's Note: These rankings reflect the race for the Rookie of the Year as if the season ended with Monday Night Football's contest between Washington and Kansas City. Therefore, injuries and subsequent one-off games will not effect each player's rankings as much as typically seen.
On the bubble:
Malik Hooker, S, Indianapolis Colts
Xavier Woods, CB, Dallas Cowboys
Jonathan Allen, DI, Washington Redskins
Joe Mixon, HB, Cincinnati Bengals
Dalvin Tomlinson, DI, New York Giants
Tarik Cohen, HB, Chicago Bears
Marcus Williams, S, New Orleans Saints
T.J. Watt, Edge, Pittsburgh Steelers
Cooper Kupp, WR, Los Angeles Rams