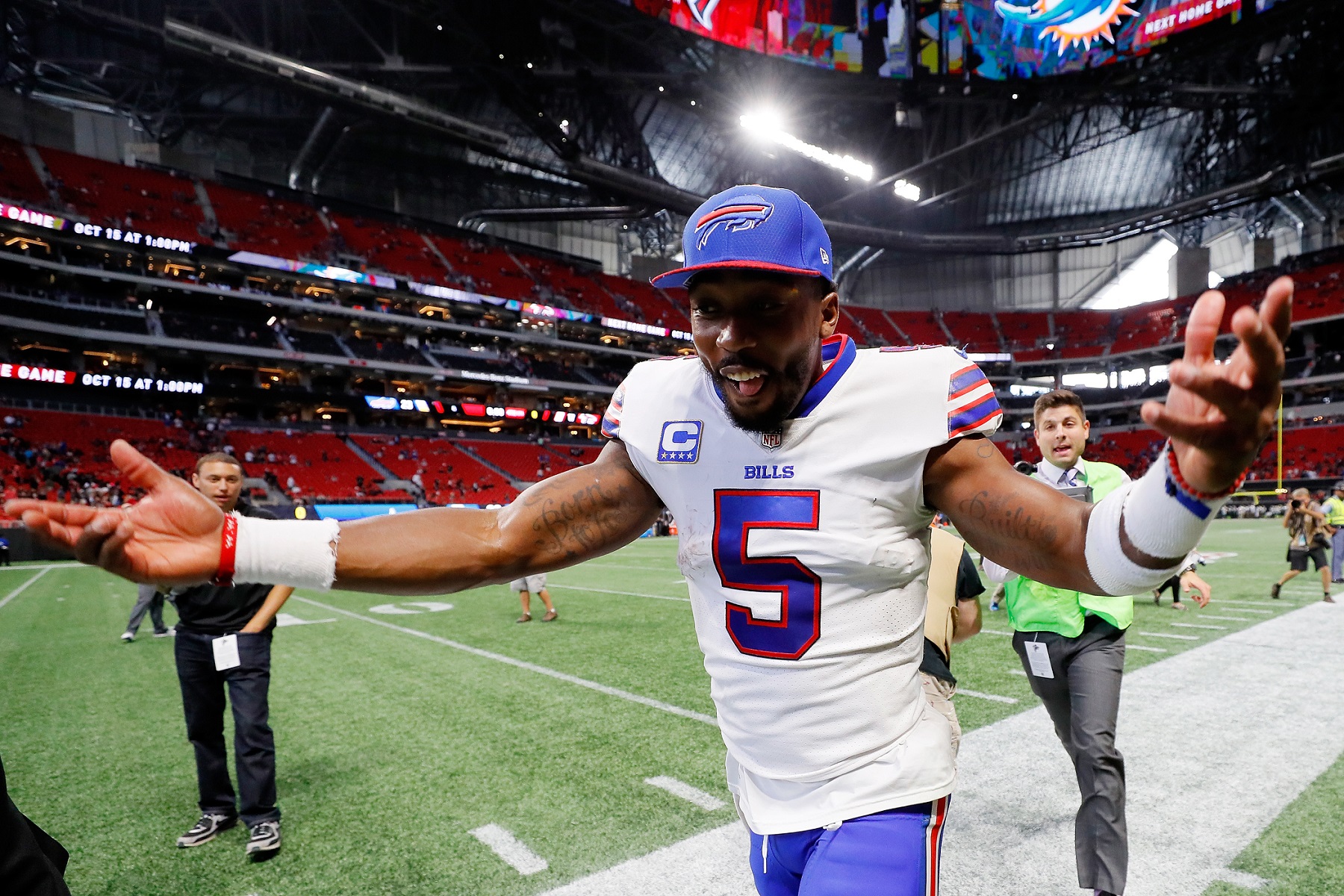 ATLANTA, GA - OCTOBER 01: Tyrod Taylor #5 of the Buffalo Bills celebrates beating the Atlanta Falcons at Mercedes-Benz Stadium on October 1, 2017 in Atlanta, Georgia. (Photo by Kevin C. Cox/Getty Images)
Tyrod Taylor has been benched following the Buffalo Bills Week 10 blowout loss to the New Orleans Saints. Taylor had one of his poorest performances of the season, finishing with a 55.8 overall game grade, albeit on just 37 snaps.
Taylor had been putting together quite a good season overall though, as his overall season grade of 83.0 ranks ninth among quarterbacks this season. Taylor was also a huge part of the Bills rushing attack and posted an 85.9 rushing grade, which ranks fifth among quarterbacks.
The Bills will insert Nathan Peterman as their starting quarterback against the Los Angeles Chargers. Peterman, the Bills fifth-round draft pick in 2017, had a passer rating of 123.0 on deep passes (20-plus yards in the air) last season at Pittsburgh, which ranked fifth among all FBS quarterbacks. Peterman also had a passer rating of 103.4 under pressure last season, which ranked sixth among FBS quarterbacks, including a 8-to-1 touchdown-to-interception ratio.
One of Peterman's strengths that will differ most from Taylor's is his quick release time, as it seems the Bills will try to move away from Taylor's style of holding onto the ball. Taylor's 3.11 average time to throw tied for the highest this season, while Peterman's 2.45 ranked sixth lowest in the preseason.