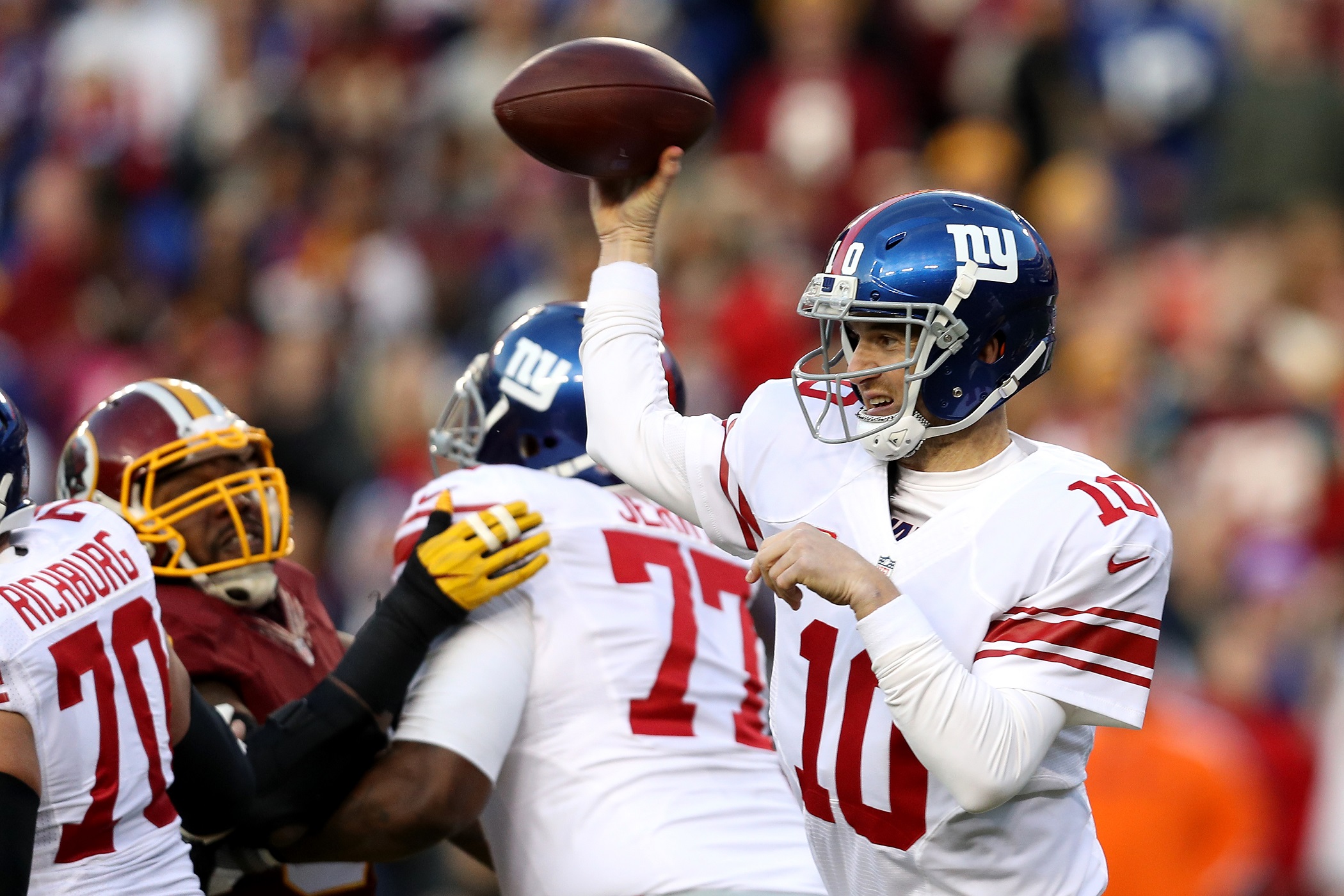 LANDOVER, MD - JANUARY 01: Quarterback Eli Manning #10 of the New York Giants passes the ball while teammate guard John Jerry #77 blocks against defensive end Chris Baker #92 of the Washington Redskins in the first quarter at FedExField on January 1, 2017 in Landover, Maryland. (Photo by Patrick Smith/Getty Images)
The final week of the preseason continues with the New York Giants at the New England Patriots. This is the last chance for many players to make their case to be on the opening season roster, whether it be as a role player, as part of a position rotation, or as a special teams player. Our team of PFF analysts have all the most important position battles and players to watch for each team:

Coverage by Ryan A. Smith
Jerry (73.2 overall game grade) only played 8 snaps before he was pulled for Jones. Although it looked like a hit he surrendered on the Manning interception, he was stepped on by Richburg and therefore was not credited with the pressure.
Jones struggled in his first live action at right guard (43.4 overall game grade). He didn't give up anything catastrophic while at guard, but had trouble anchoring in pass protection – he surrendered two of his three pressures in those 15 snaps at right guard. He had another 23 snaps at center.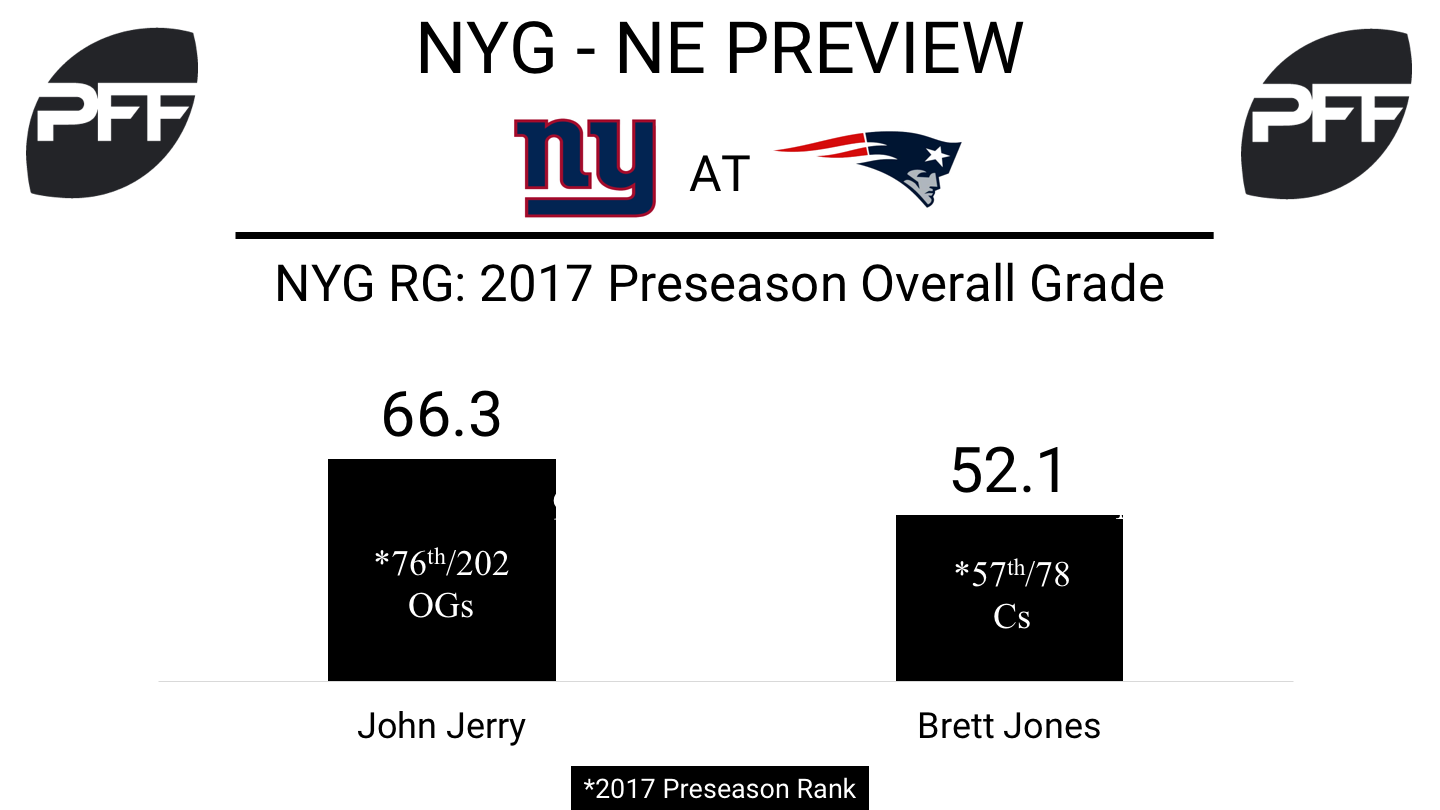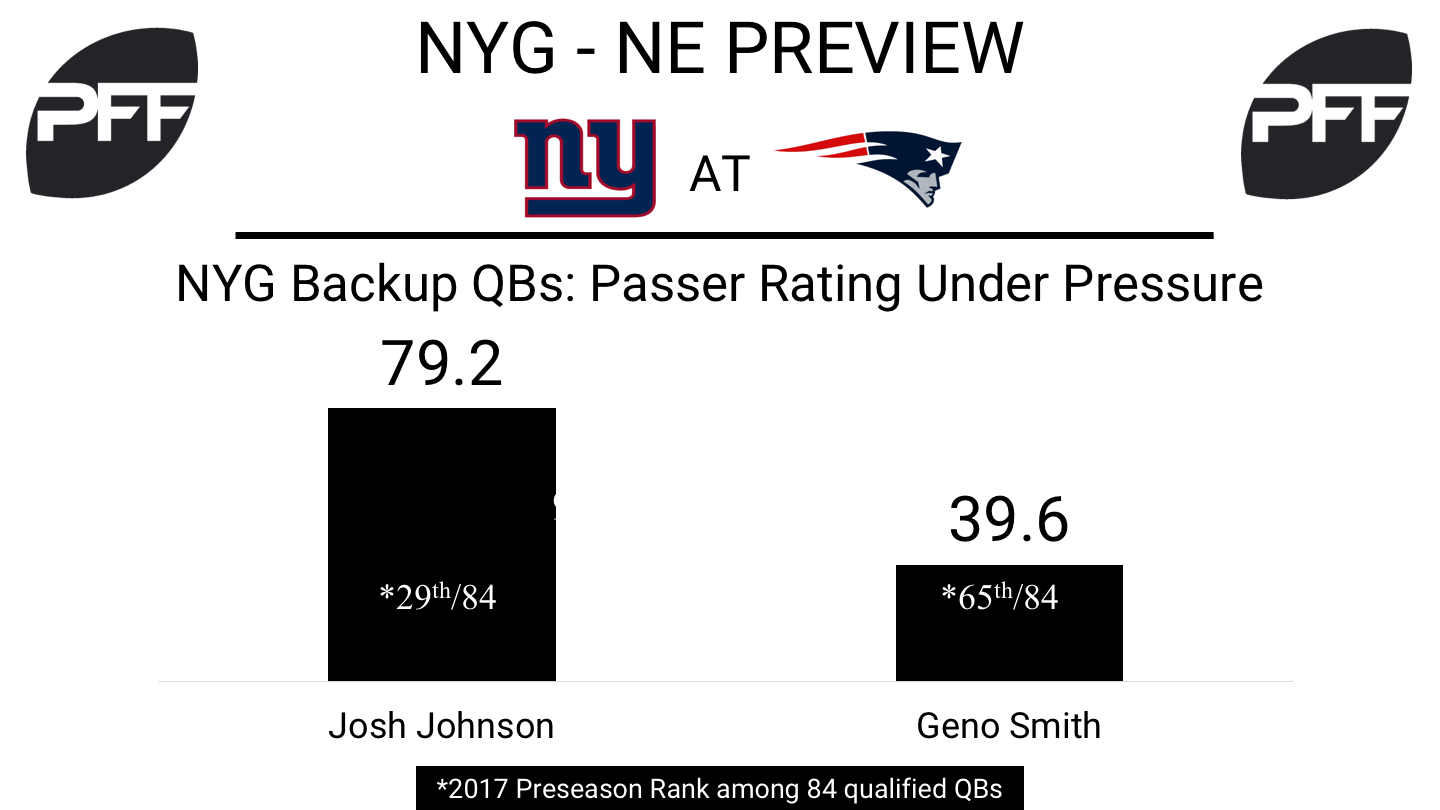 Coverage by: Andrew Fleischer
Jonathan Freeny turned in a forgettable performance in the Patriots' preseason Week 2 game against Houston, earning a 46.2 PFF overall game grade. He turned things around last week against Detroit, finishing with a 79.4 overall PFF grade, the highest among all linebackers in the game. Freeny was a standout on special teams for the Patriots in 2015, and missed the majority of the 2016 season with a shoulder injury.
Harvey Langi, meanwhile, graded out to a 77.9 PFF overall game grade against Houston, the third-highest mark among linebackers in that game. He struggled against Detroit, posting a 49.3 PFF overall game grade. Langi did excel rushing the passer in both games, posting 79.2 and a 76.5 pass rush grades respectively. Pass rushing depth is a need for New England, and Langi's continued elevated performance in this area is something to keep an eye on in this week's final preseason game against the Giants.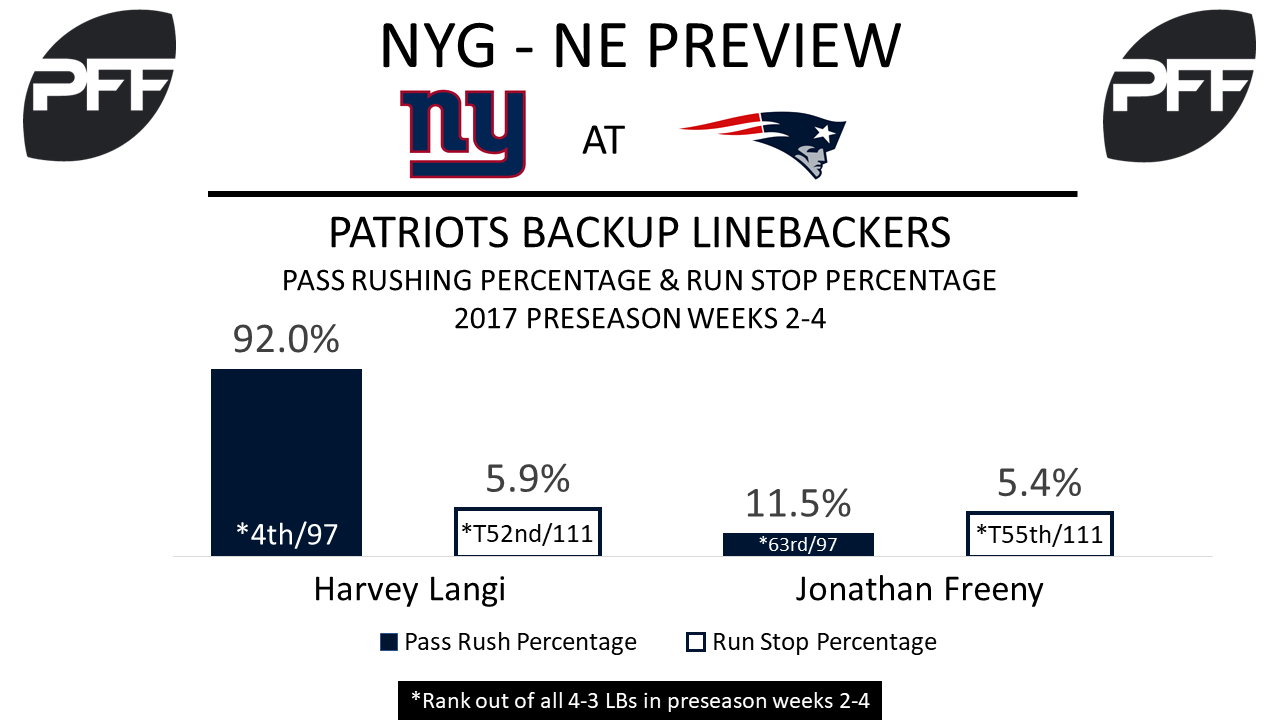 Players to Watch:
DJ Foster, RB –Julian Edelman will miss the 2017 season after tearing his ACL last week, and DJ Foster has an opportunity to absorb some of those passing targets from the slot. Foster's 1.83 yards per route run is the 17th best mark out of 73 running backs with at least 15 snaps in route this preaseason.
Austin Carr, WR – Austin Carr's chances of making the final cut stand to be better than they were before Edelman's injury. Carr's 107.6 receiver rating (the rating quarterbacks have while throwing to a wide receiver) in 3 preseason games so far is the sixth highest mark out of 35 wide receivers with at least 11 targets. He's one of only two players among the top 10 in that group without a single drop.
Adam Butler, ED – Adam Butler completed last week's game in Detroit with the highest PFF overall grade on the team at 89.2. With the Patriots' release of Kony Ealy this week, his odds of making the 53-man roster have increased. After posting a run stop percentage of 10.3 through the first three preseason games, 16th highest among 100 eligible 4-3 defensive ends, Butler's performance in this final game could go a long way toward securing his spot on the roster.