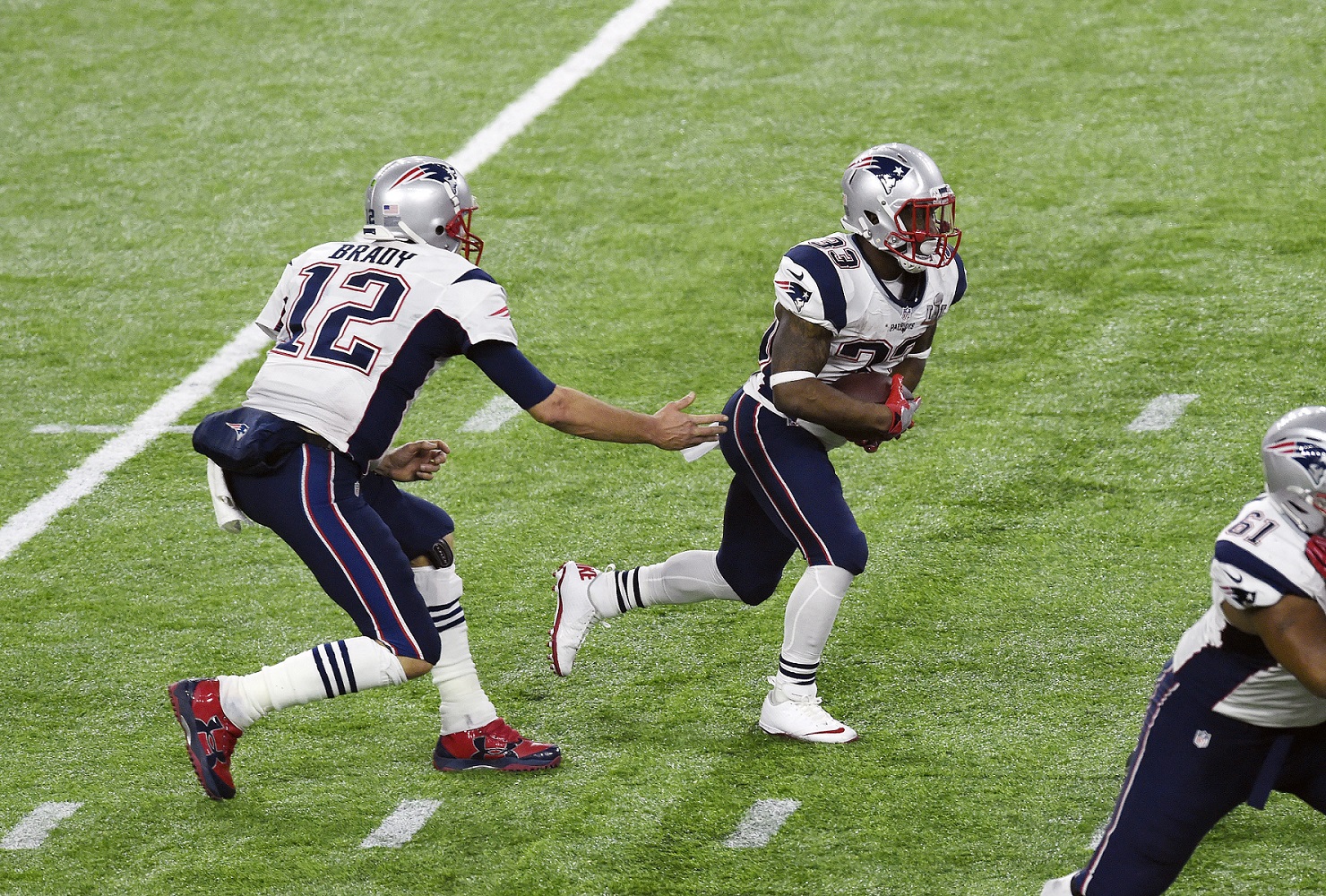 HOUSTON, TX - FEBRUARY 05: Dion Lewis #33 the New England Patriots takes the handoff from Tom Brady #12 against the Atlanta Falcons during Super Bowl 51 at NRG Stadium on February 5, 2017 in Houston, Texas. The Patriots defeat the Atlanta Falcons 34-28 in overtime. (Photo by Focus on Sport/Getty Images)
Preseason Week 3 continues with the New England Patriots at the Detroit Lions. The third week of the preseason is generally considered a "dress rehearsal" for the NFL season, and starting positions and important roles can be won and lost this week. PFF's analysts have all the important position battles and players to watch for each team below:

Coverage by: Andrew Fleischer
Mike Gillislee should see work with the starters in the Patriots' third preseason game against Detroit. In 2016 with Buffalo, Gillislee forced 19 missed tackles rushing and receiving on 101 attempts, amounting to a 57.6 elusive rating, the eighth highest mark among 53 running backs with at least 83 attempts. When he was contacted, his 3.34 yards after contact per attempt was the third-best mark among qualifying running backs.
Dion Lewis played the first seven games in 2015 before a torn ACL cost him the remainder of the season, and the first nine weeks of 2016. Lewis forced 43 missed tackles on just 49 attempts rushing and receiving in 2015, and his 165.2 elusive rating in that time frame was far and away the highest of all running backs with at least 40 attempts. Lewis forced eight missed tackles on 14 attempts last week against the Texans, good for a 102.3 elusive rating, the 17th best rating among 106 running backs with at least seven attempts.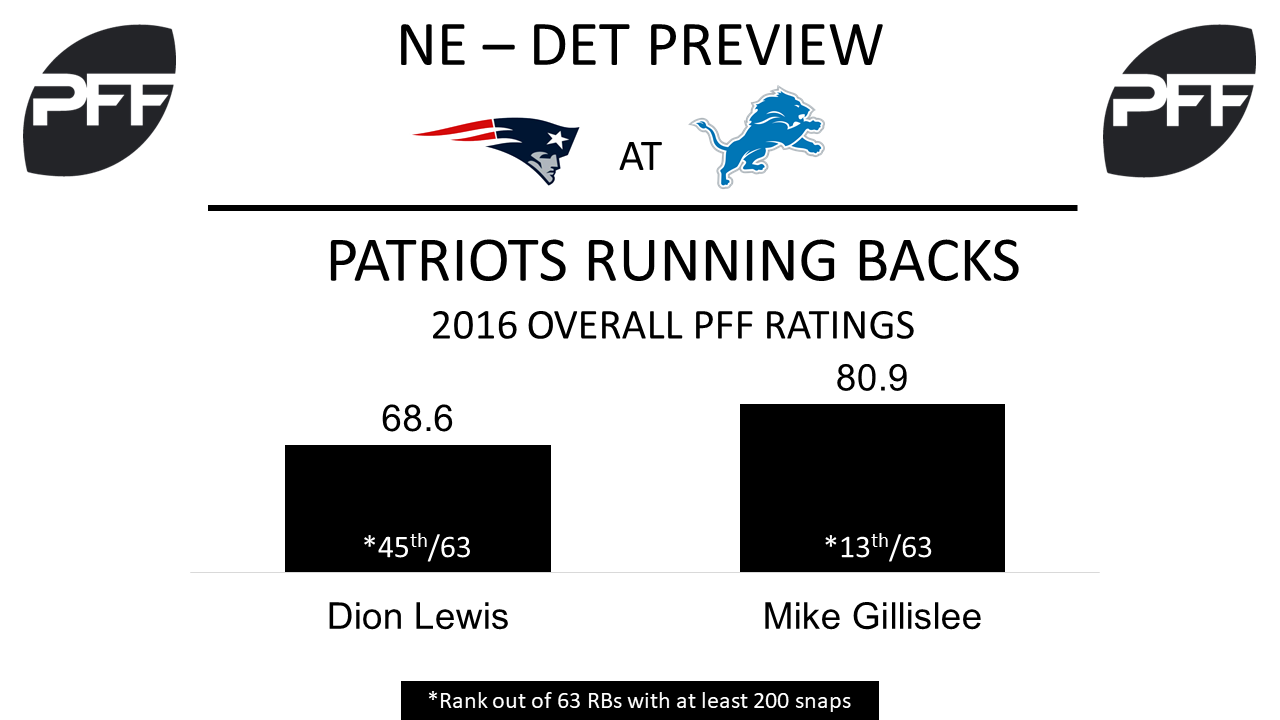 Players to Watch:
Nate Solder, T – Solder's presence at the left tackle spot is essential for New England's offensive front five, and he should see his first preseason game snaps on Friday. He earned an 81.7 overall PFF grade in 2016, and his 96.2 pass blocking efficiency rating was tied for the 13th best among 74 offensive lineman with at least 179 pass-blocking snaps.
Dwayne Allen, TE – The Patriots traded a fourth-round pick to the Colts to acquire Dwayne Allen in the offseason as a complement to Rob Gronkowski, and he should see his first preseason action this week. Among tight ends with at least five targets of 20 or more yards in 2016, Allen's 60.0 percent catch rate was tied for the third-highest mark. His 5.41 drop rate on all of his targets was the 14th-lowest percentage among 40 tight ends with at least 32 targets.
Kony Ealy, ED – Ealy's 2016 left a lot to be desired, specifically noted by his 54.8 overall PFF grade. His performance in New England's second preseason game graded out to a 49.1 overall, and he'll need to step it up this week in Detroit to keep his roster spot secure. We've seen what he's capable of at his best as his 88.1 overall PFF game grade in Super Bowl 50 with Carolina was the second-highest grade among all the players in that game.

Coverage by: Brett Whitefield
Through two preseason games all three players have shined in separate moments. Barrett has been the highest graded among the three earning an overall grade of 81.7 with Valoaga right behind him at 80.1 and O'Connor keeping pace at 77.4. O'Connor has been very effective as a pass-rusher producing a pass-rush productivity of 14.2, which ranks seventh among 4-3 defensive ends with at least 25 pass rush snaps. He has racked up five total pressures including two sacks in his two games. O'Connor hasn't been asked to defend the run much so far seeing the field for just eight run defense snaps.
Barrett has been solid against both the run and as a pass-rusher. His run stop percentage of 9.5 percent ranks in the top 20 and against the Colts he showed to be a capable pass-rusher, totaling five pressures (two sacks, two hits, one hurry) but didn't record a pressure against the Jets. Against the Colts, Valoaga racked up four total quarterback pressures including a sack while also leading the team in stops (five) and run stops (two). This past week against the Jets, Valoaga didn't record a single pressure or stop while only playing 18 snaps.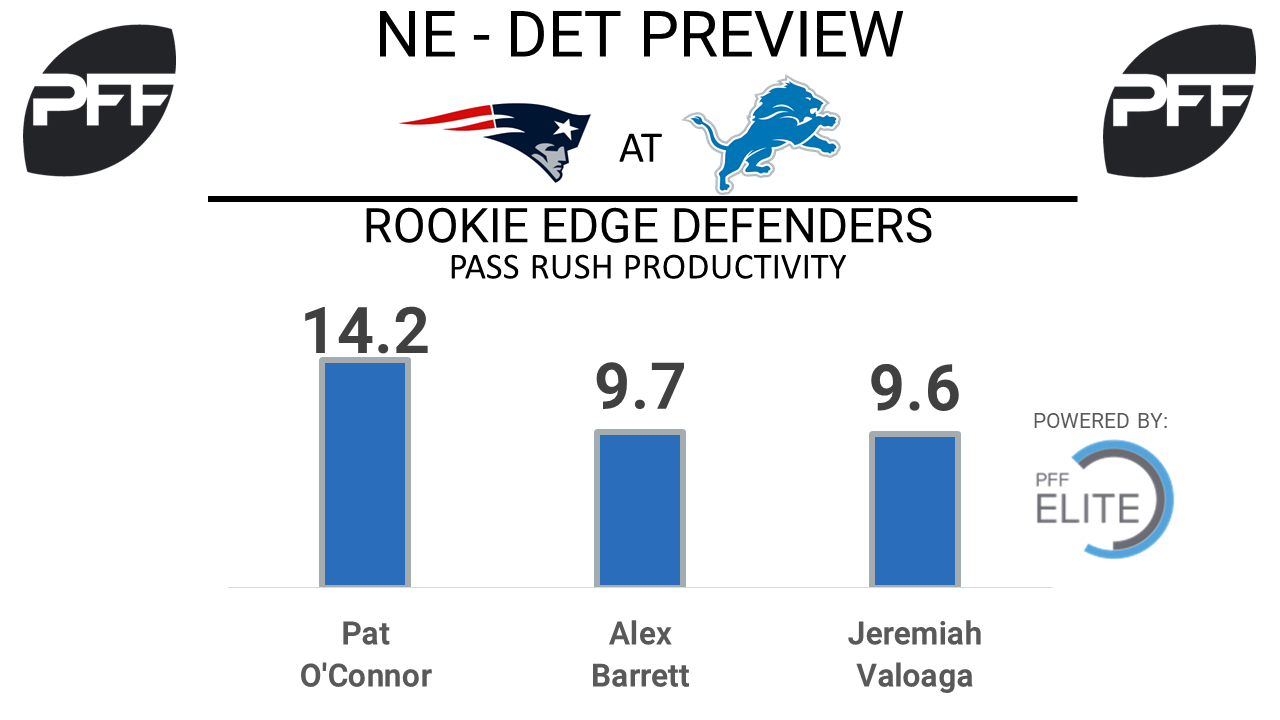 Players to Watch:
DJ Hayden, CB- When Hayden signed in Detroit the assumption was he was going to man the slot. So far Hayden has played just twelve preseason snaps in the slot but has been very effective out on the boundary. His 82.9 overall grade is the second-highest on the team and ranks 11th out of all preseason cornerbacks. Hayden has yet to allow a catch into his coverage on 48 coverage snaps.
Dwayne Washington, RB – Washington entered camp this year with questions about his standing on the 53-man roster but through the first two pre-season games he has been effective and has shown improvement from his rookie season. His 78.8 overall grade is the second-highest among offensive players on the team and also ranks 12th among all running backs this pre-season. He has forced four missed tackles on 14 carries and has generated 2.93 yards after contact per carry. Perhaps most importantly he has graded well on special teams.