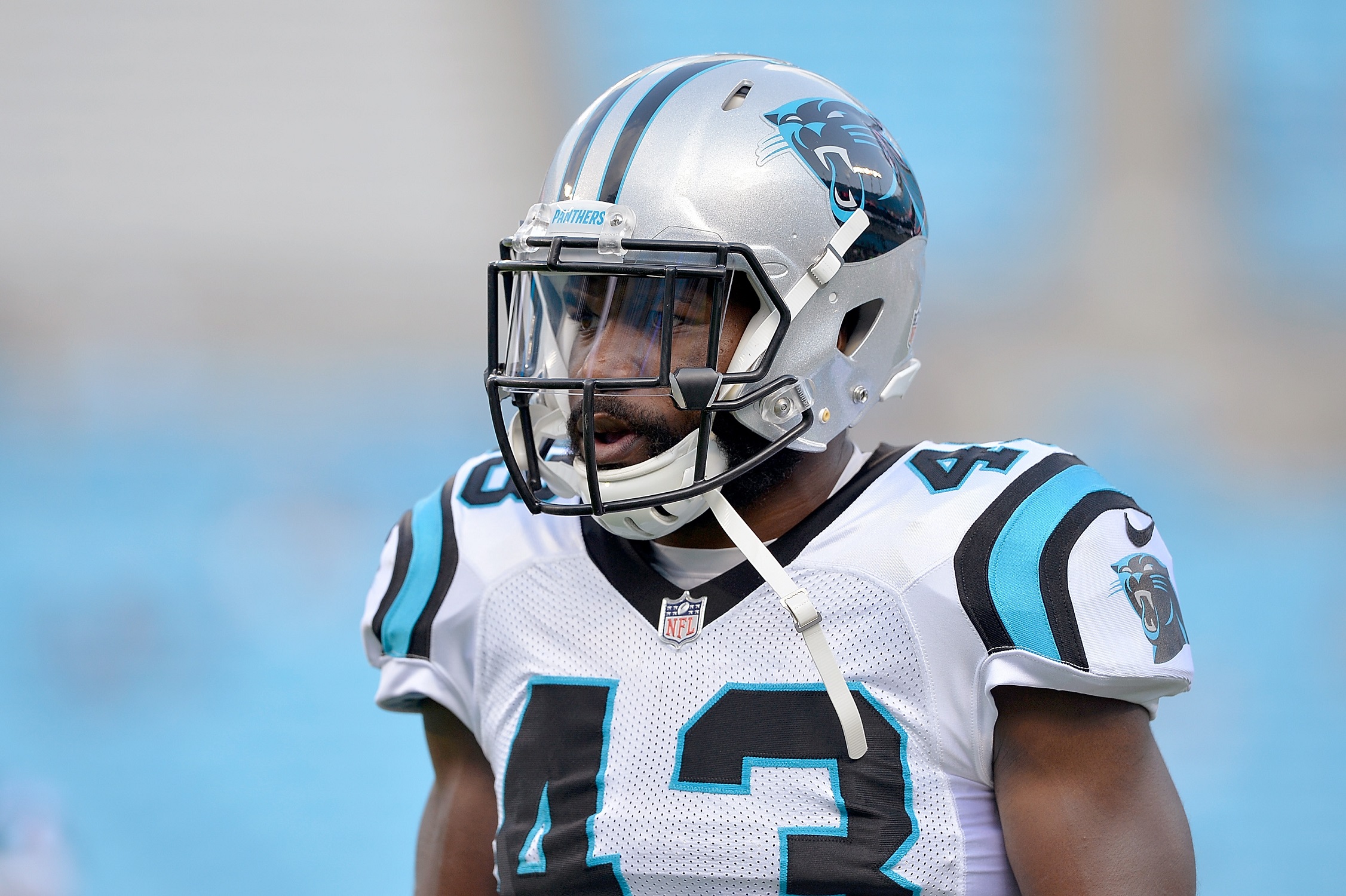 CHARLOTTE, NC - AUGUST 09: Fozzy Whittaker #43 of the Carolina Panthers during their game against the Houston Texans at Bank of America Stadium on August 9, 2017 in Charlotte, North Carolina. (Photo by Grant Halverson/Getty Images)
The second week of the preseason continues with games on Saturday, including one featuring the Carolina Panthers at the Tennessee Titans. Teams will be looking to see which players improve on their Week 1 performances and which players really grab hold of important roles. The PFF analysis team has all of the important battles and players to watch in this game:

Coverage by: Mike Manning
With Jonathan Stewart's injury history and Christian McCaffrey being a rookie, the third running back could be a crucial position for the Panthers at some point in 2017. Fozzy Whitaker returns as the only real receiving threat, out-targeting Stewart and Cameron Artis-Payne, 31-17. His 1.41 yards per route run were also the highest on the team among returning running back by a yard. Whitaker was also the only other running back on the roster with any runs of 15 or more yards (5).
Artis-Payne, on the other hand, is second on the team among returning running backs in yards after contact per attempt with 2.47, beating out Whitaker's 2.11. The younger Artis-Payne also graded higher than Whitaker in 2016, 60.7 grade for Artis-Payne over Whitaker's 51.4 overall. But in the initial unofficial depth chart, Whitaker is ahead of Artis-Payne so there is still work to be done before this battle is decided.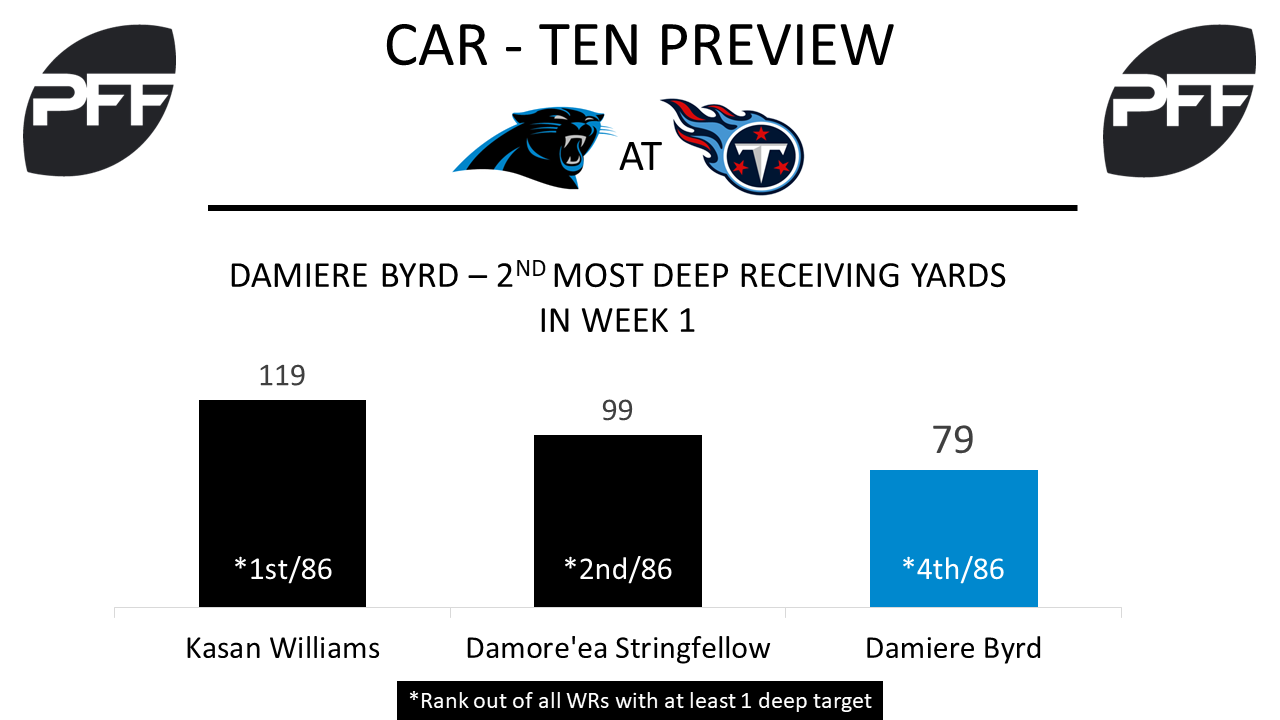 Players to Watch:
David Yankey, G – The former Stanford guard was named to PFF's Preseason Week 1 Team of the Week after earning the highest grade for any guard, 84.3 overall. His strong performance against the Texans included no pressures allowed in 15 pass blocking snaps to go along with an 86.3 run blocking grade.
Shaq Thompson, LB – The Panthers reportedly are looking give Thomas Davis more rest this season as they give third-year linebacker Thompson more experience. Thompson excelled last season in limited action with the third highest grade on the Panthers defense, 85.0 overall. After only playing 17 snaps in the preseason opener, Thompson allowed two receptions on three targets for 14 yards and didn't record a run stop. He will look to improve on his 61.7 grade in the matchup against the Titans.
Damiere Byrd, WR – Byrd entered the preseason as one of the handful of wide receivers fighting for the roster spots behind starters Kelvin Benjamin, and Devin Funchess. He set himself apart against the Texans with an 84.2 overall grade, the fifth highest by a receiver in Week 1 of the preseason. Byrd proved to be a real threat deep downfield, he reeled in two of three targets for 79 yards and a touchdown on passes more than 20 yards downfield.

Coverage by: Sam McGaw
Sims started ahead of Jackson in last week's game against the Jets. In 14 snaps, Sims allowed a nine-yard reception and had one stop in coverage. Last season, he allowed 1.75 yards per coverage snap. He finished the year with a PFF overall grade of 45.9.
Jackson, a first-round pick, mostly played with the second unit last week, logging 21 snaps in the process. He lined up in the slot for eight of his 12 coverage snaps, allowing one reception on one target for 14 yards. He also added a run stop. At USC last season, he allowed an average of 1.19 receiving yards per coverage snap, which ranked 87th in this year's cornerback class. Quarterbacks targeting a player in Jackson's coverage last year averaged an NFL passer rating of 80.5.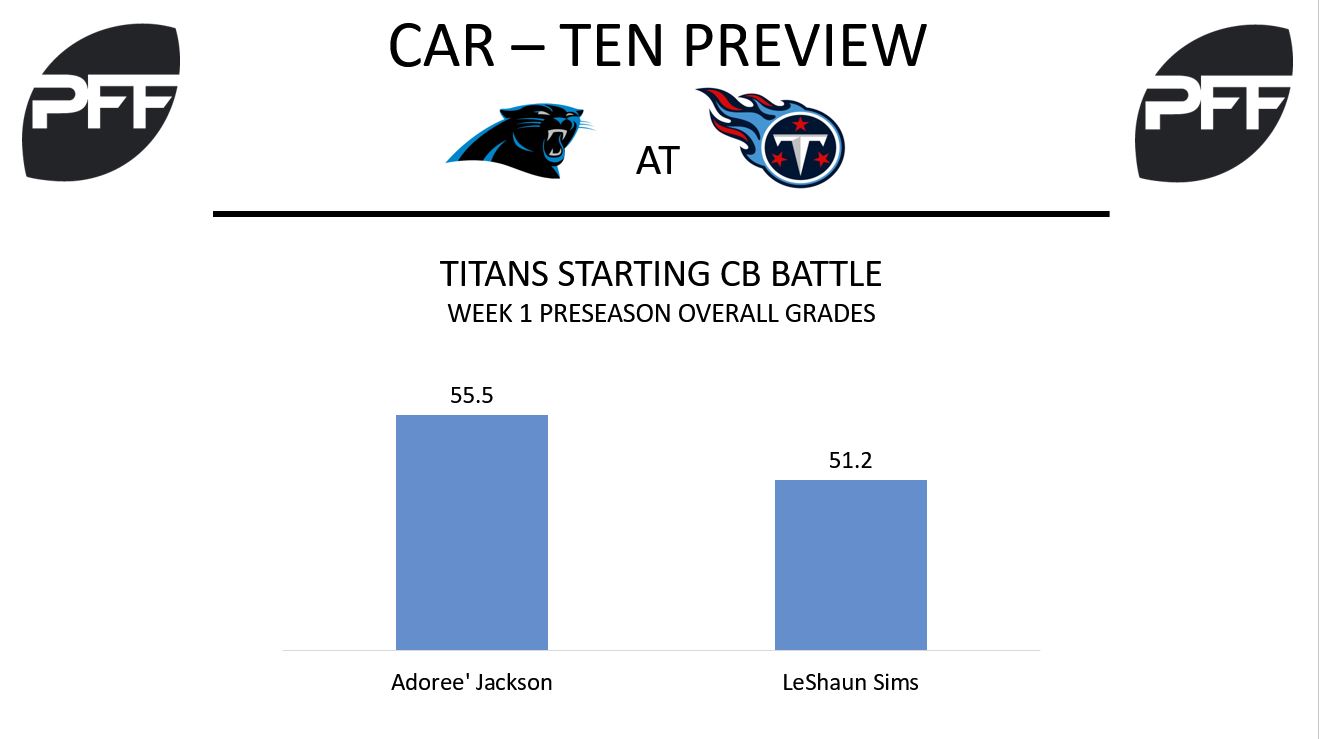 Players to Watch:
Taywan Taylor, WR – With Corey Davis and Eric Decker already ruled out, Taylor is expected to log another heavy workload. His 34 snaps last week led all Titans receivers. The third-round pick averaged 2.07 yards per route run in the affair. He also caught one of two passes that were targeted 20-plus yards downfield.
Kevin Dodd, ED – Dodd's 34 snaps last week was the first live action he's seen since Week 10 of last season. However, the reps didn't equate production. The 2016 second-round pick didn't record a pressure in 14 pass-rush snaps. He posted a PFF overall grade of 42.7 last season.
Aaron Wallace, ED – Wallace's 30.8 pass-rushing productivity rating last week ranked third among 3-4 outside linebackers. He applied five total pressures in 13 pass-rush snaps, while adding two stops