The second full week of the NFL's preseason schedule is almost entirely in the books and it's time to reflect on the weekend's top-graded players based upon hours and hours of our team of analysts watching every player on every play of every game.
With preseason being such a unique proposition, making this team isn't quite as simple as earning the highest grade at your position in a given week. Weighting has been given towards playing time, as well as doing your good work against the first- and second-string opposition units in an attempt to strike a balance between the best production over the longest stretch of playing time, and against the best standard of players.
Check out all preseason information including every player's grade with PFF Elite and Premium Stats 2.0.

Offense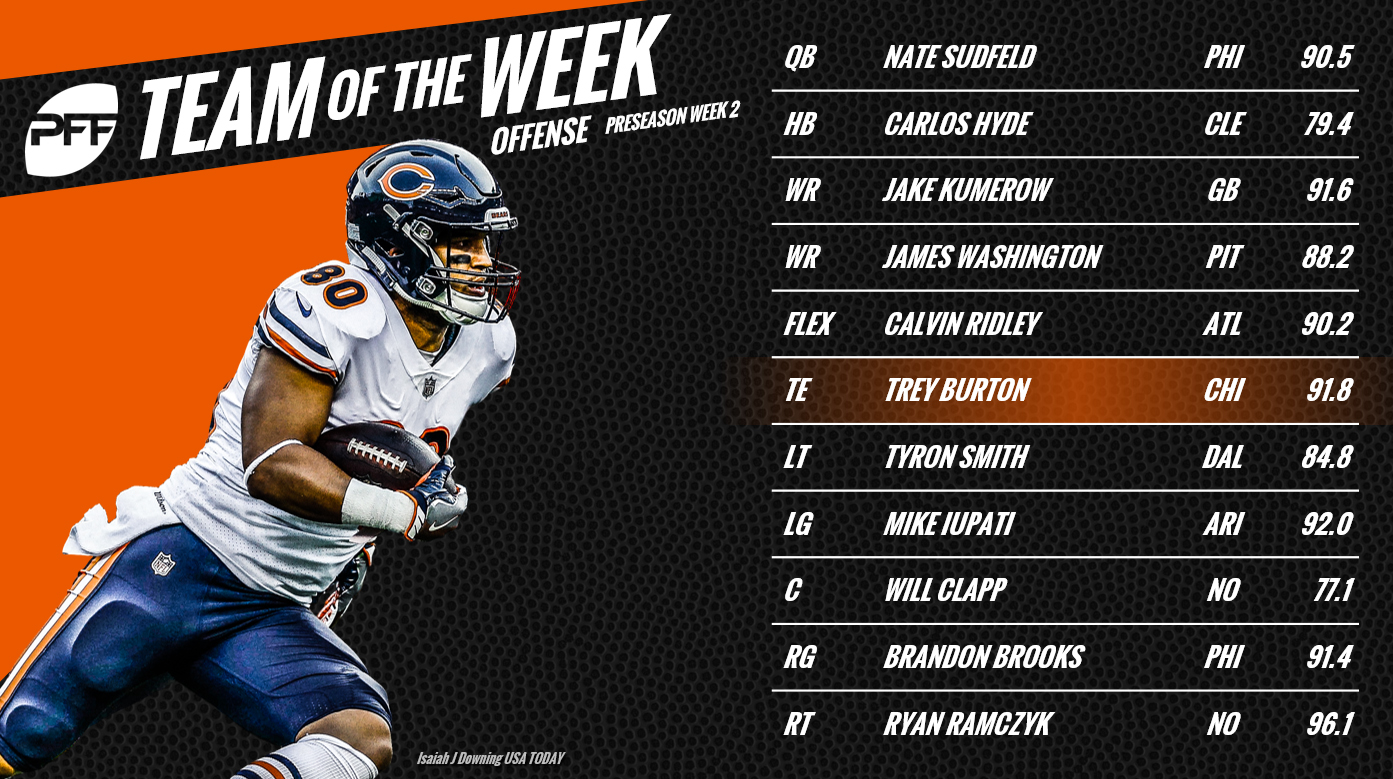 Quarterback
When Nick Foles went down injured on the sack from Adrian Clayborn, Sudfeld stepped in to play almost the entire remainder of the game, racking up 57 snaps. He only completed 52.4 percent of his passes, but four drops masked some good play. His adjusted completion percentage was far better at 72.2 percent.
Running Back
The Browns were able to gash the Buffalo defense early in the game on the ground, and Hyde brought the largest amount of damage. Hyde had nine attempts for 64 yards, with 60 of them coming after contact.
Wide Receiver
Kumerow has been lighting up Packers training camp this season, and he carried that into his game against the Steelers, catching all three targets sent his way for 114 yards, including one 93-yard catch and run for a touchdown.
Wide Receiver
In college, Washington was a force on the deep ball and on contested catches. He proved he still has those skills at the NFL level, scoring twice on badly-thrown passes where he simply outmuscled the defensive back at the catch point.
Flex Offense
Ridley was a threat in this game right from the opening kickoff, which he was able to run back 34 yards. As a receiver, he caught three passes for 49 yards and a touchdown, breaking open with ease using the same route-running skills we saw from Alabama. Matt Ryan had a passer rating of 117.0 when targeting Ridley.
Tight End
Catching 4-of-5 targets for 45 yards and a score, we finally got to see the dynamic matchup weapon Burton can be within this offense and why they paid big money to acquire him in free agency. Burton was able to win both inside and split out wide.
Left Tackle
In 16 snaps of pass protection, Smith allowed just a solitary hurry, but it was as a run-blocker that he was at his best, driving people off the ball and sealing his man out of the play to allow the Dallas run game to break through the line into open real estate.
Left Guard
The 2018 Arizona Cardinals may end up with the best guard tandem in the league, particularly when it comes to the run game. Iupati backed up his preseason debut with another strong run-blocking display against the Saints, and he didn't allow a single pressure on 13 pass-blocking snaps.
Center
Playing right guard and then center in this game, Clapp displayed some impressive power at the point of attack. He didn't allow any pressure across 26 pass-blocking snaps and was particularly effective in the run game on combination blocks – taking care first of a man at the line of scrimmage before climbing to take out a linebacker.
Right Guard
Brooks for one isn't looking complacent on the back of a Super Bowl championship. One of the best guards in the game, he has yet to surrender a single pressure this preseason, and has been a punishing run-blocker, this time against the Patriots defensive front.
Right Tackle
With only six snaps of pass protection, surrendering no pressure isn't that great an achievement, but Ramczyk's run-blocking highlight reel in this game would be a thing of beauty. His first play of note came on an outside zone run where he was able to work across an entire shade to cut off 3-technique Robert Nkemdiche and pancake him to the ground, but he was also far too much for Cardinals LB Hasson Reddick to cope with at the second level.
Defense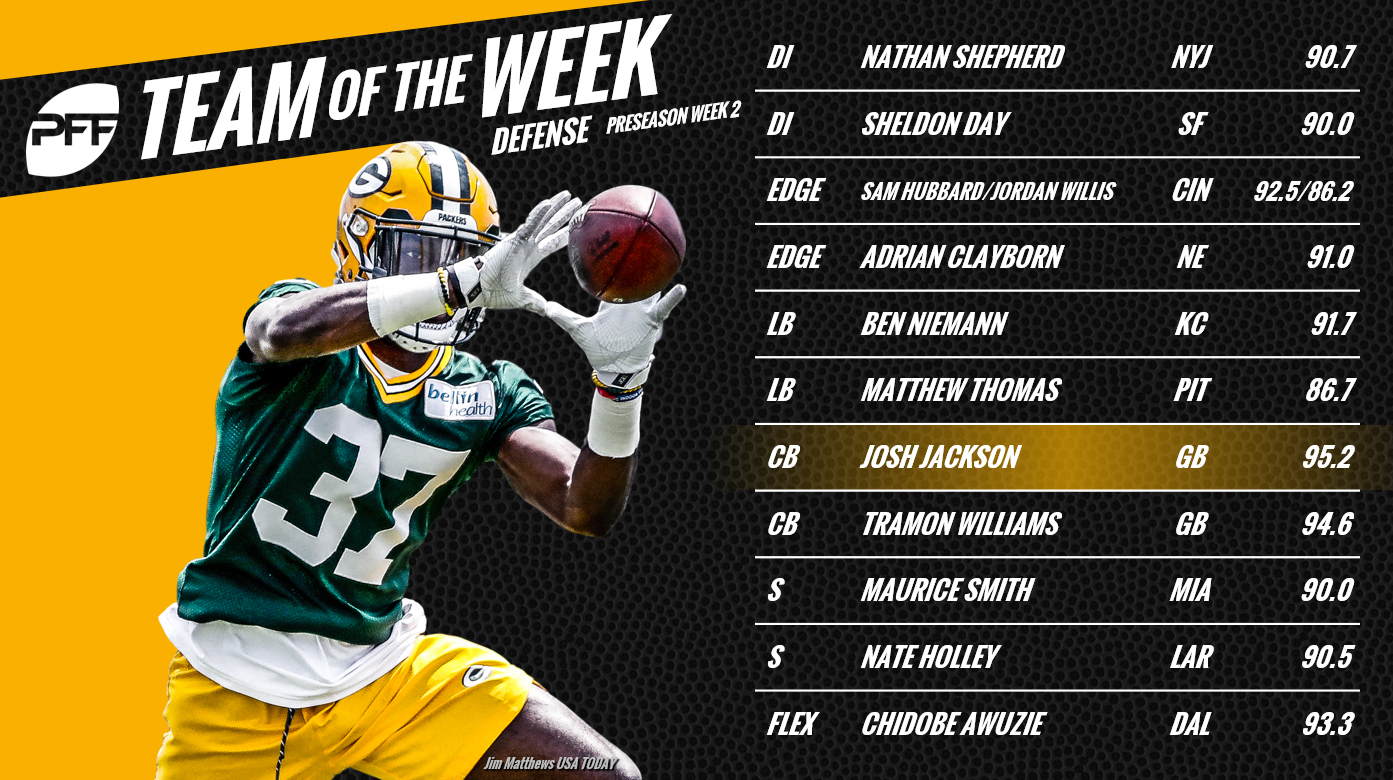 Edge Defender
Coming off a career year, Clayborn played 24 snaps as a starter against the Eagles and was one of the chief beneficiaries of Halapoulivaati Vaitai's disastrous game at left tackle. Clayborn racked up a sack, a hit and two hurries in 19 pass-rushing snaps.
Interior Defensive Lineman
By way of Fort Hays State isn't the usual route for an impact defensive player, but the Jets may have found one in Shepherd. He had a hit and two defensive stops this week against Washington, showing the kind of dynamic athleticism and movement skills that caused the Jets to pull the trigger on him in the third round.
Interior Defensive Lineman
Playing the Houston Texans offensive line will help the cause of any pass-rusher and the 49ers backups in particular had a field day this week. Day notched four defensive stops to lead the team and also added a hit and hurry as he was living in the Texans backfield.
Edge Defender
There's really no way to split Willis and Hubbard, who came in with the Bengals backups and set about systematically dismantling the Dallas offensive line as a pair, working both sides of the line. As a duo, they combined for 10 total pressures, with Willis finishing two of them for sacks. Both players also saw extensive game action, with Willis (38 snaps) just edging Hubbard in playing time (36).
Linebacker
With an interception to his name and solid grades in coverage and against the run, Niemann was one of the standouts at linebacker this week. Niemann's interception may have been thrown straight to him thanks to pressure collapsing the pocket and forcing an errant throw, but he made a nice move to find space and fought through contact to bring it back for six the other way.
Linebacker
With a Steelers linebacker corps crying out for an injection of speed and athleticism since the loss of Ryan Shazier to injury, Thomas made a good case for playing time this week. He played well against the run, but with Green Bay tight ends torching Steelers defenders all night, Thomas was most impressive earning a pass breakup down the right sideline as he split out wide to track TE Kevin Rader down field on a well-thrown deep shot.
Cornerback
We were high on Jackson heading into the 2018 NFL Draft, and had him as the eighth-ranked player on our final big board. His performance against the Steelers on Thursday night highlighted why. Targeted three times in coverage on the night, Jackson didn't allow a single reception, and scored on an interception return. Overall, he ended the game having allowed a passer rating of 0.0 on throws into his coverage.
Cornerback
It's a Packers duo starting at cornerback in our Team of the Week this week, and that really should come as no surprise, with Williams also having a standout performance. He allowed a passer rating of 43.8 on throws into his coverage, with one reception for 19 yards, and an interception, which was returned for a touchdown, from the two passes where he was in primary coverage.
Cornerback
The second-year man out of Colorado is another cornerback who can boast allowing a passer rating of 0.0 on throws into his coverage this week. He was targeted just once in the game against the Bengals, snagging it for an interception. A second-round draft pick a year ago, Awuzie will be hoping to impress coaches with more performance like that in the future.
Safety
Holley played 26 snaps in the Rams' win over the Raiders including 15 snaps in coverage. From those 15 snaps, he was the primary coverage defender on two passes, and broke both of them up. Undrafted in 2017, Holley made a solid case for a long look at a roster spot with his performance on Saturday afternoon.
Safety
Smith was active against the run and the pass, posting PFF grades of 78.7 and 80.4 in those areas, respectively. The 2017 undrafted free agent allowed just one reception for eight yards on plays where he was the primary defender in coverage, and came away with an interception too. He was impressive as a tackler also, with zero misses from the five solo and two assists he attempted.
Special Teams
Kicker
Crosby was perfect on the night, connecting on all three field goal attempts, and all six extra points. He wasn't just connecting on chip shots either, with two of his field goals coming on kicks of 50-plus yards.
Punter
Dickson continued his strong professional debut with three punts averaging 53.0 net yards per kick. He knocked two of them inside the opponent's 20-yard line and did a great job of not over-kicing his coverage as only two of the three were returned for a measly one yard.
Special Teamer
Jones touched the ball four times on special teams, with two kickoff returns and two punt returns. The kick returns were unremarkable, going for 41 yards total with a long of 28. It was as a punt returner where the magic really happened though, breaking a 72-yard return for a touchdown in the second quarter.