The first full week of the NFL's preseason schedule is in the books and it's time to reflect on the weekend's top-graded players based upon hours and hours of our team of analysts watching every player on every play of every game.
With preseason being such a unique proposition, making this team isn't quite as simple as earning the highest grade at your position in a given week. Weighting has been given towards playing time, as well as doing your good work against the first and second string opposition units.
Check out all preseason information including every player's grade with PFF Elite and Premium Stats 2.0.

Offense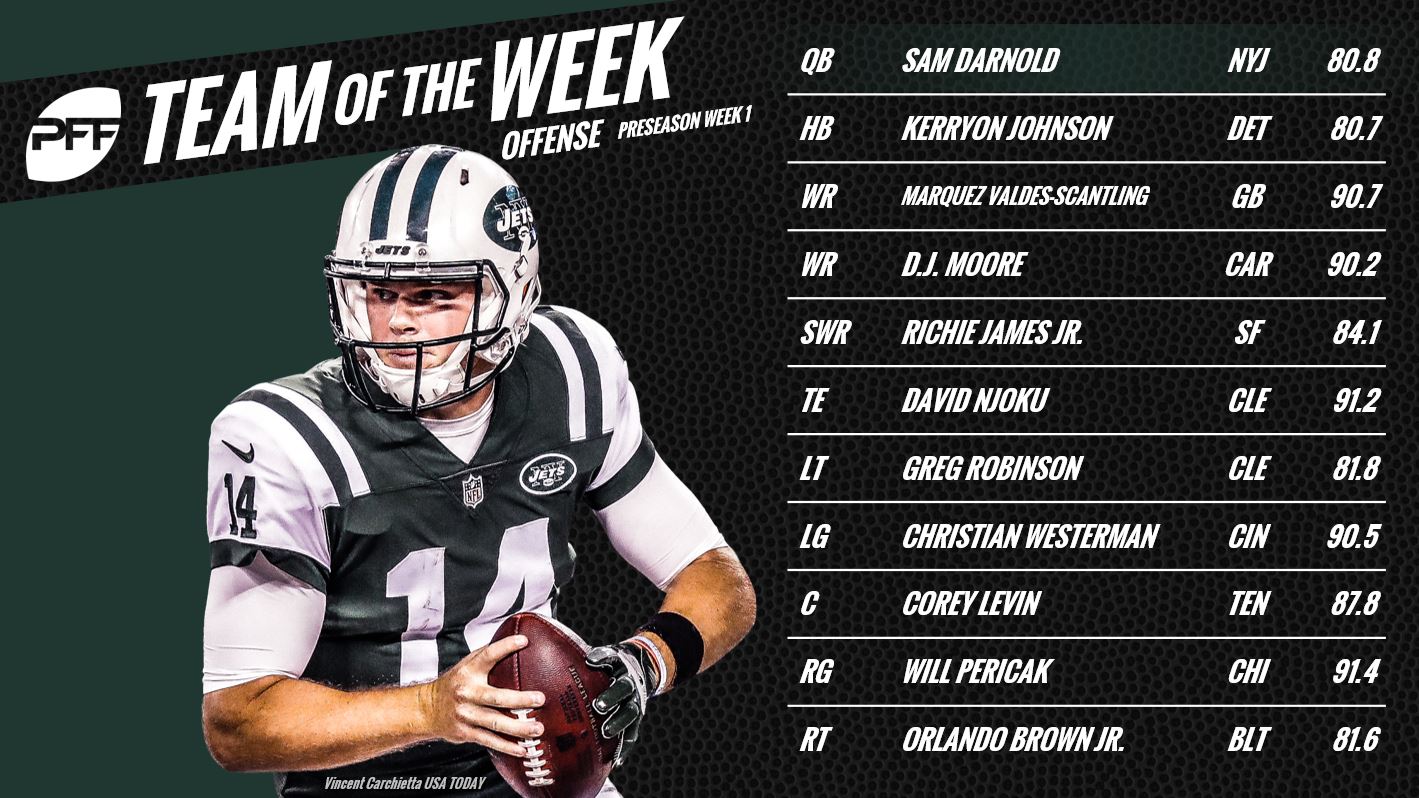 Quarterback
Darnold looked every bit the top-five pick against the Falcons on Friday night. He was accurate on 15 of his 19 attempts, collecting 100 yards and a score. It was a fairly conservative outing with only one deep target all game, but at the same time he protected the ball extremely well.
Running Back
The final stat sheet says nine attempts for 41 yards, but Johnson had more than that on one scintillating second half carry that got called back with a penalty. On the day, he had three broken tackles and 37 of his yards came after contact.
Wide Receiver
The Packers rookie was the only receiver this week to top the 100-yard mark. He did so on five catches – two of which were contested. His day could have been ever better though if he could have hauled in a diving deep pass mid-way through the fourth that he got both hands on.
Wide Receiver
Moore was as advertised in his first preseason play. He hauled in all four of his targets for 75 yards. He also flashed his superb run-after-catch ability, breaking three tackles on one second-half catch.
Slot Receiver
James caught all four of his slot targets on the day for 46 yards. Two of his catches went for first downs while another was a late fourth quarter score.
Tight End
After a lackluster rookie season, Njoku has started Year 2 looking deserving of his first-round selection. He ran all of 12 routes, but two of them resulted in scores and showcased his terrifying skillset. On the first, he blew past a linebacker up the seam for a 36-yard score and on the second he out-jumped two Giants defenders in the end zone.
Left Tackle
The potential has always been there, but the lack of consistency is what's rendered Robinson a colossal draft bust. On 44 snaps against the Giants, Robinson yielded all of one hurry in an impressive outing.
Left Guard
In 43 snaps against the Bears, Westerman played about as well as you can. 29 of those snaps were pass-blocking reps and he wasn't beaten once. For a team needing guard help, it was an encouraging performance.
Center
Levin was dominant as a run-blocker Thursday night. He took over on the second series of the game and proceeded to earn an 85.3 run-blocking grade on 54 snaps the rest of the way.
Right Guard
Pericak is the definition of a journeyman at this point, having been on seven different rosters in six seasons now and never once seeing action in a regular season game. Pericak is looking to change that though as he earned a 92.4 run-blocking grade on 64 snaps Thursday night.
Right Tackle
In 57 snaps at right tackle against the Rams, Brown didn't allow a single pressure all day. He added in an impressive 82.7 run-blocking grade for a complete day at the office.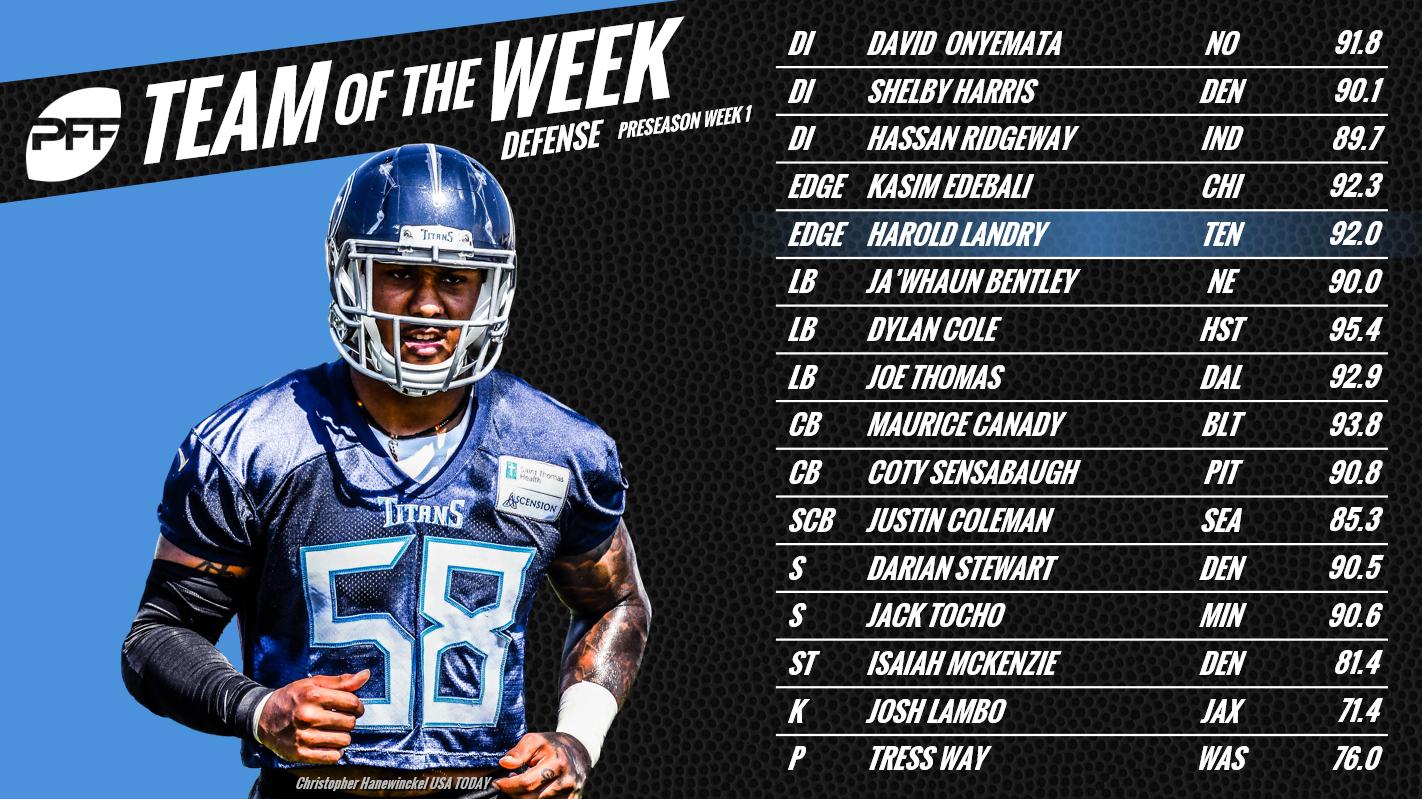 Defense
Edge Defender
Landry got to run with the first team against Green Bay on Thursday night and didn't disappoint. On only 13 pass-rushes he collected a strip sack and another hurry. A very solid debut for the second-rounder.
Defensive Tackle
Onyemata had a breakout season in 2017 and continued that momentum into the preseason. He only registered one stop on the stat sheet, but blew up a handful of other runs that didn't get him recognition on the stat sheet.
Nose Tackle
Harris had a solid day against both run and pass Saturday night in the Broncos loss. On 26 snaps, he registered a run-defense grade of 79.4 and a pass-rushing grade of 83.6.
Defensive Tackle
Ridgeway has played a fairly unimpactful 975 snaps through his first two seasons in the NFL, but at only 23 years of age, he still has room to improve. Against the Seahawks, he registered two sacks and added three hurries for a superb night.
Edge Defender
The fifth-year pro took 40 snaps in the Bears loss to the Bengals on Thursday night. He registered a hit and three hurries as well as collecting two defensive stops against Cincinnati's backups.
Linebacker
Cole made his presence felt against the Chiefs as a blitzer. On his only two pass-rushes, he notched a hurry and a batted pass.
Linebacker
Thomas was all over the field on his 22 snaps Thursday night. He earned three stops in coverage and only allowed one catch for seven yards on two targets. Thomas added an interception for good measure for a 90.0 coverage grade.
Linebacker
The Patriots fifth-rounder from this past April had himself a day against the Redskins. He had four stops in coverage and didn't allow either of his two targets to go for first downs.
Cornerback
Canady only spent nine snaps in coverage, but he made them count. The third-year corner picked off a pass on his only target on the evening.
Cornerback
The veteran cornerback is fighting to see the field in Pittsburgh and his performance over the weekend was a good start. Sensabaugh had an interception on one of his two targets in coverage and allowed the other to be complete for a five-yard gain.
Slot Cornerback
Coleman made the most of his night in coverage, spending 12 of his 18 snaps defending the pass. He was targeted just once, recording a pass breakup and a passer rating allowed of just 39.6.
Safety
The former seventh-rounder got some extended playing time on Saturday against the Broncos. He was on the field for 56 snaps and had an interception along with two other forced incompletions.
Safety
On the opposite side of the field from Tocho on Saturday, Stewart also impressed. He was equally good versus both run and pass with a 78.8 run-defense grade and 79.8 grade in coverage.
Special Teams
Kicker
Lambo knocked in a pair of 49-yard field goals against the Saints and converted both his extra point attempts as well.
Punter
The Redskins punter had all five of his punts against the Patriots get downed inside the 20. Only one was returned, going for zero yards and he had an average hangtime of 4.5 seconds on his punts.
Special Teamer
McKenzie only touched the ball once all day on special teams, but it was spectacular enough that it deserved a spot here. At the end of the first half, McKenzie fielded a punt at his own 22-yard line. He paused for a few seconds before streaking all the way down the left sideline for the score.