We're only two weeks into the preseason, but that won't stop everyone – including us – from completely overreacting to the performances of this rookie class. Now, being horrible in your rookie preseason doesn't doom you and being amazing doesn't guarantee success, but you'd still much rather be the latter.

Let's take a look at who's impressed us the most on both sides of the ball.
Offense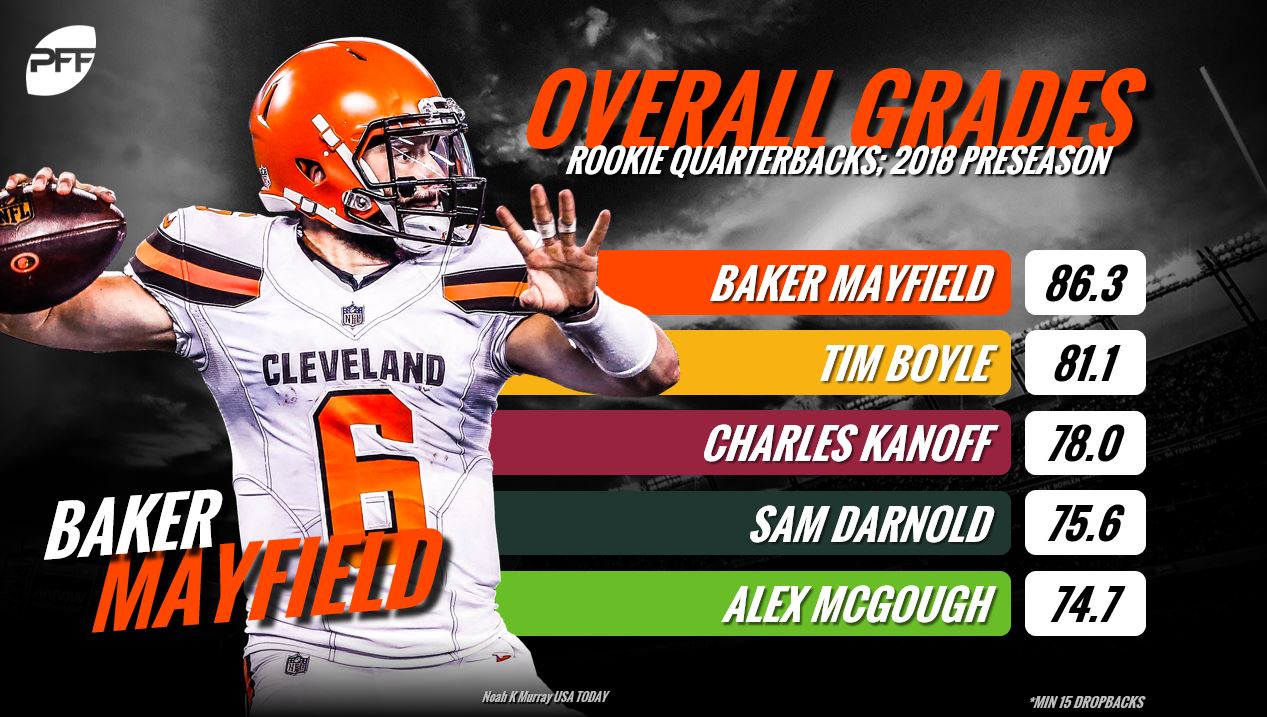 1. Baker Mayfield, QB, Cleveland Browns
Mayfield has dropped back to pass 43 times over the first two weeks of the preseason and has yet to have a single turnover-worthy play. His accuracy hasn't quite been anything special with a 63.6 adjusted completion percentage, but it's also come with a fairly deep 9.9 average depth of target. The Oklahoma product already looks incredibly comfortable with his pocket presence and control of the offense.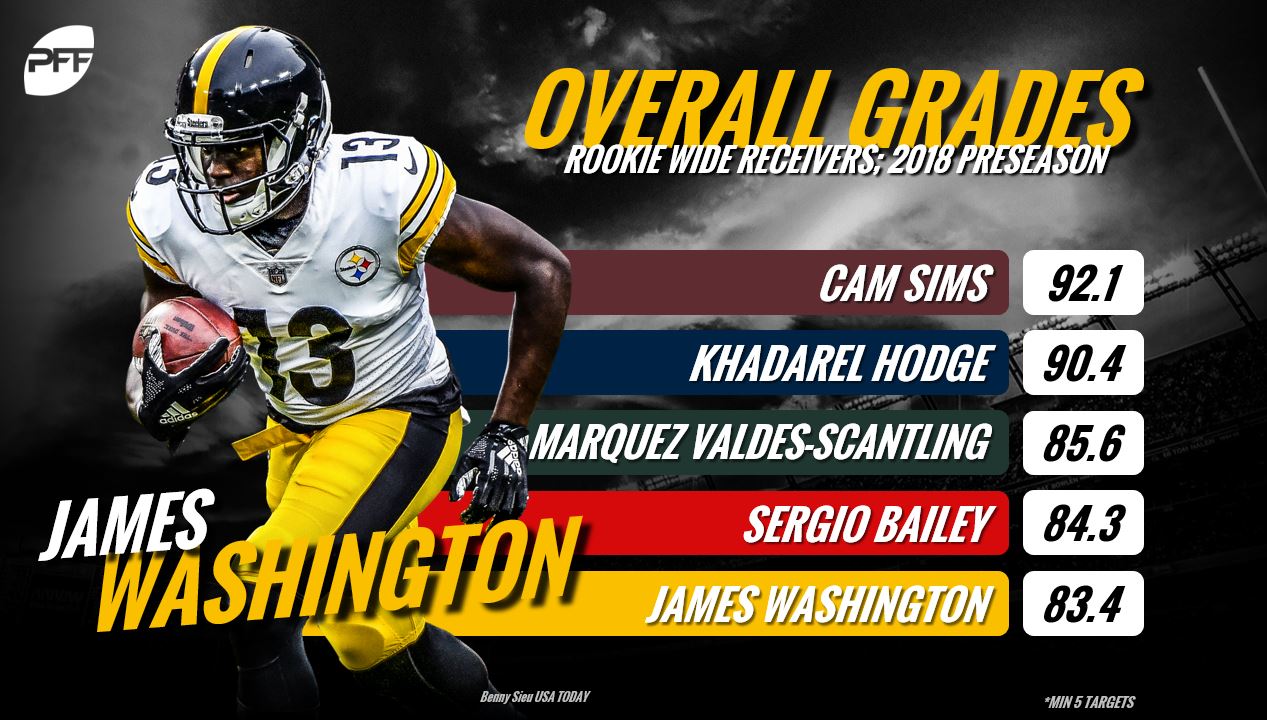 2. James Washington, WR, Pittsburgh Steelers
Washington's flare for the contested catch has already come to fruition early on in Pittsburgh. Three of his seven catches have been contested and six have either gone for touchdowns or first downs. Washington's 158 receiving yards are the most of any rookie wideout.
3. Cam Sims, WR, Washington Redskins
While Washington had the most yards of any rookie, Sims has the best yards per route at 5.46. He's had 131 yards on eight targets through his first two games. Maybe the most impressive part though is his four contested catches, which leads all rookies.
4. Orlando Brown, OT, Baltimore Ravens
The Ravens have certainly been giving Brown every opportunity possible to prove himself. Including the Hall of Fame game, Brown has played a ridiculous 174 snaps already this preseason. He's only been off the field for 36 of the Ravens' 210 offensive plays so far. The Oklahoma product has showed himself well as he's allowed only three hurries, zero hits and zero sacks in his 111 pass-blocking snaps.
5. D.J. Moore, WR, Carolina Panthers
Moore is already flashing the playmaking ability that made him a first-rounder. His catch and run that saw him break three tackles last week against the Bills was one of the best highlights of the preseason so far. Three of his four catches have resulted in explosive plays.
6. Sam Darnold, QB, New York Jets
Darnold has simultaneously been ultra conservative as well as impressive – and no those two aren't mutually exclusive. His average depth of target is only 5.8 yards downfield (a figure lower than any starting quarterback averaged last year) yet he's been accurate and efficient on those throws. He has an adjusted completion percentage of 82.1 and his only interception came via a calculated forced throw under pressure on fourth down.
7. Jamarco Jones, OT, Seattle Seahawks
He only played this past week, but Jones' 20 snaps were enough to warrant inclusion. He didn't allow a single pressure in 11 pass-blocking snaps at left tackle and more than handled his own in the run game. For a team as offensive line needy as the Seahawks, you look for any sort of glimmer of hope you can get.
8. Kerryon Johnson, RB, Detroit Lions
Johnson's stats may look pedestrian at 13 carries for 50 yards, but there's two caveats to that. The first is that Johnson had his highest-graded run of the preseason so far called back against the Raiders. The second is that 42 of his 50 yards have come after contact. Solid start for the second-rounder.
9. Frank Ragnow, G, Detroit Lions
While some of the other linemen on this list have been handling backups, Ragnow has been holding his own running with the Lions' first team. He's already had 37 pass-blocking snaps without allowing a single pressure.
10. Bradley Bozeman, C, Baltimore Ravens
Another Ravens offensive lineman who has showed out in extended action. Bozeman has registered 146 snaps so including the Hall of Fame game and has yet to allow a single pressure.
Defense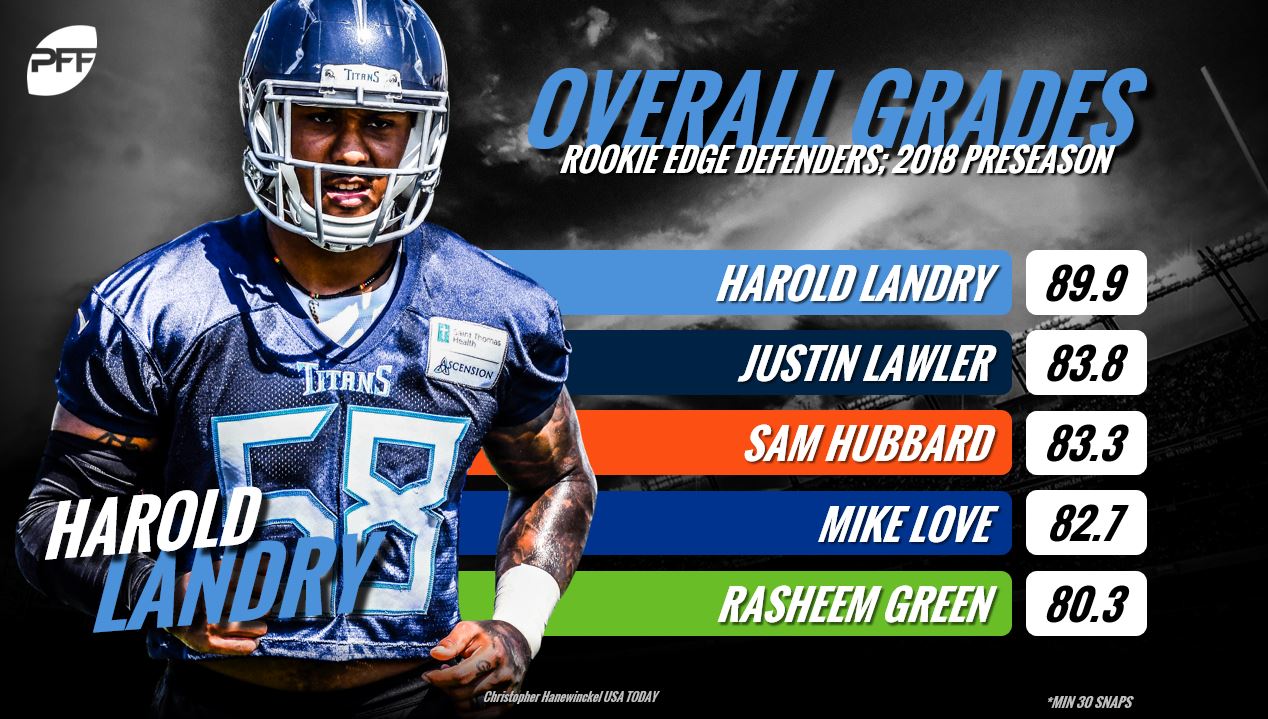 1. Harold Landry, Edge, Tennessee Titans
Through two weeks of the preseason, no drafted rookie defender has earned a higher grade than Landry. His 89.9 overall grade has come almost solely via his work as a pass-rusher. The second-rounder has a sack, three hurries and another pass-rushing win on 30 snaps rushing the passer.
2. Nathan Shepherd, DI, New York Jets
Unlike Landry, Shepherd has earned his 87.6 overall grade so far by being a handful in the running game. He already has four stops on only 23 snaps in run defense. Like Landry, most of these are first team reps as well, making them that much more impressive.
3. Josh Jackson, CB, Green Bay Packers
Targeting the Packers rookie second-round pick this preseason has been about as futile as it gets. On seven targets he's allowed a grand total of one catch for nine yards. Jackson has caught as many passes as he's allowed as the Iowa product had a pick-six this past week against the Steelers.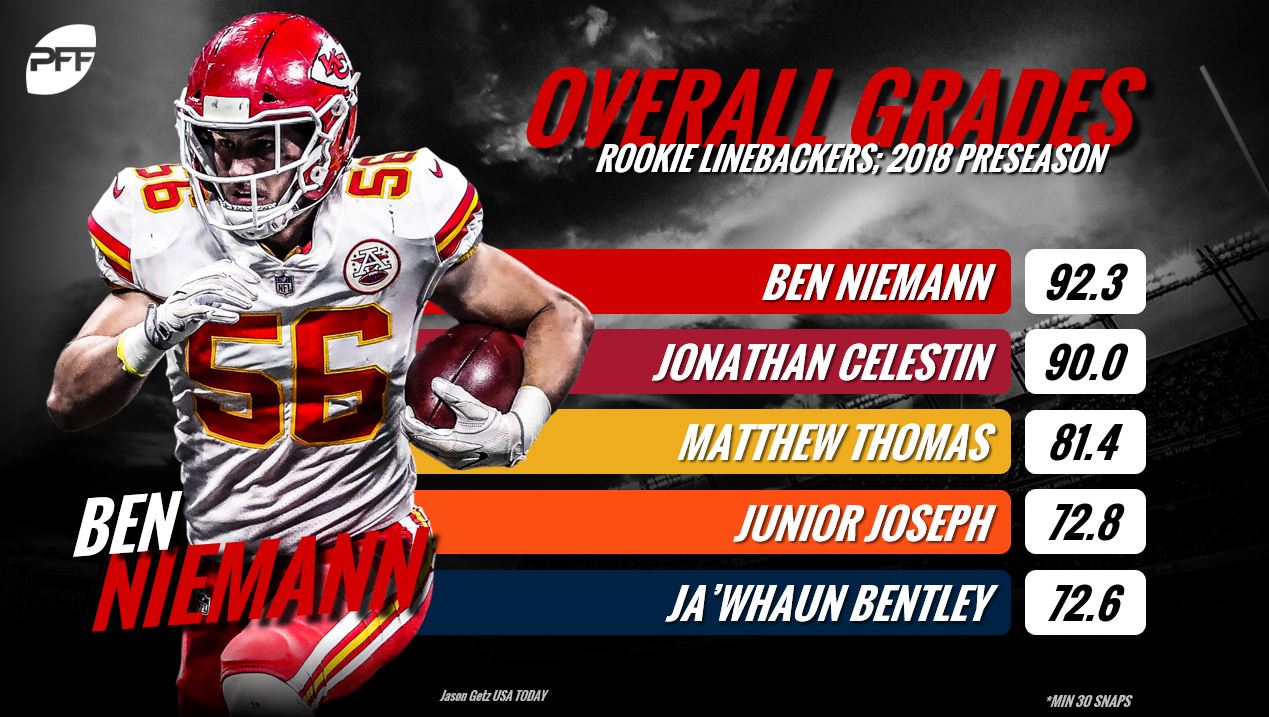 4. Ben Niemann, LB, Kansas City Chiefs
The undrafted free agent is doing his best to make the Chiefs roster so far. He's the highest-graded defensive rookie linebacker at 92.3 overall. In 26 run-defense snaps, he's already reeled in five stops. His two targets so far in coverage have resulted in a pick and a tackle for no gain.
5. Rasheem Green, Edge, Seattle Seahawks
The Seahawks want to get Green acclimated as quickly as possible to the NFL game and as such have kept him on the field for 90 snaps through two games already – the second most of any rookie defensive lineman. He's rewarded them with three sacks, three hits, three hurries and two other pass-rushing wins.
6. Justin Lawler, Edge, Los Angeles Rams
With how weak the edge position is in Los Angeles, any semblance of hope from their seventh-rounder is a good thing. He's given them more than that with two sacks and an added run-stop through two games.
7. D.J. Reed Jr., S, San Francisco 49ers
Reed is technically listed as a safety on the 49ers depth chart, but through two games he's taken 57 of his 75 snaps lined up as a slot cornerback. He's been targeted six times there and while he's allowed four catches, only one has gone for a first down while three have resulted in stops.
8. Matthew Thomas, LB, Pittsburgh Steelers
Linebacker is easily the biggest question mark currently facing the Steelers defense after the loss of Ryan Shazier. Thomas is a freak athlete who never quite saw that translate to production on the football field at Florida State. Through 44 snaps though, the early returns have been encouraging as he's forced an incompletion on his only target so far and made another stop in 18 coverage snaps.
9. Poona Ford, DI, Seattle Seahawks
Ford may never be much of a pass-rusher, but there's still a place on rosters for nose tackles who can hold up at the line of scrimmage against double teams. So far that's been Ford with three run stops on 31 snaps against the run so far.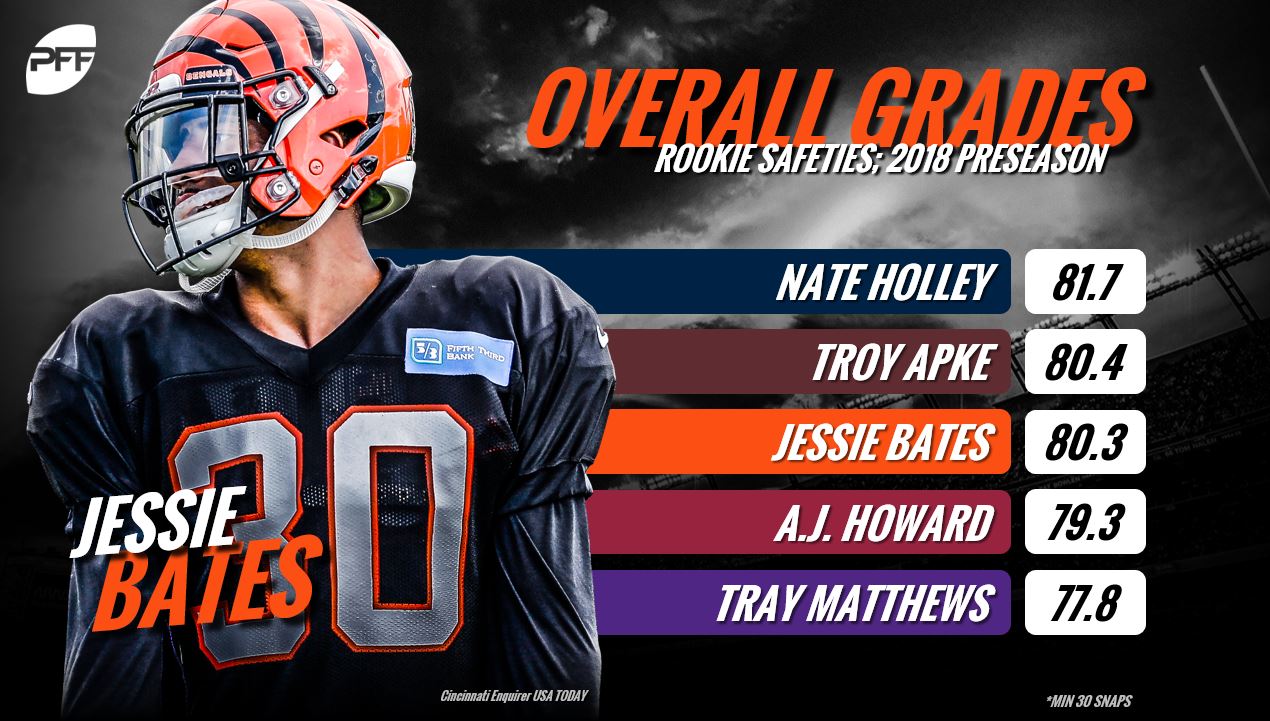 10. Jessie Bates, S, Cincinnati Bengals
There's a reason the Bengals were willing to part ways with incumbent starter George Iloka halfway through the preseason and it has a lot to do with Bates' 80.3 overall grade. The rookie has been all-around solid and hasn't missed a tackle yet on seven attempts.