Long since a favorite of subscribers, Premium Statistics are back and available for PFF Elite subscribers as a part of the package. Our premium statistics showcase everything from a player's total snap count percentage over the course of a season to the amount of times a quarterback threw the ball outside the right hash mark to the deep portion of the field, and everything in between. Our Premium Statistics blend together play-by-play stat lines with our unique hand-collected data to create a set of PFF-exclusive statistics you won't find anywhere else.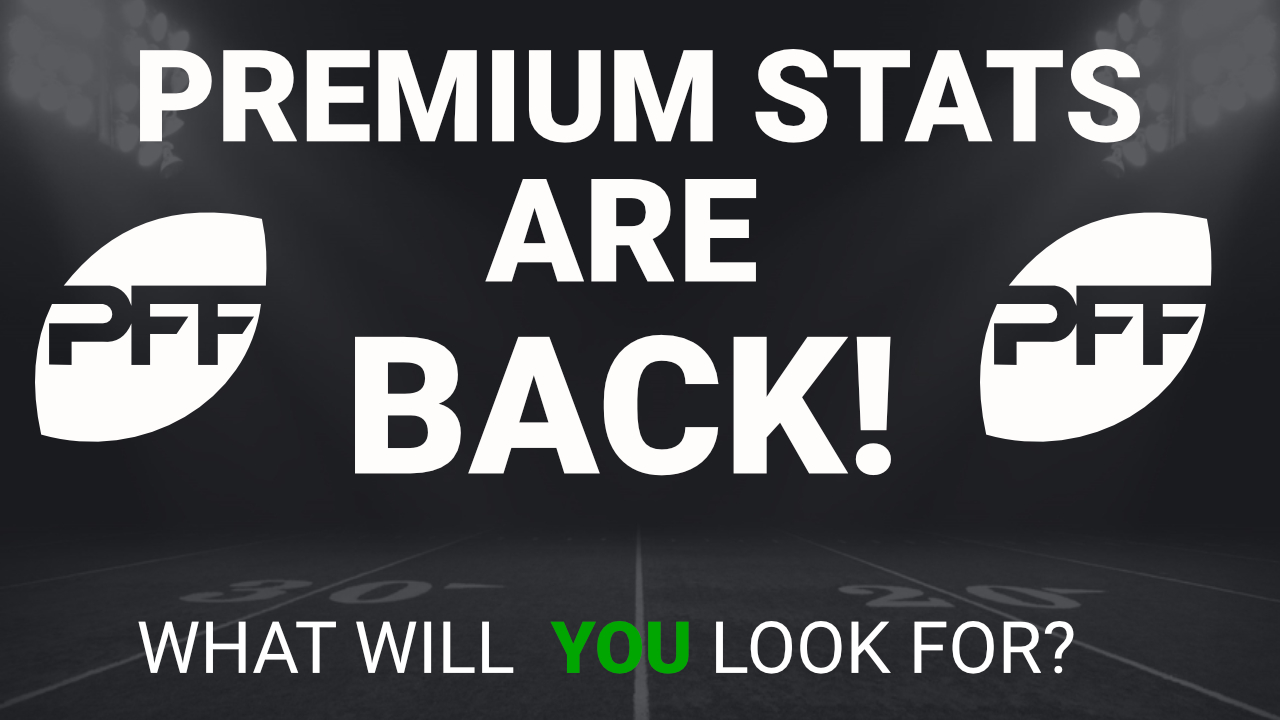 Located inside of our Premium Statistics are those aforementioned PFF-exclusive statistics such as:
Defensive stops

Tackles for loss are one thing, keeping the opposing offense behind their plan is another. Using a PFF-exclusive formula, we calculate a defensive stop as anything that constitutes a 'win' for the defense, or subsequently a 'loss' for the offense. Those do include tackles for loss, but more far accurately depicts just how impactful a defender is in keeping the offense at a more formidable down and distance.

Elusive rating

Yards after contact among running backs help to tell a story of how hard a back is to bring down. Missed tackles forced tells another story. PFF's elusive rating combines the two factors to truly showcase how tough it is to bring down each individual runner.

Tackling efficiency

Our tackle efficiency showcases just that, efficiency in every tackle by factoring in the amount of missed tackles per tackle attempt made by a defender to determine just how well a defender wraps up opposing ball carriers.

Yards per route run

Yardage isn't everything for a receiver in today's NFL. PFF's YPRR changes the narrative and looks at the average amount of yards a receiver picks up for every route he runs on the field, giving a true indication of just how impactful he is on every snap.

Pass-rush productivity

The very first PFF Signature Stat that debuted back in 2009 is a long overdue metric that measures just how effective a player rushes the quarterback. Gone are the days that sack totals showcase how well a defender rushed the quarterback, and here are the days that PRP depicts just how well a player rushes the passer on a per-snap basis.

Passer rating when kept clean

The generalized passer rating is a great metric in and of itself, however at PFF we like to air on the side of stability for better evaluation of a quarterback's success. Proven by our studies, a QB's passer rating when kept clean is a much more stable metric as it isolates a quarterback's ability independent of outside factors.

At Pro Football Focus, we not only grade every player on every play of every game, we also aim to provide context to traditional statistics, and our Premium Stats do just that.
Back by it's own popular demand, Premium Stats is available now for all PFF Elite subscribers. Not a subscriber? Sign up now.