Football season is finally here. And while it may not be the most competitive or intriguing of games in the eyes of the average viewer, the NFL's annual Hall of Fame Game means a whole lot to the majority of guys who will take the field.
With over 70 players in this game alone set to be unemployed after the final cuts on August 31st, the Hall of Fame Game gives players the opportunity to put positive reps on tape early, while it also gives us the chance to catch our first glimpse of the promising rookies who figure to play a huge part in the upcoming season.
Here are the players to watch in tonight's Hall of Fame Game.

The second-round guard is slated to play only "a few snaps," per the Broncos' official website, but it'll still give us a chance to see how he fares in his first action in Denver. And after playing the majority of his snaps at right tackle (72.5%) in college with the remaining 27.5% coming from center, it'll also give us our first real look at him at the left guard position, which is where he's set to play in the upcoming season.
Risner started all four seasons at Kansas State, and his lowest single-season grade was 87.9 overall. He earned the fifth-best pass-blocking grade and the highest run-blocking grade among qualifying offensive tackles in the class in 2018, and he hasn't allowed a sack since the 2016 college season.
Quarterback Joe Flacco may not be suited up for this game, but his eyes will very definitely be fixed on his new receiving weapon as he sees his first game action as a pro.
The first-round tight end was targeted 60 times at Iowa last season, and he generated a passer rating of 131.2 on those targets that ranked fourth among players at the position. Fant's athleticism and playmaking ability on vertical routes are well-documented. However, his ability — or lack thereof — to make plays outside the frame of his body left many undecided on Fant as a prospect. His performance in this regard is worth keeping on eye on Thursday night.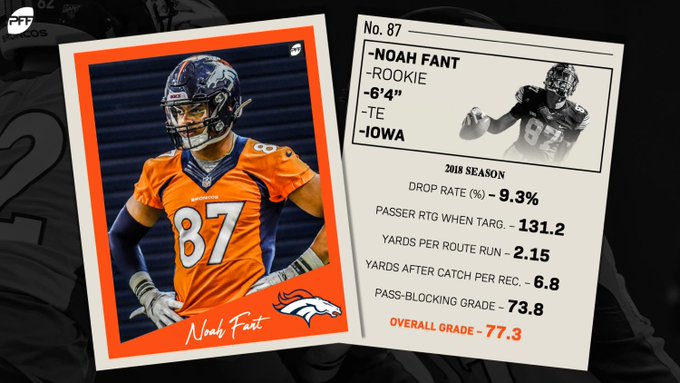 When the Denver offense takes the field, quarterback Kevin Hogan will be the first quarterback to take a snap, but Broncos fans will likely be chomping at the bit to get their first glimpses of rookie quarterbacks Drew Lock and Brett Rypien.
Lock, a second-round pick and the potential future face of the franchise, improved his overall grade in each of his four years with the Missouri Tigers and ended his final year in college with an 88.9 overall grade and an NCAA-leading 33 big-time throws. It's Rypien, an undrafted talent out of Boise State, who arguably has the most to prove of the two though, as unlike Lock, his roster spot is far from secure at this point. Despite the UDFA tag, Rypien ended the 2018 college season as one of the nation's best signal-callers, finishing tied for 21st in passer rating from a clean pocket (113.3) and 12th in passer rating under pressure (91.7).
With Brandon Marshall now in Oakland and Todd Davis set to miss time with a calf injury, the door is open for some of the side's young linebackers to make a name for themselves.
Dineen is among those competing for a roster spot, and he'll be doing so from the very bottom of the depth chart, and that makes him an underdog worth watching. Dineen played four seasons at Kansas and finished this past season with an overall grade of 86.1, tying for 23rd out of the 518 qualifying linebackers in the country. He tallied 59 run stops in 2018, which was the third-most among all linebackers, while his run-stop percentage of 14.7% ranked second among those who played at least 250 run-defense snaps.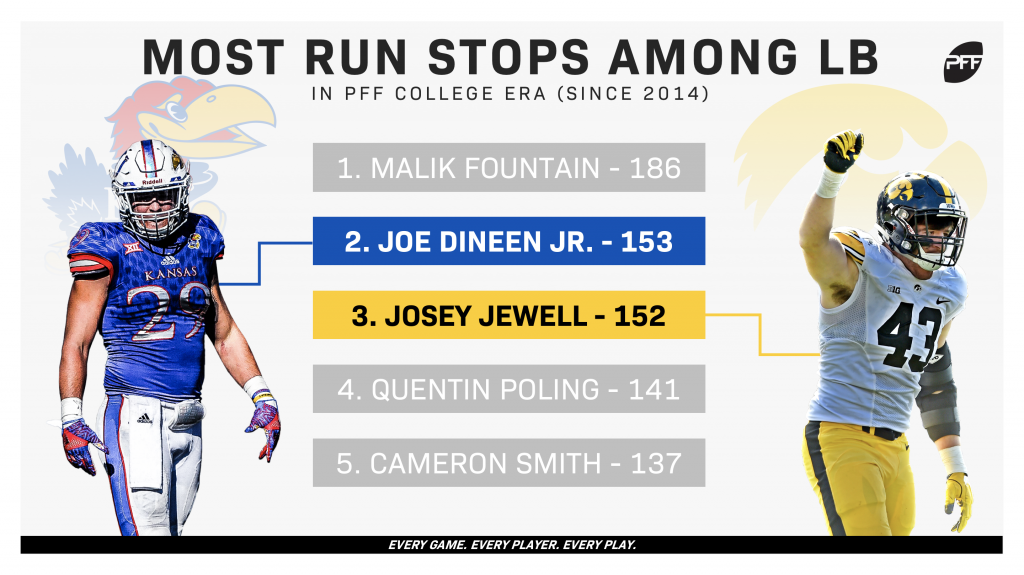 Denver's offensive line has all the potential to become a formidable outfit, but there are still questions that need to be answered.
The first question is third-year offensive lineman Connor McGovern, who thrived at guard early in 2018, earning an overall grade of 81.1 over the first month of the season that ranked first among all guards in that span. Unfortunately, things went south when he took over at center to replace the injured Matt Paradis in Week 9, and he ended the year with a dismal 38.7 pass-blocking grade. He's shown flashes in years past, but he'll need to string some good performances together if he wants to enter the season as the unquestioned starter.

He won't play much, but it will be good to see Neal back on the field even if it's only for a handful of snaps. Up until his season-ending ACL injury last year, Neal had proved to be an impact player in every facet of the game. He has graded above 70.0 as a run defender (74.9), a coverage defender (78.1) and as a pass-rusher (73.2) over the last three seasons, making him one of only 15 safeties to achieve that feat over that span. Seeing him back to — or close to — his best on Thursday night will be huge for both fans and members of the Falcons' coaching staff.
With Kaleb McGary out, the Falcons will only get to watch one half of their new right-sided pass-blocking duo, but it'll still be interesting to see how Lindstrom fares in his first game as a pro.
Lindstrom was elite in pass protection last season at Boston College, allowing pressure on just 1.1% of his pass-blocking snaps and finishing the season with a pass-blocking grade of 91.6 — both of which ranked first among draft-eligible right guards.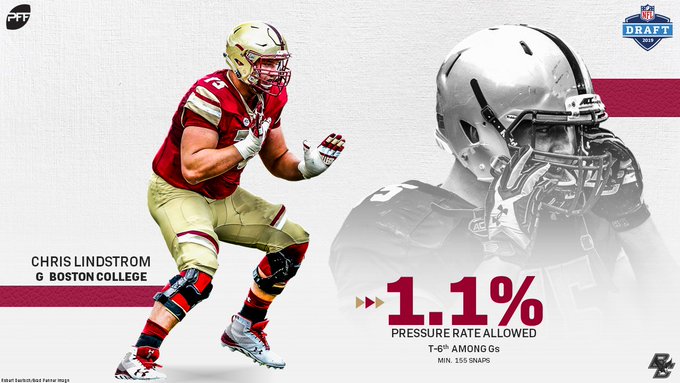 The road to the final 53-man roster will be a tough one for the fifth-round cornerback out of Washington but given the depth — or lack thereof — in the Falcons' cornerback room, the chance is there for him to make his mark as a late-round steal.
Miller earned 80.0 and 82.4 coverage grades in 2016 and 2017, respectively, before earning a 71.9 coverage grade in 2018. In those three years combined, he allowed just 38 completions from 70 targets in coverage, and his 55.8 passer rating allowed ranked 28th among the 403 college cornerbacks who saw at least 70 targets from 2016-18.
It's a big year for Vic Beasley, who is set to enter a contract year having never really lived up to his first-round pedigree.
Beasley has been a mainstay on the Falcons defense since he was drafted, logging at least 535 snaps in every year since. Unfortunately for him — and Falcons fans — current-year sack totals are not predictive to future-year sack totals, and he never quite has lived up to his career year in 2016 as he put forth season grades of just 59.1 and 42.2 in 2017 and 2018, respectively, while decreasing his pressure total each year since 2016. He needs a big year in 2019, and he should start it by making quick work of the Broncos' backup tackles.
Given the aforementioned lack of depth at the cornerback position, the Falcons really need to see something from former second-round pick Isaiah Oliver, whom the team selected with the 58th overall pick of the 2018 NFL Draft.
Oliver flashed at times in his rookie season, most notably down the stretch and against division foes. Against Carolina in Week 16, he put forth a career-high game grade of 88.7, securing his first interception. With some more time in and a little more seasoning, Oliver has all the tools to be special — and he has a chance to get off to a good start against the Broncos' offense.