The NFL has been pushing people to vote for the Pro Bowl for what seems like an eternity now, but with the final roster announcements closing in (Dec. 18), it's time for the Pro Football Focus team to bring its take to the table.
There are quite a few quirks in the current Pro Bowl system that could use some updating, but the league has at least returned to a conference vs. conference format, so we will see the traditional AFC vs. NFC showdown once more. Rather than try and fix the position designations of players and present a fictional look at what the roster should be, we're going to stick to what the NFL presents and show the best possible rosters that can be assembled from the current setup.
So, here are the players from each conference (with Pro Bowl coaches each selecting a long snapper) that should make up the 2019 Pro Bowl roster given the previous 14 weeks of play.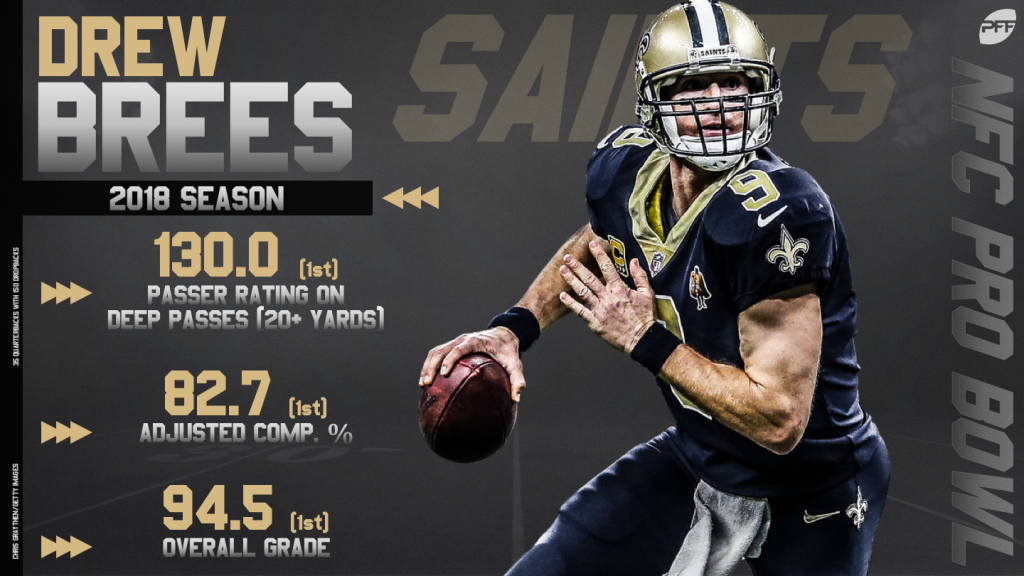 NFC
Quarterbacks
Drew Brees (93.9), Aaron Rodgers (90.1) & Jared Goff (86.1)
Goff brought Russell Wilson (80.4 overall) into the conversation with his performance of late, but he still gets the nod for a strong start to his season. Brees is still the sure-fire starter, though, as his grade tops all quarterbacks at the moment.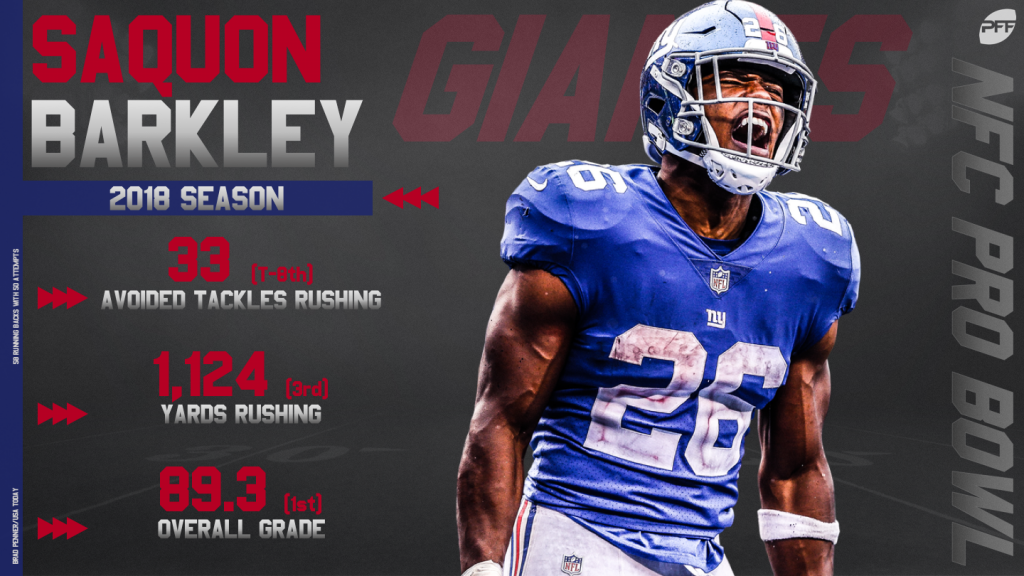 Running Backs
Saquon Barkley (89.3), Chris Carson (84.4) & Alvin Kamara (84.3)
There's been no rookie wall for Saquon Barkley. The Penn State product is seemingly getting stronger down the stretch, as he owns a 90.3 grade from Week 10 on. Chris Carson's name may surprise some, especially with Todd Gurley's absence, but Carson bests Gurley in broken tackles (36 vs 30) and average yards after contact (3.5 vs 3.2).
Fullback
Kyle Juszczyk (74.1)
This season, there is Kyle Juszczyk and then everyone else at fullback. His 544 snaps are 228 more than the next closest fullback.
Wide Receivers
Michael Thomas (91.3), Julio Jones (90.3), Adam Thielen (90.2) & Odell Beckham Jr. (90.0)
The stats that these four are putting up this season are absurd. Thomas leads the league with a 128.7 passer rating when targeted. Jones leads the league at 2.90 yards per route. Thielen has nine 100-yard games, including eight straight to start the year. Beckham's 20 broken tackles after the catch are five more than anyone else. Stacked position for the NFC.
Tight Ends
George Kittle (86.2) & O.J. Howard (89.4)
If only O.J. Howard could have stayed on the field for a whole season, we'd likely be talking about him as well as Kittle in the conversation of elite tight ends. While Kittle leads all tight ends with 2.82 yards per route, Howard was third at 2.26 before going on IR.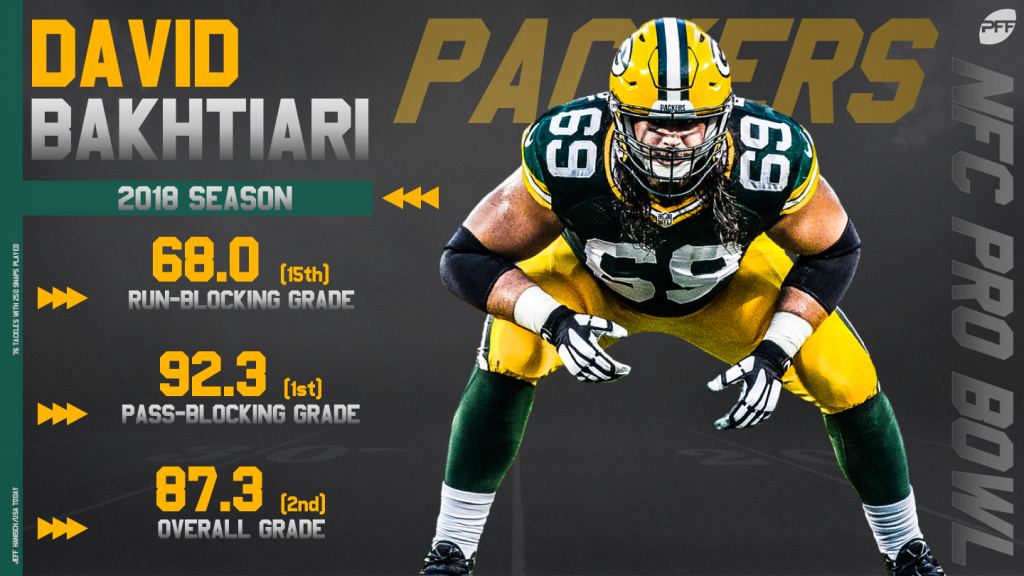 Offensive Tackles
Terron Armstead (89.4), David Bakhtiari (87.3) & Ryan Ramczyk (83.4)
Armstead and Bakhtiari were recently ranked first and second, respectively, among all linemen in the NFL this season. The only question becomes, which one wants to start at right tackle?
Guards
Zack Martin (80.2), Brandon Brooks (74.7) & Austin Blythe (74.2)
Martin and Brooks have their spots reserved on this team at this point, but Blythe didn't even have his roster spot on the Rams reserved at the beginning of the year. The former Iowa center's journey from afterthought to quality starter is one of the best stories in the NFL this year.
Centers
Jason Kelce (82.3) & Corey Linsley (75.6)
Kelce is once again the highest-graded center in the NFL and makes absurdly athletic blocks on a weekly basis. It's great to see Linsley bounce back himself after an injury-hampered 2017 season that was his lowest-graded as a pro.
Defensive Ends
Demarcus Lawrence (90.1), Cameron Jordan (89.8) & Brandon Graham (89.8)
The Cowboys told Demarcus Lawrence to prove it last offseason, and he's done just that. He already has double-digit sacks and double-digit hits for the second straight season. Jordan and Graham, on the other hand, are both likely to end the year with their third straight season with 90.0-plus grades.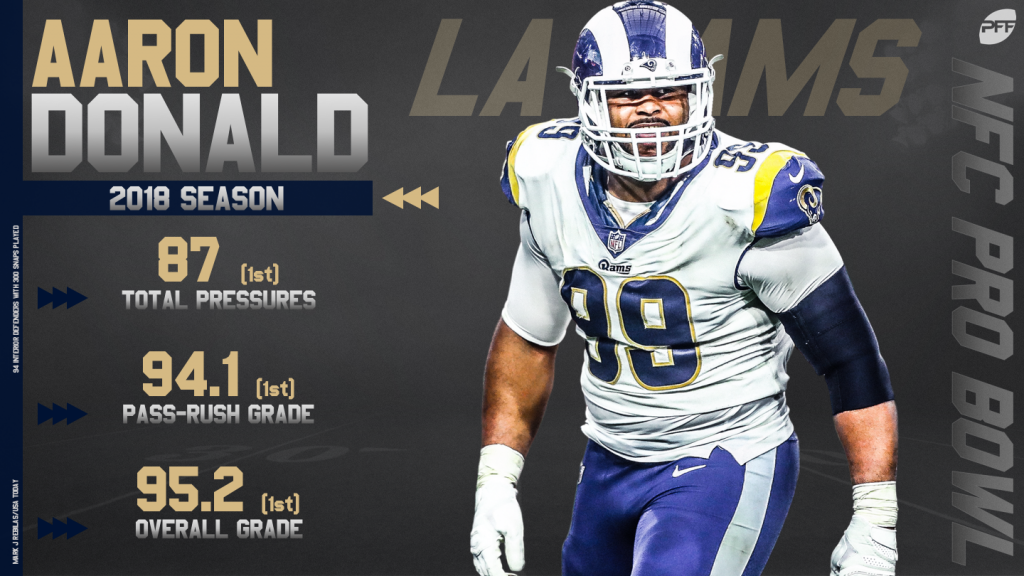 Defensive Tackles
Aaron Donald (95.2), Fletcher Cox (92.2) & Kenny Clark (90.5)
We've run out of superlatives for Donald and Cox at this point. Clark, though, has yet to have too many heaped onto him. The third-year player has firmly established himself as the best pass-rushing nose tackle in the NFL. His 46 pressures are by far the most of a primary nose tackle.
Outside Linebackers
Khalil Mack (90.2), Preston Smith (78.6) & Demario Davis (78.2)
Because of the outdated nature of the Pro Bowl positions, the outside linebacker position is once again an absurd mix of players who play completely different positions. Preston Smith has rushed the passer 402 times and dropped into coverage 44 times, while Demario Davis has rushed the passer 83 times and dropped into coverage 397 times.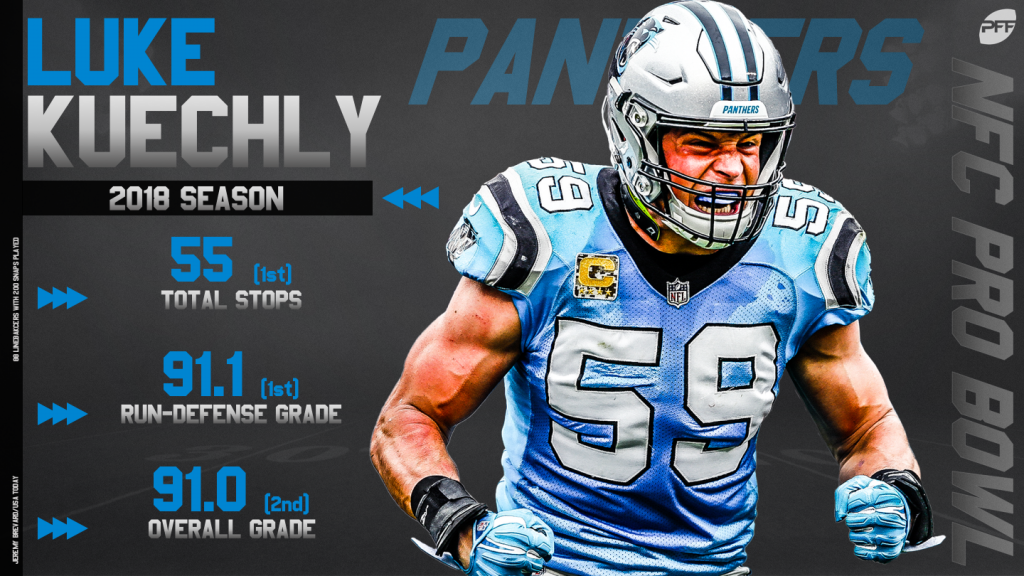 Inside Linebackers
Bobby Wagner (92.2) & Luke Kuechly (91.0)
We can't mention Wagner in an article anymore without mentioning his tackle streak. Wagner now has 105 tackles on the season without a miss. Kuechly has nine misses on 122 attempts this year, and even that is considered good. It's amazing to watch both play the position at Hall of Fame levels year in and year out.
Cornerbacks
Kyle Fuller (89.1), Byron Jones (84.0), Patrick Peterson (82.8) & Prince Amukamara (81.1)
Kyle Fuller and Byron Jones have had two unique career arcs up to becoming two of the best corners in the league. Fuller earned a 47.7 overall grade as a rookie, improved in 2015, missed all of 2016 and has taken huge steps forward in both years since. Jones started as a corner in 2015 before switching to safety where he was solid the next two seasons. Now he's back at corner and locking down the right side of the Cowboys' defense.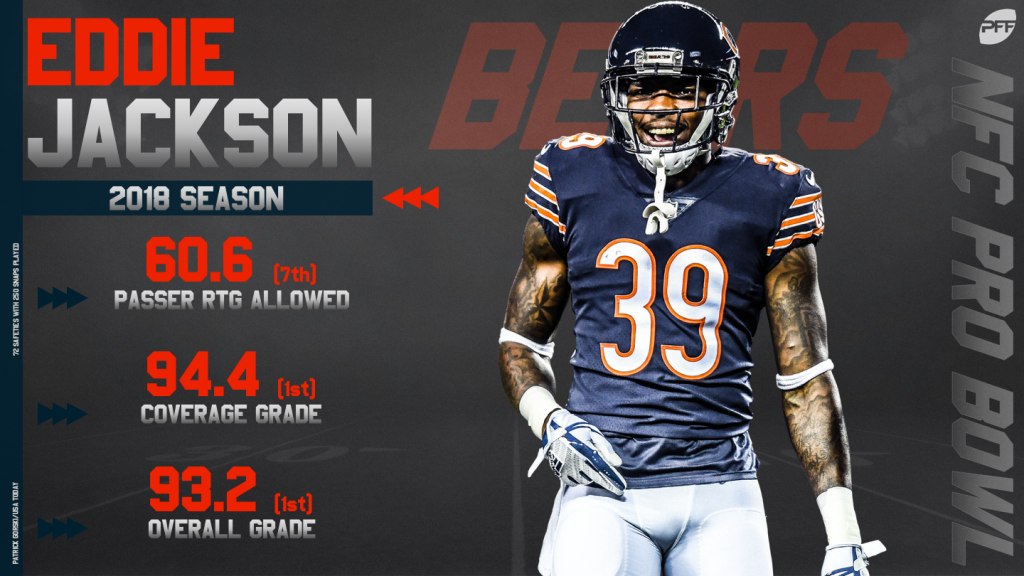 Safeties
FS Eddie Jackson (93.2), SS D.J. Swearinger Sr. (81.1) & SS John Johnson II (79.1)
Fourth-round picks aren't supposed to make the impact that Jackson has this quickly. He's started from day one in Chicago and been nothing short of sensational this season. He's scored more touchdowns this year (4) than he's given up (3).
Special Teams
K Aldrick Rosas, P Thomas Morstead, RS Tyler Lockett & ST Cory Littleton
AFC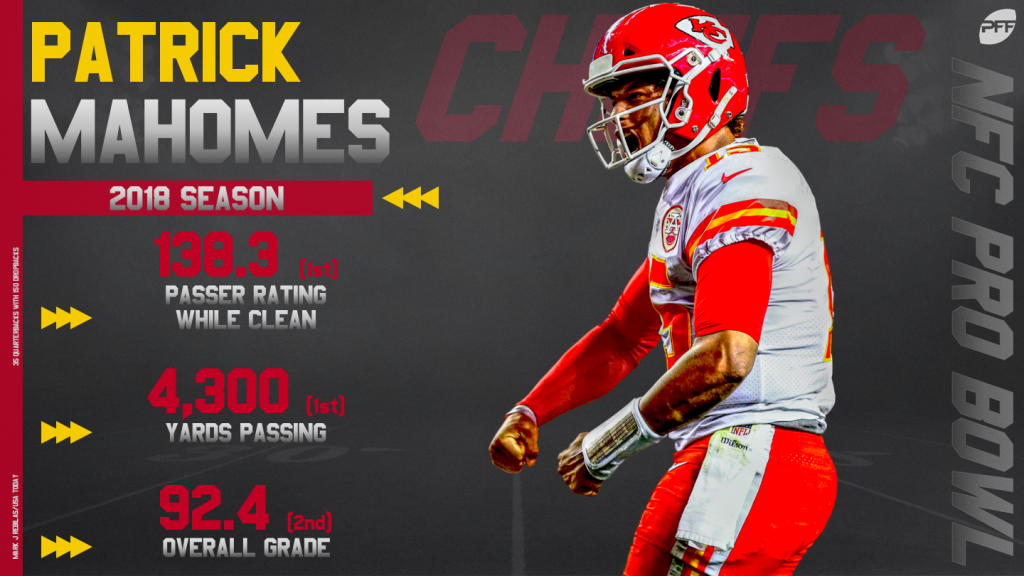 Quarterbacks
Patrick Mahomes (92.4), Philip Rivers (91.1) & Andrew Luck (90.8)
For the first time in a long time, the PFF Pro Bowl roster will be without Tom Brady. Andrew Luck narrowly gets the nod in what's been a career-reviving season in Indy. Luck has been under pressure on only 30.2 percent of his snaps this season compared to 44.4 percent his last healthy year in 2016.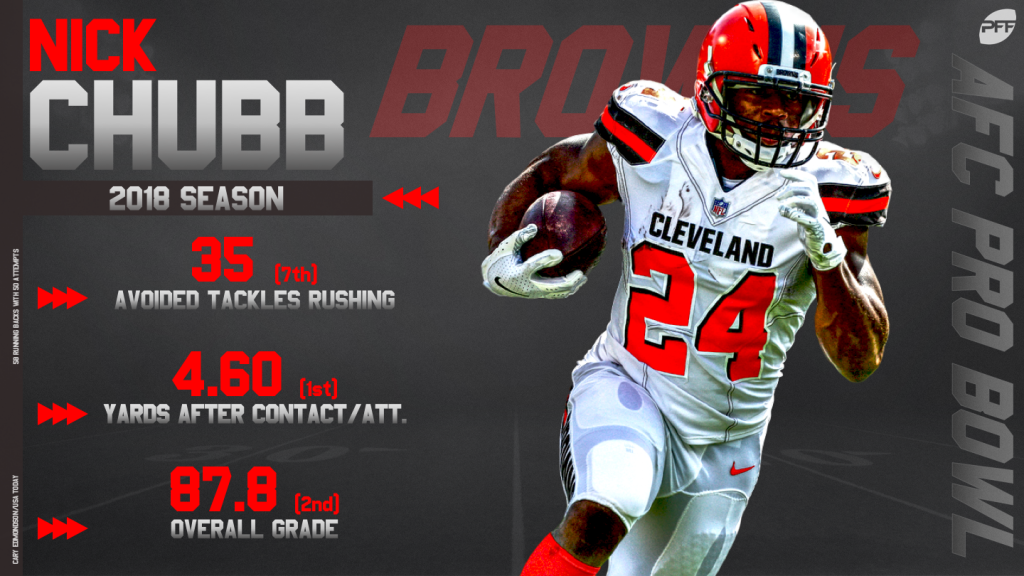 Running Backs
Melvin Gordon (87.6), Nick Chubb (87.8) & Derrick Henry (84.0)
What idiots told you not to draft running backs high? Gordon finally is running behind some semblance of an offensive line, and his stats finally match the lofty grades we've given him over his career. Chubb has been a revelation for the Browns' offense since trading Carlos Hyde. The Browns back is averaging 4.5 yards after contact per attempt to lead the NFL.
Fullback
Andy Janovich (69.7)
To be honest, Janovich hasn't done all that much in 200 snaps this season. He's caught all of five balls and has a mediocre run-blocking grade. The position has simply fallen out of favor in the NFL.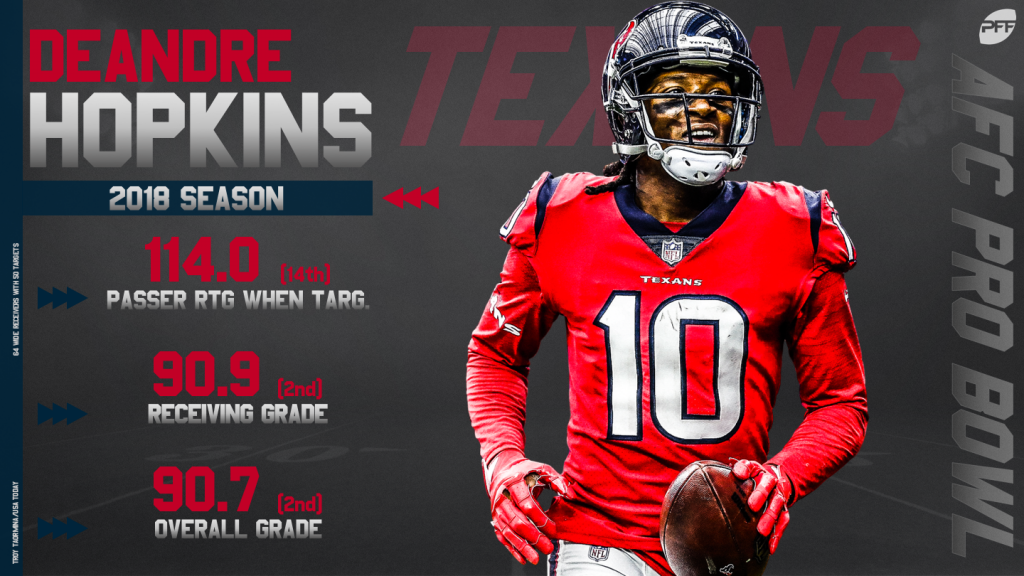 Wide Receivers
DeAndre Hopkins (90.7), Keenan Allen (90.4), Tyreek Hill (90.1) & T.Y. Hilton (86.3)
While the NFC roster is stacked with do-it-all number one receivers, the AFC roster has some specialists. They have the receiver with the best hands (DeAndre Hopkins, 0 drops on 84 catches), the best slot receiver (Keenan Allen, 2.10 yards per route to lead all receivers who run at least half their routes there) and the best deep threat (Tyreek Hill, 622 deep yards, 200 more than second place).
Tight Ends
Travis Kelce (88.4) & Jared Cook (78.4)
Kelce's merits are obvious at this point, but Cook has been much more of a surprise. He's quickly become Derek Carr's favorite target and is fifth among tight ends with 2.05 yards per route. He's having a career year in his 10th NFL season.
Offensive Tackles
Mitchell Schwartz (83.9), Alejandro Villanueva (78.3) & Ronnie Stanley (75.9)
The AFC features a more traditional starting group than the NFC, even if they haven't graded as highly. Alejandro Villanueva gets the nod, and deservedly so. The 30-year-old tackle has only three games all season long where he's given up multiple pressures.
Guards
Shaq Mason (79.4), Marshal Yanda (76.7) & Joel Bitonio (73.0)
It's great to see Marshal Yanda back where he belongs. He was our top-ranked guard for three straight seasons before missing almost all of the 2017 season with an ankle injury. Joel Bitonio's inclusion is also interesting, as he came within a Hue Jackson coin flip it seems of being the Browns starting left tackle this year.
Centers
Rodney Hudson (79.5) & Matt Paradis (79.0)
While the rest of the Raiders' offensive line has crumbled around him, Rodney Hudson continues to play elite football. He's allowed seven total pressures in 2018 and 2017 combined.
Defensive Ends
JJ Watt (90.7), Jerry Hughes (90.2) & Chris Jones (89.7)
Just give the Comeback Player of the Year to Watt right now. After demolishing his back and knee in back-to-back seasons, all Watt did in his return is once again lead all edge defenders in grading. What he's done in his career shouldn't be possible.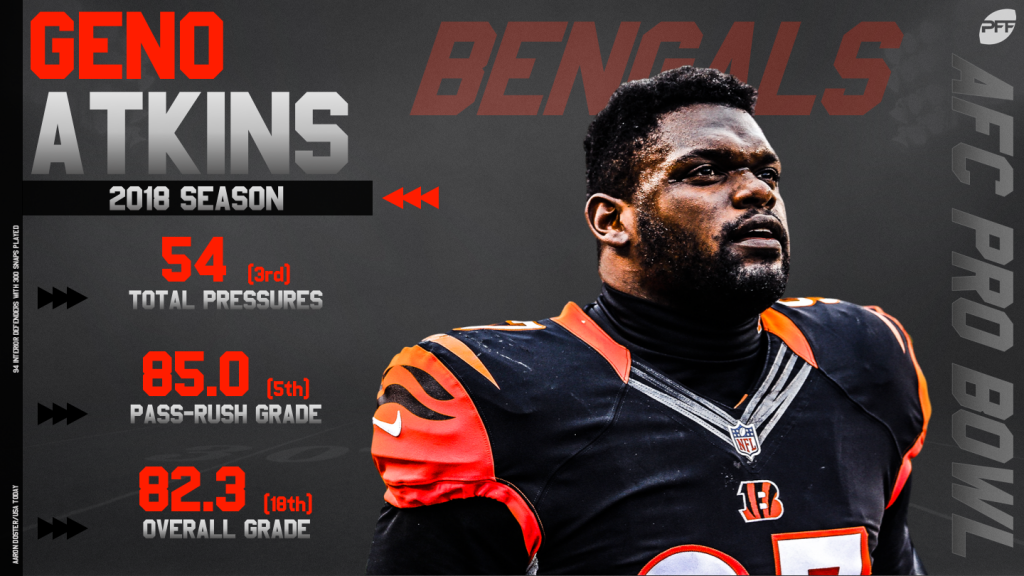 Defensive Tackles
Jurrell Casey (87.5), Cameron Heyward (84.7) & Geno Atkins (82.3)
The AFC starters at defensive tackle would likely also be the starters on an all-underrated NFL team. Casey and Heyward have struggled to get their due because the roles both play don't lead to gaudy numbers. They disrupt opposing offenses consistently, and that's why they make the list.  
Outside Linebackers
Dee Ford (89.7), Von Miller (88.6) & Darius Leonard (83.8)
Dee Ford's up-and-down performance is one of the most fascinating storylines of this season. His career-high grade prior to this season was 63.5. He has been, for lack of a better word, awful most of his career. Darius Leonard, on the other hand, has been fantastic his entire career. His 49 stops are the second-most in the NFL.  
Inside Linebackers
Joe Schobert (78.5) & Jayon Brown (77.2)
Schobert wasn't even slated to be a starter for the Browns prior to Tank Carder getting injured last season, and now he's getting the starting nod for the Pro Bowl. It's hard to argue with it too, as he's given up only 82 yards in his coverage all season.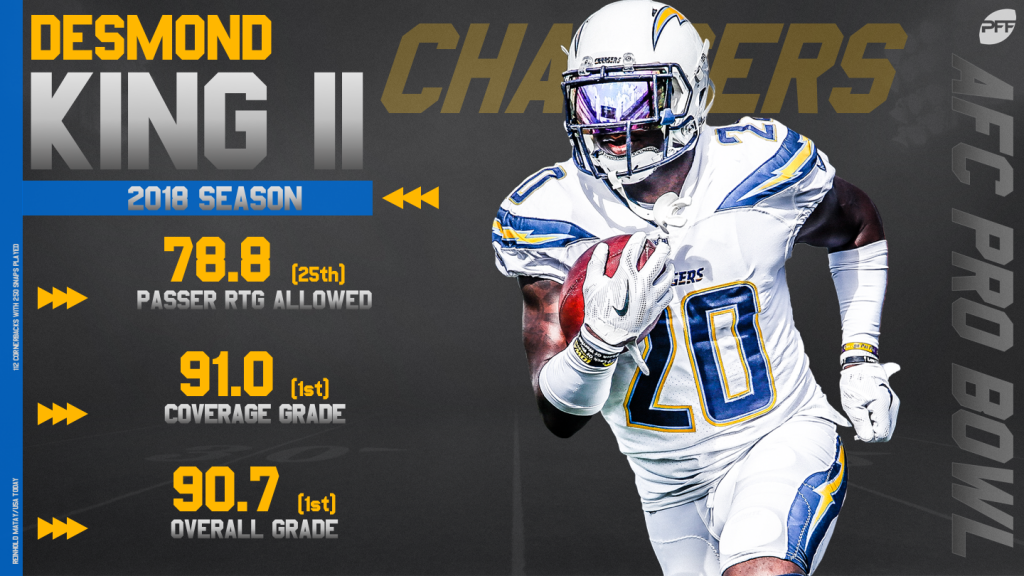 Cornerbacks
Desmond King II (90.7), Stephon Gilmore (90.1), Kareem Jackson (86.4) & Chris Harris Jr. (86.0)
After an 85.7 grade last year as a rookie and now a 90.7 grade this year, I think it's time to declare Desmond King as the best slot cornerback in the NFL. He joins Stephon Gilmore, who is in the midst of a career year in New England. Gilmore's 12 pass breakups lead the NFL.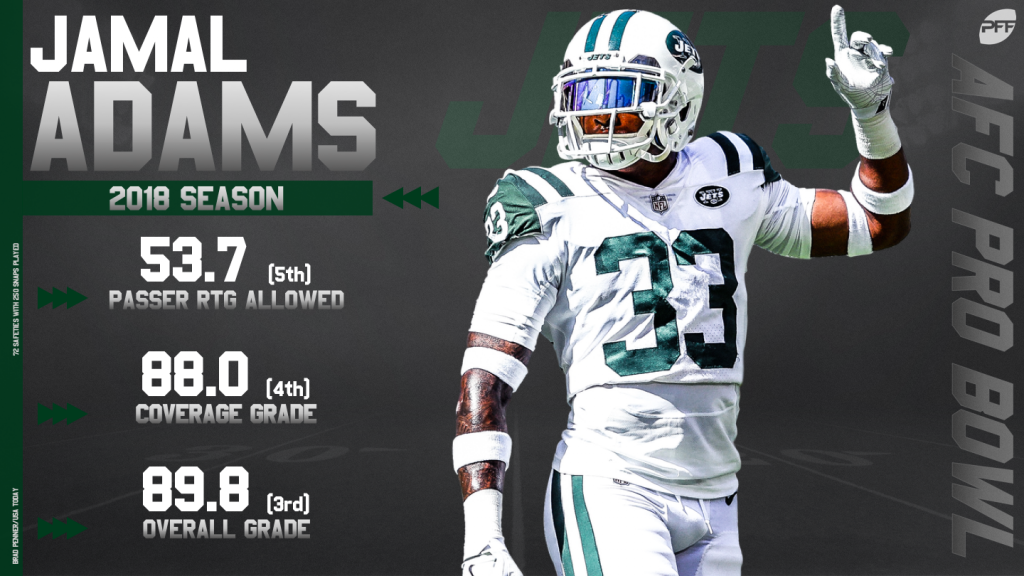 Safeties
FS Micah Hyde (81.1), SS Jamal Adams (89.8), SS Derwin James (89.1)

When watching both Adams and James play, it's like getting deja vu. Both impact the game in a variety of ways and are capable of executing any role asked of them. Whether it's blitzing, covering the slot, in the box vs. the run or roaming deep, both can do what's asked at an elite level.
Special Teams
K Justin Tucker, P Sam Koch, RS Desmond King II & ST Albert McClellan