With the Super Bowl teams set, it's time to reflect on the year that was and recognize the fantastic play from the 2016 NFL season, rewarding the achievement of players that put it all on the line every week.
These awards are given to the outstanding NFL performer in each category throughout the regular season — postseason play not included— a nd strive to recognize the best the league had to offer this year. So, from the best overall player in the game to some more specialized awards, let's take a look at the winners this season:
Best Player
---
Tom Brady, QB, New England Patriots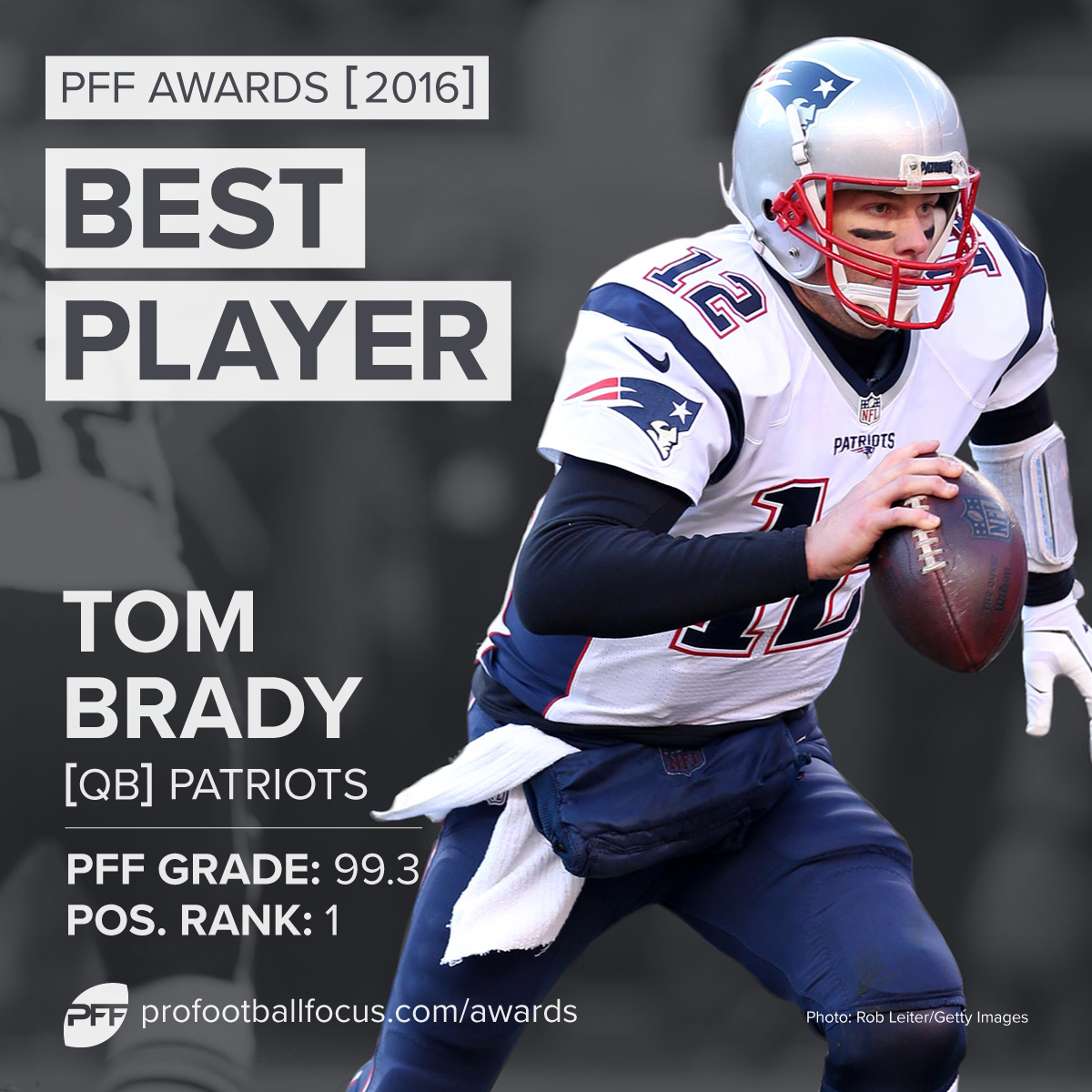 We can talk about schedule, missed games through suspension, and anything else you want to bring up, but the bottom line is that Tom Brady posted the best PFF season grade of any QB ever (99.3 in the regular season) over the past decade of play-by-play analysis once he got on the field. The NFL's MVP award causes many people to get tied in knots over defining and weighing "value" among NFL players, but Tom Brady was the best player in the game this season, and deserves to receive an award that PFF previously named in honor of Hall of Fame Miami Dolphins center Dwight Stephenson. Brady threw just two interceptions all season, and recorded an adjusted completion percentage of 79.5 when accounting for drops, spikes, etc. Other players had excellent seasons in 2016, but nobody was better than New England's Tom Brady. Read more…
Runners-up: Aaron Donald, DT, Los Angeles Rams; Landon Collins, S, New York Giants
Defensive Player of the Year
---
Aaron Donald, DT, Los Angeles Rams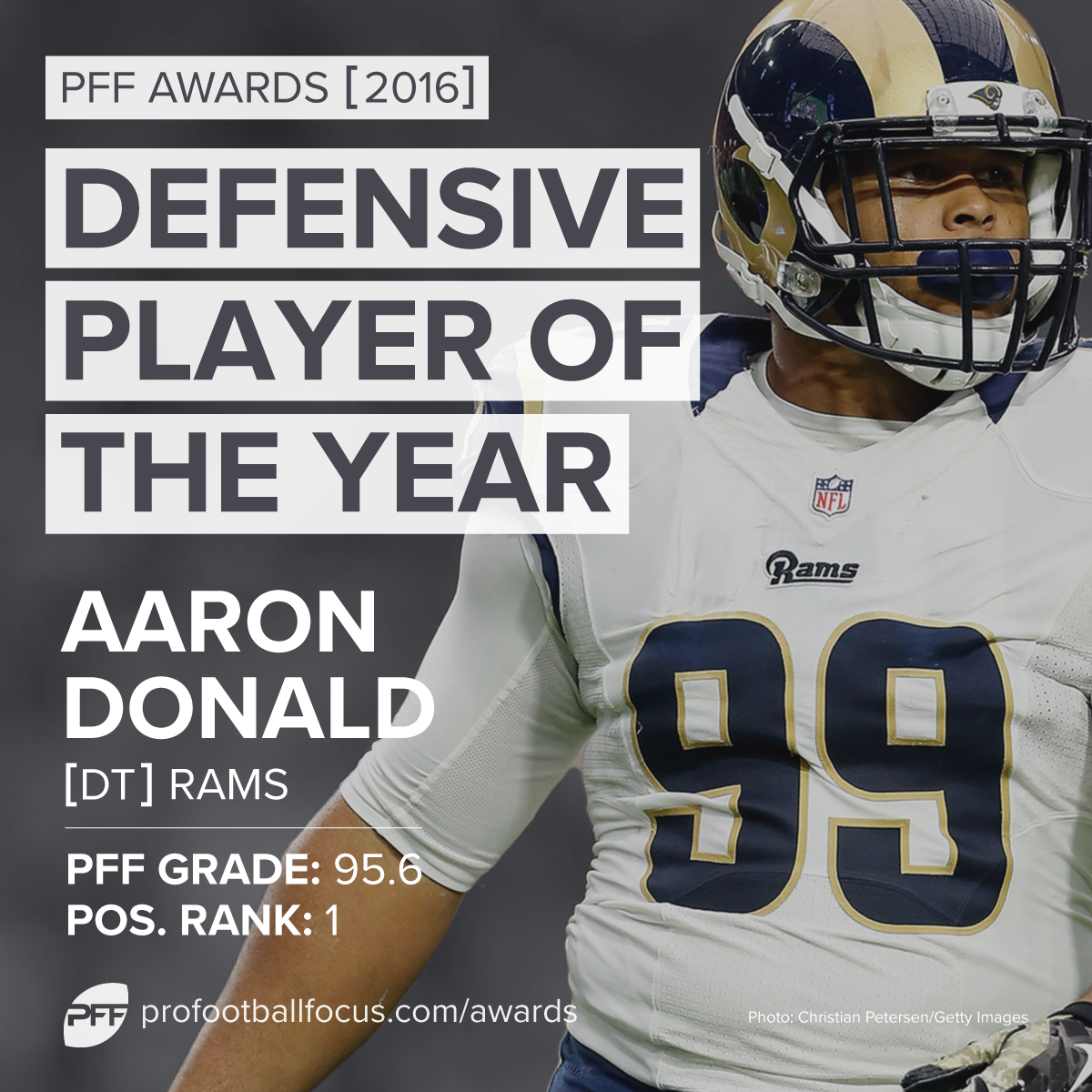 With "only" eight sacks this season, Aaron Donald's year flew under the radar somewhat, and while he wasn't quite as dominant as he was a season ago, the Los Angeles defensive tackle was still by far the most disruptive and impactful defensive lineman in the league, and the best defender in the game. He ended the season with 82 total QB pressures, five more than any other interior defender and tied for second-most in the entire NFL. Only Oakland's Khalil Mack notched more total pressures over the season, and he plays as an edge defender, where pressure is easier to come by. Mack and New York Giants safety Landon Collins were in the running for this award in a tight race, but Donald was just so far removed from the rest of his peers that he earns the final nod. Read more…
Runners-up: Landon Collins, S, New York Giants; Khalil Mack, DE, Oakland Raiders
Offensive Player of the Year
---
Tom Brady, QB, New England Patriots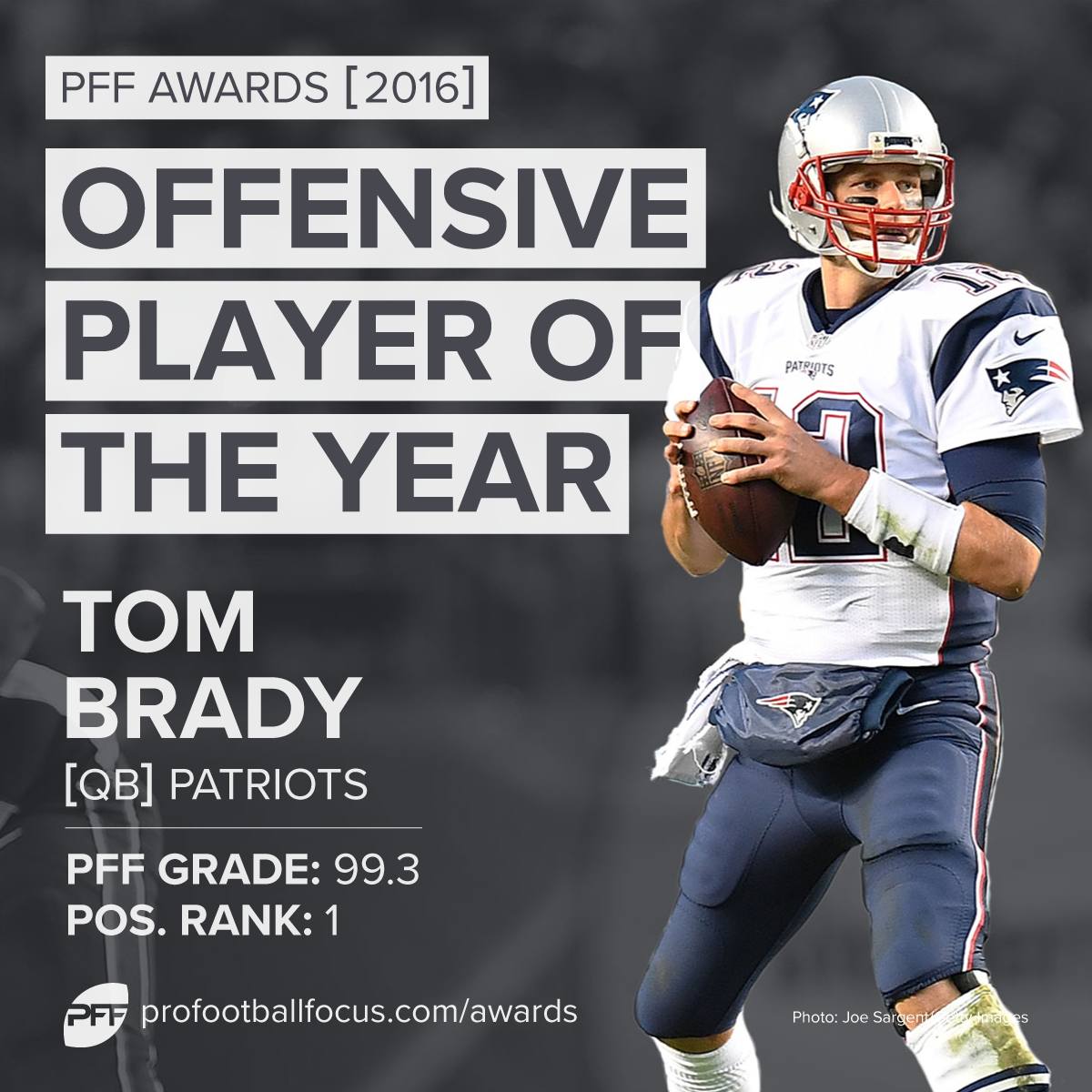 In case you were wondering, the best player in the NFL was also the best player on offense. Tom Brady's mastery of the Patriots' offense and efficiency of passing this season was peerless. His interception rate on the season was just 0.5 percent, the third-best mark in NFL history, and he threw four more touchdown passes than the two players ahead of him (Damon Huard in 2006 and Josh McCown in 2013) put together. Quarterbacks often strive for mistake-free football, and this season from Brady may be as close as anybody has ever come to actually achieving that. Read more…
Runners-up: Matt Ryan, QB, Atlanta Falcons; Marshal Yanda, G, Baltimore Ravens
Best Passer
---
Tom Brady, QB, New England Patriots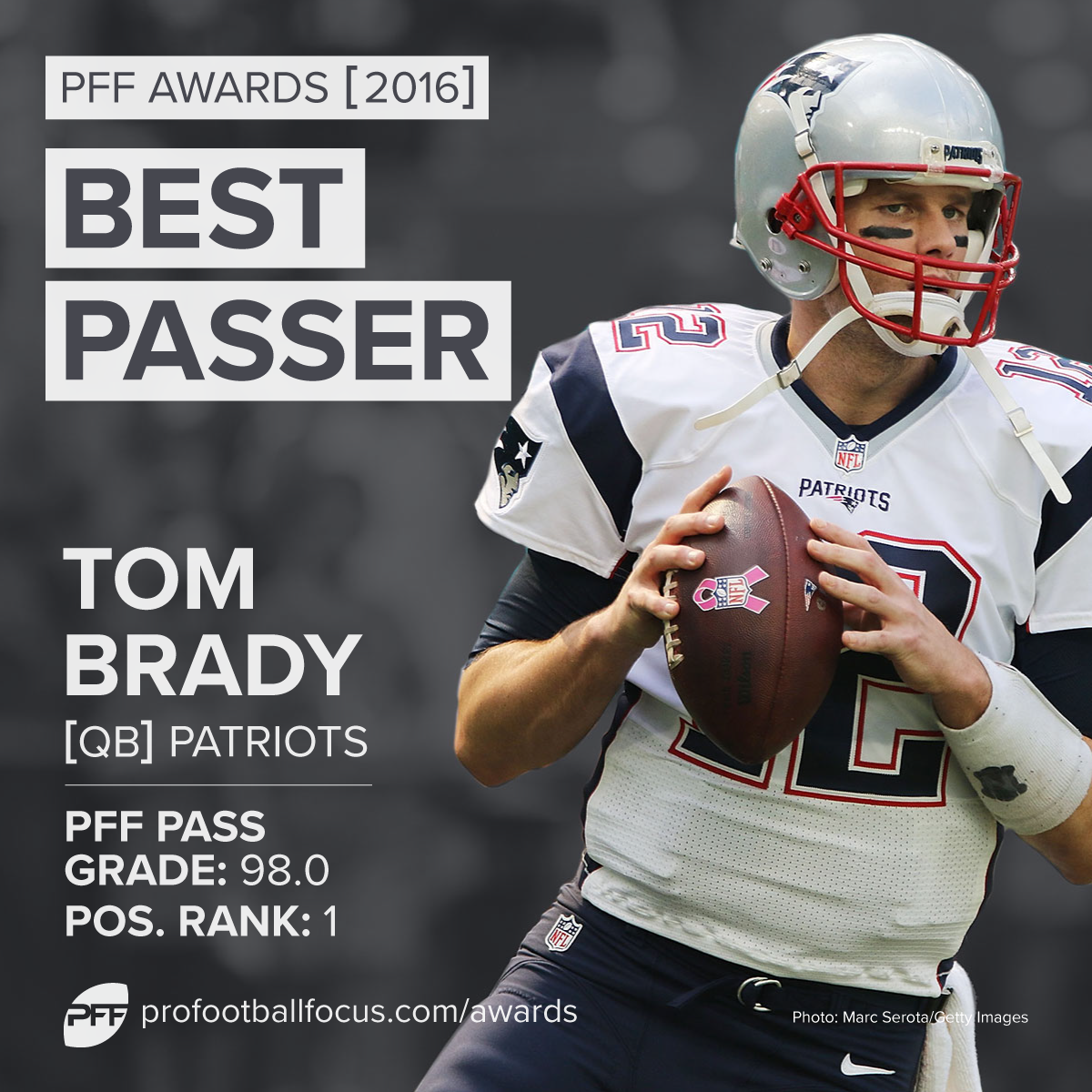 This ended up being a great season for quarterback play. Indianapolis QB Andrew Luck put together the best season of his career after returning from one he would rather forget, and several other players recorded career-highs, including the presumptive NFL MVP, Atlanta's Matt Ryan. Ryan's season, in fact, was so good that he was a legitimate challenger for Brady; Green Bay's Aaron Rodgers would have been, as well, had he not been in a relative funk for the first third of the season. Any one of these three QBs would have made worthy winners of PFF's Best Passer award, but in the end, Brady's consistent excellence over the season once he returned from suspension was too remarkable to overlook, even for a player like Ryan, who had no such missing time in his year. Read more…
Runners-up: Matt Ryan, QB, Atlanta Falcons; Aaron Rodgers, QB, Green Bay Packers
Best Runner
---
Ezekiel Elliott, RB, Dallas Cowboys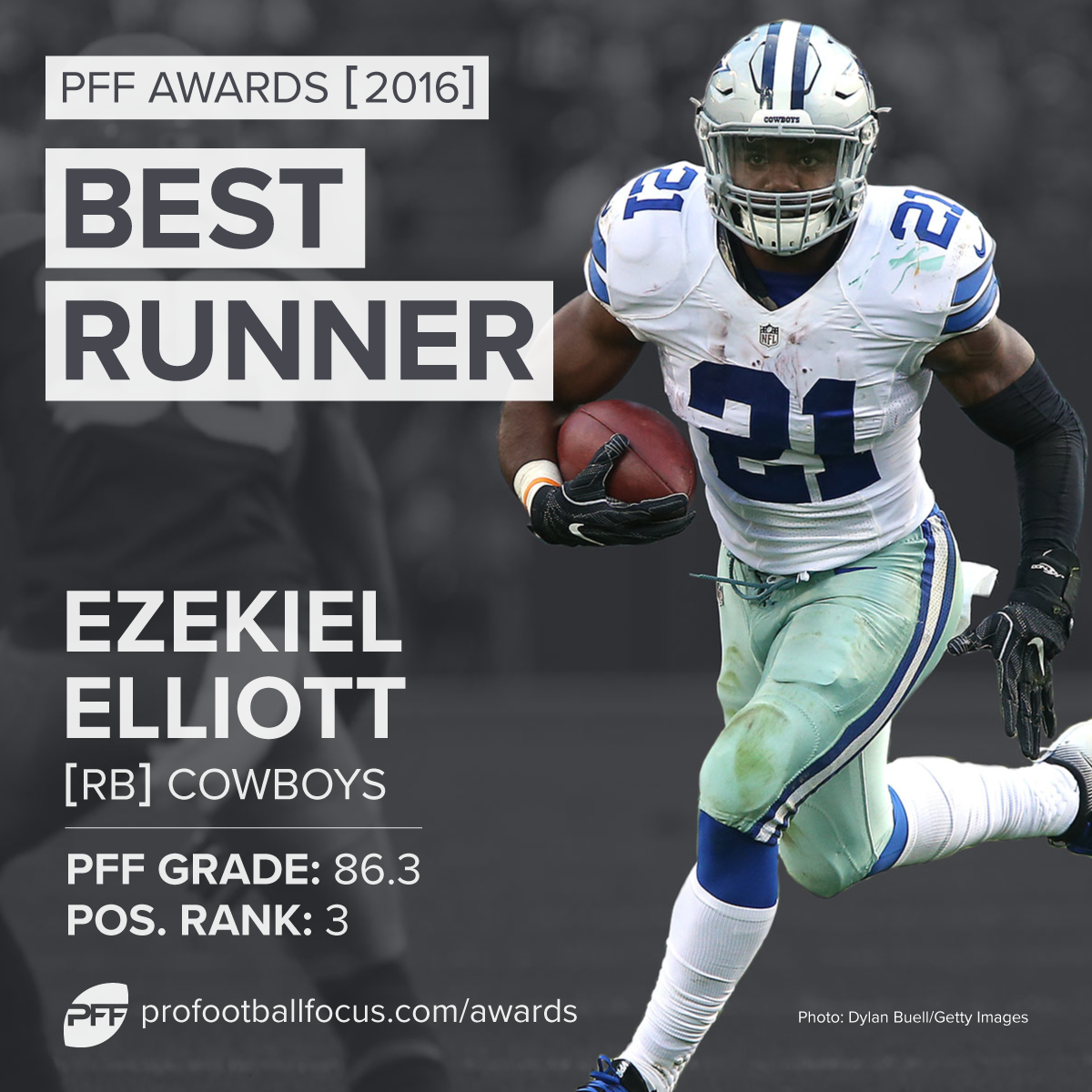 Ezekiel Elliott didn't make it all the way to Eric Dickerson's rookie rushing record of 1,808 rushing yards, but he did eclipse the rookie marks of Barry Sanders, Earl Campbell, Edgerrin James and Adrian Peterson, among others, each of whom was a pretty useful back in their day. Elliott finished the year as the league's leading rusher, and did much of the work himself, averaging almost 3 yards per carry after contact and sustaining his excellent performance despite a huge workload. Elliott also led the league in carries, with 322 — 23 more than the next-highest figure — and averaged 5.1 yards per carry over the year. This was a good year for backs at the sharp end of the league, but none was better than Elliott. Read more…
Runners-up: Jay Ajayi, RB, Miami Dolphins; David Johnson, RB, Arizona Cardinals
Best Receiver
---
David Johnson, RB, Arizona Cardinals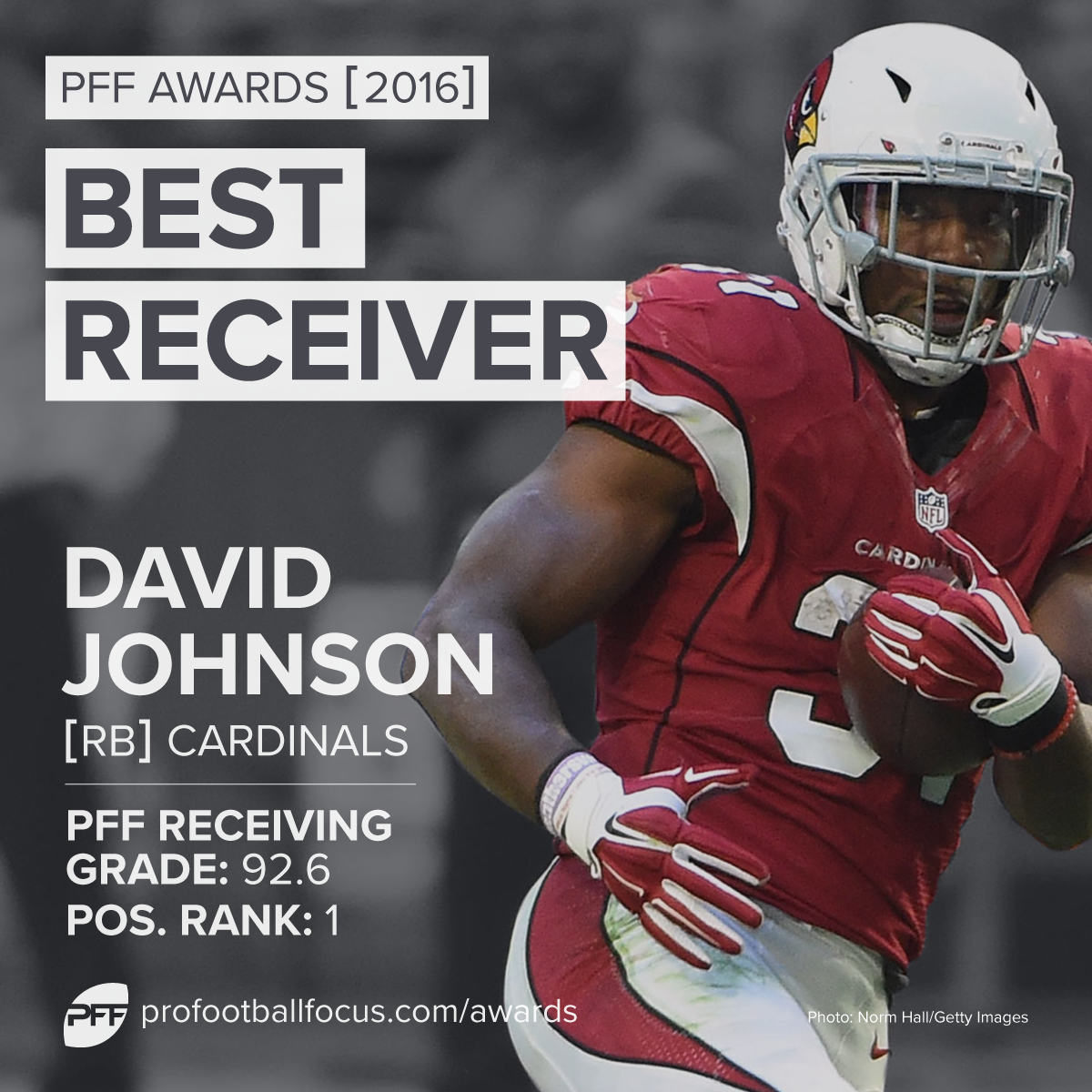 The first of our awards that spans multiple positions sees Arizona Cardinals RB David Johnson earn an award most would expect to go to a wide receiver. Johnson's work as a receiver for the Cardinals this season, however, was spectacular. Only Larry Fitzgerald had more targets, receptions and receiving yards than Johnson for Arizona this year, as he racked up 80 catches (most among RBs) for 879 yards (most among RBs), forcing 27 missed tackles after the catch to gain that yardage (again, most among RBs). Johnson actually finished the season with the highest PFF receiving grade (92.6) of any player at any position, narrowly edging Mike Evans and Julio Jones at wide receiver. Read more…
Runners-up: Mike Evans, WR, Tampa Bay Buccaneers; Julio Jones, WR, Atlanta Falcons
Best Offensive Lineman
---
Marshal Yanda, G, Baltimore Ravens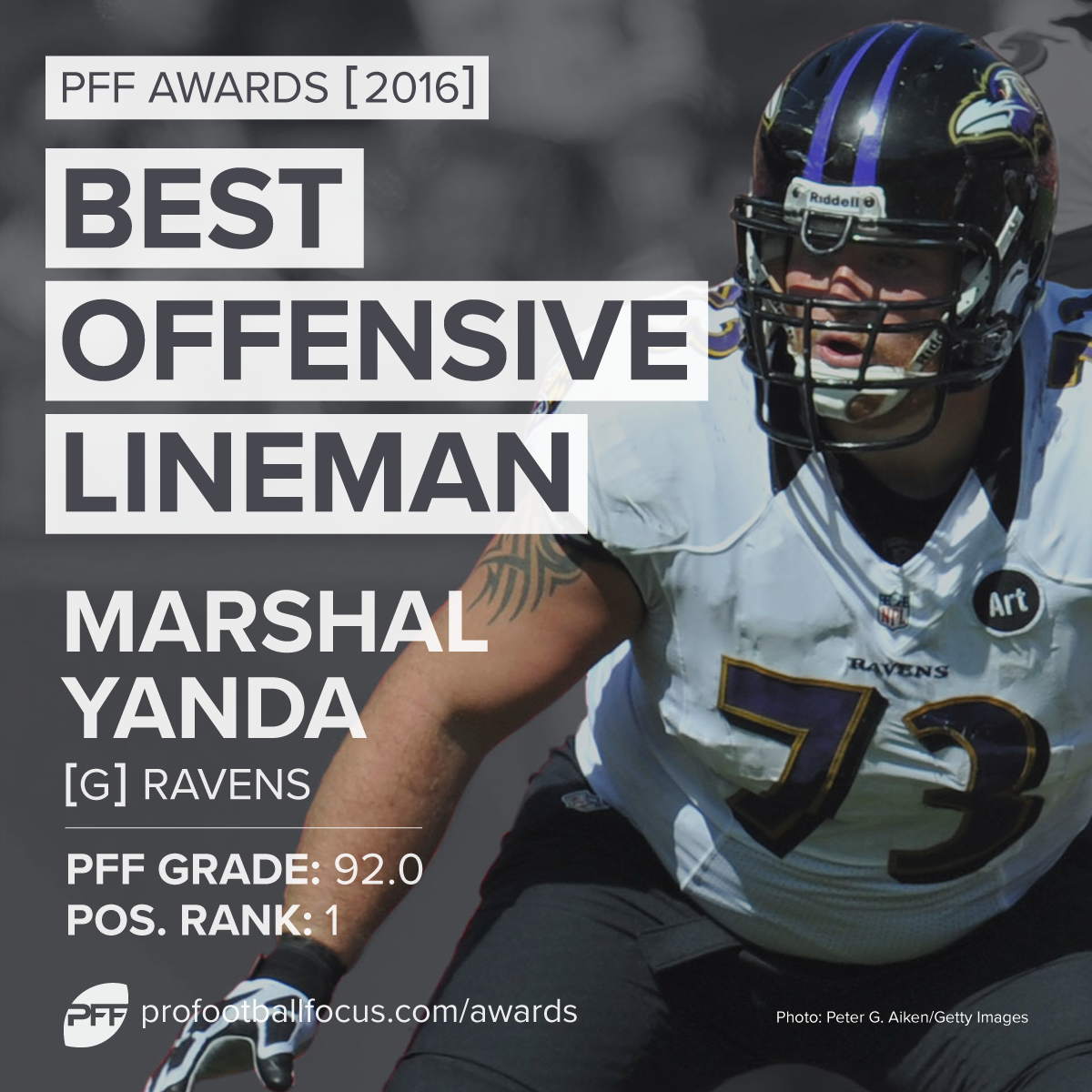 Many offensive linemen have talked about the difficulty of switching positions from the left to right side of the offensive line. To achieve it seamlessly is impressive over an offseason, but to do it over the course of a season without skipping a beat is extraordinary, and that's exactly what Marshal Yanda was able to do for the Ravens when injuries struck. Yanda played like the best guard in the game on the right side for six games before doing exactly the same thing on the left side for seven, with only injury preventing him from having the chance to really distance himself from the chasing pack. Read more…
Runners-up: Trent Williams, LT, Washington Redskins; Travis Frederick, C, Dallas Cowboys
Best Offensive Line
---
Tennessee Titans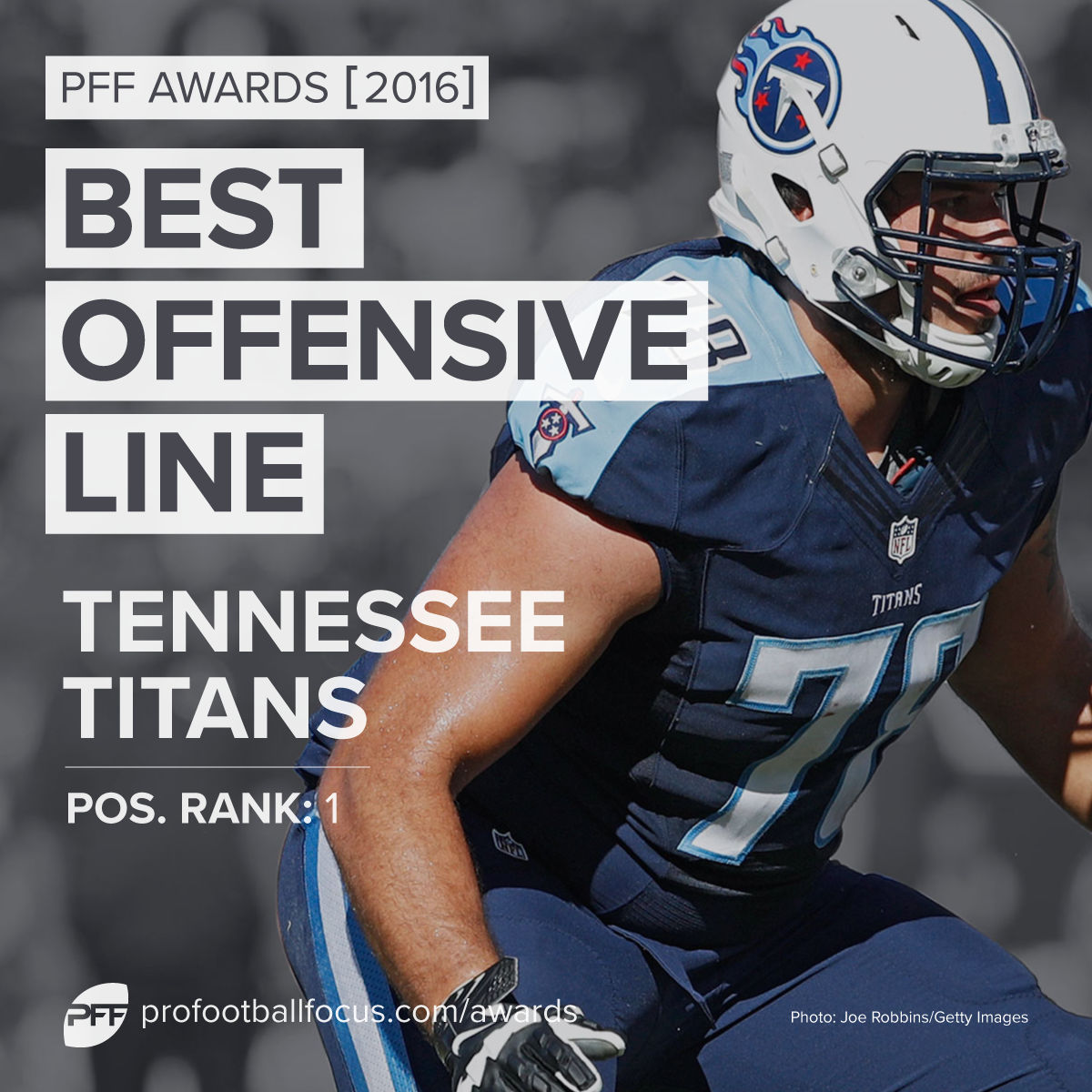 The state of offensive line play in the NFL today is less about a league-wide issue, but more about the "haves" and the "have nots." The top few O-lines this season were all excellent, with the standard being so good that Dallas was forced into second place in our end-of-season rankings, and would have been passed by Pittsburgh if those rankings continued into the playoffs. The Tennessee Titans, though, were the surprise unit of the season, with outstanding performances coming from a group that had no weakness. Rookie Jack Conklin was good enough to earn a spot as PFF's All-Pro right tackle, while Taylor Lewan on the other side had a career year. The interior trio of Quinton Spain, Josh Kline and Ben Jones all had good seasons in run blocking and pass protection, as well. Click for PFF's 2016 season offensive line rankings.
Runners-up: Dallas Cowboys; Pittsburgh Steelers
Best Pass Protector
---
David Bakhtiari, LT, Green Bay Packers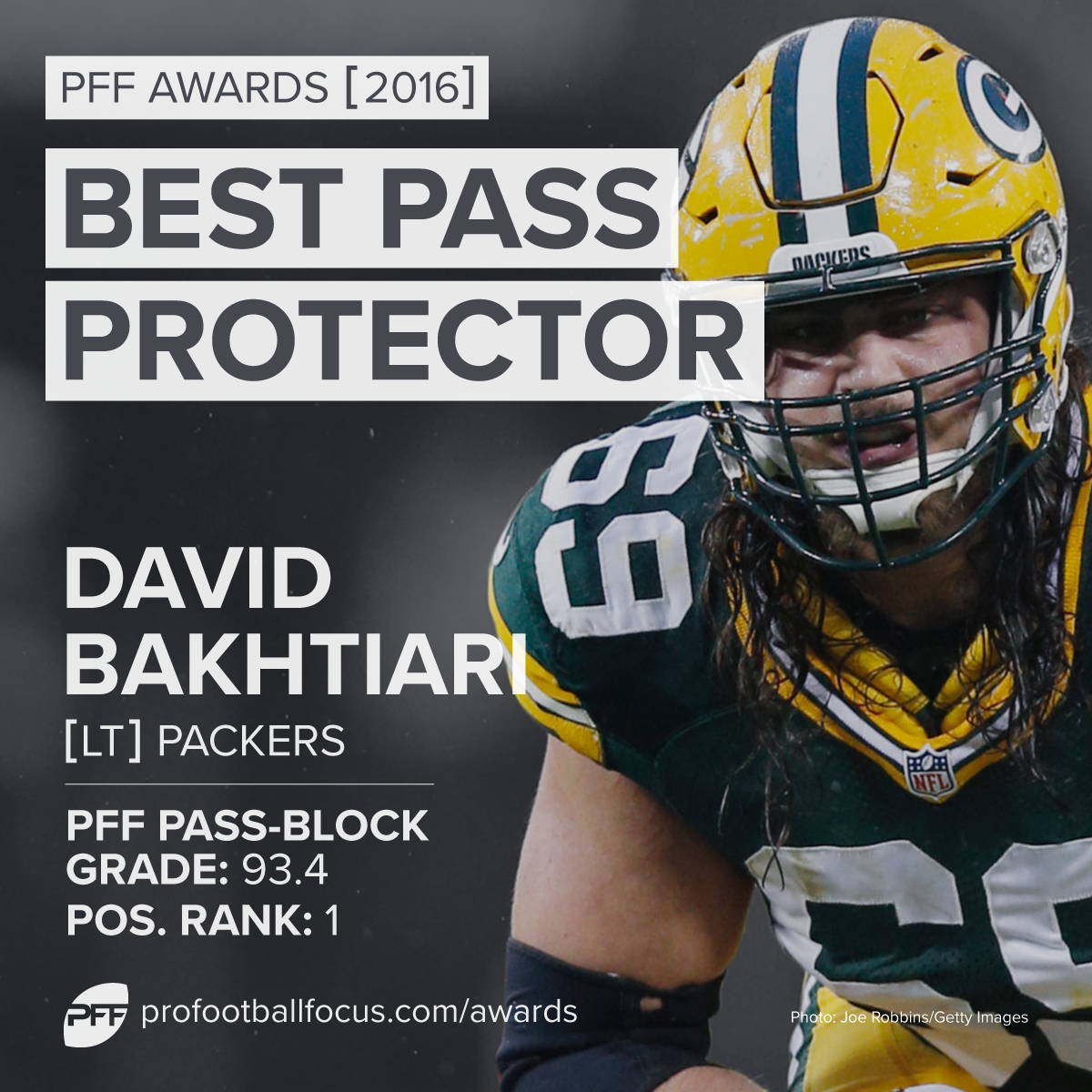 Coming into this season, David Bakhtiari was an average offensive tackle who was pretty good in pass protection, but struggled as a run blocker. This year, he vastly improved in all areas, and was charged for fewer total pressure (23 combined sacks, hits and hurries) than his own quarterback (24 total for Aaron Rodgers) was over the season. Given that Rodgers held the ball longer on average than every QB in the league outside of Buffalo's Tyrod Taylor, Bakhtiari's performance as a pass protector was astounding, and earned him the highest PFF pass-blocking grade (93.4) of any offensive tackle. Over the entire season, and including the playoffs, he was responsible for Aaron Rodgers hitting the ground just four times.
Runners-up: Marshal Yanda, G, Baltimore Ravens; Andrew Whitworth, LT, Bengals
Best Run Blocker
---
Travis Frederick, C, Dallas Cowboys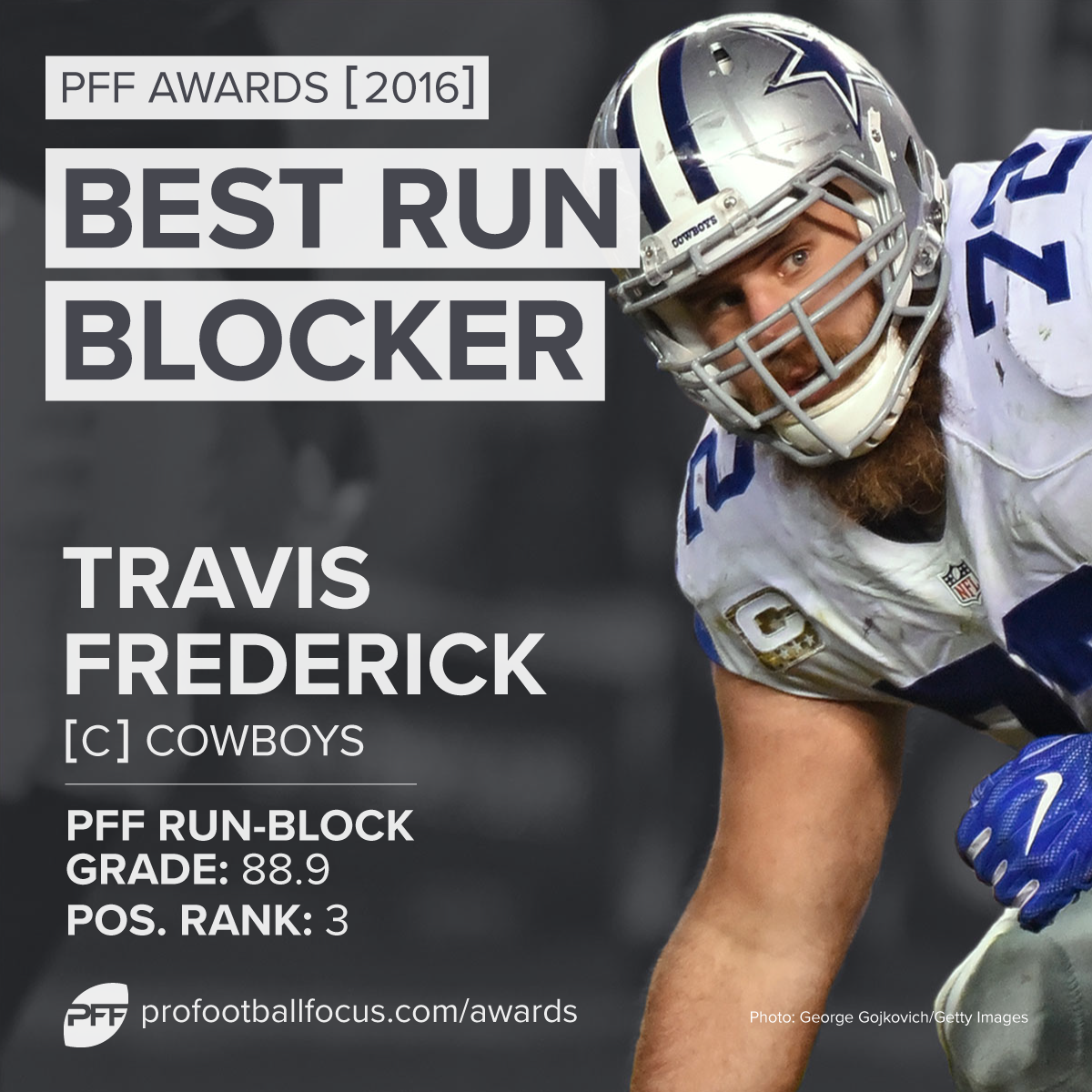 This may have been the closest and most hotly contested award of the season, with PFF's analysts having to go through several rounds of knock-down, drag-out arguments to finalize it, but in the end, the range and versatility of the blocks Cowboys center Travis Frederick was asked to make within the Dallas running scheme is what earned him the award over the brute power of LT Donald Penn (Raiders) and consistent performances of C Alex Mack (Falcons). Frederick may be the most important member of that Cowboys' offensive line, and was a big reason for the success of RB Ezekiel Elliott on the ground this season. Read more…
Runners-up: Donald Penn, LT, Oakland Raiders; Alex Mack, C, Atlanta Falcons
Best Pass-Rusher
---
Aaron Donald, DT, Los Angeles Rams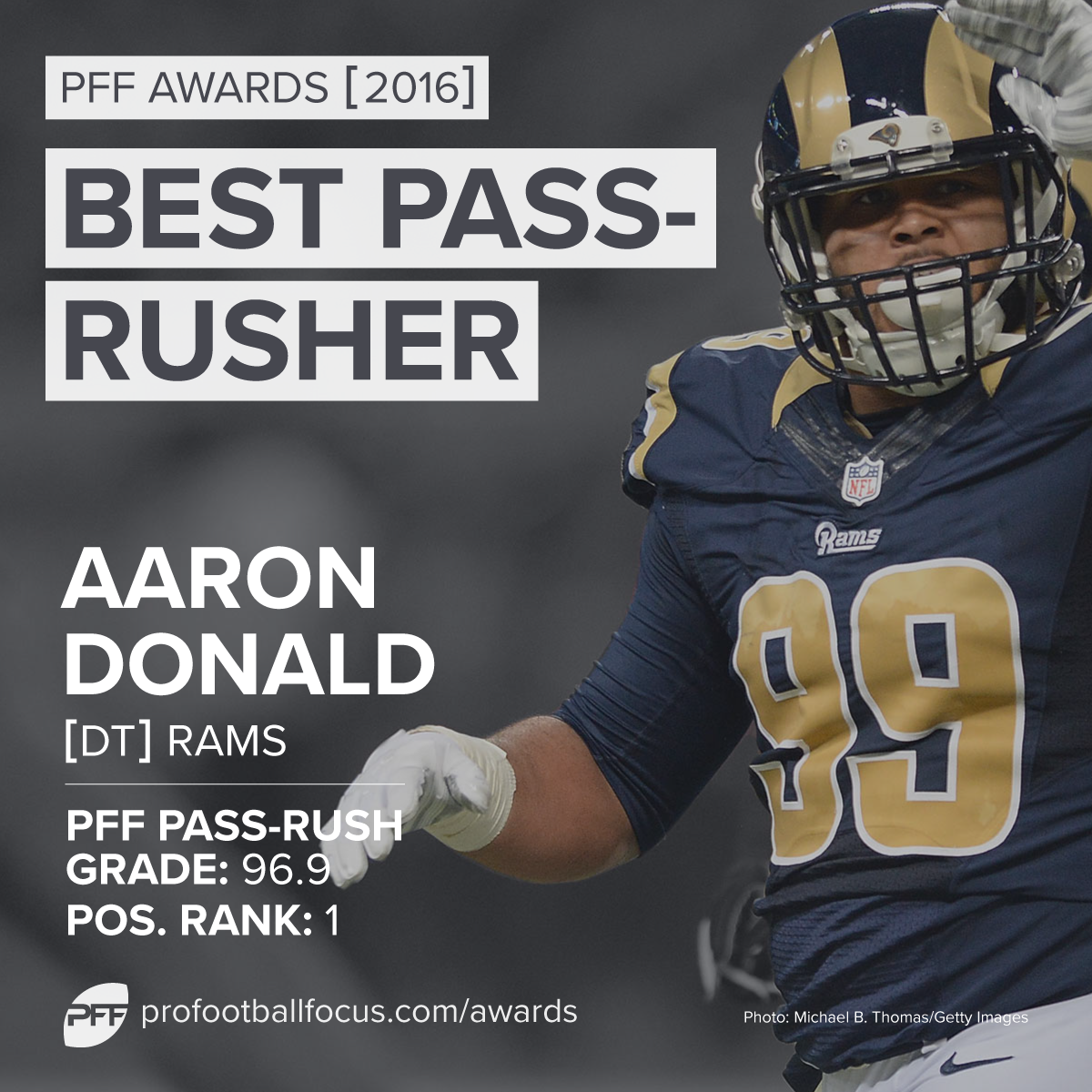 There was no more relentless and consistent pass-rusher than Los Angeles' Aaron Donald this season. While Oakland's Khalil Mack and Denver's Von Miller may have recorded more game-defining plays, Donald was generating quick pressure more often than anybody, and to post more total pressure than all but two edge defenders in the league as a full-time defensive tackle is a ridiculous achievement. Donald was able to generate decisive pressure once every 8.7 pass rushes this season; the next best mark among interior defenders came from Arizona's Calais Campbell at once every 18 rushes. 71 percent of Donald's pressure was decisive in nature (graded at +1 or better on PFF's cumulative scale, taking into account speed and nature of the block defeated), with no other interior defender even surpassing 50 percent on the season. Read more…
Runners-up: Khalil Mack, DE, Oakland Raiders; Von Miller, OLB, Denver Broncos
Best Run Defender
---
Damon Harrison, DT, New York Giants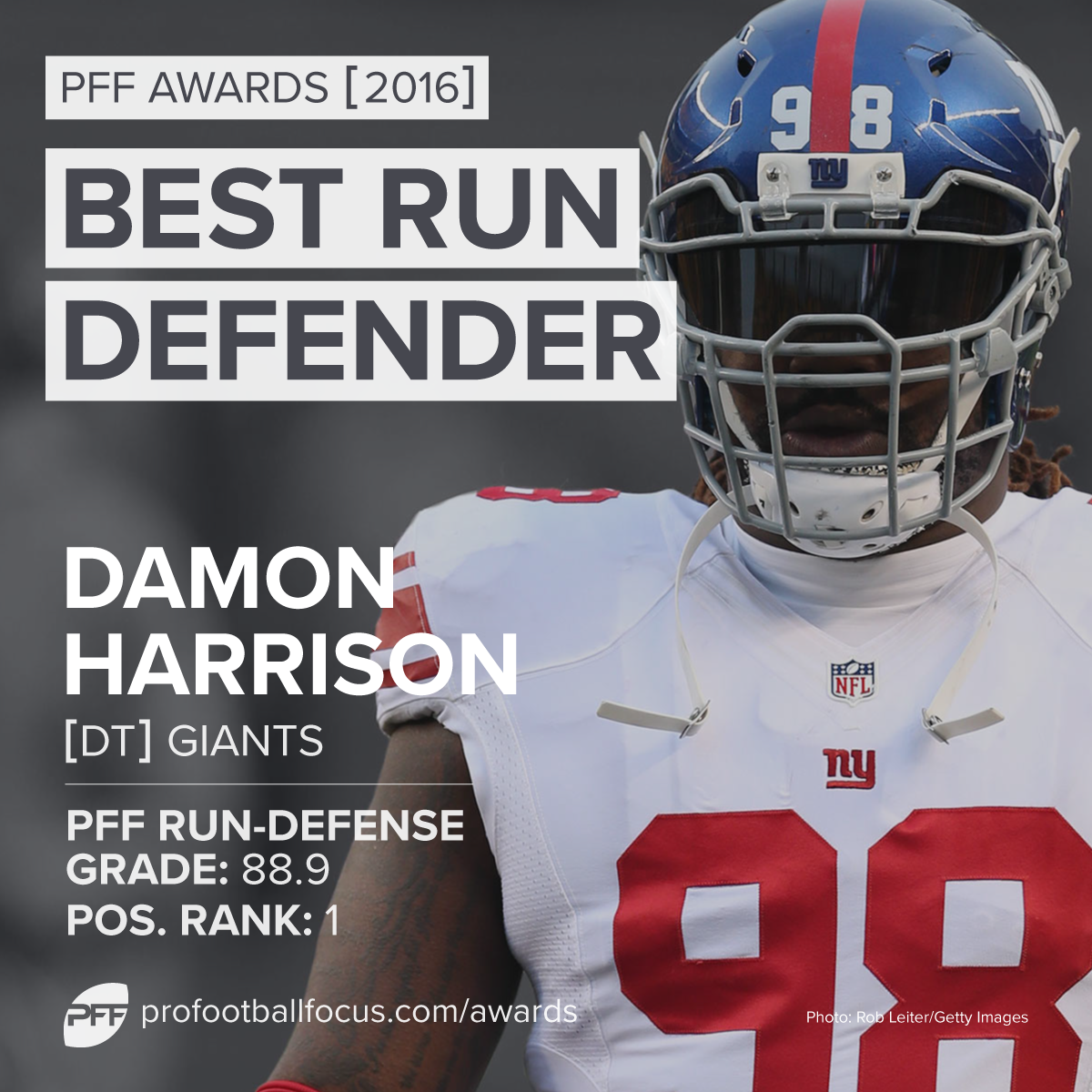 This is now the second season PFF has given an award for the best run defender in the game, and it has yet to go to anybody other than Damon Harrison, who retains the award despite moving teams and changing defensive scheme in the offseason. Harrison is on another level when it comes to defending the run, notching 49 stops against the run — 10 more than any other defensive tackle. In fact, only eight other DTs were able to record more than half the total Harrison did over the season, and his run-stop percentage was some distance clear at the top of the field. Harrison has the ability to single-handedly transform a run defense. Read more…
Runners-up: Bobby Wagner, LB, Seattle Seahawks; Michael Bennett, DE, Seattle Seahawks
Best Coverage Defender
---
Aqib Talib, CB, Denver Broncos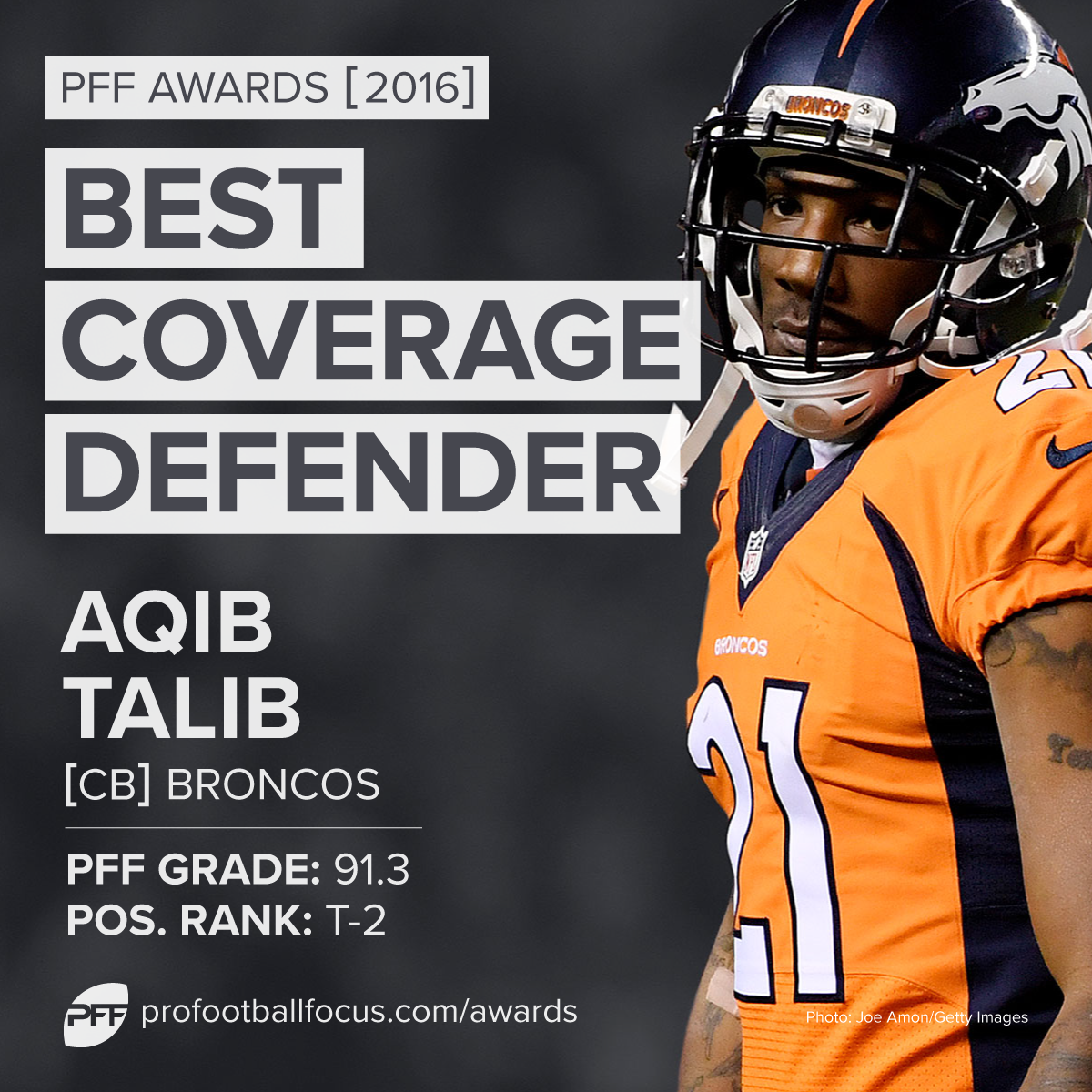 Aqib Talib was the best cover corner in the NFL this season and the best player at any position when it came to coverage. He didn't allow a touchdown all season, and when targeted, surrendered a passer rating of just 49.5 (second in the NFL). In total, Talib gave up just 351 receiving yards from 66 targets, surrendering 35 catches to receivers and not allowing a reception longer than 26 yards all season. His teammate, Denver cornerback Chris Harris Jr. was also in the running, but he surrendered three scores over the year and often saw Talib taking a tougher matchup in terms of opposing receiver. Read more…
Runners-up: Chris Harris Jr., CB, Denver Broncos; Devin McCourty, S, New England Patriots
Comeback Player of the Year
---
Cameron Wake, DE, Miami Dolphins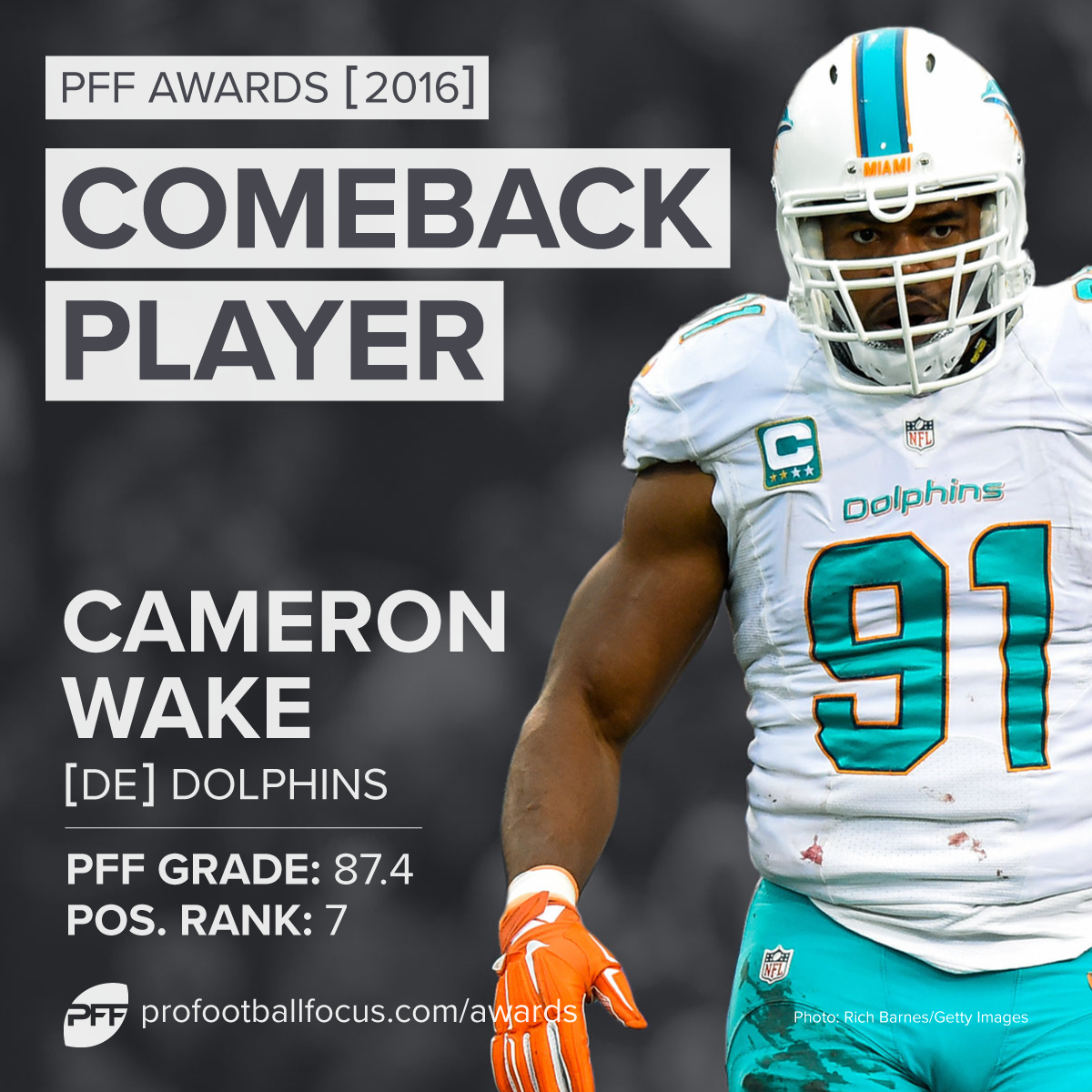 Tearing an Achilles tendon is one of the most severe injuries an NFL player can suffer. It's an injury that affects the very core athleticism that players rely upon, and to come back from such a setback and be successful is an achievement. Cameron Wake didn't just come back and perform well, but went straight back to being one of the league's most devastating pass-rushers, winning back the starting job that had been handed to Mario Williams at the beginning of the season. Wake was eased back into playing time, but proved too dominant to keep off the field, ending the year with the fifth-highest PFF pass-rushing grade (87.2) among all edge defenders. Read more…
Runners-up: Andrew Luck, QB, Indianapolis Colts; Jordy Nelson, WR, Green Bay Packers
Breakout Player
---
Landon Collins, S, New York Giants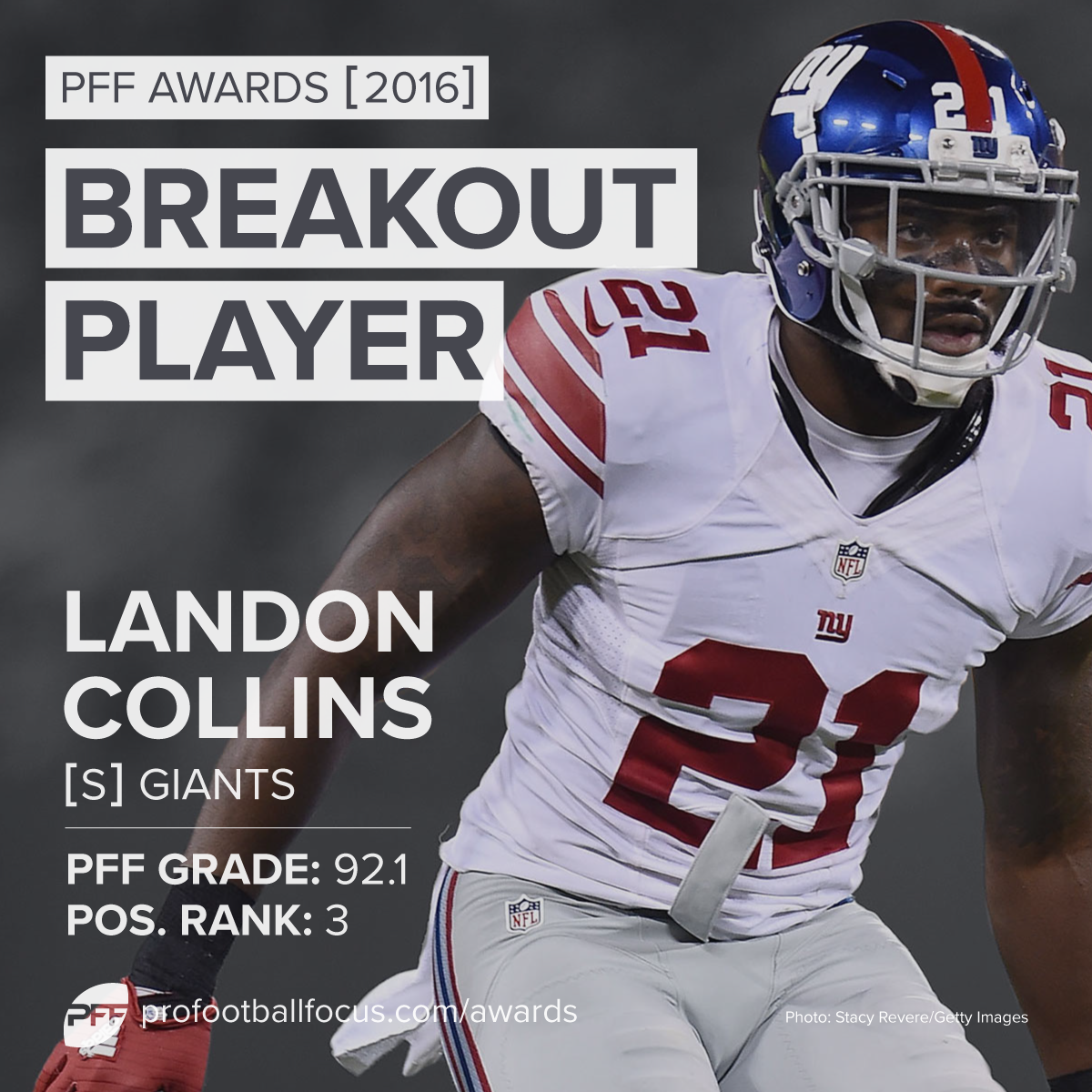 The transformation of Landon Collins from his rookie season to his sophomore campaign was one of the stories of the year, and highlights the difference between the various roles that are all labelled together simply as "safety." As a rookie, Collins looked lost deep in the middle of the field as the Giants' free safety, but when moved closer to the line of scrimmage in 2016, he became a Defensive Player of the Year candidate, able to assert himself in all facets of the game. Collins notched four sacks, five interceptions and 46 defensive stops — eight more than any other safety — in what was truly a breakout season of epic proportions. Read more…
Runners-up: Vic Beasley, OLB, Atlanta Falcons; A.J. Bouye, CB, Houston Texans
Rookie of the Year
---
Ezekiel Elliott, RB, Dallas Cowboys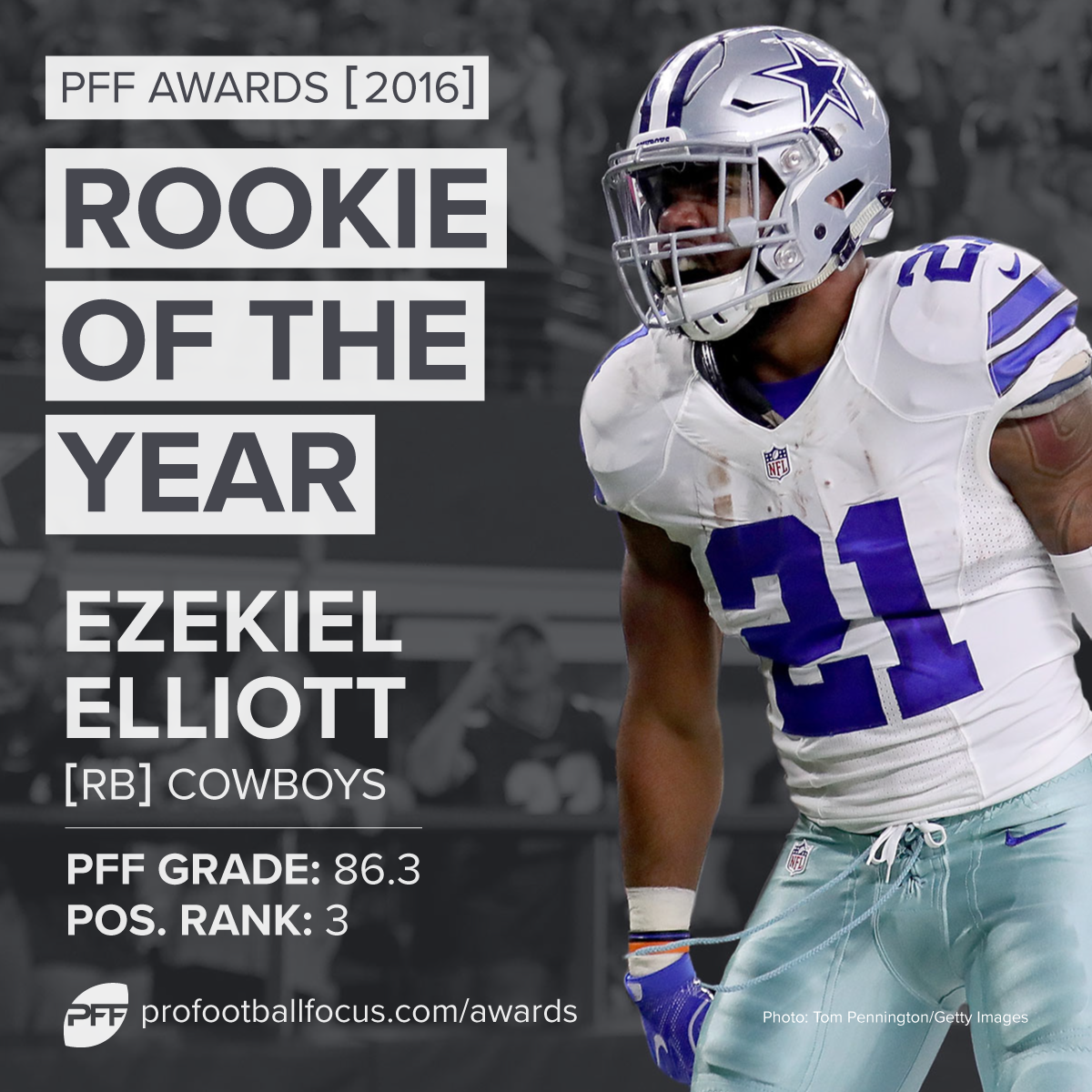 There were some excellent rookie seasons on display in 2016, but Ezekiel Elliott led the NFL in rushing (1,631 yards), and was more than 300 yards clear of the chasing field. Elliott had the benefit of the Dallas offensive line blocking for him, but he also averaged 2.9 yards per carry after contact — the same as Tampa Bay RB Doug Martin's averaged total per carry. Elliott also chipped in with 32 receptions, catching 86.5 percent of the passes thrown his way and dropping only one as he proved to be an every-down back for the Cowboys right out of the gate. Even in their losing playoff effort against Green Bay, the former Ohio State Buckeye posted 125 rushing yards on 22 carries as one of the team's best players. Read more…
Runners-up: Dak Prescott, QB, Cowboys; Jack Conklin, RT, Tennessee Titans; Joey Bosa, DE, San Diego Chargers