Pittsburgh Steelers
Pass Game Supporting Cast – Tier 1
Overall Team Supporting Cast – Tier 2
[Editor's note: The Supporting Cast metrics measure performance of players other than the quarterback, utilizing PFF grades and clustering analysis to group them into tiers from best (Tier 1) to worst (Tier 4). Passing Game Supporting Cast is indicative of supporting players contributing more to passing stats while Overall Team Supporting Cast includes other portions of team performance as well. For more information on support cast rankings, listen in weekly to the PFF Forecast podcast.]
Just six months after a crushing loss in the AFC Divisional Round, the Pittsburgh Steelers have moved on and have their eyes set on the upcoming season. As the Steelers prepare to enter 2018 with a virtually unchanged lineup, the pressure will be on Pittsburgh to make their fifth straight playoff berth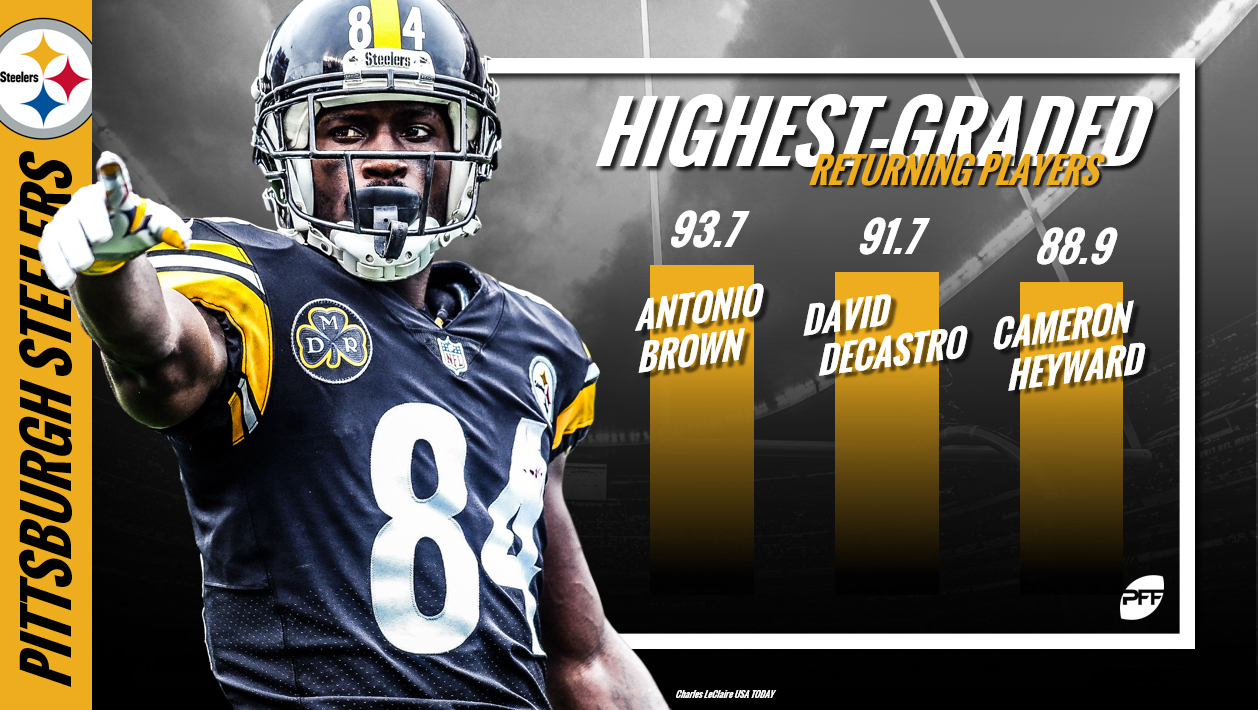 Le'Veon Bell's potential final year in Pittsburgh
As is becoming an offseason tradition for the Steelers, one of their star playmakers has been getting a lot of attention from the media in regards to his contract situation. For the second straight season, it's Le'Veon Bell, who will play for Pittsburgh on a one-year franchise tag deal that will make him among the highest paid running backs in the league. Because the Steelers and Bell could not agree to a long-term deal, there is a chance that Bell will become a free agent at the end of the 2018 season. In preparation of this, Bell recently tweeted, "trust me, 2018 will be my best season to date." Through five years in the league, Bell has graded in the elite range on three occasions, with his best year coming in 2015 as he hit an overall grade of 93.9.
The Steelers, and Bell, could not see eye-to-eye on a contract extension earlier this offseason, as rumors had it Bell wanted more than Pittsburgh was willing to offer. Pittsburgh may have been wise to refrain from overspending considering where Bell finished the 2017 season in terms of yards per route ran (1.32 ranked T-31st out of 55 running backs), elusive rating (39.1; 26th), and breakaway percentage (20.3; 37th) when compared to other high value running backs. Recently, our data scientists took a look at what the real value of Bell was when he was on the field for Pittsburgh.
Mason Rudolph may be Big Ben's heir apparent
In the 2018 NFL Draft, the Steelers selected quarterback Mason Rudolph out of Oklahoma State in the third round. While Rudolph was the sixth quarterback taken in the draft, with a 2017 grade of 91.7, Rudolph ranked second in the nation among FBS quarterbacks. Steelers' fans will see similarities between Ben Roethlisberger and Rudolph including their large size and their downfield prowess.
In 2017, Roethlisberger launched a deep shot (passes targeted 20 or more yards downfield) on 15.7 percent of his passes, a rate that was fourth-most out of 34 quarterbacks with at least 23 deep passing attempts. Rudolph, who threw downfield 18.4 percent of the time last season, had a passer rating of 118.8 on deep throws, ranking sixth among 43 draft-eligible quarterbacks with at least 25 deep passing attempts.
Rudolph was one of the best college quarterbacks last season when facing pressure, posting a 7:3 TD-to-INT ratio and a passer rating of 97.2 under duress. Roethlisberger, on the other hand, had a 5:8 ratio and a passer rating of 62.1 under pressure. While pressured passing itself is a far-less stable aspect of college-to-NFL transition at the professional level, Rudolph's presence in the pocket and when under duress need not go overlooked.
For more on Rudolph and the rest of the 2018 NFL Draft class – it's not too late to grab the 2018 Draft Guide with grades, prospect profiles and much more  –

Who replaces Mike Mitchell?
Back in March, Pittsburgh decided to release the veteran safety due to his expensive contract. Although Mitchell only had a grade of 71.2 last season, he did play in 738 snaps and was one of the more consistent players in the Pittsburgh secondary. Mitchell struggled to make the tackle at times last year and this is evident when looking at his combined tackle efficiency of only 7.6, a mark that ranked 69th out of 107 qualified safeties. Where Mitchell struggled in tackling, he excelled in his coverage ability ranking in the top 10 among 87 safeties who played at least 160 coverage snaps in both cover snaps per reception and yards per cover snap at 0.26.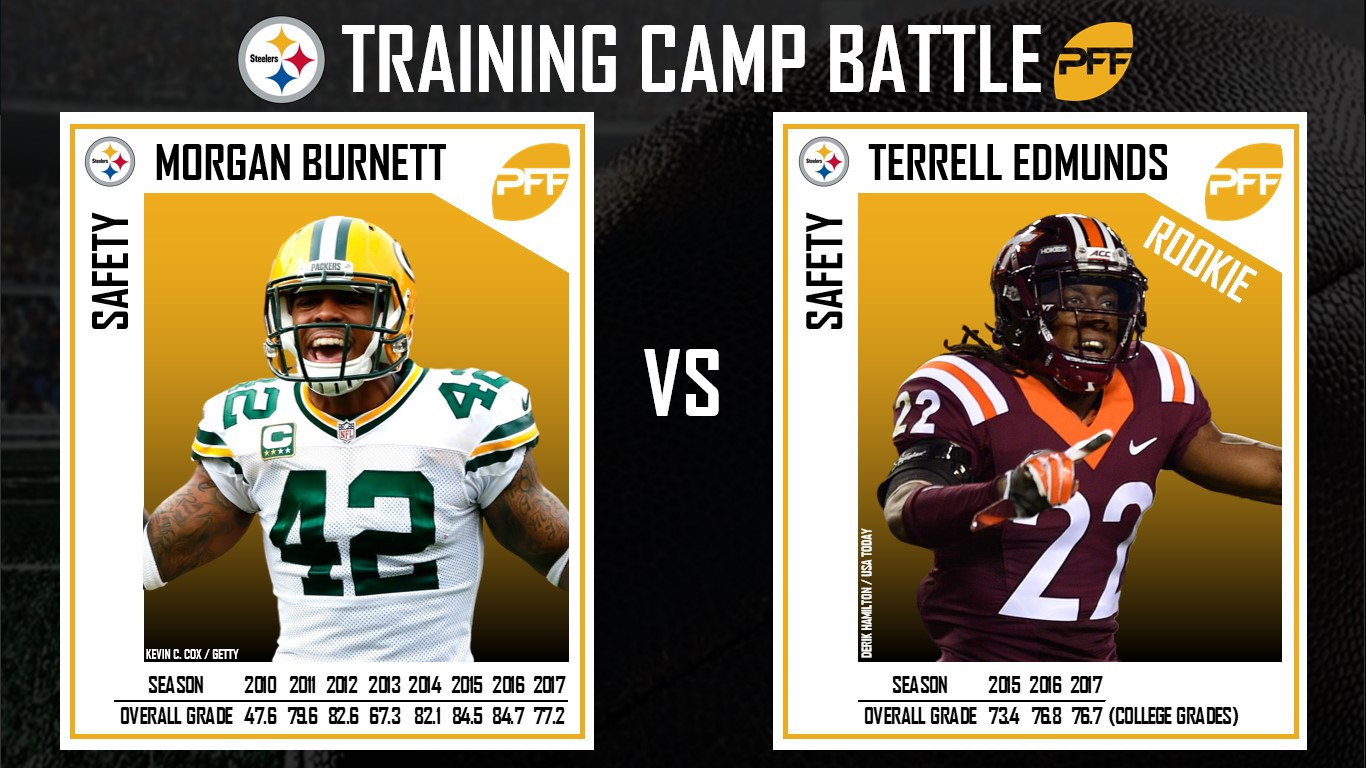 To replace Mitchell, the Steelers brought in the longtime Green Bay Packer, Morgan Burnett and drafted Terrell Edmunds out of Virginia Tech. Edmunds had a grade of 77.2 in 2017 which ranked  tied for 51st out of 145 draft-eligible safeties. Regardless of who ends up starting at safety for Pittsburgh, the Steelers will have their targets set on returning to the AFC Championship game in January as they head into training camp.
With one of the top offenses in the game and a young, promising defense, expect Pittsburgh to once again be a Super Bowl contender in 2018.

POSITION BATTLES TO WATCH
2018 PFF NFL Training Camp Previews
---
Arizona Cardinals | Atlanta Falcons | Baltimore Ravens | Buffalo Bills | Carolina Panthers | Chicago Bears | Cincinnati Bengals | Cleveland Browns | Dallas Cowboys | Denver Broncos | Detroit Lions | Green Bay Packers | Houston Texans | Indianapolis Colts | Jacksonville Jaguars | Kansas City Chiefs | Los Angeles Chargers | Los Angeles Rams | Miami Dolphins | Minnesota Vikings | New England Patriots | New Orleans Saints | New York Giants | New York Jets | Oakland Raiders | Philadelphia Eagles | Pittsburgh Steelers | Seattle Seahawks | San Francisco 49ers | Tampa Bay Buccaneers | Tennessee Titans | Washington Redskins