Philadelphia Eagles
Pass Game Supporting Cast – Tier 2
Overall Team Supporting Cast – Tier 2
[Editor's note: The Supporting Cast metrics measure performance of players other than the quarterback, utilizing PFF grades and clustering analysis to group them into tiers from best (Tier 1) to worst (Tier 4). Passing Game Supporting Cast is indicative of supporting players contributing more to passing stats while Overall Team Supporting Cast includes other portions of team performance as well. For more information on support cast rankings, listen in weekly to the PFF Forecast podcast.]
It is not often that a player wins the Super Bowl for a team, gets selected as the most valuable player, remains with the team and then doesn't open the next season atop the depth chart. Unfortunately for Philadelphia Eagles QB Nick Foles, there is always an exception to the rule. As Carson Wentz prepares for the new year, it is becoming increasingly obvious that he will be ready to go for the first game of the season, which will leave the Super Bowl LII MVP in the same place he started the 2017 season: on the bench.
When comparing the 2017 seasons of both players, it is hard not to be impressed. Including the playoffs, Foles finished the season with an adjusted completion percentage of 74.7, which was good for 10th best among 38 quarterbacks with at least 190 dropbacks. Wentz finished the season with the 10th highest passer rating (100.9) on deep passes (20-plus yards) out of 34 quarterbacks with at least 25 deep shots and with the third-highest passer rating when facing pressure (81.7).
It is hard to fault Philadelphia for starting Wentz, who finished his sophomore season with an overall grade of 87.6, over Foles, who finished with just a 75.9, and fans should take solace knowing that their team is in good hands regardless of which quarterback is under center.
For more on Wentz, Foles and the rest of the league's signal-callers – it's not too late to grab the 2017 QB Annual with grades, pass charts and much more  –

New faces on the defensive line
After winning the Super Bowl in February, Vinny Curry and Beau Allen had a just under a month to celebrate with their teammates before they became free agents. Both players coincidently ended up being signed by the Tampa Bay Buccaneers, which left two large voids along the defensive line for the Eagles. To replace them, Haloti Ngata and Michael Bennett were brought on board to compete for starting spots.
For Ngata, he will likely slot in nicely behind Fletcher Cox (91.2) and Tim Jernigan (81.5) who will take up a bulk of the snaps ahead of him. Ngata (79.7) will directly replace Allen who's 2017 grade of 74.5 ranked 80th among interior defensive linemen.
The plan for the outside of the defensive line is a little less clear, however. Brandon Graham will retain his position atop the depth chart, but that is all we know so far. From there, Chris Long, Bennett and Derek Barnett will compete for the other starting role.
All four players ranked in the top 48 out of 105 edge defenders with 130 or more pass-rushing snaps in pass-rushing productivity (Long, 11.8; Graham, 11.2; Bennett, 10.2; Barnett, 9.2) which is impressive the talent at edge defender across the league.
For their work in restructuring the defensive line after Curry and Allen departing, the Eagles enter the season with our No. 1 spot on our preseason pass-rush rankings.

Welcome to camp Mr. Jones
In addition to the new faces along the defensive line, another new face, new to training camp at least, is Eagles 2017 second-round pick, Sidney Jones. Jones, who suffered a devastating Achilles injury at his pro day last year will be competing for a starting spot in training camp against a handful of talented young cornerbacks.
If you go back to 2016 to look at Jones' play at Washington, he finished the season with 18.7  snaps in coverage per reception allowed, which tied him for 17th among 455 FBS cornerbacks with at least 135 coverage snaps. When targeted, opposing quarterbacks had a passer rating of just 42.1 against Jones, a mark that ranked 19th. Jones will have some stiff competition in Jalen Mills, Rasul Douglas and rookie CB Avonte Maddox, but with two starting spots available (one outside and one in the slot), the promising young cornerback will get plenty of opportunities to show what he can do against the superior NFL competition.
Bottom line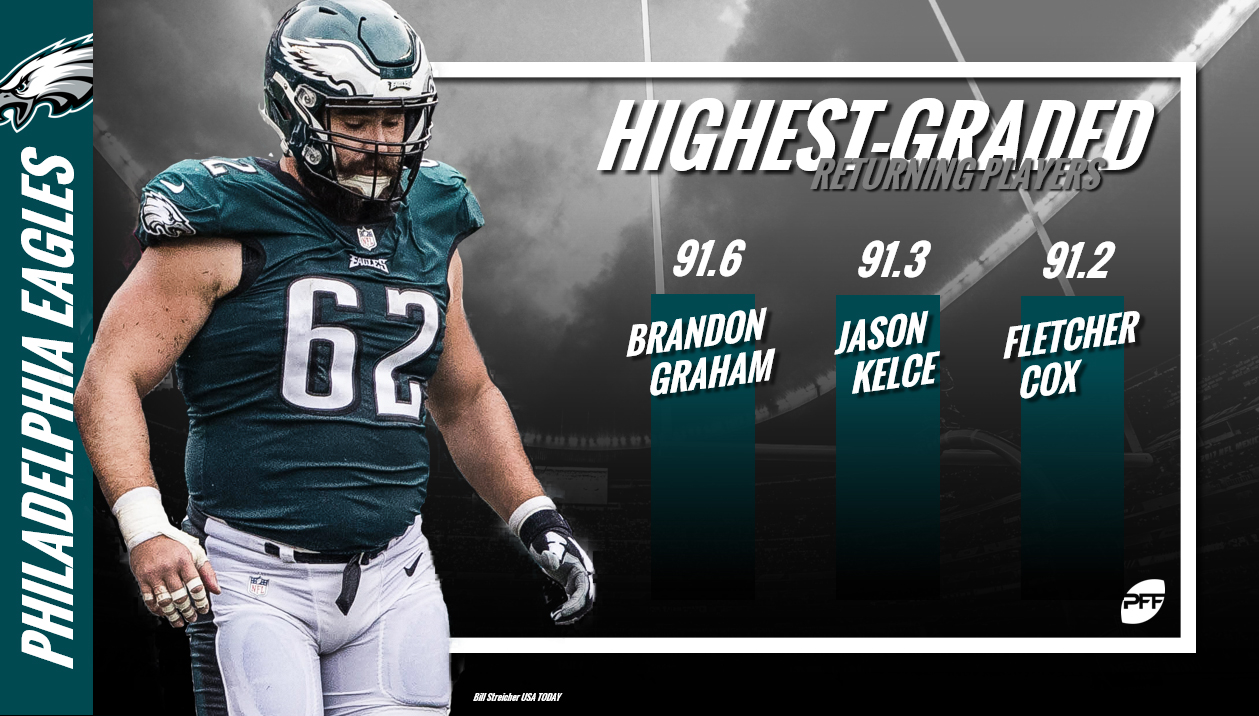 For the first time in history, the Eagles enter camp as the reigning champions. Considering the depth of talent at almost every position on the team, it wouldn't be too surprising to see them in the same position at this time next year.
POSITION BATTLES TO WATCH
2018 PFF NFL Training Camp Previews
---
Arizona Cardinals | Atlanta Falcons | Baltimore Ravens | Buffalo Bills | Carolina Panthers | Chicago Bears | Cincinnati Bengals | Cleveland Browns | Dallas Cowboys | Denver Broncos | Detroit Lions | Green Bay Packers | Houston Texans | Indianapolis Colts | Jacksonville Jaguars | Kansas City Chiefs | Los Angeles Chargers | Los Angeles Rams | Miami Dolphins | Minnesota Vikings | New England Patriots | New Orleans Saints | New York Giants | New York Jets | Oakland Raiders | Philadelphia Eagles | Pittsburgh Steelers | Seattle Seahawks | San Francisco 49ers | Tampa Bay Buccaneers | Tennessee Titans | Washington Redskins