It's rankings season here at PFF as camps are rapidly approaching. We dropped our offensive line rankings last week and now we turn our attention to the defensive side of the ball. These are our evaluations of the relative run defenses around the league.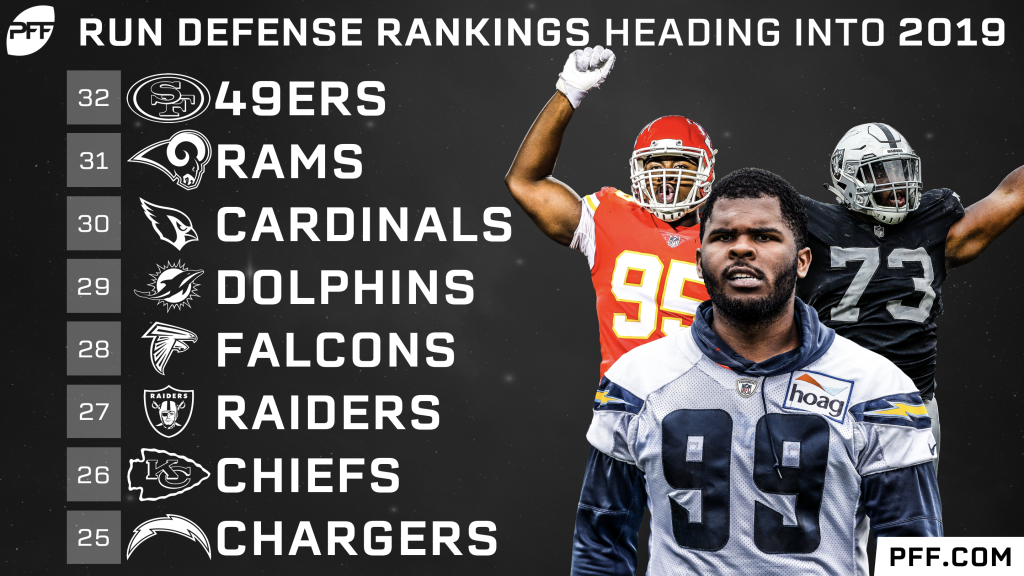 The 49ers once again invested heavily in their front-seven this offseason, but almost all those moves came with the expressed intent of affecting the pass. Dee Ford has a career-high run-defense grade of 67.6, and Kwon Alexander's is 53.3. Nick Bosa should hold his own in that regard, but this is still a rough unit overall.
Run defense is more about having few weaknesses than it is about having playmakers. So even the Rams have one of the NFL's best disruptors against the run in Aaron Donald, they are a liability to get gashed this upcoming season. Dante Fowler (61.2), Cory Littleton (42.1), Samson Ebukam (67.1), Michael Brockers (68.2) and Clay Matthews (64.3) are all coming off rough seasons in run defense.  
While Terrell Suggs has been ageless to some degree as a pass-rusher, his run-defense grade took a steep downturn in 2018. His 64.4 run-defense grade was easily the lowest we've ever seen from him.
Christian Wilkins should make his presence felt in run defense from Day 1, which actually gives the Dolphins a surprisingly stout interior. Davon Godchaux has quietly become one of the better run-defending defensive tackles after earning an 85.4 run-defense grade last season. It's poor efforts in run defense from projected starters along the edge in Charles Harris and Jonathan Woodard that drag this unit down significantly.
The Falcons' front-seven is decidedly built for speed over power. That being said, Grady Jarrett is still one of the best in the biz at creating disruption against the run and earned a 90.0 run-defense grade last season. However, Jarrett and off-ball linebacker Deion Jones are the team's only defenders in the front seven that have played above expectation against the run in recent years.
The Raiders' front-seven will look very different in 2019, but that doesn't necessarily mean better. Vontaze Burfict is coming off by far the lowest-graded season of his career (47.9), and Brandon Marshall is coming off his lowest-graded season in run defense (55.9).
Frank Clark should help alleviate some of the Chiefs' run-defense woes from a season ago, but he's been far from a consistent force against the run. His 5.6 run-stop percentage last season ranked 30th out of 52 qualifying edge defenders.
This ranking comes as no surprise after they got trounced by the Patriots in the playoffs. They addressed defensive tackle in the first round with their selection of Notre Dame's Jerry Tillery, but he will add far more to their pass-rush than their run defense after only earning a 78.1 run-defense grade last season.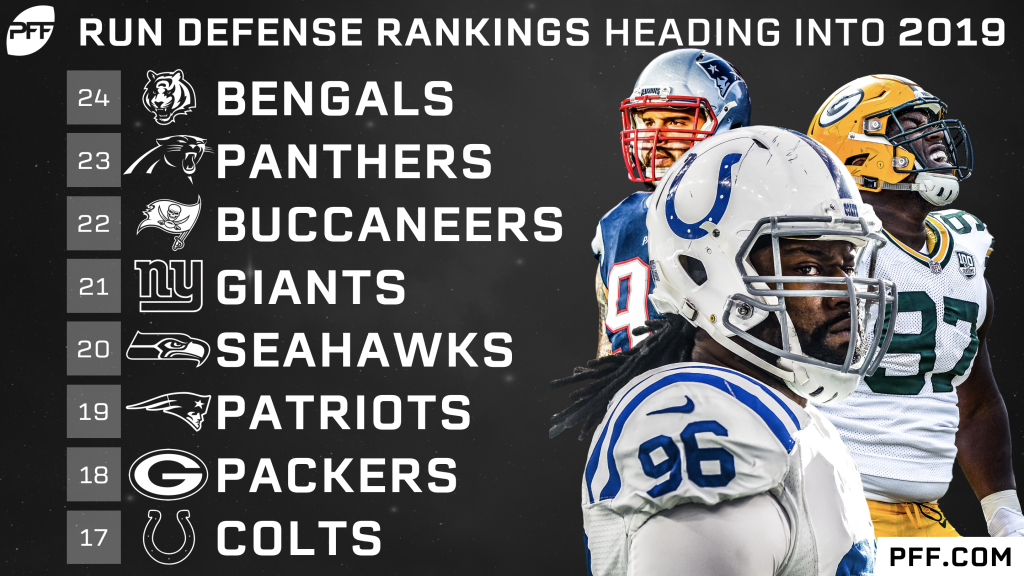 The linebacker position for the Bengals is still too big of a question mark to put them much higher than this. They'll be asking a lot from rookie third-rounder Germaine Pratt to try and solve their woes. Even getting Preston Brown back healthy might not move the needle too much after he earned a 55.6 run-defense grade on 375 snaps last season. 
The Panthers made a lot of changes to their defensive line over the course of the offseason, but fortunately for them, they were on more pass-rush focused players. Gerald McCoy will likely fill the role of sub-package rusher for Carolina while Brian Burns at under 250 pounds could struggle in run defense out of the gate.
Vita Vea is one of the players we're most excited to see play in Year 2, as he looked like a different player down the stretch for the Bucs. Over the first 11 weeks of the season, he earned a 54.0 run-defense grade compared to a 79.6 over the last fiveweeks.
The Giants certainly have the potential to stop the run with some of the big bodies they'll be throwing out along the defensive line. B.J. Hill, Dalvin Tomlinson and Dexter Lawrence were all college nose tackles and make up the Giants' interior rotation.
Bobby Wagner cleans up a lot of runs for the Seahawks' defense. He's ranked top-15 in run-stop percentage among linebackers for five straight seasons.
The loss of Trey Flowers will hurt a ton, but there are still some talented run defenders on this roster. Lawrence Guy has had a journeyman career but has quietly become one of the league's best run defenders. He earned a 91.2 run-defense grade on 587 snaps last season.
The Packers added a bunch up front, but arguably their biggest change over a year ago could come from within. Mike Daniels floundered to an injury-plagued 61.2 run-defense grade last season after never grading below 75.0 in that regard since 2013. They'll need him back at his best in 2019.
The Colts' young linebacker duo well-outperformed expectations last season. While Darius Leonard grabbed all the headlines, Anthony Walker's solid play flew under the radar. He earned the second-highest run-stop percentage of any linebacker in the NFL.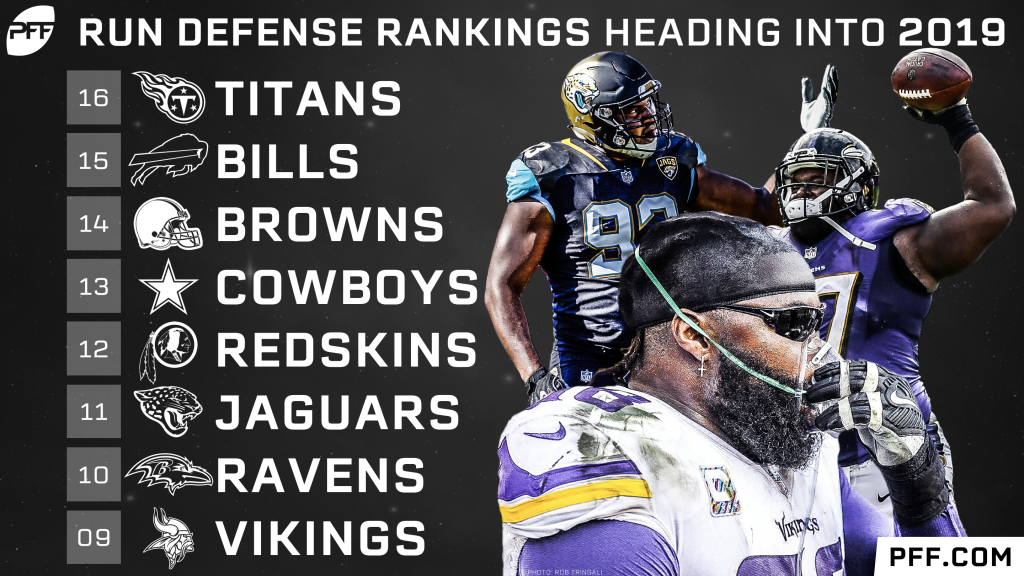 The Titans have the makings of something special at the linebacker position, but neither Jayon Brown nor Rashaan Evans was known for their run defense last season. Brown earned a 63.0 run-defense grade in his breakout campaign while Evans earned a 72.5.
Much of the Bills' success in run defense this season stems from the development of Tremaine Edmunds. As a rookie, Edmunds struggled with 18 missed tackles and a 55.6 run-defense grade. If those numbers improve in Year 2, so will the Bills' defense.
The Browns have the potential to end up a lot higher on this list when all is said and done. We're particularly excited to see what Myles Garrett and Larry Ogunjobi are capable of when not forced to play every single snap. Garrett earned an 80.2 run-defense grade last season while Ogunjobi was at 73.0.
The Cowboys' run defense begins and ends with the league's best young linebacker duo. Leighton Vander Esch ranked third in run-stop percentage as a rookie while Jaylon Smith checked in at 29th. 
The Redskins have certainly invested heavily into their front to earn this ranking. They've used a first-round pick on their defensive line in three straight seasons, yet none have quite been the 'hit' they'd hoped for. This will be a big season for Da'Ron Payne and Jonathan Allen, who earned run-defense grades of 72.6 and 68.1 last year, respectively.
Calais Campbell reinventing himself as a 4-3 defensive end well into his 30's is one of the more interesting career transitions. He's utterly dominated as a run defender in that role with a 90.3 run-defense grade in 2017 and a 93.8 this past season. At 6-foot-8, 300 pounds he's a handful for opposing offensive tackles.
There are few more impactful run-defending duos in the NFL than defensive tackles Brandon Williams and Michael Pierce. Williams has long since established himself as one of the league's best nose tackles, but Pierce may have surpassed him at this point. The fourth-year defensive tackle has seen his run-defense grade improve from 81.4 as a rookie, to 87.9 in 2017, to 92.0 last season.
A big part of living up to this ranking will be the Vikings' edge duo bouncing back to what we've seen from them their entire career. Danielle Hunter and Everson Griffen have been impactful run defenders over the course of their careers, but Hunter had an unusually down year in 2018 (67.8 run-defense grade) while Griffen's leave of absence limited him to only 585 snaps on the year.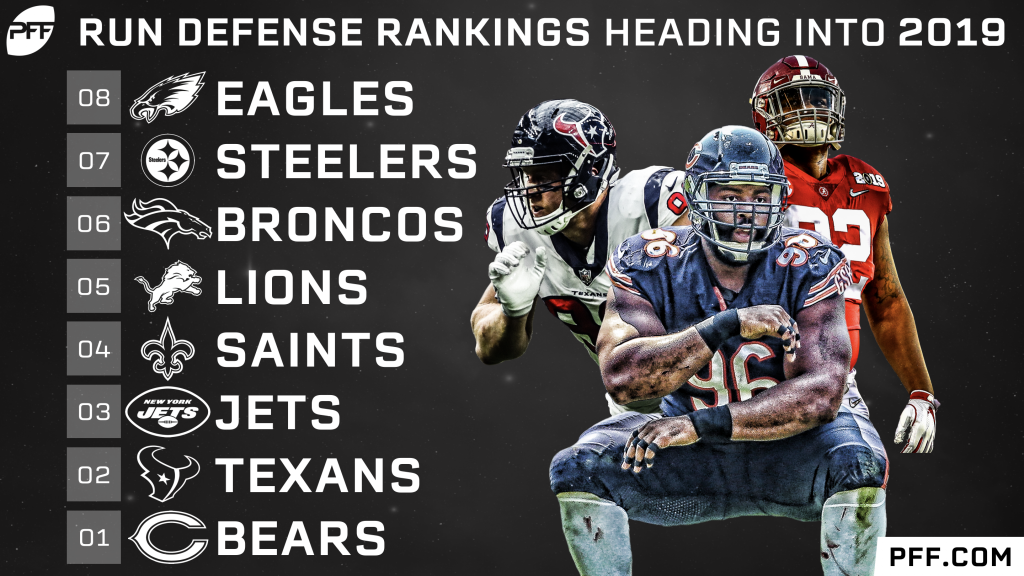 The Eagles' commitment to adding to an already dominant front-seven is legitimately impressive. Linebacker Zach Brown should be the big needle mover here, as he ranked 14th in run-stop percentage (8.9) last year in Washington and has had back-to-back run-defense grades over 80.0.
This is a unit that should only improve with the addition of sure tackling linebacker Devin Bush. The Steelers first-rounder missed all of 11 tackles on 146 attempts his last two seasons at Michigan.
This Broncos' front features one of the most underrated players in the NFL today. Defensive tackle Shelby Harris may not be a full-time player, but when he's on the field, he shuts down run games. He earned a 79.5 run-defense grade in 2017 before an 85.3 run-defense grade last season. Harris' 9.8 run-stop percentage ranked 11th among interior defensive linemen last season.
With Damon Harrison, you'll have a top-10 run defense almost by default. He's led all defensive tackles in run-stop percentage each of the past five seasons. It's an unbelievable string of consistency considering how quickly the turnover at a position like nose tackle is in the NFL.
The Saints' defensive line is dripping with potential at the moment. They've seen a distinct upward trajectory in the play of defensive tackles David Onyemata and Sheldon Rankins over the course of their careers. Onyemata went from 55.2 run-defense grade as a rookie, to 75.0 in Year 2, to 76.7 last season. Rankins similarly went from a 59.1 run-defense grade as a rookie to 63.8 in 2017 and 73.4 last season. However, with Onyemata suspended for Week 1 and Rankins coming off a torn Achilles, there's still a lot of unknown with the duo.
This is about as old school a front-seven as you'll see in the NFL today. They have the ability to send out a jumbo defensive line that all goes 300-plus pounds while putting thumpers in C.J. Mosley and Avery Williamson behind them. The key playmaker here though is first-rounder Quinnen Williams who put up the highest run-defense grade we've ever given to an interior defender last season at Alabama.
Not too many teams rank highly in run defense off the backs of their edge defenders, but that's how dominant the Texans duo is. Jadeveon Clowney is arguably the most dominant run-stopping edge in the NFL today after a 91.2 run-defense grade last season while J.J. Watt isn't too far behind after an 88.7 run-defense grade in 2018.
Chicago's defensive line features multiple elite run-stuffing talents. None was more formidable last season though than Akiem Hicks. The former Saint is proving himself one of the best free agent additions in recent memory. His 13.3 run-stop percentage was the second-highest figure of any interior defender in the NFL last season.