While our Atlanta Falcons played an almost-perfect game offensively in Atlanta Sunday, they were unable to overcome brilliant play from Michael Thomas and Alvin Kamara in support of Drew Brees in what was eventually a 37-30 lead-turned 43-37 loss in overtime. We were able to get some underdogs to help us again, with the Giants and the Cardinals (!) keeping the week from being a complete disaster. Underdogs have been 4-1-1 for us so far this year, which is a bit different than a season ago.
Our models rely heavily on our PFF ELO rating system for the NFL, along with game information like where the game is played, how far a team has to travel, etc. We also fold in opponent-adjusted PFF grades into our machine-learning algorithm to factor in roster changes and possible asymmetric mismatches that can occur through the course of a game.
We are now 15-8-1 on our "Lock of the Week" picks since the start of 2017 (65.2%) and will be featured on the Sports Illustrated Gambling Show. The analyses here will involve a point-counterpoint between the two of us, using perspectives that only the PFF grades and data can provide. Follow us on Twitter at @PFF_Eric and @PFF_George, and for some podcast commentary on some of these picks, and the process that goes into them, give the PFF Forecast a listen. We will have a special Monday morning podcast each week with look ahead lines for the upcoming week.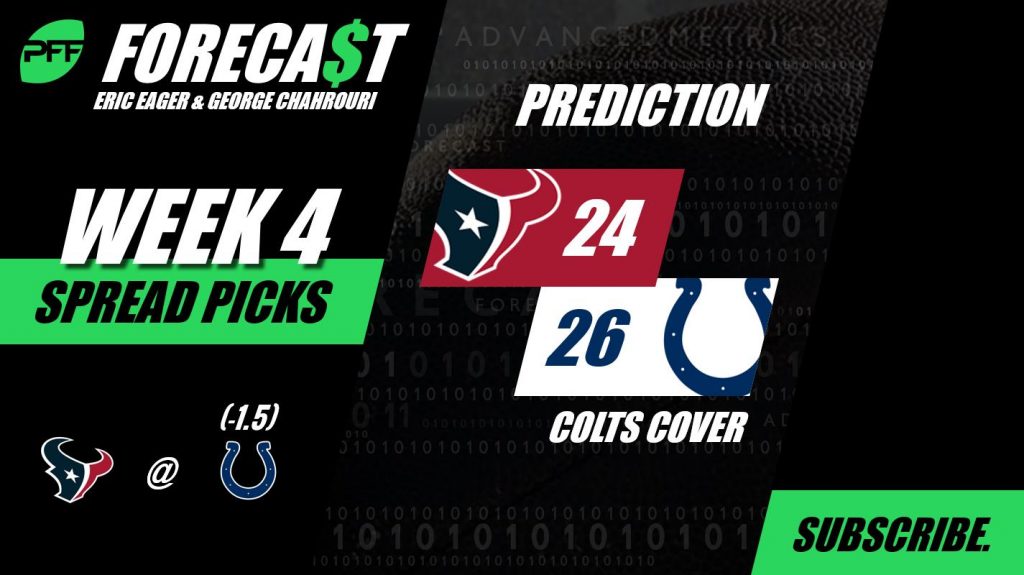 Prediction: Colts 26-24 (Colts cover)
Point (George Chahrouri): This line is saying that the Texans would be favored on a neutral field. Just because the public thinks the Texans still have a strong defense that can stifle Andrew Luck and the Colts' quick-passing game doesn't make it true. The Texans pressure opposing quarterbacks on just 21.6% of dropbacks, which is more than 10.0% below the league average and only above the Raiders' pass-rush. To make matters worse, the Texans are trying mighty hard to get pressure by blitzing 36.1% of the time (fifth-most). Houston's coverage is being left to fend for itself, and that is a recipe for terrible results. When opposing quarterbacks throw the ball in 2.5 seconds or less against the Texans, they field a 141.2 passer rating, 10 points higher than any other team.
Everyone wants to have a panic attack because Jacoby Brissett came in to throw a Hail Mary at the end of last week's game against the Eagles. So long as he doesn't come in to play corner for the Texans, this one is going to be a victory for Frank Reich.
Counterpoint (Eric Eager): I always feel a little queasy backing or fading the same team for an entire month, but here we are with the Texans, who have given us NE (-6), TEN (+2) and NYG (+6) the last three weeks. While Deshaun Watson has not been as efficient or as explosive a passer this season as he was last year, his ability with his feet has netted him a positive PFF grade on over 35 percent of his dropbacks so far this season, which is among the upper end of league's quarterbacks. New defensive coordinator Matt Eberflus has looked very good in our coaching metrics so far for the Colts, as they have employed a ton of Cover 2 in what is likely an effort to mask some deficiencies in defensive personnel. If DeAndre Hopkins and Will Fuller can get healthy and stretch this defense out, we might have to see Luck hang onto the ball longer than the 2.40 seconds he's managed so far and go downfield more than the seven times he's tried so far this year, in an attempt to keep up.

Subscribe to PFF Edge to continue reading
Already have a subscription? Sign In