With the #PFF50 out there, it's time to break down the quarterbacks who made the list. As always, our list treats all (most) positions equally, and quarterbacks are not artificially vaulted toward the top of the list.
Here's how the best quarterbacks stacked up in this year's PFF 50.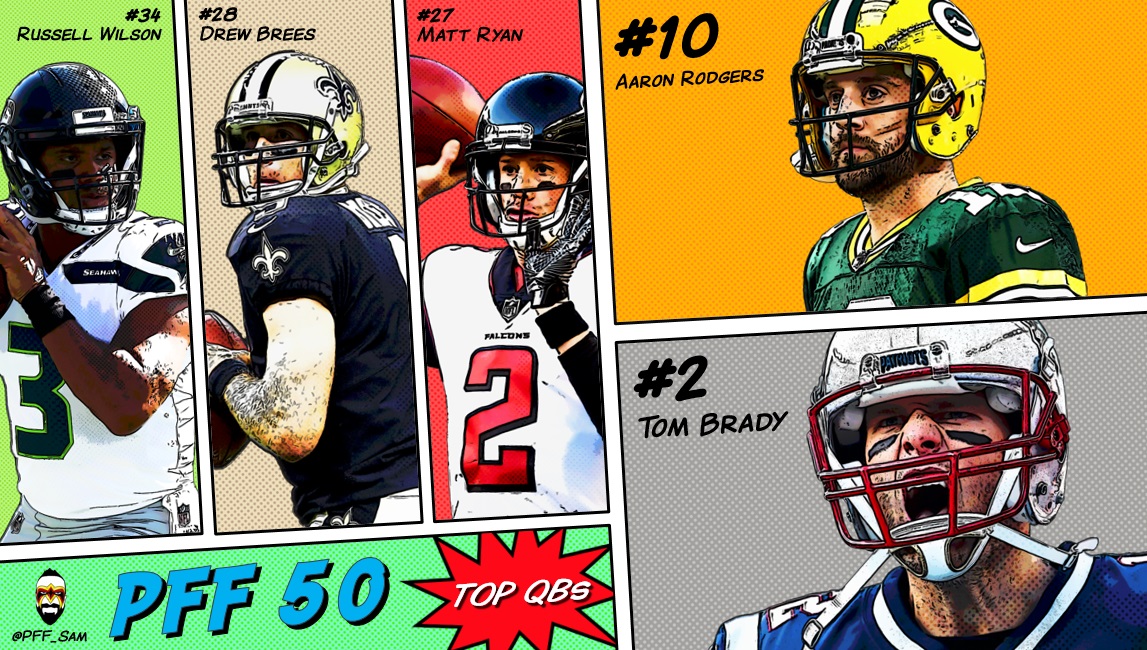 2015 Grade/Rank: 93.3/2nd
2016 Grade/Rank: 98.0/1st
2017 Grade/Rank: 95.5/1st
Brady has continued to improve his game, throwing the ball more efficiently down the field the last few years and handling pressure better than any quarterback in the game. Last season saw him attack down the field more than we've seen from him since 2011 and the result was his once again ranking as the top quarterback in the league. Brady has also been the most accurate quarterback in our two years of advanced ball-location data, showing that at all levels of the field as he optimizes both catch and catch-and-run opportunities for his receivers. Last season, he had the third-highest percentage of big-time throws while ranking fourth at avoiding turnover-worthy plays.
Tom Brady was No. 1 in #BigTimeThrow percentage in 2016 and No. 3 in 2017 pic.twitter.com/mWr7wwAMgU

— Steve Palazzolo (@PFF_Steve) June 4, 2018
2015 Grade/Rank: 87.5/7th
2016 Grade/Rank: 92.1/3rd
2017 Grade/Rank: 84.4/11th
Certainly the most talented signal-caller in the league when healthy, Rodgers was limited to just 417 snaps a year ago and he was good, not great, when he was on the field. At his best, he peppers the field with big-time throws while limiting his turnover-worthy plays, though last year was the worst we've seen from Rodgers in both departments in years. We've seen stretches of play from Rodgers that rivals the best of any quarterback in history, whether looking at his 2011 or 2014 seasons or watching his 2016 "run-the-table" stretch through the NFC Championship. Expect a bounce back to his usual self as Rodgers finished with the top overall PFF grade in three of his 10 years as a starter.

2015 Grade/Rank: 87.5/7th
2016 Grade/Rank: 92.6/2nd
2017 Grade/Rank:  88.6/2nd
When looking at Ryan's three-year sample, he played better than the stats would indicate in both 2015 and 2017, and his MVP season of 2016 was certainly the best of the bunch, but likely not as good as his gaudy 117.1 passer rating would indicate. All that said, Ryan is a consistently good quarterback, throwing the ball accurately to the short and intermediate level while generally taking good care of the football. Last season saw a ridiculously high number of unlucky interceptions as he ranked first at avoiding turnover-worthy throws, but 14th in interception percentage. If he plays at a similar level as 2017, expect Ryan's 2018 numbers to look much better.
Matt Ryan 2017 ranks:

Passer rating: 17th
INT%: 14th
Turnover-worthy play%: lowest
PFF Grade: Tied-2 (88.6 overall)

Ryan had horrendous INT luck last season. Good throws and throws that normally fall incomplete got picked off at an incredible rate pic.twitter.com/e6F7YPWotB

— Steve Palazzolo (@PFF_Steve) June 5, 2018
2015 Grade/Rank: 90.7/4th
2016 Grade/Rank: 86.6/7th
2017 Grade/Rank: 88.6/2nd
While Brees certainly had more help last season, from both his playmakers and his defense, he still showed that he can perform at a high level. He was the league's most accurate quarterback last season in our advanced charting, while ranking fourth in "accuracy-plus." There have been times in which it looks like Brees is losing his arm strength, but he's been able to mask any deficiencies with his elite decision-making and accuracy. Brees should continue to age well due to his smarts, though seasons like 2017 where his receivers and defense did much of the heavy lifting will only help to prolong his career after years of being forced to carry the Saints with little margin of error.
2015 Grade/Rank: 90.2/5th
2016 Grade/Rank: 88.9/5th
2017 Grade/Rank: 87.2/6th
It was an odd season for Wilson who fought "game manager" labels for years due to Seattle's strong defense. He's always been much more than that but last year he had to take far more on his shoulders, and it worked both for and against him. He ranked fourth in the league in big-time throw percentage, though his turnover-worthy play percentage of 3.51 ranked only 22nd in the league and his 11 interceptions should have been much higher. Still, Wilson was a magician in the fourth quarter and he carried the Seattle offense behind another atrocious offensive line and marginal rushing attack. Like the others on the list, Wilson can make the special throws while generally avoiding the poor decisions, and that should put him in the mix to be a top quarterback every season.