The NFL season is done for all but 12 teams, and with such, it's time to look back at the impressive performances from the 2018 NFL Draft class that saw its fair share of dominant debuts across the league. The 2018 PFF NFL All-Rookie Team depicts those strong debut seasons from players at every position across offense, defense and special teams, headlined by our selections for Offensive Rookie of the Year in Baker Mayfield and Defensive Rookie of the Year in Derwin James.
Qualifying for such a mention required more than just a few flash-in-the-pan moments. Rather, those players who dominated game in and game out find themselves on the 2018 PFF All-Rookie Team.
Quarterback
Baker Mayfield, Cleveland Browns
Mayfield was named our Offensive and overall Rookie of the Year for his efforts in turning the Cleveland Browns franchise around after a 0-16 season a year ago. Mayfield was not without his tribulations this season, but he was clearly the most dominant rookie quarterback in some time.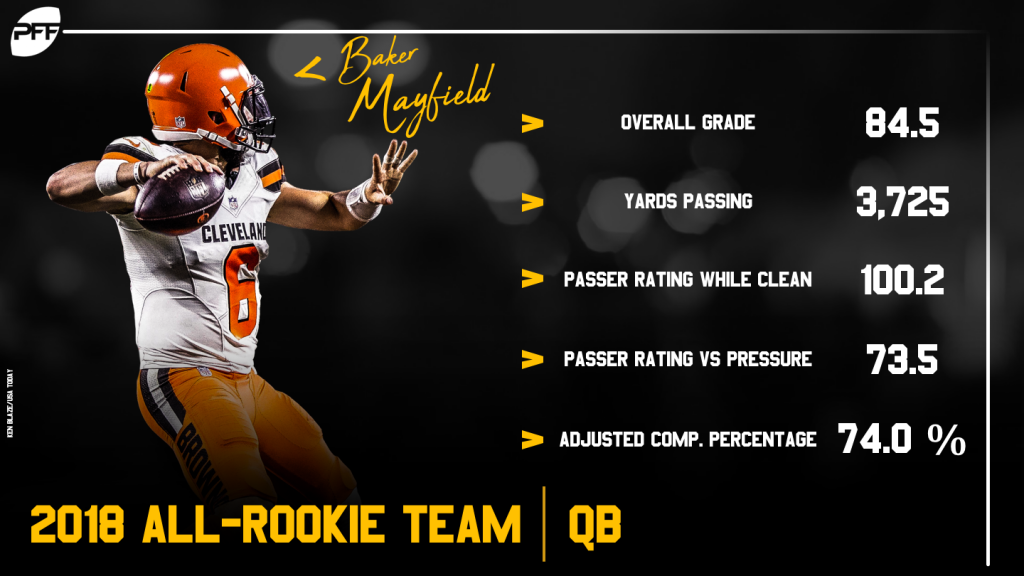 Running Back
Saquon Barkley, New York Giants
Talk of whether Barkley was worthy of the second overall pick or not aside, he revitalized a Giants offense lacking in playmakers not named Odell Beckham Jr. He forced 40 missed tackles over a large body of work, out-snapping his fellow rookie classmates while maintaining an incredible healthy 5.0 yards per carry.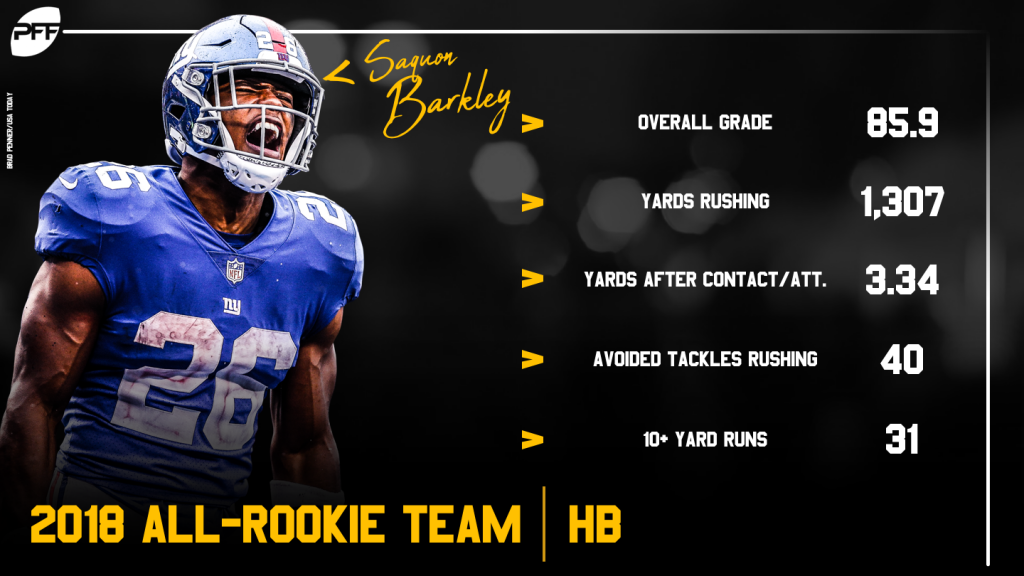 Wide Receiver
Moore finishes with the highest overall grade among rookie receivers, doing more on his own during his season-long efforts in a struggling Carolina offense. He racked up a rookie-best 427 yards after the catch, recording over 54.0% of his total yards after the catch and 17 missed tackles forced this season.
Wide Receiver
Calvin Ridley, Atlanta Falcons
Ridley's hot start fizzled out as did the Falcons playoff (and winning season) dreams in 2018, but that shouldn't take away from what he was able to accomplish in his debut year. He led the rookie class in touchdowns (10) while finishing just behind Moore with 367 yards after the catch.
Flex Offense
Prior to Week 10, Foster had caught just two passes, been released, signed to the practice squad in Buffalo and had been held without a catch in five of his career six games. However, his perseverance paid off as he more than earned his spot on the team for his efforts over the final seven games – a stretch that saw him grade out as the best rookie receiver in football from Week 10 to Week 17.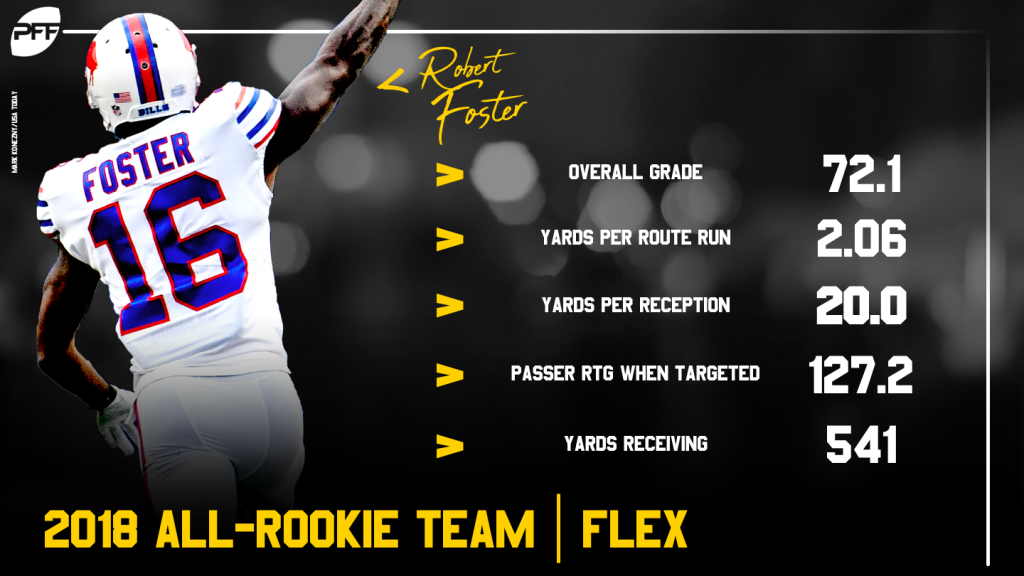 Tight End
Mark Andrews, Baltimore Ravens
Only eight rookie tight ends saw more than 20 targeted passes this season, yet that shouldn't deter from the fact that Andrews led them all in yards (552), yards per catch (16.2), YAC (198) and first-down receptions (25).
Offensive Tackle
Mike McGlinchey, San Francisco 49ers
No rookie tackle was more dominant with his run-blocking than McGlinchey this season, consistently moving defenders off the point of attack. He was impressive enough as a run blocker in 2018 to even outweigh the fact that he allowed 40 pressures from his right tackle spot for San Francisco.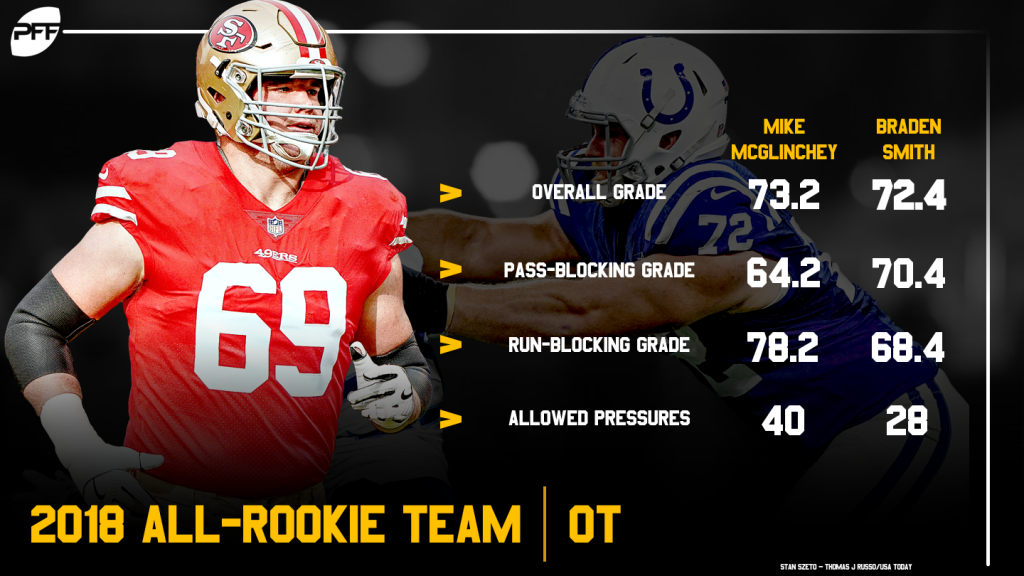 Interior O-Line
Quenton Nelson, Indianapolis Colts
One of the more impressive turnarounds in recent memory, the Colts offensive line went from complete liability to more than an adequate unit as Nelson and his counterpart on the All-Rookie team are largely to thank. Nelson was a stud in pass protection, leading the team in pass-blocking grade while allowing just 23 pressures on a whopping 730 pass-blocking snaps.
Interior O-Line
Daniels has the ability to play across the interior of the offensive line in Chicago, and he demonstrated some of his impressive play to the tune of the third-highest grade among rookie interior linemen. He didn't allow a single sack and just 20 total pressures on his 432 pass-blocking snaps this year.
Interior O-Line
Will Hernandez, New York Giants
Where would be a 1,000-yard running back without an impressive offensive line and that's just what Hernandez was this season, impressive. He finished with the league's second-highest grade for a rookie interior offensive linemen and was only penalized two times across 1,027 snaps.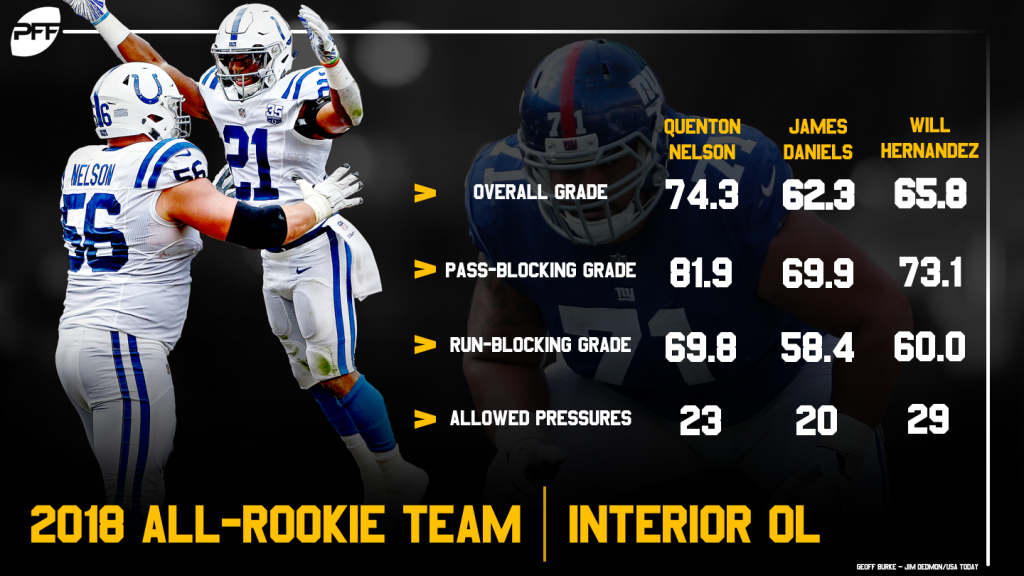 Offensive Tackle
Braden Smith, Indianapolis Colts
Smith was integral in the rebuild of a Colts offensive line that allowed more than double the amount of sacks in 2017 (39) than they did in 2018 (16). On the season, Smith allowed 28 pressures over the course of 520 snaps in pass protection.
Edge Defender
Marcus Davenport, New Orleans Saints
Perhaps lacking in the 'splash plays' to be considered among the top for his position, Davenport was about as solid as one would expect from a rookie edge defender. He recorded 28 pressures on the season but his most impressive feat was his tackling skills – missing just a single tackle attempt on the year.
Edge Defender
Chubb takes the headlines from the rookie defensive linemen class based on sack totals alone, but as we've proven, sack totals aren't predictive of future sack totals, so a better indicator of potential future play for the former NC State standout is his rookie-leading 58 total pressures, something that correlates over much better from year to year.  That's something that should excite Broncos fans for some time.
Interior D-Line
Before being shut down for the season after 13 games, Hand was quite the handful for opposing offensive linemen. Pardon the pun, but it's true, as evidenced by his 25 total QB pressures, 18 defensive stops – both of which he did without also missing a single tackle.
Interior D-Line
Vita Vea, Tampa Bay Buccaneers
It took a while for Vea to see the field in Tampa, but he made the most of his efforts after entering the lineup in Week 4. He especially turned it on later in the season for the Bucs and recorded multiple pressures over the final six contests, adding a new wrinkle to his game aside from the stout run defense he displayed at Washington.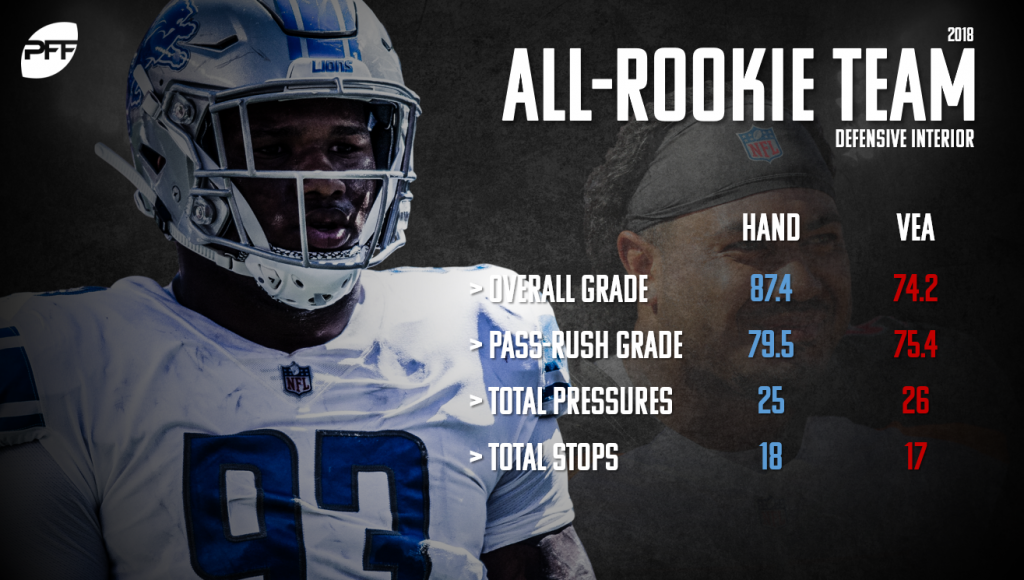 Linebacker
Leighton Vander Esch, Dallas Cowboys
The battle will continuously rage on as to who had the better debut season between Vander Esch and Leonard, both of our rookie linebackers on the All-Rookie team. No matter which way you slice it, the NFL has the next two stars at the position as LVE edges Leonard in overall grade, just barely, ahead of their respective playoff games.
Linebacker
Darius Leonard, Indianapolis Colts
Leonard may have impressive tackle totals but he was also equally impressive when blitzing the passer, dropping in coverage as well as stopping ball carriers. As stated above, no matter which way you see the race between LVE and Leonard, the fact remains that they both have secured their place to stand at the top of the rookie class and even to be named among the best at their position across the league.
Cornerback
Jaire Alexander, Green Bay Packers
Alexander had a nose for the ball in 2018 – recording seven total plays on the ball but perhaps more impressively, recording 16 defensive stops and four QB pressures on just nine blitzes.
Cornerback
Ward takes the spot here based on his ability to limit receivers after the catch. He was the most targeted rookie cornerback, seeing 82 passes thrown his way, yet, he allowed just 53.7% of targets to be caught (fourth), allowed just 10.3 yards per reception allowed (fourth) and tallied nine plays on the ball to finish second among rookie cornerbacks. He also didn't allow a single reception longer than 31 yards – the best figure among rookie cornerbacks with at least 300 snaps in coverage.
Safety
Derwin James, Los Angeles Chargers
Our Defensive Rookie of the Year, James was beyond impressive as a 'movable chess piece' along the defense for the Chargers. He was dominant in coverage, against the run and perhaps finished one of the most awe-inspiring pass-rushing seasons from a rookie safety in history.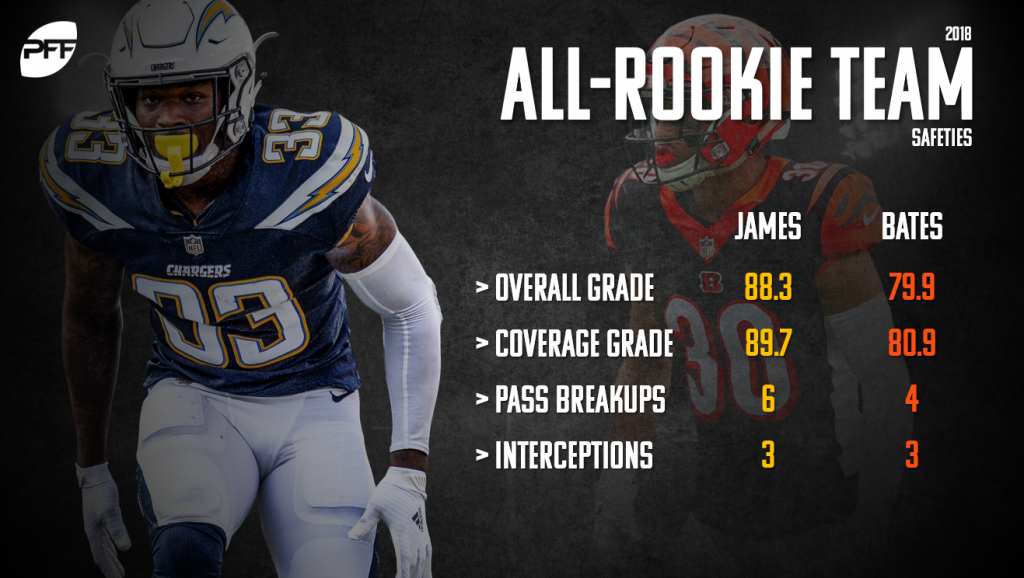 Safety
Jessie Bates, Cincinnati Bengals
Bates took over as the starter prior to the season after the Bengals let George Iloka go in what was a controversial moment at the time. Cincinnati liked what they saw in Bates and he repaid that confidence in him to the tune of the second-highest graded season from a rookie safety this year.
Flex Defense
Nabbing the flex defensive spot on the All-Rookie team, Reid showcased his versatility in coverage by intercepting three passes and breaking up an additional five balls but was arguably the league's surest rookie tackler at safety. On 76 total tackle attempts, Reid missed just five tackles – finishing as just the only safety to spend at least 400 snaps on defense and miss fewer than eight attempts.
Kicker
On 70 kickoff attempts, Dolphins opponents averaged a starting field position of the 25.9-yard line as he allowed just 20.0% of his kicks to be returned on the year. He also missed just three total kicks on the season, including finishing the season perfect from 0-39 yards.
Punter
Michael Dickson, Seattle Seahawks
Just a year after receiving the highest ever grade we've given to a college punter, Dickson carried that over to the Seahawks, averaging an impressive 42.5 net yards per punt. He pinned opponents inside their own 20-yard line on 39 of his 78 punts, averaging a healthy 4.20 seconds of hangtime per kick.
Returner
Tremon Smith, Kansas City Chiefs
Smith was as slick and elusive as they come as a kick returner, averaging 26.8 yards per return as he wasn't afraid to field and return any kick with great success. His 886 kick-return yards were third-most of any returner this season.
Special Teamer
Zeke Turner, Arizona Cardinals
Turner was all over the field for the Cardinals special teams units, recording at least 30 snaps on five different units. He just so happened to lead all rookie special teams players with 15 tackles and didn't miss a single attempt this year.