Jared Goff ended the 2018 season with an overall grade of 85.0, entering the upper tier of NFL quarterbacks with the eighth-highest grade at the position. That was a marked improvement on his 75.6 grade last season, and it was leagues ahead of his paltry 42.9 grade in 2016. There were moments where he looked like a legitimate MVP candidate; his mastery on a Thursday night in September against the Minnesota Vikings stands out as one such moment. However, there were also moments that were closer to being on par with his rookie season in which the world was ready to declare him a bust.
From the Los Angeles Rams' Week 13 matchup with the Detroit Lions to their Week 15 tilt with the Philadelphia Eagles, Goff went through potentially the worst three-game stretch of his career. A blueprint was laid out for how to slow down the high-powered Rams offense. The New England Patriots followed that blueprint en route to another Lombardi Trophy.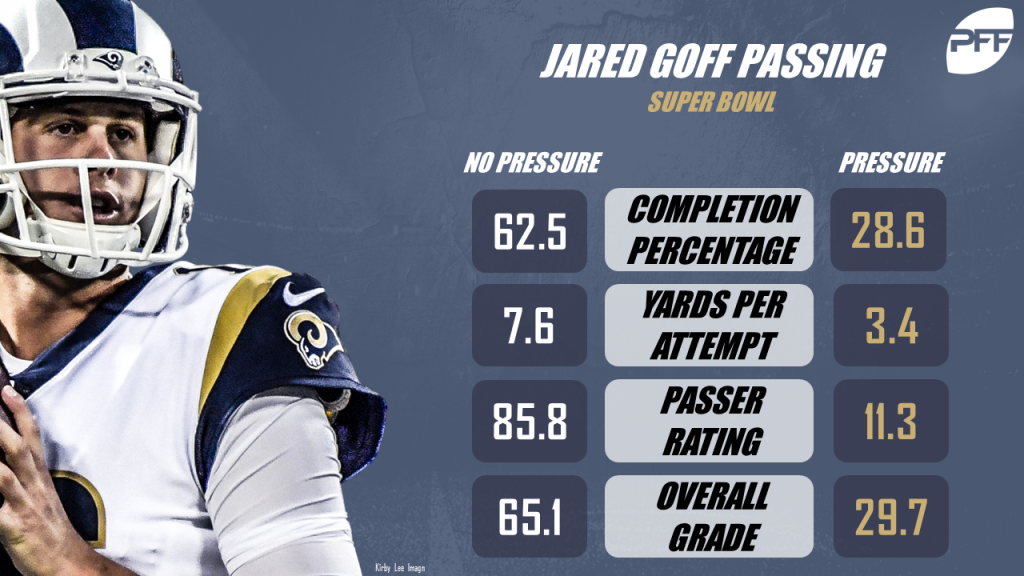 Step one on the blueprint: Generate pressure on Goff
For as good as Goff was this season, operating under pressure was not a strong suit of his. His passing grade of 47.6 under pressure on the season ranked just 21st among all quarterbacks. His passing yards per attempt (5.8 yards) ranked 24th, and his passer rating (54.6) ranked 25th among 32 qualifying quarterbacks under pressure. Luckily for Goff, he operated behind one of the top offensive lines in the NFL and was kept clean on 68 percent of his dropbacks during the regular season (13th ) despite having a time to throw of 2.72 seconds (sixth-longest). For the most part, the Rams' offensive line held up longer than your average line to give Goff the time he needed on some of the Rams' longer developing routes that they like to run.
However, leading up to the Super Bowl, I discussed that those extra tenths of seconds that Goff takes could give the Patriots time to get home with their pressure. That's exactly what they did. Goff was under fire on 18 of his 42 dropbacks (42.9%), and he went just 4-of-14 for 47 yards and an interception when pressured to go along with four sacks taken. It's not as if these were unavoidable, immediate victories for the pass rusher, either. The average time to pressure on those plays was 2.85 seconds. For context, the quarterback with the longest average time to pressure for the entire season was Aaron Rodgers at 2.72 seconds, followed by Goff at 2.64 seconds.
Good coverage led to Goff holding on to the ball – something that he is apt to do – which led to the pressure getting home. The stunts that the Patriots used heavily to generate pressure were given the chance to develop. They used pass-rush stunts on 18 of Goff's dropbacks, which led to nine pressures and three of his four sacks taken. The consistent pass-rush that he faced – due in part to coverage and lack of quick passing game in addition to the pass rush itself – was a large reason that the Rams were unable to move the ball.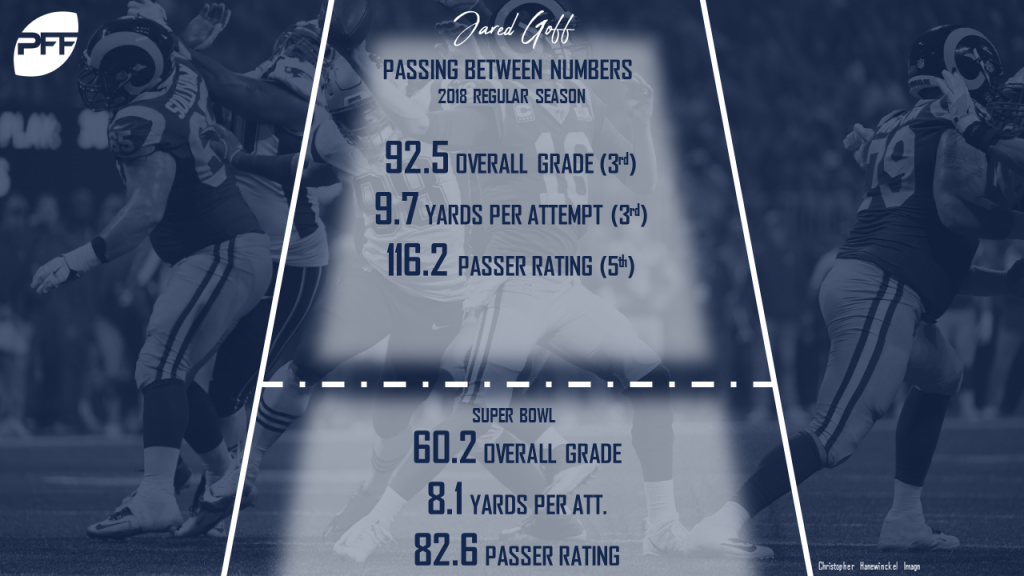 Step two on the blueprint: Do not allow Goff and the Rams to beat you over the middle of the field
Goff ranked tied for third among all quarterbacks in passing grade between the numbers at 92.5 for the regular season. His 9.7 passing yards per attempt ranked third among all quarterbacks to go along with a passer rating of 116.2 (fifth) on such throws. Regardless of which metric you look at, Goff was among the league's best when targeting receivers between the numbers.
Yet, the Patriots were able to limit his success when going over the middle in the Super Bowl. Goff had a passing grade of just 60.2 when throwing between the numbers to go along with 8.1 yards per attempt and a passer rating of 82.6, both falling below his season averages. If you look back to his performance between the numbers in Weeks 13 to 15 – his lowest three single-game grades of the season – it is much of the same. His passing grade is just 60.8; his yards per attempt came in at just 6.1, and his passer rating was only 62.0.
This was most pronounced in their game against the Lions and Bill Belichick protegee, Matt Patricia. Goff only attempted three of his 33 total attempts between the numbers. His worst game grade of the season was the result at 38.6. The message sent out was clear – take away the middle and force Goff to beat you outside the numbers. He is capable of doing it, but it makes life more difficult and opens the door for mistakes like the dagger interception late last night.
Packing the middle of the field like that and pressure have emerged as counters to the high-flying offense that McVay has crafted. To no one's surprise, Belichick picked up on those counters and tailored a defensive game plan that held one of the league's top offenses to just three points. Now McVay, Goff, and company have several long months ahead of them to revamp and render that blueprint useless.