Formerly a Swiss army knife who played mostly in the backfield or the slot at Ohio State, Curtis Samuel has had his role redefined in his two-year NFL career with the Carolina Panthers.
Samuel, a former four-star athlete turned gadget player for the Buckeyes, played just 66 of his 1,118 career offensive snaps from an outside wide receiver alignment at the collegiate level. The Panthers' coaching staff, however, had different plans for their second-round pick and have since played the 5-foot-11, 195-pound Samuel at outside wide receiver on 476 of his 692 offensive snaps in the NFL.
And the results have been encouraging.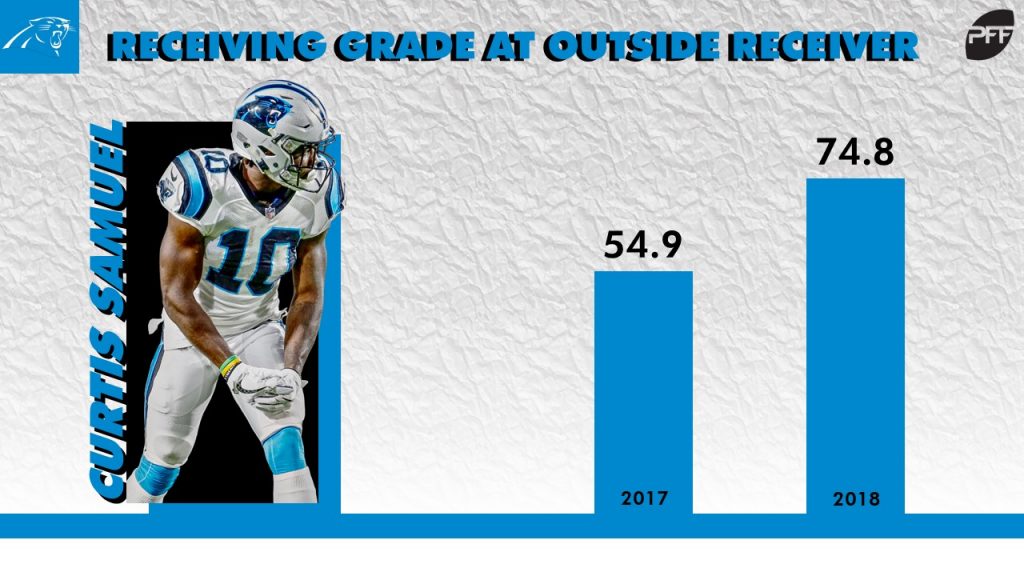 After earning just a 54.9 receiving grade at outside receiver in his debut NFL season (2017), Samuel caught 34-of-51 targets for 403 yards, 15 first downs and five touchdowns at his new position this past season, improving his receiving grade at outside receiver to from 54.9 in 2017 to 74.8 in 2018.
The same freaky athleticism and blazing speed that made Samuel an outstanding gadget player at Ohio State are starting to play a part in his success at outside receiver before and after the catch. He is sudden at the line of scrimmage and can create immediate separation with his releases as a result. Also, leaning on his elite natural ability, Samuel honed an expanded route tree in 2018.
After catching passes on just four different route concepts in 2017, Samuel split out his receiving production to 10 different route concepts in 2018. Most notably, his receiving production ballooned while running hitches, post routes and crossing routes.
Samuel specifically thrived on passes of 10-plus air yards when running routes from an outside receiver alignment. He earned an impressive 88.2 receiving grade when targeted at such depths and ranked fifth in passer rating when targeted (134.1), as well. His ability to separate at the intermediate and deep levels of the field is largely a product of his quickness and deep speed, but refining his route-running technique really took his game to the next level.
As his 74.8 receiving grade suggests, Samuel still has a way to go before he's regarded as one of the NFL's top outside receivers, but his significant improvement from Year 1 to Year 2 is reason to believe he can soon receive such praise in the near future, especially when you consider the fact that he will enter Year 3 of his career at just 22 years old.