When you think of the NFL's elite interior defenders, you think of names like Aaron Donald, Fletcher Cox, and Damon Harrison. And rightfully so, as these players have maintained an extraordinary level of play over an extended period of time. However, many young players are gunning for recognition; among them is Kenny Clark, the Green Bay Packers' defensive stalwart and one of the league's brightest young stars at the position. 
Clark has improved his run-defense, pass-rush and overall grade in each of his three seasons in the NFL. The former UCLA Bruin entered the league in 2016, and after he earned a 74.8 overall grade for his rookie year, he hasn't looked back.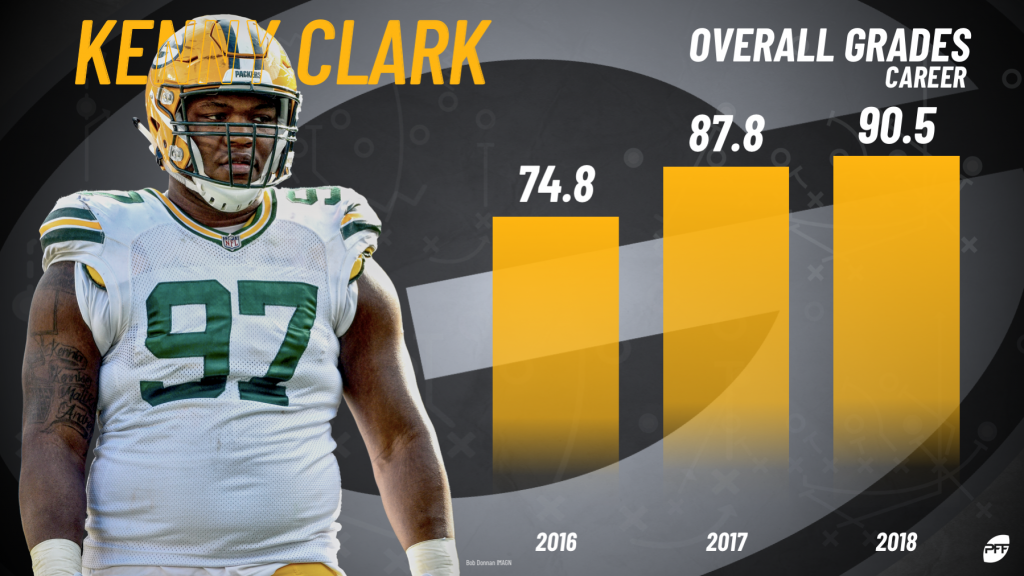 The 2017 season was just the start of the turning point in Clark's career. He more than doubled his quarterback pressure and defensive stop totals from his rookie year, and he improved his overall grade by 13.0 points, an achievement seldom accomplished by NFL players. As good as his sophomore season was though, 2018 was the year where he truly solidified himself as a top-tier pass rusher, as he earned an 88.8 pass-rushing grade on the year – a marked step up from the of 69.6 grade he earned in 2017. 
Eleven interior defenders earned elite overall grades last year, but only two secured 88.0-plus marks in both run defense and in the pass rush. Those two players were Aaron Donald and Kenny Clark.
Now four years into his career, Clark has undoubtedly developed into a dynamic player who can impact the game on all three downs. A season ago, he led his team in quarterback pressures (46) — a tough feat for a player rushing from the interior of the line — and he also led his team in run-stops (28). The former first-round pick has lived up to all expectations so far, and he will have one more year on his rookie contract to showcase his talents. 
The addition of talented defenders such as Preston Smith and Za'Darius Smith will help ease the agony of long-time Packer Clay Matthews' departure, and the team may have even upgraded with the move. Clark should be thrilled at the opportunity to play alongside these players, and together, they'll have the chance to revamp a defense that has graded outside the top 20 for three straight seasons.
Clark's steady improvement over his three-year career suggests that the sky is the limit for the young star, and it indicates that he belongs in the top-tier of interior defenders in the NFL.