New York Giants 21, New York Jets 20
Here are the top-graded players and biggest takeaways from the Giants' 21-20 victory over the Jets:

Quarterback grades: Eli Manning, 49.9; Ryan Nassib, 44.8
Manning, Nassib grade below-average in win as offense stalls for much of the night
It was a relatively uneventful outing from Eli Manning. His interception was due to Odell Beckham Jr. stopping on the route to avoid a hit, and really wasn't Manning's fault, but he did throw a pass into Marcus Gilchrist's coverage earlier in the second quarter that could have been picked. Backup Ryan Nassib had performed pretty well the past two preseasons, but this year is a completely different story. After another subpar outing, he is the lowest-graded quarterback of the preseason through Saturday night's games. He threw for two touchdowns, but that was close to the extent of his positive impact. Nassib completed just one of eight passes targeted 10-plus yards downfield—even accounting for drops, throwaways, etc.—and recorded an adjusted completion percentage of only 47.1 percent. Nassib also completed just one of six passes when under pressure, and the one went for no gain.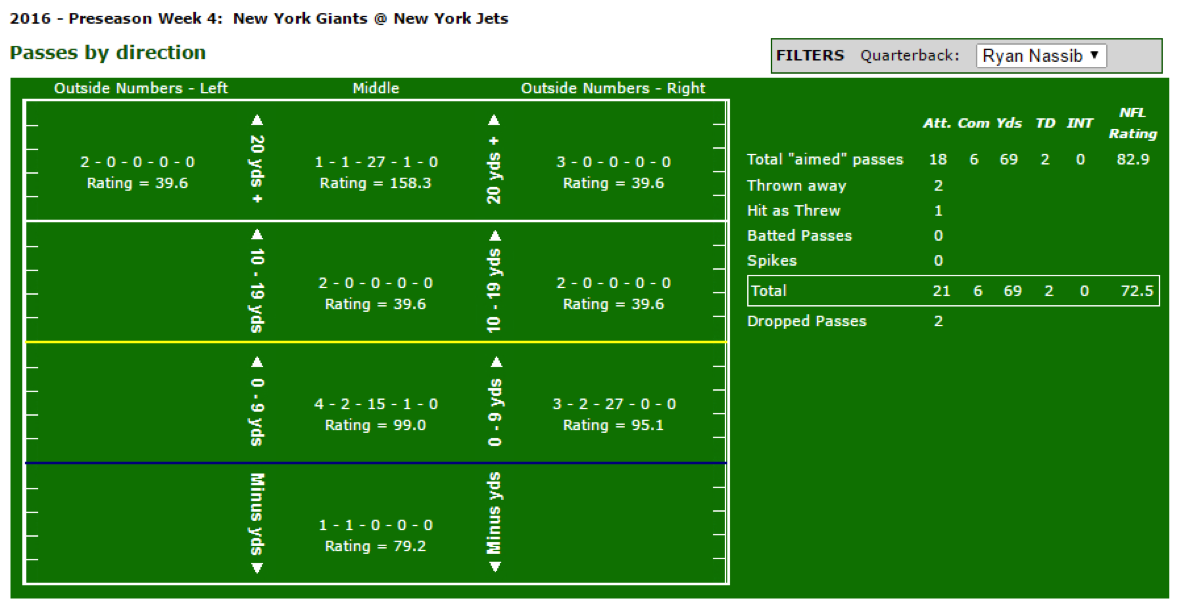 Top offensive grades:
G Ryan Seymour, 77.0
OT Jake Rodgers, 76.2
G/C Adam Gettis, 75.0
WR Tavarres King, 74.1
C Shane McDermott, 72.5
Offensive line holds up well in pass protection, struggles in the run game
Four of the Giants' top five highest-graded offensive players were offensive linemen, but that was mostly due to pass protection. Those four combined for 78 snaps in pass protection without allowing a disruption. In total, Giants quarterbacks were under pressure on just under 30 percent of their dropbacks, and only three of the six pressures were charged to offensive linemen. The running game was where the offense struggled mightily, though. Over half the team's 39 rushing yards came on an end-around run by Tavarres King that gained 20 yards. On the 17 carries by four different running backs, they gained a combined 15 yards with 25 yards coming after contact, meaning on average they were hit around a half-yard behind the line of scrimmage. Even though they had little room to run, only rookie RB Paul Perkins really did much to help himself, as he forced four missed tackles on four runs, while Jennings, Vereen, and Darkwa did not force a missed tackle.
Top defensive grades:
CB Eli Apple, 86.1
CB Michael Hunter, 85.4
S Andrew Adams, 84.1
DE Romeo Okwara, 83.8
DE Olivier Vernon, 83.6
Giants' pass-rush, coverage highlighted in win
For the most part, the Giants played pretty well in coverage. First-round draft pick Eli Apple was targeted three times on 17 snaps in coverage and did not allow a completion while breaking up one of the passes. Michael Hunter also graded well in coverage, with two pass defenses on four targets. His two receptions allowed went for 5 and 21 yards, with the latter coming on the Jets' second to last drive.
Olivier Vernon roughed up new Jets' LT Ryan Clady several times, and Vernon finished the game with five pressures and two runs stops. Fellow DE Romeo Okwara was just as impressive rushing the passer. Over the last 18 and half minutes, he picked up a sack, two hits, two hurries, and a forced fumble.

Quarterback grade: Ryan Fitzpatrick, 45.3; Geno Smith, 68.5; Bryce Petty, 45.7; Christian Hackenberg, 49.6
Rookie QB Christian Hackenberg starts strong, sputters late in debut
With all of the discussion about the Jets needing to change rookie Christian Hackenberg's mechanics, as well as the fact that he didn't play in the first two games, it was a bit of a surprise to see him get an opportunity this week. After a slightly off-target screen pass and a delay-of-game penalty, Hackenberg looked outright impressive on his first drive, as he picked up multiple first downs through the air. He finished the drive off with a touchdown pass and, even though the defender was easily beaten, the throw placement was perfect. The rest of the game didn't go quite as well, as he didn't see underneath coverage on two occasions, with the second being especially poor and leading to an interception (which led to the game-winning drive by the Giants). Hackenberg did not complete a pass on any of his five dropbacks under pressure, though one was dropped and he threw away three others. While Hackenberg did have a couple of misreads, there were definitely positives in his first outing, and he didn't really have any overwhelming issues with accuracy like he did in college.
Top offensive grades:
WR Robby Anderson, 78.5
OT Jarvis Harrison, 78.2
C Wesley Johnson, 75.3
FB Julian Howsare, 74.9
OT Ben Ijalana, 72.9
FB Tommy Bohanon, 72.9
Rookie receiver shines again
With multiple Jets wide receivers sitting the game out, rookie UDFA Robby Anderson stepped up for a second-consecutive week. Anderson picked up either a first down or scored a touchdown on each of his four receptions, which went for a total of 65 yards. As of the end of Saturday's games, Anderson now leads the league with 203 receiving yards in the preseason and has the second-highest receiving grade at the position. RB Matt Forte graded out average in his Jets debut. His 10 rushes went for just 28 yards, with none being longer than 6 yards, and he failed to force a missed tackle. Forte did pick up a first down on a 9-yard pass reception though, and was targeted three times overall.
Top defensive grades:
LB David Harris, 82.9
DE Muhammad Wilkerson, 82.0
LB Julian Stanford, 82.0
S Calvin Pryor, 80.9
CB Darrelle Revis, 80.5
Jets front-seven dominates against the run
As was mentioned already, the Giants had trouble finding success running the ball throughout the game, and Muhammad Wilkerson and David Harris were a big reason for that early on. The duo played 12 run-defense snaps together and combined for seven defensive stops on those plays. The only Jets defender with a below-average grade against the run was Taiwan Jones due to his two missed tackles (and he also had a third in coverage). Safety Calvin Pryor had three defensive stops of his own, with one in each facet of defense.
Get ready for the Jets' 2016 regular season by checking out our NYJ team preview (click the image below).