Andy Dalton has received a lot of criticism throughout his career, often referred to as an average or below-average quarterback. However, Dalton has always shown flashes of top-level play — he is only three years removed from his 81.7 overall grade of 2015, and he got off to a hot start last season, producing an overall grade of 88.9 through the first four weeks.
The hope is the veteran quarterback can recapture the magic of that impressive season, and the play-action-oriented offense that new head coach Zac Taylor has brought with him is ideally suited to do just that.
Last season, Jared Goff — with Zac Taylor as his quarterback coach — used play-action on 35.8% of his dropbacks, which ranked second in the NFL among qualifying quarterbacks behind only Lamar Jackson (42.9%).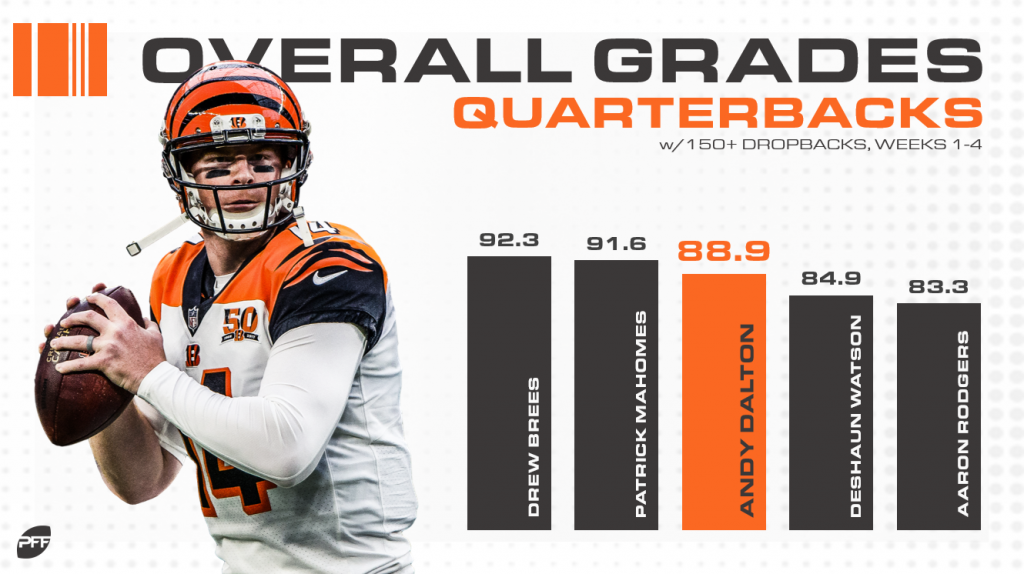 Last year, the average time to pressure on non-play-action dropbacks was 2.37 seconds, while the average time to pressure on play-action dropbacks was 2.70 seconds. Executing play-action effectively can help to make the offensive line's life easier by slowing the pass-rush as defenders are forced to account for their assignments in the run game. In turn, it buys the signal-caller more time and space to scan the field and hides the offensive line's inefficiencies.
Looking ahead to the 2019 season, the increased use of play-action should only make Dalton's life easier behind a pass-blocking unit that was recently ranked 27th in PFF's preseason offensive line rankings.
Dalton has been much better off of play-action over the last four seasons, recording an overall grade of 84.2 on play-action, as opposed to a 76.4 grade without. In his career year in 2015, Dalton averaged a career-high 83.6 grade off play-action; he followed that up with a 69.6 grade off play-action in 2016 and a 72.3 in 2017, before rebounding back to a 79.3 last season. 
The Bengals have actually been at the forefront of play-action use with Dalton in the last three seasons, ranking inside the top 10 in the percentage of dropbacks that used play-action each year. When examining how effective Dalton has been on those play-action attempts, he managed just eight yards per attempt on 2017 and 8.3 yards per attempt in 2018, which ranked tied for 19th and 21st among quarterbacks, respectively. Compare that to Jared Goff, who averaged 10.6 yards per attempt off play-action (2nd) in 2017 and 10.0 (4th) in 2018. 
So, why will Dalton be able to replicate Goff's success? New head coach Zac Taylor won't just use more play-action — the Bengals have already been doing that. Instead, he will help the Bengals use play-action in a more effective manner, using motion and deception by having plays that resemble each other and therefore compromise the defense. He will also help the Bengals to get more quality looks as the Rams did in 2018, where they had at least a step of separation on 61.5% of their targets (T-12th), compared to a putrid 53.8% for the Bengals (31st). 
If Taylor truly intends to run an offense that reflects that of the Rams, then it will also incorporate some of the routes that Dalton has been efficient on. Over the last four seasons when using play-action, Dalton has generated a passer rating of 106.5 on crossing routes and 90.1 on hitch routes. Last season, he was 22.2 points above the NFL average in passer rating on crossers and 15.7 points above the NFL average on hitches.
Andy Dalton may not be an elite quarterback by any means, but Zac Taylor can get the most out of him through an offensive scheme that will create better opportunities for Dalton while making more effective use of play action, and if Taylor can get Dalton to resemble his 2015 form, the Bengals could be a surprisingly competitive team in 2019.