Coming off a surprising year in 2017 where they finished as the AFC South division champions and came just mere minutes away from a Super Bowl appearance, expectations were fairly high for the Jacksonville Jaguars heading into 2018. Led by quarterback Blake Bortles, or also known as the B.O.A.T, the Jags as whole underwhelmed and went from first to worst in the AFC South. Subsequently, Bortles was sent packing and cut by Jacksonville, paving the way for the Jags to sign 2017 Super Bowl MVP Nick Foles to a four-year, $88 million deal in free agency. Foles is coming from a team in Philly who was stocked full of receiving weapons including Alshon Jeffery, Zach Ertz, Golden Tate, et al. With the move to Jacksonville, Foles' receiving arsenal is now swapped out for a group that had the worst wide receiver drop rate in 2018 at 11.3%.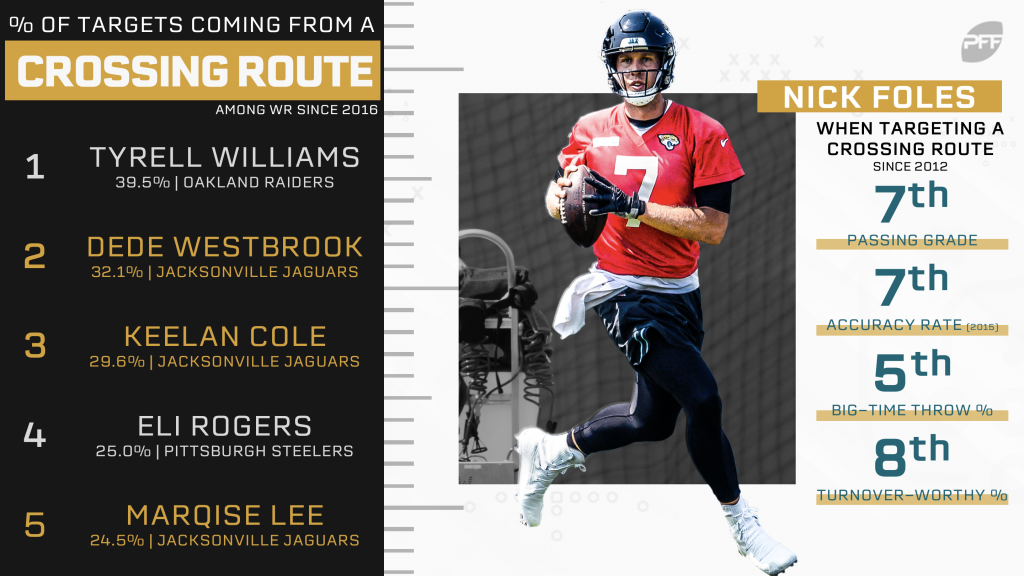 Coming off a career year in 2017 when he ranked 15th among wide receivers in positively graded play rate and recorded a 76.0 overall grade (27th), 10 forced missed tackles (tied for 11th) and 21 explosive plays (tied for 25th), excitement was starting to build around Marqise Lee's future in Jacksonville. However, this excitement to watch Lee continue to develop into the franchise's top wide receiver was put on hold after he suffered a torn ACL prior to the start of the 2018 season. With Lee healthy once again, Foles is getting himself one of the top receivers in the game on short passes. On targets of nine yards or less since 2016, Lee ranks 17th among 88 qualifying wide receivers in receiving grade at 73.3. Along with that, Lee racked up 9.7 yards per reception (fourth) and 5.7 yards after the catch (ties for 13th), while also recording an 18.6% missed tackled rate (11th) and a 14.8% explosive play rate (tied for first).
On passes of 20-plus yards, Lee didn't find the same explosive success. On those passes in the same time span, Lee ranked 67th of 68 qualifying receivers in receiving grade at 57.5. Moreover, Lee caught just four of his 36 targets for an 11.1% completion rate (last) and generated just a 32.2 passer rating on those targets.
Despite his poor deep receiving play, Lee is thriving in head coach Doug Marrone's offense. Marrone has helped in integrating an offense that lives and dies by the crossing route. Since 2016, Lee has seen 24.5% of his targets (fifth) and 31.5% of his receiving yards (seventh) come out of a crossing route. When in a crossing route in that time period, Lee has recorded an 89.5 receiving grade (18th of 60 qualifying wide receivers), a 114.2 passer rating when targeted (18th), an 80% catch rate (tied for fifth), 7.1 yards after catch (tied for 14th), a 17.5% missed tackled rate (11th) and 15 explosive plays (tied for 12th).
In his 2018 sophomore season with Jacksonville, wide receiver Dede Westbrook was given a bigger role within Marrone's offense and became the Jags' go-to slot weapon. Westbrook, the former Oklahoma standout and Heisman Trophy finalist, played 89% of his snaps last season in the slot (second highest), where he would record 59 receptions (tied for the fourth-most). In regard to PFF receiving grade, Westbrook was far and away a better receiver when in the slot. Since coming into the league as a fourth-round pick in 2017, Westbrook has recorded a 71.4 receiving grade in the slot (29th of 68) and just a 59.9 receiving grade out wide (84th of 96).
Perhaps Westbrook's greatest weakness, though, is his receiving ability when he is faced with tight separation. On plays when he doesn't have a step or more of separation since 2017, Westbrook has recorded a 58.5 receiving grade, ranking 65th of 71 qualifying wide receivers. Additionally, Westbrook has caught just 67% of his catchable passes (68th) and 30% of his contested targets (tied for 65th). When he is able to generate a step or more of separation, Westbrook performed far better compared to his counterparts. Among 101 qualifying receivers on plays with a step or more of separation since 2017, Westbrook ranks 51st in receiving grade at 77.0, 22nd in missed tackles forced with 11, 27th in yards after catch per reception with 6.1 and 26th in rate of catchable passes caught at 93.8%.
Furthermore, Westbrook showed how useful he can be when in a quick passing offense. On throws of 2.2 seconds or less, Westbrook ranked 33rd of 82 qualifying wide receivers in receiving grade and 19th in rate of catchable passes caught. On the other end, Westbrook showed his inability to improvise on long developing plays. When the time-to-throw eclipses 3.1 seconds, Westbrook's receiving grade was dead last among wide receivers (68 qualifying). Along with his poor receiving grade, Westbrook's 22.8 passer rating generated was the worst by 19 points and his 71.4% rate of catchable passes caught was the fourth worst.
Like Lee, Westbrook was targeted while running a crossing route at a stupefying rate and converted well on such targets. Over 32% of Westbrook's targets came while running the Jags' essential route (second-highest percentage), where he generated 12 explosive plays (tied for ninth), seven missed tackles forced (tied for fourth) and 7.1 yards after catch per reception (tied for 15th).
As an undrafted free agent from the 2017 draft, wide receiver Keelan Cole certainly surprised all across the NFL landscape. During his rookie campaign, Cole recorded a 74.0 overall grade, ranking 31st among 96 qualifying receivers. However, Cole couldn't sustain his solid play in 2018, as his overall grade dropped to 59.4 ranking 92nd among 101 wide receivers. Opposite of Lee's play, Cole has proven he is a deep threat rather than a short, dump-off receiver. Since 2017 on targets of 10-plus yards, Cole has recorded a 91.1 receiving grade (35th of 98), a 47.4% contested catch rate (19th) and 6.1 yards after the catch per reception (13th). On targets of nine yards or less, Cole's receiving grade falls drastically to 54.7 (75th of 84). In addition, Cole posted the third-worst passer rating when targeted at 77.2 and the fourth-worst catch rate at 66.7%. Interestingly enough, Cole's average depth of target dropped from 13.8 in 2017 to 10.2 in 2018, which could perhaps be a large reason why is grade dropped as much as it did.
Cole also struggled mightily when faced with little separation. On targets without a step or more of separation, Cole posted a lowly 59.5 receiving grade (62nd), 36.8% catch rate (64th) and 33.8 passer rating when targeted (68th). Like Lee and Westbrook, Cole saw a good portion of his targets from a crossing route, with 29.6% of his targets coming from it (third).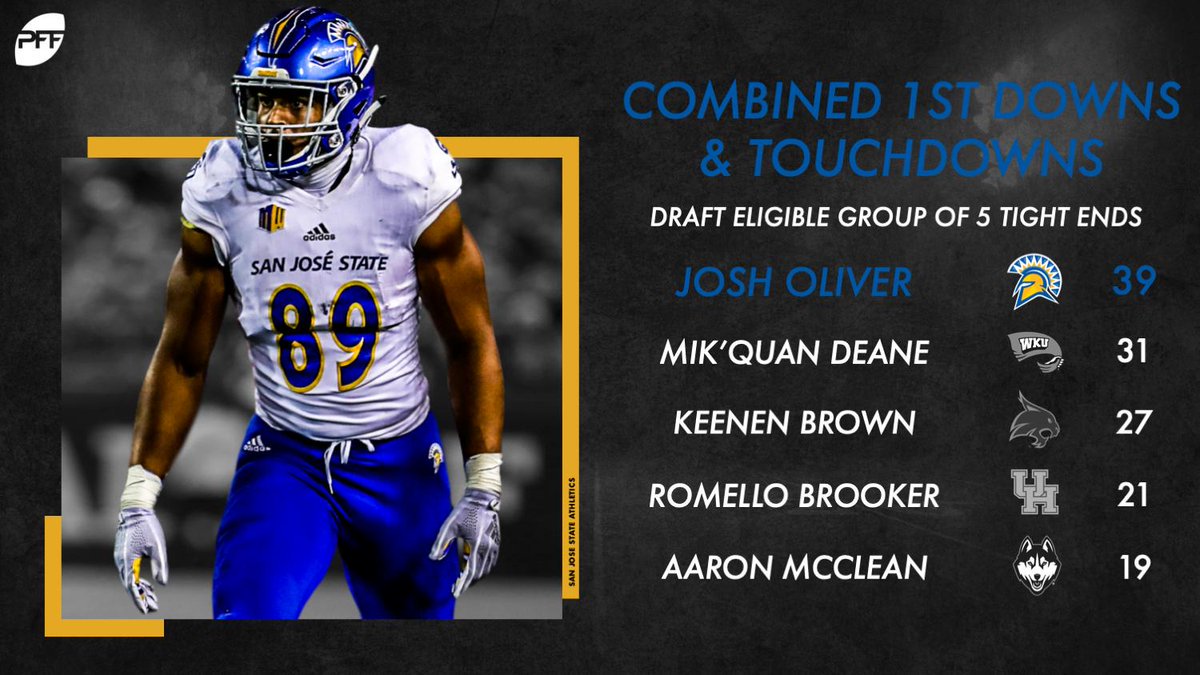 As a third-round pick in this year's draft, tight end Josh Oliver out of San Jose State looks to become Jacksonville's premier tight end in years to come. Oliver, PFF's fifth-ranked tight end and 95th overall prospect in this year's draft class, was perhaps the most slot driven tight end in all of college football in 2018. His 357 receiving yards in the slot led this class and 53 slot targets were the most in the class by 13. Among 52 qualifying tight ends in college football last season, Oliver ranked first in slot contested catches with nine, sixth in slot explosive plays with eight and 14th in slot receiving grade at 67.8. Oliver was at his best though when he was actually lined up inline. When on the line, Oliver posted a superb 89.7 receiving grade (tied for 14th of 75), nine explosive plays (tied for seventh), 93.3% rate of catchable passes caught and also caught 7-of-9 contested targets.
With how replaceable the running back position is, having solid receiving ability is an essential trait for any running back in order to generate any type of value. While he isn't a premier receiving back, Leonard Fournette is better than most in this facet. Since coming into the league in 2017, Fournette ranks 14th among 42 running backs in receiving grade at 77.7, tied for 13th in yards after catch per reception at 8.7, 18th in yards per route run at 1.45, 14th in percentage of catchable passes caught at 92.9%, and 14th in passer rating generated at 103.6.
When looking at his receiving performance when lined up in the backfield with no shotgun formation, Fournette is one of the best we have seen in the PFF era (since 2006). In that time span, Fournette ranks third among 137 running backs in receiving grade at 90.8, first in yards per route run at 2.32 and has generated an impressive 117.7 passer rating. Though, when there is in fact shotgun formation and he is lined up in the backfield, Fournette's play drops significantly. His 64.4 receiving grade on those targets in the PFF era ranks 93rd of 163, while his 1.05 yards per route run ranked 135th and passer rating when targeted drops to 91.6.
Conclusion
While Foles' receiving inventory may have gotten worse from Philadelphia to Jacksonville, his strengths match up fairly well with his receivers' strengths and experience. Since he came into the league in 2012, Foles has recorded an 86.6 passing grade when targeting Marrone's beloved crossing route, good for the seventh-best in the league. Additionally, Foles has posted a big-time throw rate targeting crossing routes that ranks fifth and a turnover-worthy play rate that ranks eighth. Since QB charting data has become available in 2015, Foles has the second-lowest uncatchable, inaccurate pass rate targeting a crossing route at 11.7% and the seventh-best accurate pass rate at 63.3%.
With Foles in Jacksonville, we should expect a lot of crossing routes, a lot of quick throws and also a low average depth of target. In other words, both Foles and his receivers are going to have to rely on each other heavily in order for this offense to succeed in 2019.