Value. We at Pro Football Focus have studied it significantly. Not surprisingly, quarterbacks are king. A slot receiver is more valuable than a "generational" running back.  However, value has many meanings, and, as the recent flurry of activity at the trade line showed, the definition of value to NFL general managers is changing.
In each of the past two seasons, we have looked at the concept of value, focusing on the best players on the smallest contracts. Often, these players are the ones you see getting lucrative contracts in the following offseason (e.g., New England's Shaq Mason and Minnesota's Stefon Diggs from last year's list). The rules are the same. We already know quarterbacks are the most valuable, so the young signal-callers excelling still on their rookie contracts are excluded. The following players were drafted in the fourth round or later (or undrafted) and have yet to reach unrestricted free agency.
[Financials referenced from www.spotrac.com based on 2018 salary (total cash).]

2015 Fourth-Round Pick | 96th-Highest-Paid Edge Defender
Flowers is one of those players who will cash in this offseason, as he will become an unrestricted free agent if the Patriots do not lock him up long-term. A player we highlighted coming into the league, Flowers has gotten better each year and is currently our highest-graded edge defender. He's tallied 35 total pressures thus far to go along with 22 stops and the third-highest run defense grade among edge defenders. His 20.5 pass-rush win percentage is seventh among edge defenders, as well.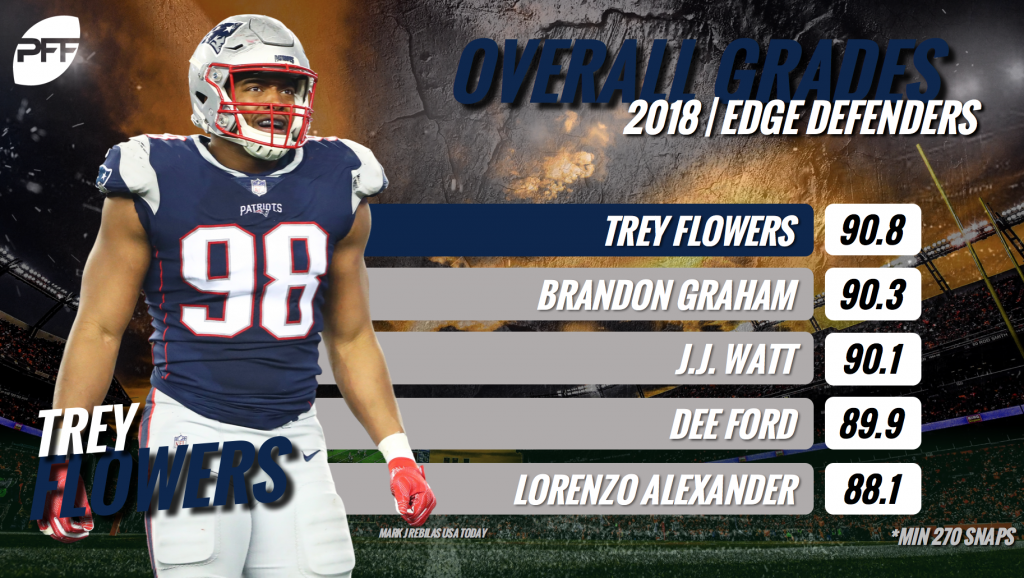 2017 Fifth-Round Pick | 157th-Highest-Paid Cornerback
King was already highlighted earlier in the week, as he is now our No. 1 cornerback. 
From PFF's Connor Price: "King has done a majority of his work in the secondary covering the slot, as he has the eighth-most slot coverage snaps in the league (219). He has yet to allow a touchdown and has also snagged all three of his interceptions when covering the slot. Opposing quarterbacks have a 53.4 passer rating when throwing into his slot coverage, the fourth-best mark in the league."
Given the importance of coverage in today's NFL, one could argue King's play gives him one of the league's most valuable, non-quarterback contracts.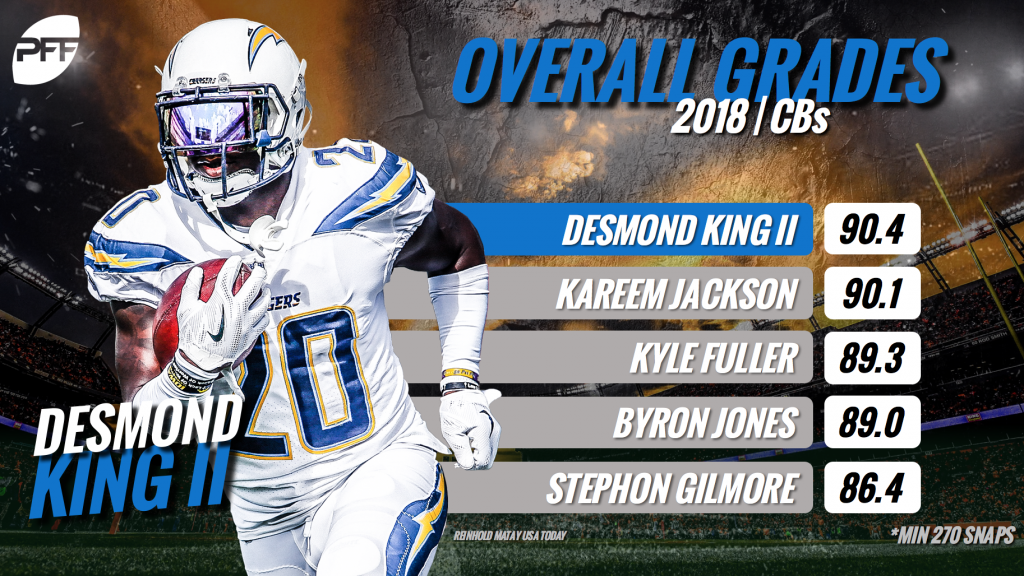 2017 Fifth-Round Pick | 90th-Highest-Paid Tight End
Our third-highest graded tight end through Week 9, Kittle is becoming the 49ers' primary weapon in the passing game in his second year out of Iowa. Kittle currently leads all at his position in yards per route run (YPRR), yards after the catch (YAC), YAC per reception (12.0). He also has 17 explosive plays, tied for the second-most in the league behind KansasCity Chiefs' Travis Kelce (88.3). 
2015 Fourth-Round Pick | 47th-Highest-Paid Defensive Tackle
Much like his draft classmate and fellow draft steal Trey Flowers, Jarrett is in line to see quite the increase in his pay this offseason from the Falcons or someone on the open market. A repeat top value player, Jarrett is the 10th-highest graded defensive interior and has excelled the past two games after missing the previous two games. He's collected seven total pressures and five stops in those two games, helping the Falcons climb back to 4-4.
2016 Fifth-Round Pick | 123rd-Highest-Paid Wide Receiver
Another repeat top value player, Hill continues to be a threat to score every time he touches the ball. Currently our eighth-highest graded receiver, Hill has 17 explosive plays in the passing game and the 11th-highest YPRR (2.28) to go along with a 122.5 passer rating when targeted.
2017 Seventh-Round Pick | 97th-Highest-Paid Running Back
As we've seen time and time again, teams find running backs – anywhere. Chris Carson has done nothing but produce when given a chance, including this year, as he's outplayed and held off first-round pick Rashaad Penny (54.3). Carson, our third-highest graded running back, is seventh in yards after contact (fourth in yards after contact per attempt) and eighth in missed tackles forced. 
2016 Fourth-Round Pick | 164th-Highest-Paid Linebacker
Our sixth-highest graded linebacker has improved each of his three years in the NFL since being drafted out of Wisconsin. It is in coverage where he now excels at an elite level. Schobert leads all NFL linebackers in coverage grade (91.2), where he's only allowed a 58.9 passer rating into his coverage to go along with three pass breakups and an interception.
2016 Seventh-Round Pick (by Colts) | 90th-Highest-Paid Guard
The second Hawkeye on our list has already been cut by the team that drafted him. The Rams claimed him on waivers, and he played in eight games in 2017 (one start). Now a full-time starter, Blythe is taking full advantage of the opportunity and is currently our second-highest graded guard. He's the fifth-highest graded guard in run blocking. He's also only allowed 12 total pressures (and zero sacks) thus far for the high-powered Rams offense.