After bringing you the top defensive players from NFL Week 9's Sunday slate of action, it's time to turn our attention to the offensive side of the ball. Featuring three men from the middle of the offensive line, along with several key playmakers at skill positions, and a quarterback, these are the players who made the most noise on offense yesterday.
QB Derek Carr, Oakland Raiders, 90.4 overall grade
It has been an up and down season for Oakland Raiders quarterback Derek Carr, with both injuries and some inconsistency in his play, giving cause for concern. He was back to his best on Sunday night though, helping the Raiders pick up the win over the Dolphins. Going 21-for-30 on the night, four of those incompletions came through two dropped passes, a throwaway and a batted pass, giving Carr a 82.1 adjusted completion percentage that ranks third among quarterbacks this week.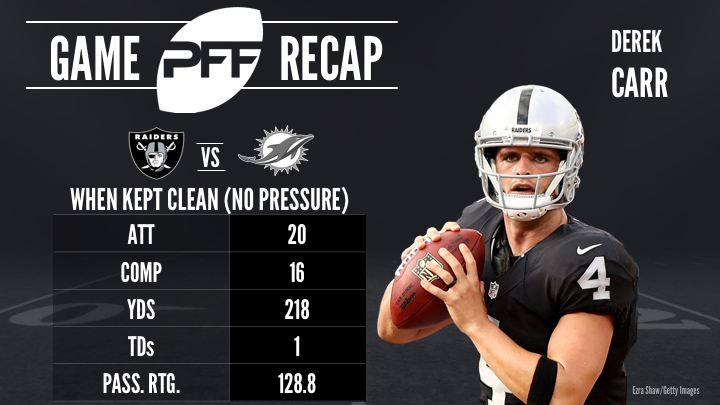 C Travis Frederick, Dallas Cowboys, 87.5 overall grade
Another key member of the Cowboys offense on Sunday, center Travis Frederick impressed both as a run blocker and in pass protection. He produced a perfect 100.0 pass blocking efficiency rating, allowing zero sacks, hits or hurries from 36 snaps in pass protection, while his 85.7 run blocking grade was among the best at the position this week.
C Brett Jones, New York Giants, 90.0 overall grade
The New York Giants also got a standout performance from their center, with Brett Jones joining Frederick with a perfect pass blocking efficiency rating. His 88.9 run blocking grade highlights how well he did in that part of the game, offering a bright spot in a tough day for the Giants.
C Jason Kelce, Philadelphia Eagles, 90.5 overall grade
Capping off our run on standout centers, Jason Kelce continued his strong season for the Philadelphia Eagles with another big performance. Like the two centers before him, he produced a perfect pass blocking efficiency rating, and impressed even more than they did with a 91.5 run blocking grade.
TE Travis Kelce, Kansas City Chiefs, 86.9 overall grade
Not wanting to be outdone by his brother, Kansas City Chiefs tight end Travis Kelce also finds himself on the list after a big performance in Dallas. The NFL's most productive tight end on a per snap basis impressed once again, averaging 2.09 yards per route run in the loss to the Cowboys.
WR Terrance Williams, Dallas Cowboys, 86.4 overall grade
The third member of the Cowboys offense to make an appearance here, wide receiver Terrance Williams was quarterback Dak Prescott's top target on Sunday in the win over the Chiefs. Averaging 4.70 yards per route run, the second best mark of any receiver in the NFL this week, Williams caught all nine passes thrown his way for a perfect 0.0 drop rate.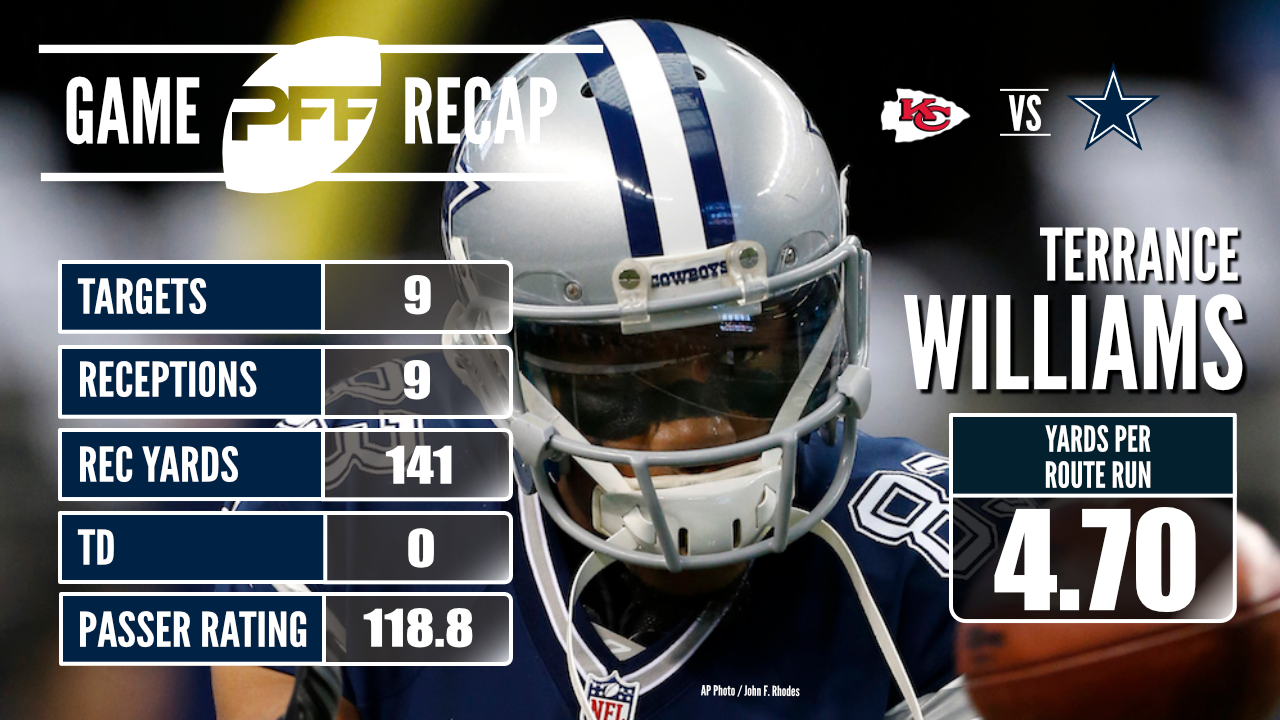 WR DeVante Parker, Miami Dolphins, 86.9 overall grade
The Miami Dolphins lost on Sunday Night Football but former first round draft pick DeVante Parker gave them reason to have some hope for the future. Picking up 76 yards from 36 snaps in route, he produced a yards per route run average of 2.11 which currently ranks ninth among wide receivers this week.
HB Christian McCaffrey, Carolina Panthers, 86.5 overall grade
Much has been made about the Carolina Panthers not yet getting the most out of the No. 8 overall selection in the 2017 NFL Draft, but we got a glimpse at how special Christian McCaffrey can be in Sunday's win over the Atlanta Falcons. McCaffrey touched the ball 20 times on offense, averaging 2.53 yards after contact per carry, and forcing one missed tackle as a receiver, and one as a runner.
HB Ezekiel Elliott, Dallas Cowboys, 85.7 overall grade
Once again the story all week was whether or not Ezekiel Elliott would play in this game, but once again the Dallas Cowboys are glad he did, after another key performance from the former No. 4 overall draft pick. Elliott forced seven missed tackles on 27 carries, good for an elusive rating of 72.0.
TE Julius Thomas, Miami Dolphins, 88.0 overall grade
The Dolphins had another offensive player who flashed on Sunday Night Football, with tight end Julius Thomas impressive on his 27 snaps as a receiver. Picking up 84 yards through the air, the former Jacksonville Jaguars tight end averaged 3.11 yards per route run on the day.