Another Sunday has come and gone, and we've now officially surpassed the midway point of the NFL's regular season. NFL teams are averaging 24.1 points per game in 2018, a pace which would establish a record if it's maintained. Despite this, some strong defensive performances were the deciding factors throughout the league this week, especially for Miami (4 interceptions), Minnesota (10 sacks) and Chicago (two defensive touchdowns).
Let's take a further look at some of the individual performances around the league.
[Editor's Note: Our signature stats, like our grades, are subject to change upon review. These statistics will become final once the review process is complete and will be available to all PFF ELITE subscribers.]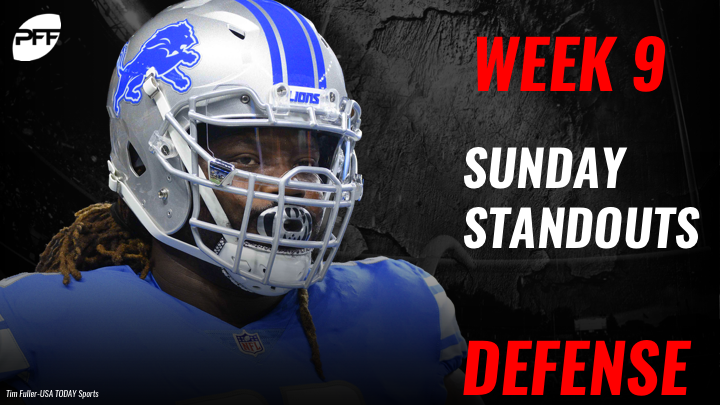 Key signature stat: Recorded five pressures on 34 pass-rush snaps.
Hunter's Week 9 performance against Detroit was a tour-de-force. Primarily lining up on the left side, Hunter converted four of his five pressures into sacks and earned a 14.0 pass rushing productivity. He also recorded three stops in the run game on 15 snaps, earning a 20.0% run stop percentage.
Key signature stat: Recorded a 26.9 pass-rushing productivity.
Wake's performance will likely keep Sam Darnold awake at night before any future meetings between the two. Solely lining up on the left side, Wake produced nine total pressures (two sacks, one hit and six hurries) on his 27 pass-rush snaps. His pressure helped lead to four Dolphin interceptions on the day.
Key signature stat: five run stops on 20 run defense snaps.
Liuget was an animal against the run on Sunday. Now in his fourth game back from a four-game suspension to start the season, he seems to be hitting his stride, highlighted by his 25.0% run stop percentage this week. On Sunday he more than doubled his run stop tally on the season.
Key signature stat: Recorded a 26.3% run stop percentage.
Harrison entered the week as PFF's fourth-highest ranked interior defensive lineman. This week, Snacks produced five run stops on his 19 run snaps. As usual, his impact was primary in the run game, where he continues to be dominant.
Key signature stat: Allowed -4 yards on throws into his primary coverage
Davis' stellar career continues in his 14th season. On Sunday, the veteran allowed negative four yards through the air and allowed completions on just two of the four passes in his coverage, finishing with an almost unbeatable -0.17 yards per cover snap.
Key signature stat: 19% run stop percentage.
Trevathan was solid all around for the Bears on Sunday and finished with four run stops on 21 run defense snaps. To top it off, he also only allowed seven yards into his coverage on the afternoon.
Key signature stat: 0.0 NFL Rating allowed in coverage.
Fuller was superb in coverage all game against the Bills on Sunday. He only allowed completions on two of the nine targets thrown his way, for a minimal 15 yards. He was personally responsible for two pass breakups, and he allowed a 0.0 NFL rating in his coverage on the day.
Key signature stat: Eight combined defensive stops.
The run on Bears defenders continues with both Jackson and Amos Jr. deserving recognition for their performances on Sunday. Both allowed less than 20 yards in their coverage, with Amos Jr. chipping in a pass breakup. Both finished with four stops on the day, and neither missed a tackle. Amos Jr. notched a sack while Jackson made one of the plays of the afternoon with a strip, fumble recovery and rumble for a touchdown.