Week 8's slate of games came and went with plenty of standout defensive performances to feature. The usual suspects made their presence felt on Sunday in addition to some new names and big bounce-back candidates.
[Editor's Note: Our signature stats, like our grades, are subject to change upon review. These statistics will become final once the review process is complete and will be available to all PFF ELITE subscribers.]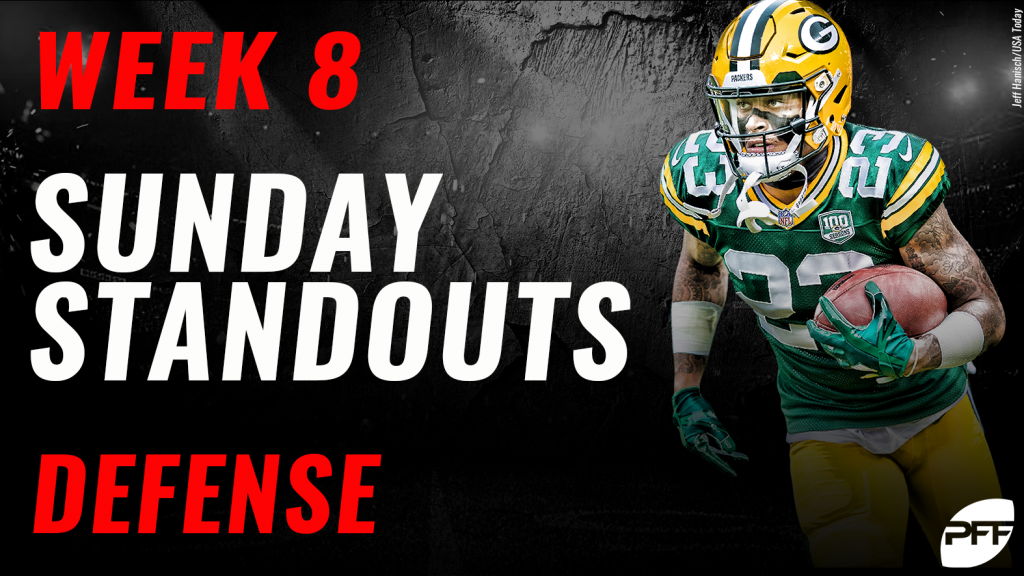 Key signature stat: Recorded eight total quarterback pressures on 31 pass-rushing snaps
Dee Ford continued his breakout campaign against the Broncos, dismantling the opposing offense to the tune of three sacks, five hurries, four defensive-stops and two forced fumbles. The fifth-year outside-linebacker is quickly establishing himself as one of the most lethal edge defenders in the NFL.
Key signature stat: Produced seven total pressures on 31 pass-rushing snaps
To nobody's surprise, Aaron Donald was a game-breaker again on Sunday. He harassed Aaron Rodgers all game, forcing the veteran quarterback out of the pocket and amassing two sacks, two hits and three hurries in the process. Donald also generated three defensive-stops and produced a pass-rushing productivity of 18.5. He continues to be one of the best defenders against the run and the pass, anchoring the Rams defense as they continue their assault on the league.
Key signature stat: Produced a  run stop percentage of 35.7%
Mason Foster stood out against the Giants in a big way. He was a one-man wrecking crew, producing 10 tackles, three assists, and seven defensive-stops. He played just 14 snaps against the run, yet he racked up an eye-opening five run-stops, good for a 35.7% stop percentage. 
Key signature stat: Logged five pass breakups from nine targets in coverage
Rookie cornerback Jaire Alexander is making a serious push for Defensive Rookie of the Year honors. Versus the Rams, the rookie was targeted at a high rate, as evidenced by his 4.8 coverage snaps per target. Even though he was targeted nine times, he allowed only four receptions for 80 yards and a passer rating of 76.2 when targeted. Most impressively, he forced every incompletion that was thrown his way, as he broke up a staggering five passes. The Packers' cornerback also collected seven tackles and a defensive stop. 
Key signature stat: Allowed just 0.57 yards per coverage snap
Jessie Bates has had a strong start to his rookie year, and that strong start continued against the Buccaneers. The safety produced five tackles, a tackle assist and three defensive stops, but he continues to make his mark in coverage where he intercepted a pass and broke up another. Bates was targeted eight times, yet allowed only three receptions for 34 yards and a lowly passer rating of 11.5 on throws into his primary coverage. The Bengals' safety allowed just 0.57 yards per coverage snap and continues to prove his ability as a playmaker each week.
Key signature stat: Produced six defensive stops on just 26 run defense snaps
Damon Harrison made headlines when he was traded to the Lions in the middle of the week. The veteran interior defender instantly gave the Lions' run-defense a boost to the tune of seven tackles, seven defensive-stops and he even chipped in a sack for good measure. Though the scenery may have changed, "Snacks" sure hasn't. Look for him to continue to dominate the run this season.
Key signature stat: Produced five total quarterback pressures on 39 pass-rushing snaps
Saints defensive end Cameron Jordan continues to perform like one of the best defensive ends in the league and his outing against the Vikings was no different. Jordan finished with five pressures, a batted pass and turned four tackles into four run-stops. 
Key signature stat: Logged eight total quarterback pressures from 28 pass-rushing snaps
Another Green Bay Packer had an impressive performance on Sunday but didn't necessarily have the box score numbers that many look for in a standout performance. Mike Daniels made life hard for the typically well-oiled machine that is the Rams' offense, producing two tackles, two defensive-stops, and a whopping eight pressures. The box score numbers won't catch your eye at a glance, but don't be fooled- Mike Daniels had one of the top performances from any defensive lineman on Sunday.