Week 7's slate of games came and went with plenty of standout defensive performances to feature. The usual suspects made their presence felt on Sunday in addition to some new names and big bounce-back candidates.
[Editor's Note: Our signature stats, like our grades, are subject to change upon review. These statistics will become final once the review process is complete and will be available to all PFF ELITE subscribers.]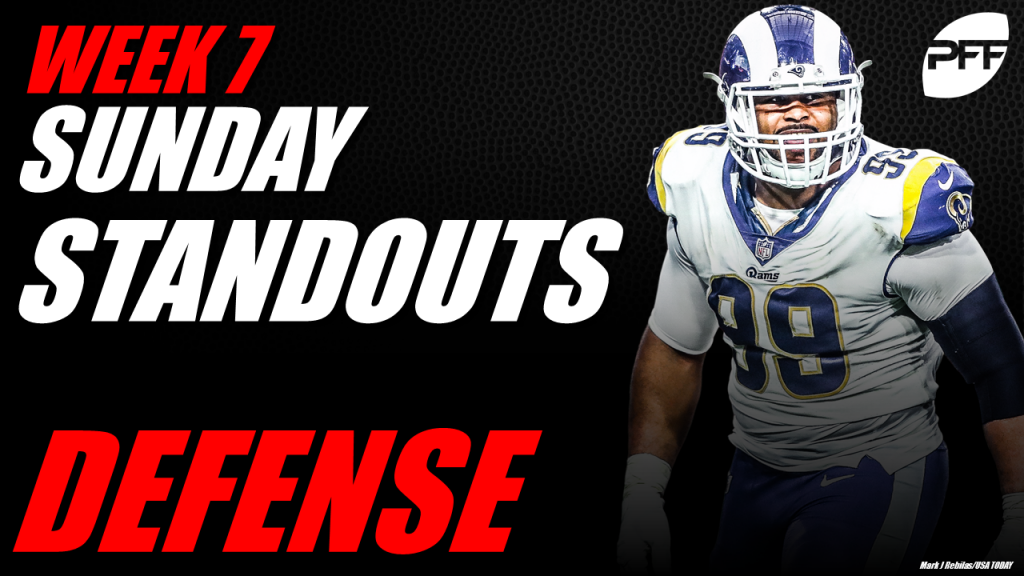 Key Stat: Donald recorded an 18.8 run-stop percentage in Week 7, ranking second among qualifiers at his position.
It's hard to keep coming up with words to describe just how dominant Aaron Donald is when he takes the field. He entered the Rams' tilt with the 49ers as the highest-graded interior defender and did nothing to cede that title. Donald finished with an astounding four sacks and seven total defensive stops. In this game, he generated an 18.8 run-stop percentage and a pressure percentage of 20.8, both of which ranked second among qualifying defensive interiors in Week 7. Donald didn't just play like the best defensive interior – he played like the best defender in the NFL.
Key Stat: Hand generated a 22.2 pressure percentage to lead all qualifiers at his position on Sunday.
The rookie defensive tackle from Alabama entered this week as a top-five-graded pass-rusher, and he proceeded to terrorize the quarterback on Sunday. Hand was constantly putting pressure on Dolphins' Brock Osweiler and moving him off his spot, totaling eight pressures and one defensive stop. Hand also generated a pressure percentage of 22.2, which edged out only Donald for the highest mark among defensive interiors. His performance against the Dolphins earned him a top-three grade for his position.
Key Stat: Clowney's 33.3 run-stop percentage led all qualifying edge defenders in Week 7.
Jadeveon Clowney was PFF's highest-graded run-defender in the NFL going into Jacksonville. Clowney lived up to the billing with a one-man assault on the Jaguars' backfield, racking up an impressive six total pressures, two sacks and seven defensive stops. He generated a pressure percentage of 11.1 and recorded five run stops, which was good for a 33.3 run-stop percentage. That last mark was good for first edge defenders. Clowney demonstrated his dominance against the run along with the ability to flat-out ruin the quarterback's day.

Key Stat: Campbell ranked third behind Clowney and Cowboys' Demarcus Lawrence in run-stop percentage (26.9) in Week 7).
Amidst a losing streak and a defeat to the Texans, Calais Campbell's performance will probably get lost in the shuffle. The veteran defensive end produced a jaw-dropping eight defensive stops, the most among edge defenders, to go along with four pressures. His seven run stops and 26.9 run-stop percentage ranked tied for first and third, respectively, among edge defenders in Week 7. Campbell has been up-and-down this season as he's dealt with nagging injuries but could finally be getting healthier and back to his dominant ways.
Key Stat: Kuechly allowed just 0.65 yards per coverage snap on Sunday, ranking T-10th among qualifiers at his position.
Luke Kuechly continues to be one of the best linebackers in the NFL and he showed why with his game against the Eagles. The top-five-graded linebacker amassed an eye-popping 13 tackles, six defensive stops and a sack for good measure. He didn't miss a single tackle and produced a run-stop percentage of 12.5. Kuechly wasn't just valuable against the run, as he also allowed just 0.65 yards per coverage snap, which ranked tied for 10th among inside linebackers. The Panthers' defensive anchor continues to carry the unit and shows no signs of slowing down any time soon.
Key Stat: Targeting Waynes, Jets' Sam Darnold recorded a 0.0 passer rating in Week 7.
Trae Waynes hasn't had the best start to the season, but over the last two weeks, he's played like one of the best corners in the league. Waynes posted a season-high grade of 77.9 last week and continued his high-level play against the Jets. The Vikings cornerback was targeted six times and refused to allow a single reception while also corralling an interception and defensing two passes. When targeting Waynes, Darnold had a passer rating of 0.0. Waynes also chipped in on the run-defense, adding two run stops and a run-stop percentage of 9.5. Waynes has been a quality run defender who looks like he could be developing into a reliable all-around NFL cornerback, further adding to the depth and talent of the Vikings' defense.
Key Stat: Lattimore allowed just 0.28 yards per coverage snap against the Ravens on Sunday, ranking seventh among qualifiers.
The Saints' defense started the season off slowly, but Marshon Lattimore appears to be heating up. He has increased his overall grade every week since Week 3 and posted his best performance of the season against the Ravens. The sophomore cornerback was targeted six times, allowed just one reception for 11 yards and registered three passes defensed. Joe Flacco had a passer rating of just 39.6 when targeting Lattimore, and Lattimore's 0.28 yards allowed per coverage snap ranked seventh among corners with at least two targets. The second-year cornerback may be hitting his stride, which would go a long way in helping the Saints' defense.
Key Stat: Mitchell allowed just 0.34 yards per coverage snap and a passer rating of 47.9 when targeted on Sunday.
Mike Mitchell shone in his first game for the Colts last week and continued to impress this week against the Bills. The journey-man safety collected seven tackles and three defensive stops. He also allowed two receptions for 10 yards and snagged an interception and defensed a pass. When throwing into Mitchell's coverage, Derek Anderson had a passer rating of 47.9, and Mitchell allowed just 0.34 yards per coverage snap. The Colts' defense has had playmakers emerge through the first half of the season, and Mitchell is showing signs that he could be the one to lead a young defense. He's leading by example and turning heads in the process.