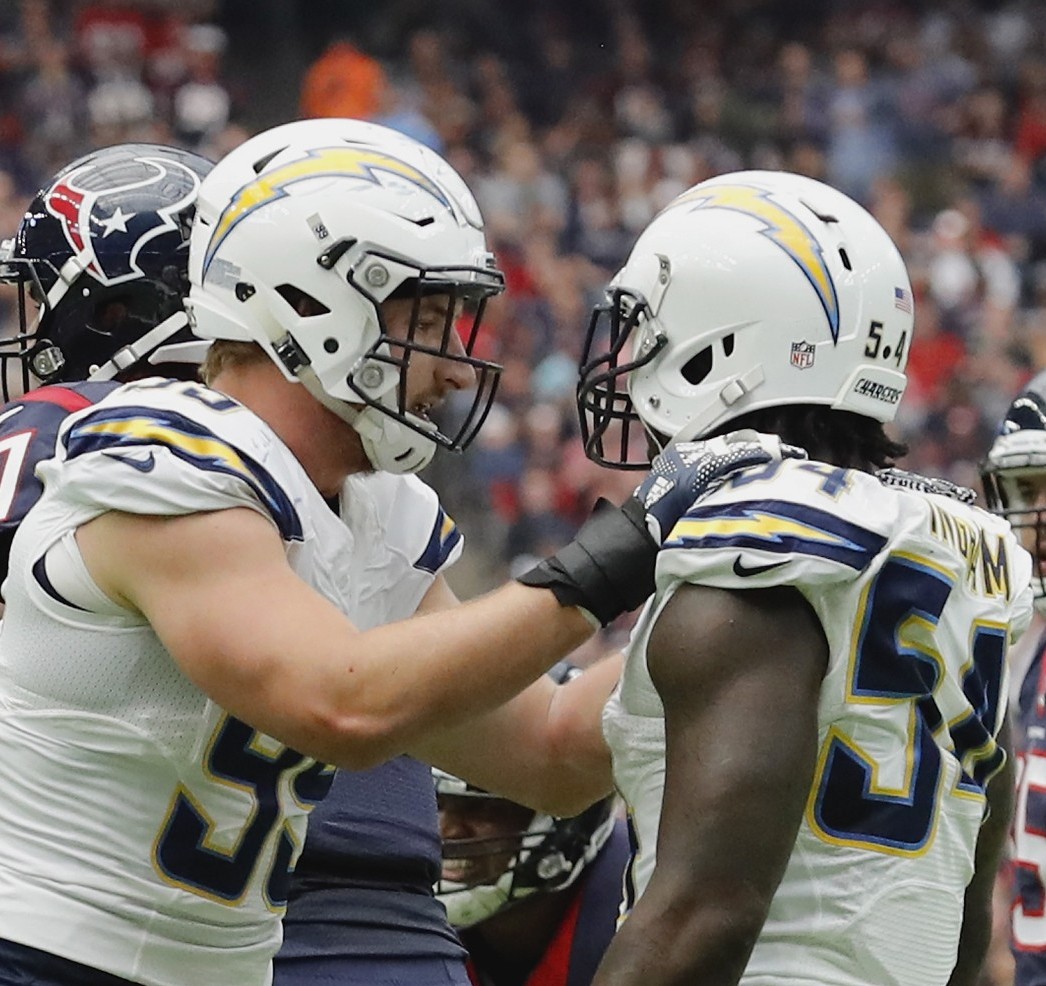 HOUSTON, TX - NOVEMBER 27: Joey Bosa #99 of the San Diego Chargers celebrates with Melvin Ingram #54 after a sack against the Houston Texans at NRG Stadium on November 27, 2016 in Houston, Texas. (Photo by Tim Warner/Getty Images)
The Sunday slate of Week 7 in the NFL saw one defensive player score two touchdowns, a rookie cornerback continue to perform like a savvy veteran, and one of the league's best young pass-rushers at his dominant best. Here's our look at the Sunday standouts on the defensive side of the ball in Week 7.
Edge Joey Bosa, Los Angeles Chargers, 92.3 overall grade
The Los Angeles Chargers continued to mount a comeback after their poor start to the season with a huge win over the Denver Broncos, and edge defender Joey Bosa played a key role in the victory. Rushing the passer 32 times, Bosa picked up two sacks, a hit, and three hurries, good for a 15.6 pass-rushing productivity rating.
DI Kenny Clark, Green Bay Packers, 90.0 overall grade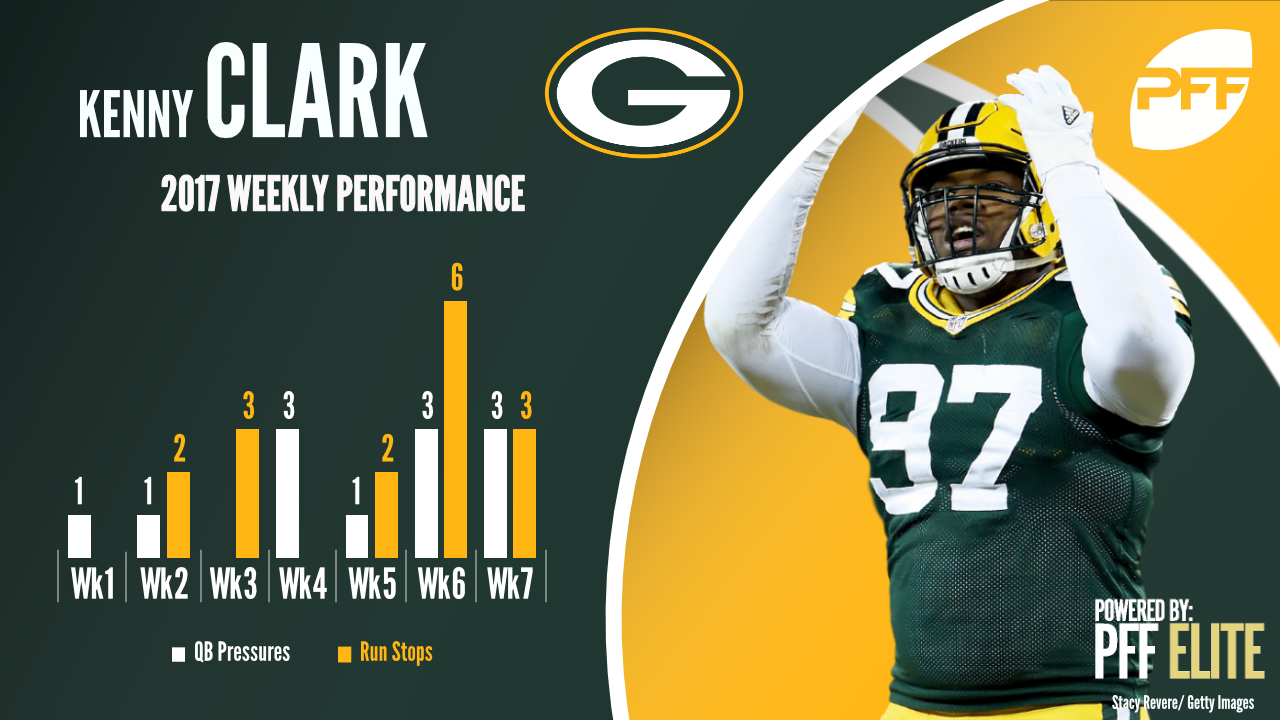 Green Bay Packers interior defender Kenny Clark has impressed so far this season, and that continued despite the loss to the New Orleans Saints. Against the run, he produced a run stop percentage of 8.8 percent, with three tackles resulting in a defensive stop coming on 34 snaps against the run.
LB Lavonte David, Tampa Bay Buccaneers, 90.4 overall grade
Linebacker Lavonte David looks back to his best for the Tampa Bay Buccaneers, and has been one of the NFL's top defensive players through the first seven weeks of the season. Outstanding against the run yesterday, his six tackles resulting in a defensive stop earned him a run stop percentage of 20.7 percent.
S Eddie Jackson, Chicago Bears, 90.4 overall grade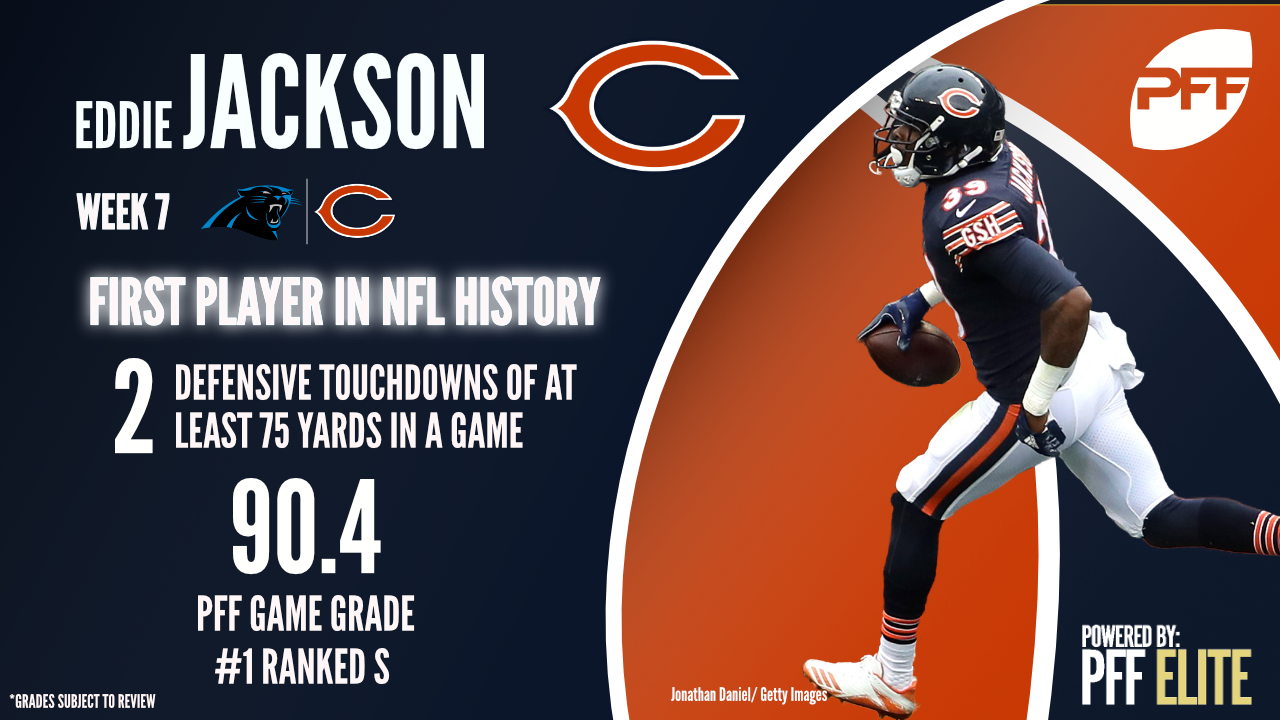 It would be impossible to list the Sunday standouts without mentioning a rookie who outscored both the Chicago Bears and Carolina Panthers in that game as safety Eddie Jackson did. The rookie produced a player grade of 90.4, with his interception and fumble returns for touchdowns factoring heavily in that grade.
DI Linval Joseph, Minnesota Vikings, 91,4 overall grade
Linval Joseph is having a huge season as a run defender for the Minnesota Vikings, and that continued on Sunday in the win over the Baltimore Ravens. Joseph produced a run stop percentage of 18.2 percent, with three tackles resulting in a defensive stop on 18 snaps against the run.
CB William Jackson, Cincinnati Bengals, 92.3 overall grade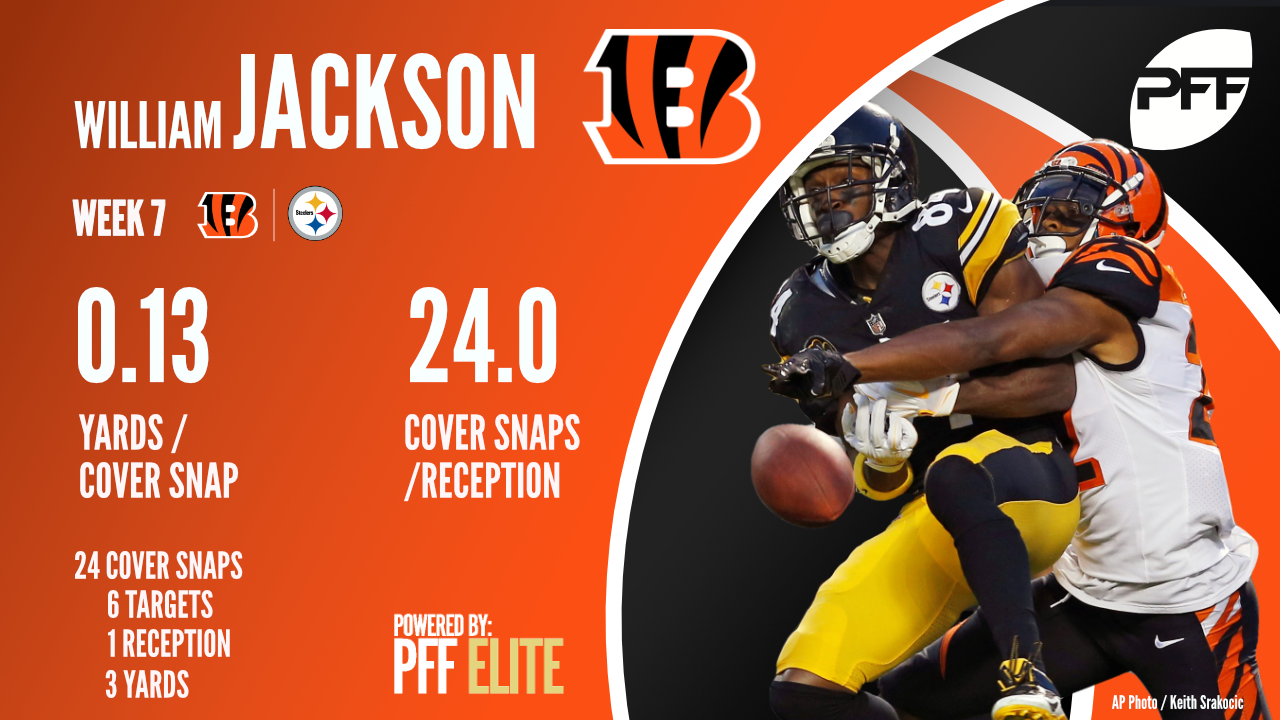 William Jackson was one of the top players on the PFF big board back in 2016, and he showed exactly why with a big time performance for the Cincinnati Bengals despite their loss against the Pittsburgh Steelers. Targeted six times in coverage, Jackson allowed just one reception for three yards, allowing a passer rating of 39.6 on throws into his coverage.
LB Danny Trevathan, Chicago Bears, 92.1 overall grade
Another member of the Bears defense who stood out yesterday, linebacker Danny Trevathan delivered as a pass-rusher, with a sack, a hit and two hurries from nine pass-rushing snaps. That gave him a pass-rushing productivity rating of 36.1 on the day.
CB Marshon Lattimore, New Orleans Saints, 93.6 overall grade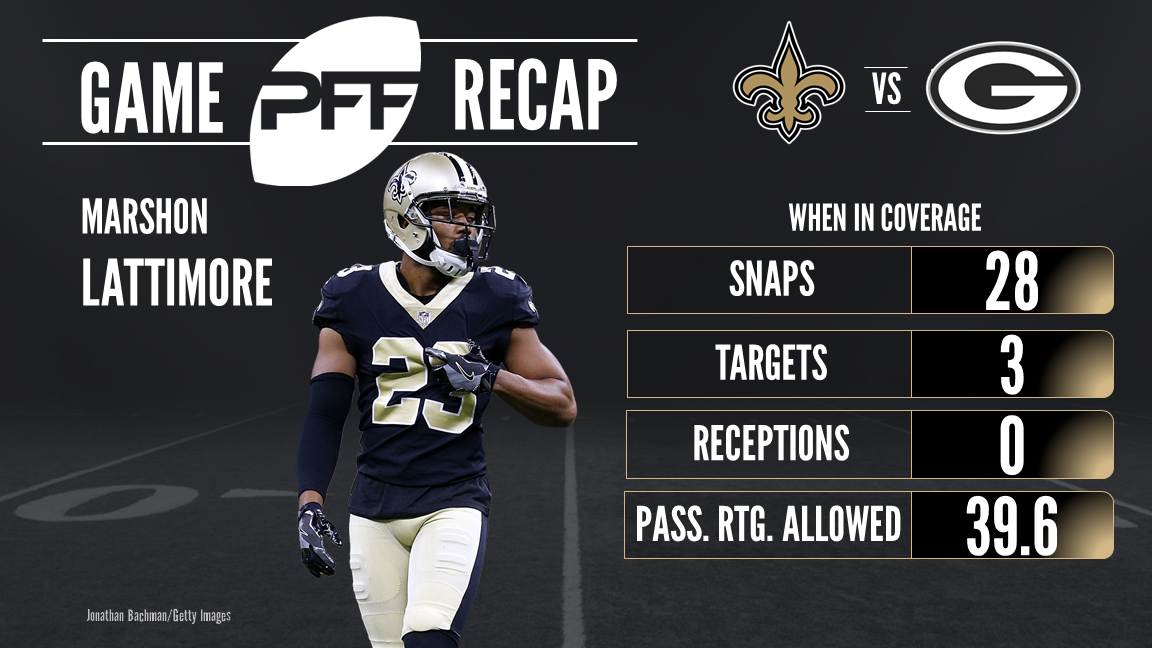 Rookie cornerbacks are supposed to struggle, but clearly nobody told New Orleans Saints rookie Marshon Lattimore anything about that. Continuing a rookie season which has been nothing short of incredible, Lattimore was targeted three times in coverage, and didn't allow a single reception. Including a fourth target that came on a play negated by penalty, Lattimore finished the game with three pass breakups.
LB Bobby Wagner, Seattle Seahawks, 92.9 overall grade
Seattle Seahawks linebacker Bobby Wagner is one of the most efficient tacklers in the NFL, and that continued on Sunday during the win over the Giants. On 57 snaps on defense, Wagner attempted seven tackles and didn't miss any of them.
LB Avery Williamson, Tennessee Titans, 91.2 overall grade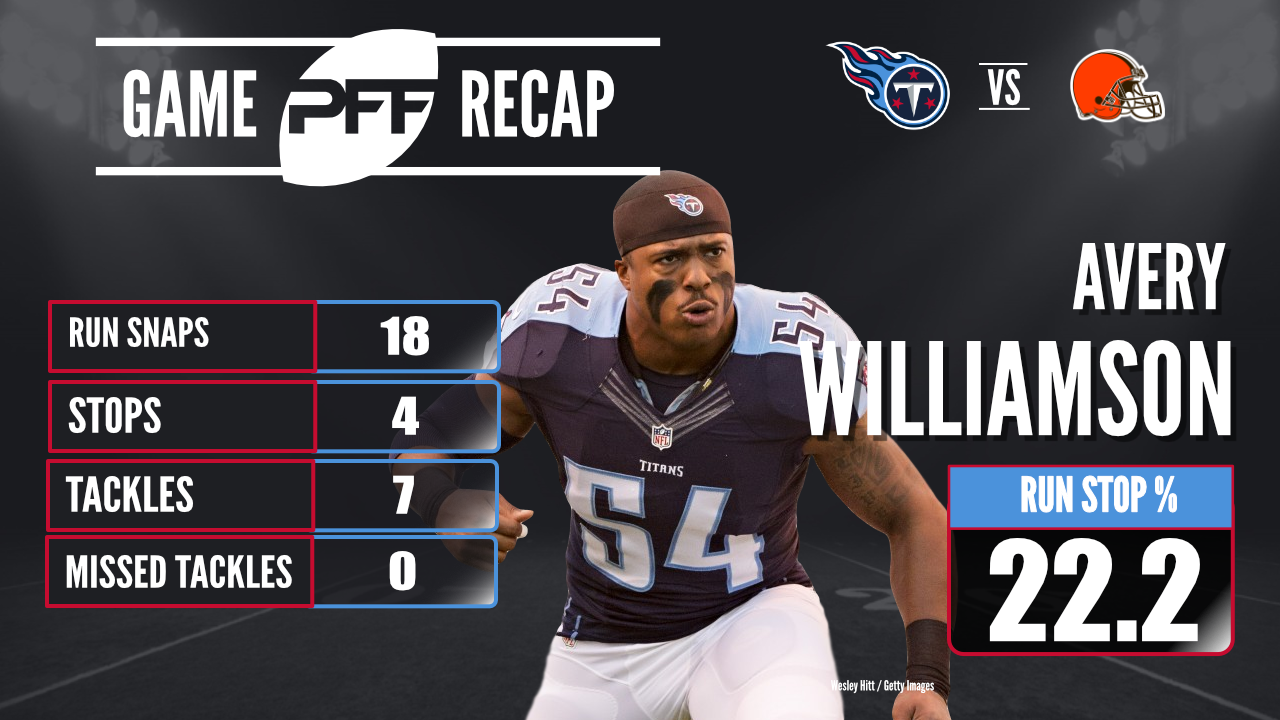 The Tennessee Titans win over the Cleveland Browns was not the game for you if you were hoping to see some offense, but if you like defense, Avery Williamson's performance against the run was something to behold. On just 18 snaps against the run, Williamson registered seven tackles, with four of them resulting in a defensive stop, good for a run stop percentage of 22.2.