Beyond providing data for all 32 NFL teams, PFF also supports network broadcasters with game-preview packets that are used to enhance the in-game experience for fans and viewers. This Panthers-Redskins preview features the same information our broadcast partners use for team research and in-game production.


Wide receivers need to step up
At 2-2, the Washington Redskins are looking to rebound this week against the Panthers after a tough loss at New Orleans. If they are going to beat this Carolina defense, however, one of the receivers on the team is going to need to step up. Through four games, the group is averaging just 2.68 yards per route run, which ranks 30th among offenses.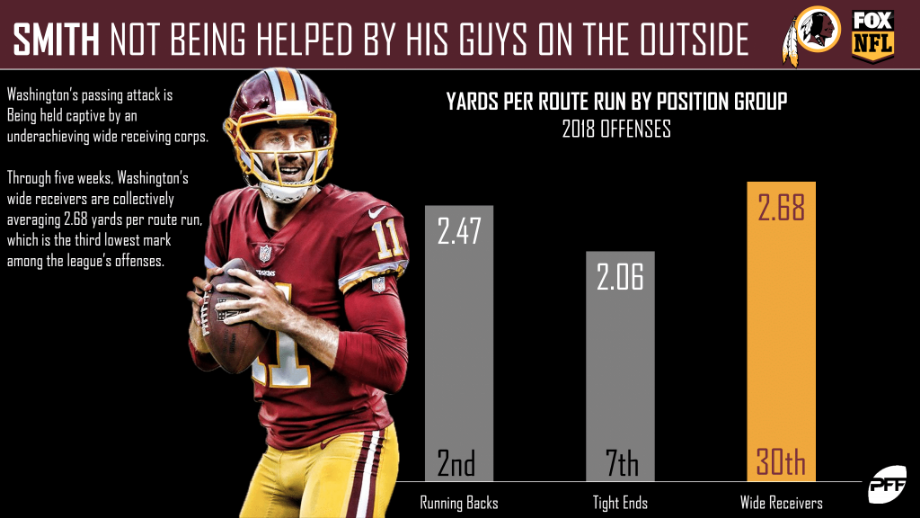 Adrian Peterson finding success as a receiver
At 33-years-old, Adrian Peterson continues to amaze with what he is able to accomplish on the football field. This season, he has managed to excel at an area of his game that, throughout his career, he was never known for.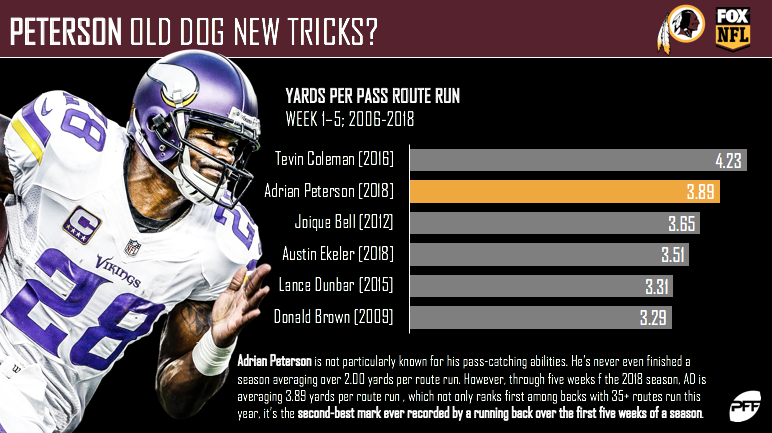 Ioannidis getting to the quarterback
In a league where passing is becoming more and more prominent, a team cannot have enough pass-rushers. That is what makes Matt Ioannidis so valuable. His ability to disrupt the pocket as an interior defensive lineman is a serious help to the Redskins somewhat struggling secondary.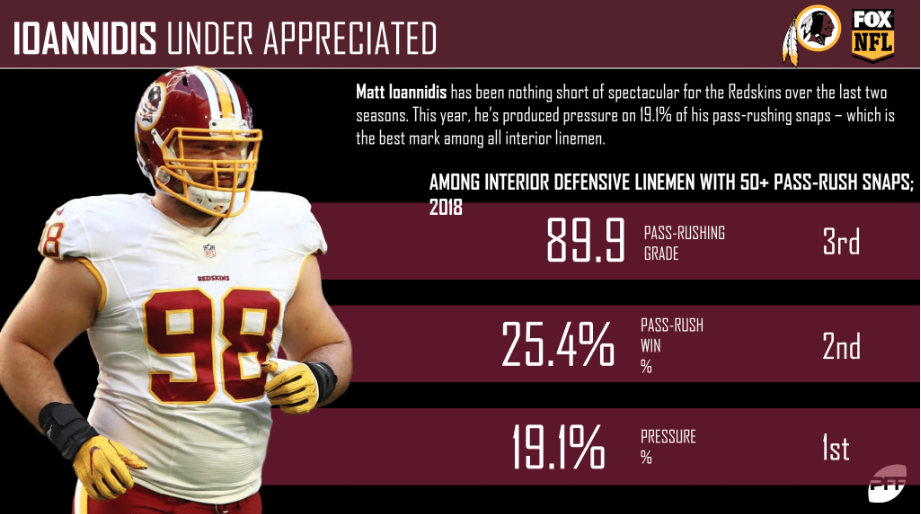 Josh Norman: Not the same guy
It was not long ago when Josh Norman was one of the most feared cornerbacks in the league. In the last few years, though, Norman has been deviating from his prominence as one of the best. The Panthers will look to take advantage of this on Sunday afternoon.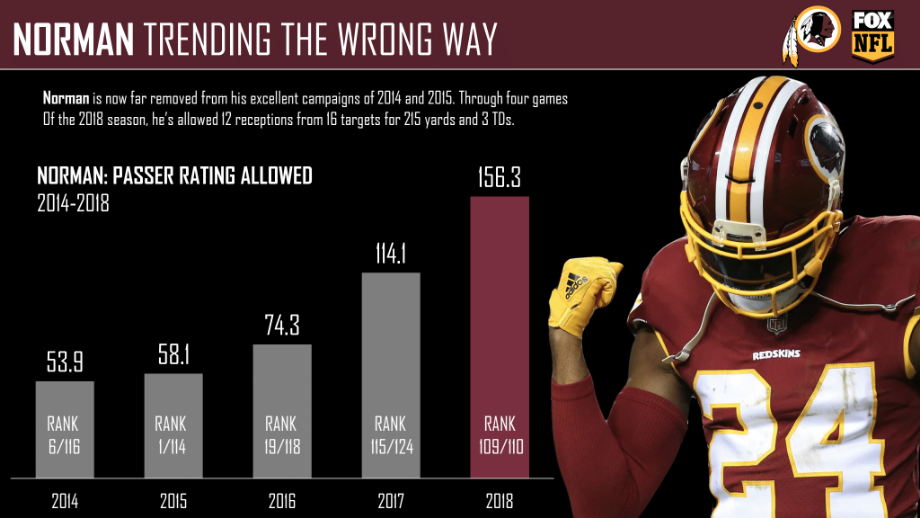 McCaffrey the reliable pass-catcher
In his second year, Christian McCaffrey has shown to be a reliable receiver at the running back position. Picking up right where he left off in 2017, McCaffrey has generated a 103.2 passer rating when targeted.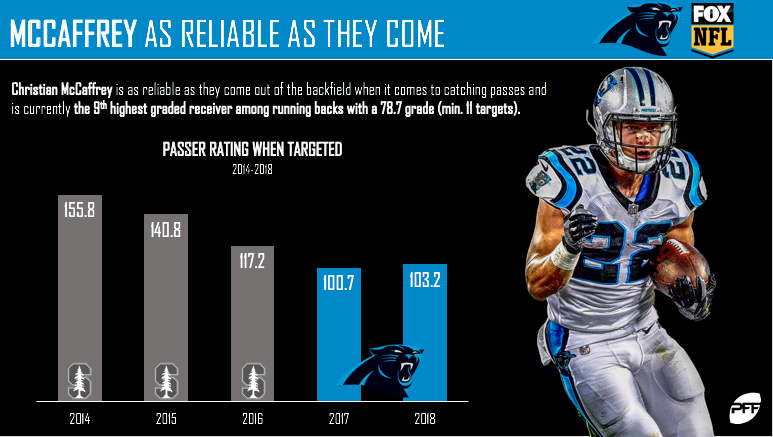 D.J. Moore showing flashes
The Panthers drafted D.J. Moore to fill a void at the receiver position and in his limited opportunities, Moore has been impressive. While it is an extremely small sample size, Moore has shown flashes of potential, and it is only a matter of time before he gets more snaps and becomes a more significant factor on this offense.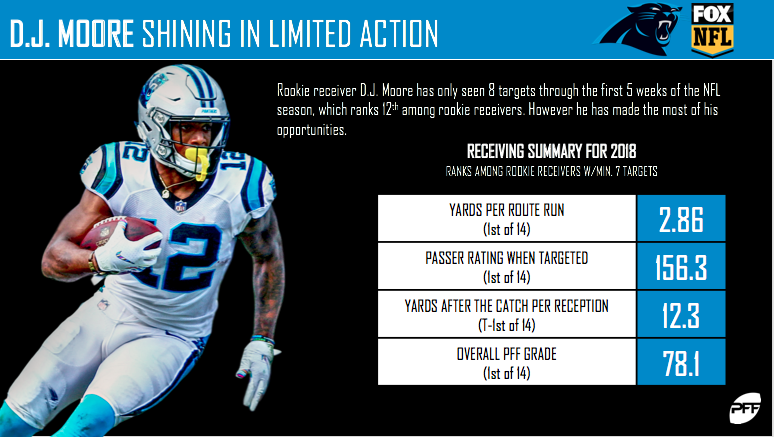 Short dominating the run
Kawann Short has been a dominant force in the run game for the Panthers. The interior defensive lineman is currently ranked seventh in run-stop percentage in the league.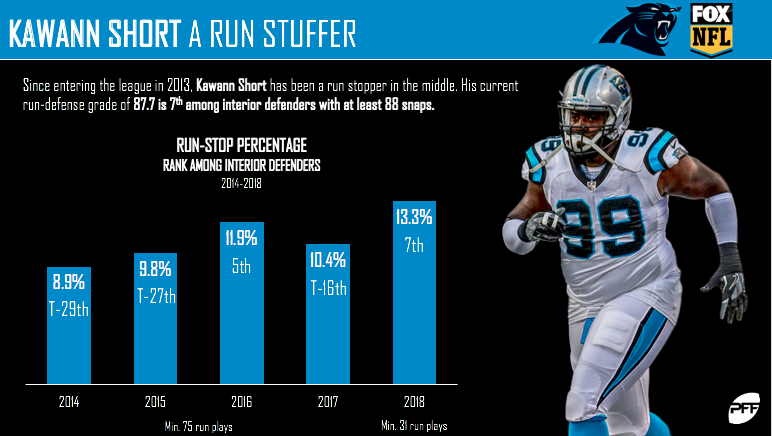 Secondary not forcing incompletions
While this Panthers team is currently 3-1, that record is not due to an impressive secondary, quite the contrary, as the Panthers secondary ranks 28th in the league at forced incompletion rate. They are going to need to scheme well against a Redskins offense that is capable of big plays.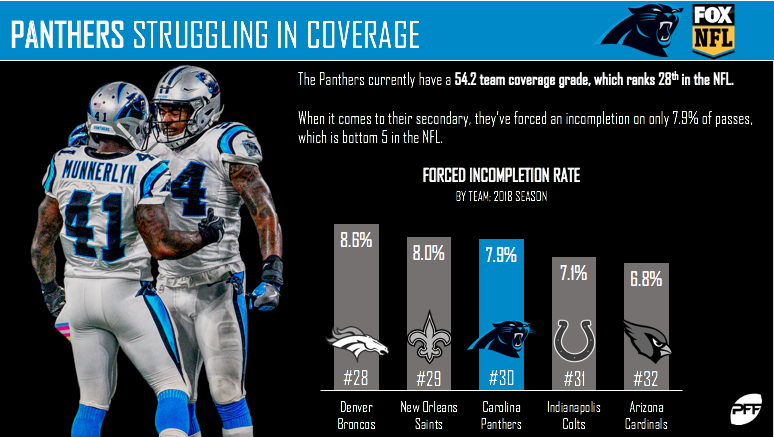 Key matchup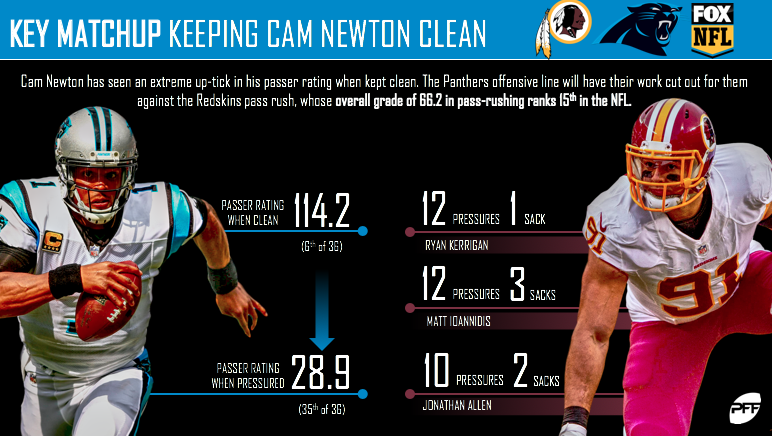 PFF Greenline has projections for the spread, moneyline and over/under of the Redskins' matchup with the Panthers. Get its picks here.