Beyond providing data for all 32 NFL teams, PFF also supports network broadcasters with game-preview packets that are used to enhance the in-game experience for fans and viewers. This Bills-Texans preview features the same information our broadcast partners use for team research and in-game production.


Allen trusting his arm
For better or worse, Josh Allen has come to the NFL with a lot of trust in his arm, as he's thrown 20-plus yards down the field on 17.2% of his passes, the third-highest rate in the league. Allen's cannon of an arm will surely test the Texans' secondary this Sunday.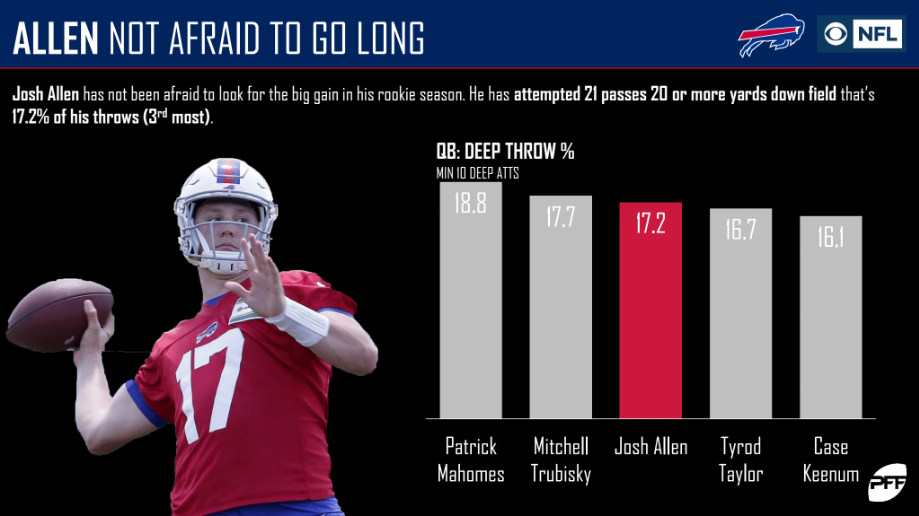 The more defenders, the better
The Bills' love for running against stacked boxes has its benefits, as their rushing grade (83.5) when running against a box with seven or more defenders is over 40 points higher than when they run against a box with six or fewer defenders. We shall see how this stat holds up throughout the season.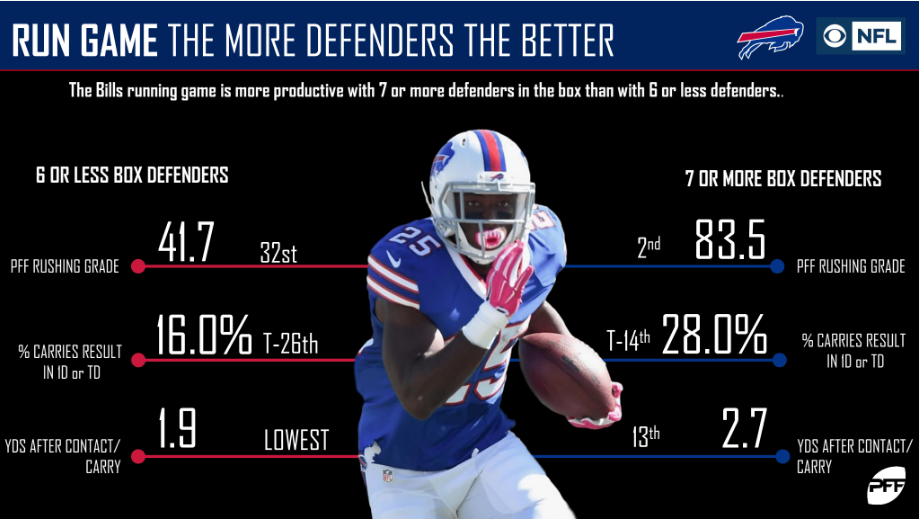 White still shutting them down
Tre'Davious White had a great rookie season last year, and he is on pace to prove that it wasn't a fluke. He has allowed a reception just once every 20.6 coverage snaps so far this season, which is the third-best mark in the league.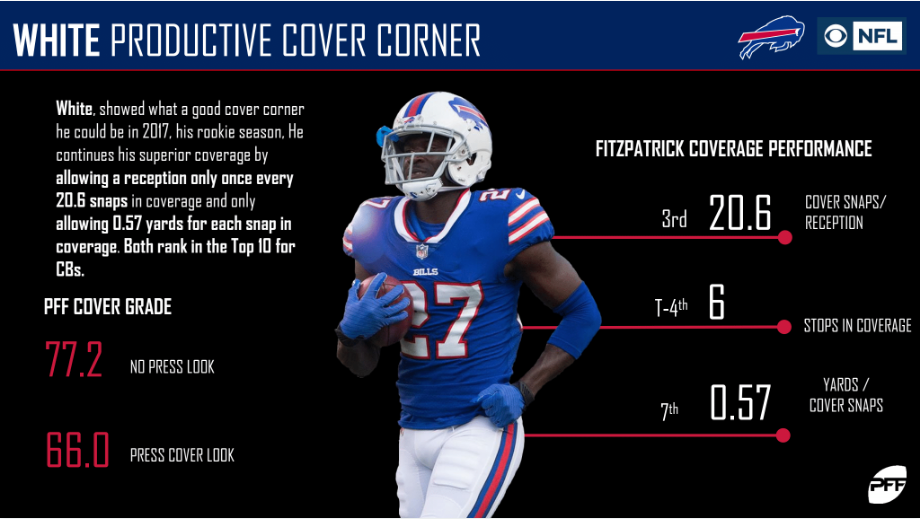 Poyer not tested on third down
Jordan Poyer has not been targeted once on 59 third down cover snaps this season. Through five weeks, Poyer has a coverage grade of 70.7, which ranks 32nd out of 89 qualifying safeties.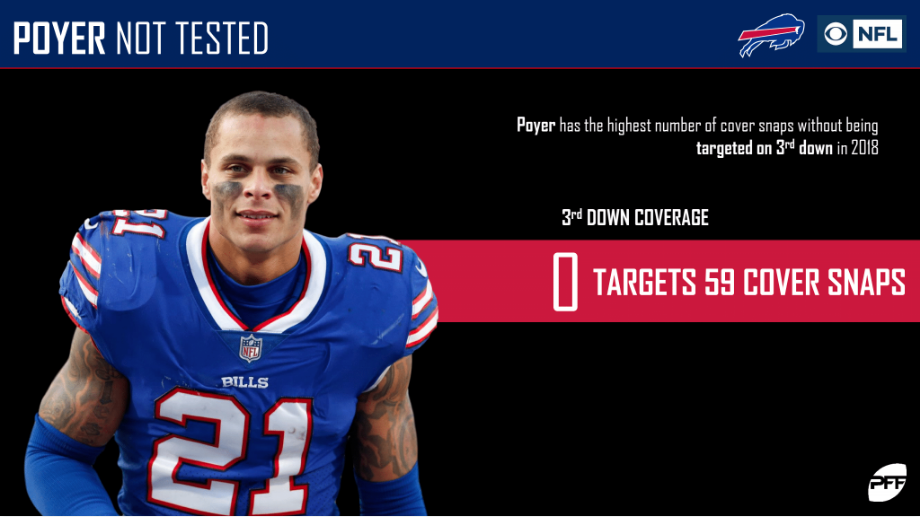 Watson effective on quick drops
Deshaun Watson may be known for holding on to the ball for a long time, but he is much more effective when getting the ball out quickly. When throwing in 2.4 seconds or less after the snap, Watson has a passer rating of 103.8, which ranks 11th among the league's quarterbacks.
Hopkins the elite receiver
DeAndre Hopkins is truly one of the elite wide receivers in the NFL. After five games, he has the second-best overall grade among wide receivers, in large part due to his sure hands and effective route running. Hopkins will have a big test against the Bills' strong pass-rush and coverage.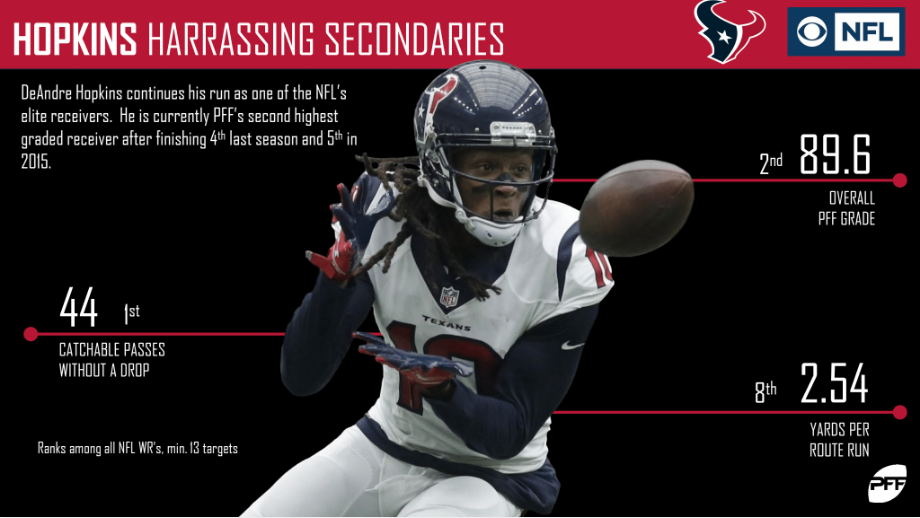 J.J. Watt still wrecking the play
J.J. Watt has returned from injury with a vengeance this season, as he has quickly reclaimed his spot as one of the elite defenders in the game. He currently ranks in the top five in both run defense and pass-rush among edge defenders.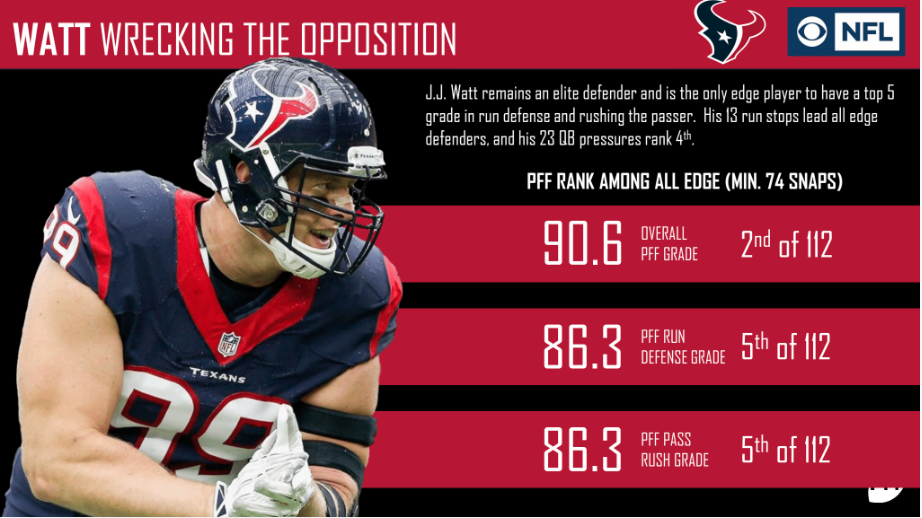 Jackson stopping the run
Kareem Jackson is far-and-away the league's best run defender at the safety position this season. Jackson is averaging 2.4 run stops per game, and he will look to serve Buffalo their share this Sunday.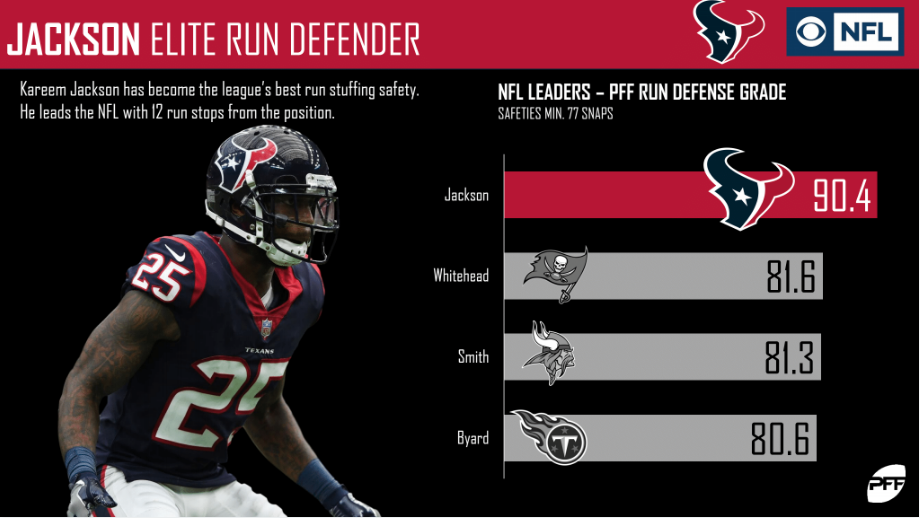 Key matchup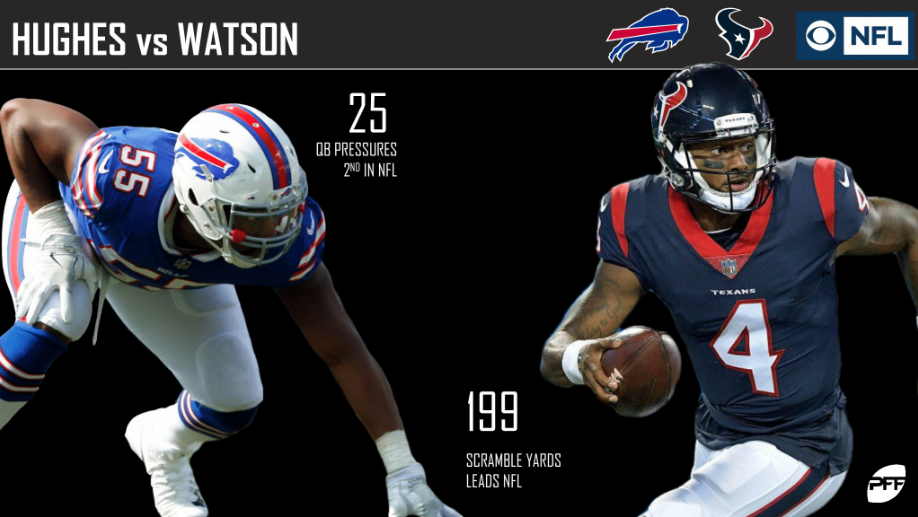 PFF Greenline has projections for the spread, moneyline and over/under of the Bills' matchup with the Texans. Get its picks here.