Sunday brought another action-packed slate of games, highlighted by two overtime games and over half the games decided by three or fewer points.  The Patriots re-asserted themselves, and the Browns scored more than 30 points for the first time since 2015. Without further ado, let's focus on some top offensive performances from Sunday.

The Texans picked up a win against the Indianapolis Colts on Sunday to end their nine-game losing streak, and they did it on the back of a strong performance by Watson. He was especially impressive under pressure, going 12 for 17 for 190 yards and a touchdown for a 127.1 passer rating when the Colts got pressure on him.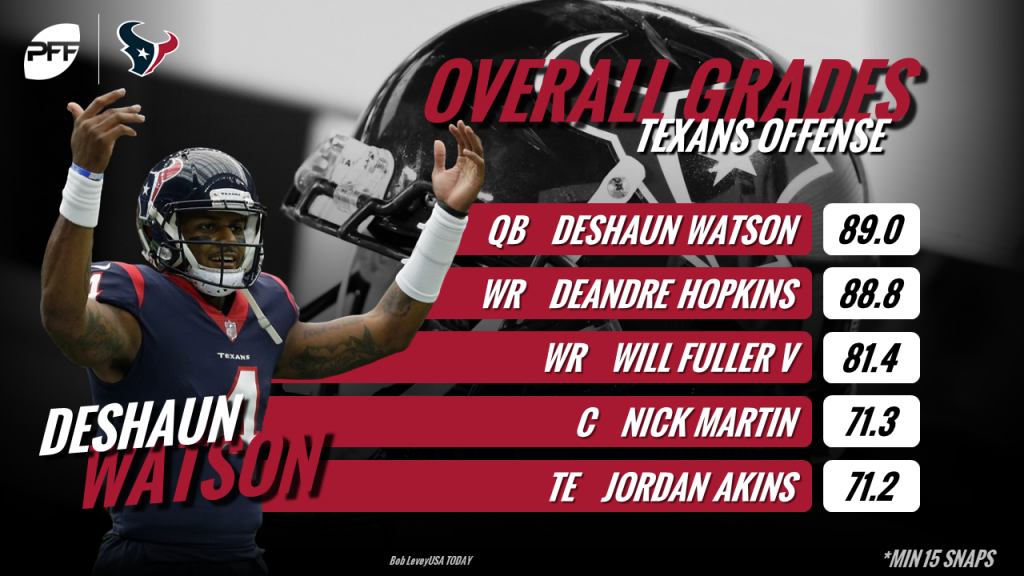 Trubisky exploded for six touchdowns in the Bears' win after only picking up two passing touchdowns in the first three weeks of the season. He did it on Sunday with the deep ball. After having a passer rating of just 34.9 on passes targeted 20 or more yards downfield through the first three weeks of the season, Trubisky went 7 of 8 for 218 yards and three touchdowns on such passes in Week 4.
Cohen is listed as a running back, but he made his real impact Sunday in the passing game with Trubisky. Cohen only ran 15 receiving routes, yet he was targeted eight times and picked up 121 receiving yards for a yards per route run total of 8.07. To put that in perspective, no running back who has ran at least ten routes has done that in a single game since Chris Thompson in Week 3 of 2017. Cohen ran 9 of his 15 routes lined up as a wide receiver.
Tate's go-ahead touchdown late in the fourth quarter wasn't enough for the Lions to escape with the win, but his performance was noteworthy nonetheless. Matthew Stafford had a perfect passer rating when targeting Tate, going 8-for-8 for 132 yards and two touchdowns. Tate picked up 83 of his 132 yards while lined up in the slot, which was tied for fifth among all wide receivers in Week 4.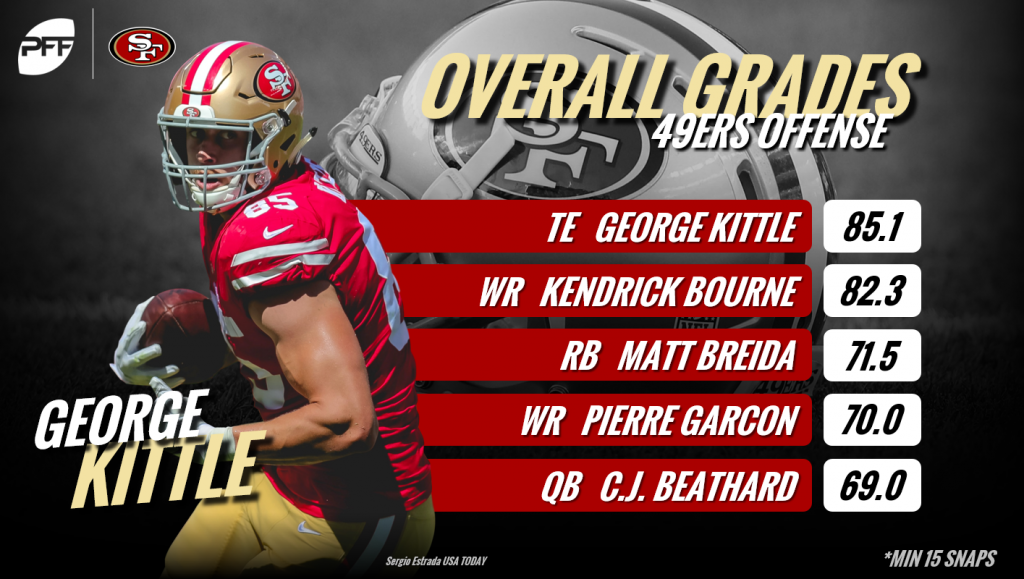 This marks the second straight big week for Kittle as he has emerged as one of the top options in the 49ers passing attack. Kittle caught all six of his catchable targets and picked up 3.57 yards per route run which was the most at the position among players who ran at least 15 routes in Week 4. 
Hopkins turned in his best performance of the season thus far against the Colts on Sunday, catching 10 of 12 targets for 169 yards and a touchdown. His 3.25 receiving yards per route run were the most he has had in a game since Week 14 of last season. His day would have been even better had he been able to pull in a difficult catch in the end zone late in the game.
Smith's talent as one of the best tackles in the NFL was on full display against the Lions on Sunday, and he was effective in all aspects of the game. Smith did not allow a quarterback hurry, hit or sack in 31 pass blocking snaps. To go along with that, he cleared the way for Ezekiel Elliott to pick up 152 rushing yards, registering a run blocking grade of 85.1 which ranked second among all tackles this week.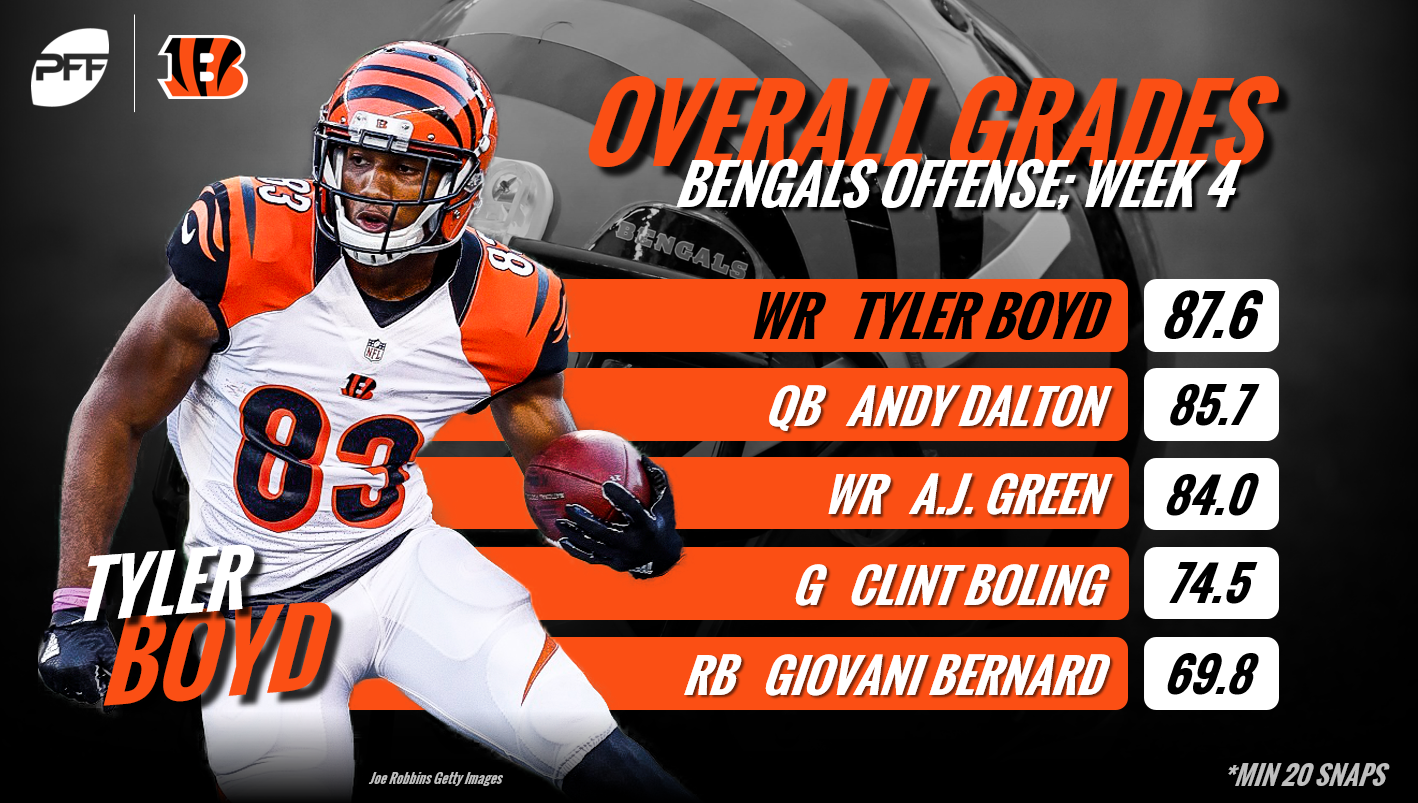 Boyd has emerged as a favorite target for Dalton as of late, turning in another strong performance against the Atlanta Falcons in their come-from-behind win. The former Pitt product led the Bengals in targets with 13 and caught all 11 of the catchable passes thrown his way, including multiple key fourth-down conversions late in the game. Boyd operated primarily out of the slot, with 69.0 percent of his receiving routes coming from the inside.
The rookie guard Hernandez has been a bright spot for a Giants offensive line this season, and his good play continued against the New Orleans Saints. Hernandez was one of just eight offensive guards to not allow a sack in 40 or more pass blocking snaps in Week 4. He has now allowed just four pressures through the first four weeks of this season.
Speaking of standout pass-blocking performances, one of the best in the business was back at it again on Sunday. Last season, Bakhtiari led all tackles in pass blocking grade at 94.6 after allowing only 12 pressures in 487 pass-blocking snaps. Sunday, he allowed only one pressure in 46 pass-blocking snaps and his pass-blocking grade of 90.4 now ranks first in the NFL this season.