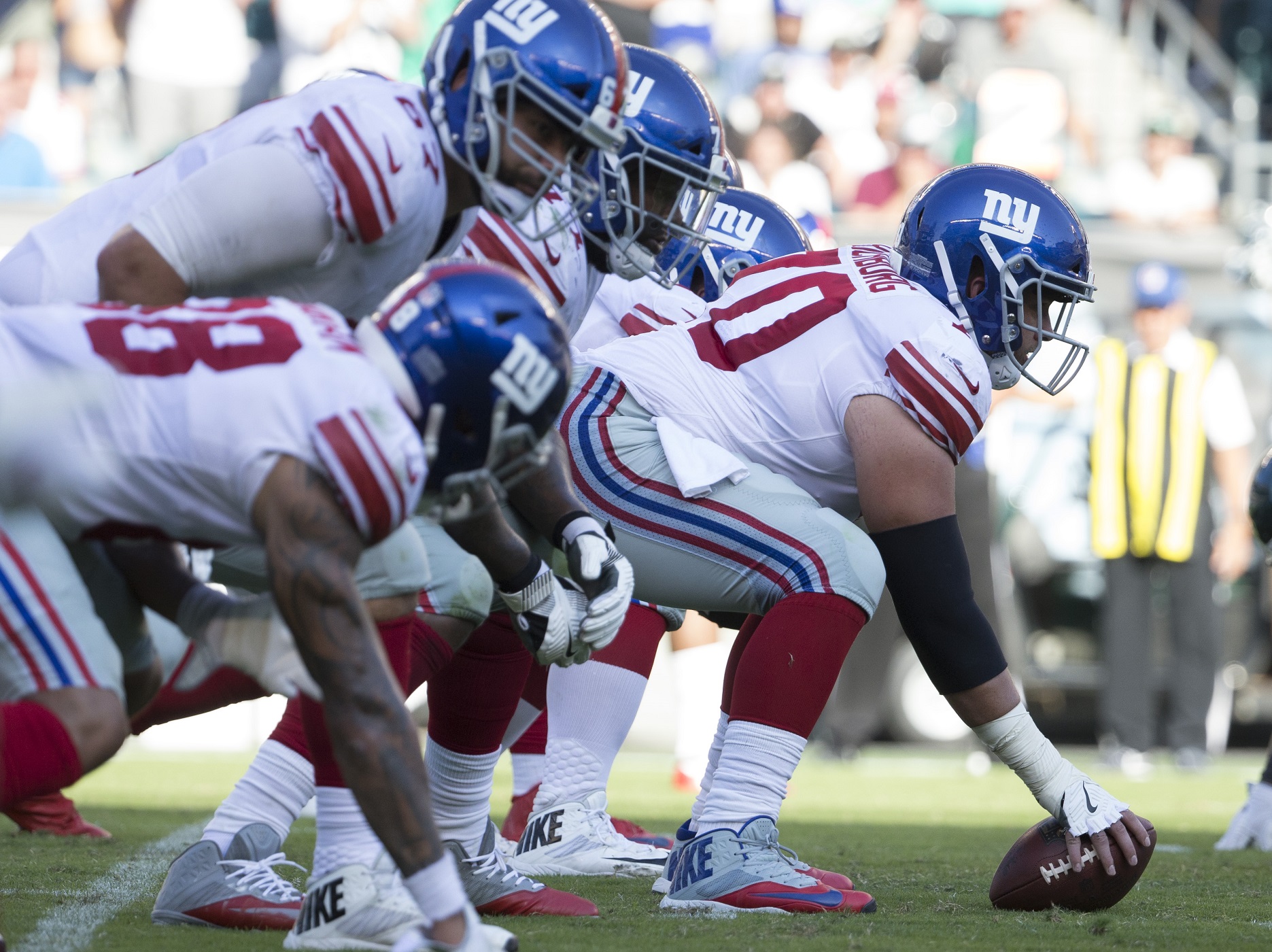 PHILADELPHIA, PA - SEPTEMBER 24: Weston Richburg #70, Evan Engram #88, Justin Pugh #67, and John Jerry #77 of the New York Giants play against the Philadelphia Eagles at Lincoln Financial Field on September 24, 2017 in Philadelphia, Pennsylvania. The Eagles defeated the Giants 27-24. (Photo by Mitchell Leff/Getty Images)
Each week, the PFF analysis team will bring you break downs of the most important matchups for each game of the NFL season.

Coverage By: Aaron Jones
G John Jerry vs. DI Gerald McCoy – The highest graded offensive lineman for the Giants also draws the toughest matchup. John Jerry currently ranks 21st among 71 qualifying guards with an overall grade of 74.4. He will have his hands full against one of the top rated interior defenders in the league, Gerald McCoy. McCoy's overall grade of 89.2 has him ranked fourth among 118 qualifying interior defenders. His pass-rush grade of 89.9 ranks first among interior defenders.
QB Eli Manning vs. LB Kendell Beckwith – In Week 3, Manning was only pressured on 14.9 percent of his dropbacks, the second-lowest rate in the league. This is partly due to the fact Manning had the lowest average time to throw in the league last week, with 1.84 seconds. One of the most accurate quarterbacks in the league when kept clean, Manning boasts the third highest completion percentage among 32 qualifying quarterbacks through the first three weeks. As the Giants will more than likely continue to get the ball out of Manning's hands quickly, they will have to keep an eye out for Kendell Beckwith. Beckwith currently ranks third among 86 qualifying linebackers with an overall grade of 88.7. His 0.57 yards allowed per coverage snap is the sixth best rate among 45 qualifying linebackers. Beckwith has allowed only six receptions in coverage, tied for the lowest among 30 qualifying linebackers with at least ten targets. He's allowed only 40 yards in coverage, the 11th lowest amount among 70 qualifying linebackers.
WR Odell Beckham Jr. vs. CBs Vernon Hargreaves, Brent Grimes, and Robert McClain – Odell Beckham Jr. was targeted early and often last week, with his 13 targets tied for the fifth most of any receiver in Week 3. He has had issues with drops early this season, with his three combined drops in Week 2 and 3 tying with Torrey Smith for the most among 50 qualifying wide receivers. Beckham draws another great matchup however, as he looks to line up against some of the lowest graded cornerbacks in the league. With Vernon Hargreaves, Brent Grimes, and Robert McClain all having grades in the poor category, look for Eli Manning to continue to heavily target his best offensive weapon.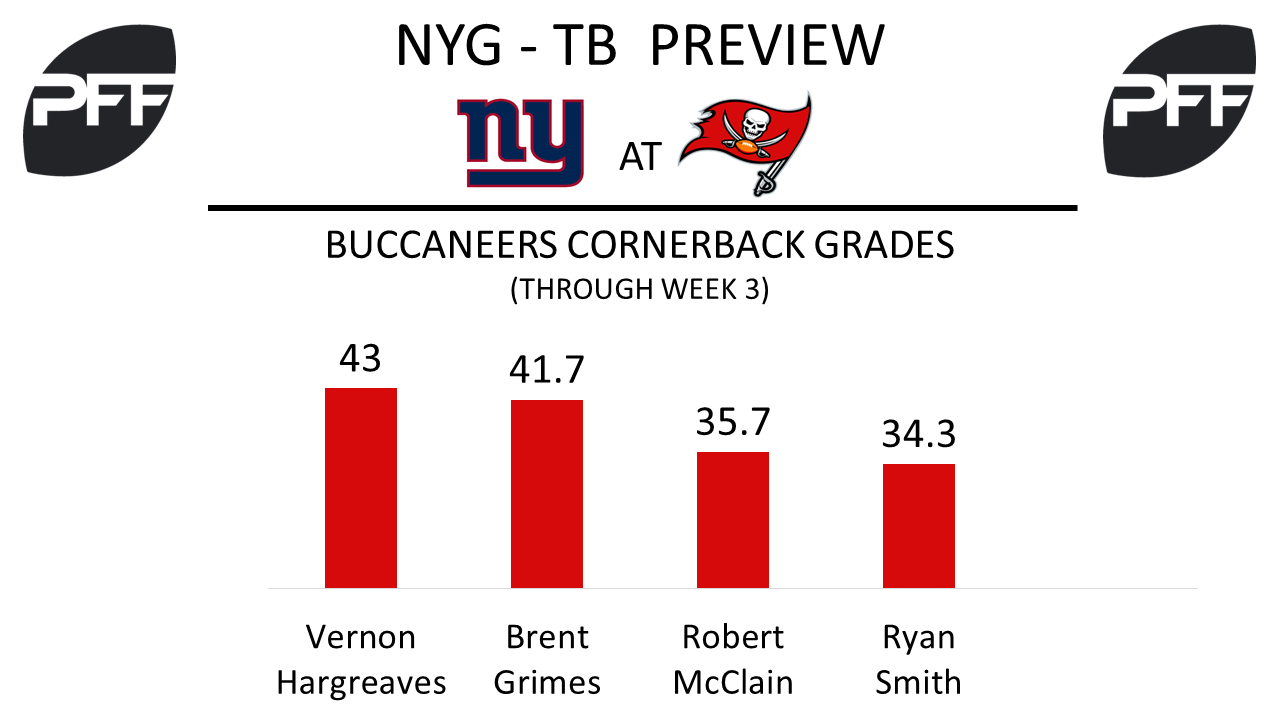 Coverage by: Bill O'Brien
WR Mike Evans vs. CB Janoris Jenkins – In what will be one of the highest profile wide receiver-cornerback matchups this weekend, all-pro wide receiver Mike Evans will match up with all-pro cornerback Janoris Jenkins. As expected coming into the season, Evans has been one of the highest-graded receivers so far, earning the 11th highest overall grade among receivers with a grade of 82.4. Jenkins is often tasked with matching up against the opposing team's No. 1 receiver. Through two games (Jenkins missed Week 2), the six-year veteran has allowed 1.07 yards per cover snap, which ranks 45th out of 109 qualified cornerbacks.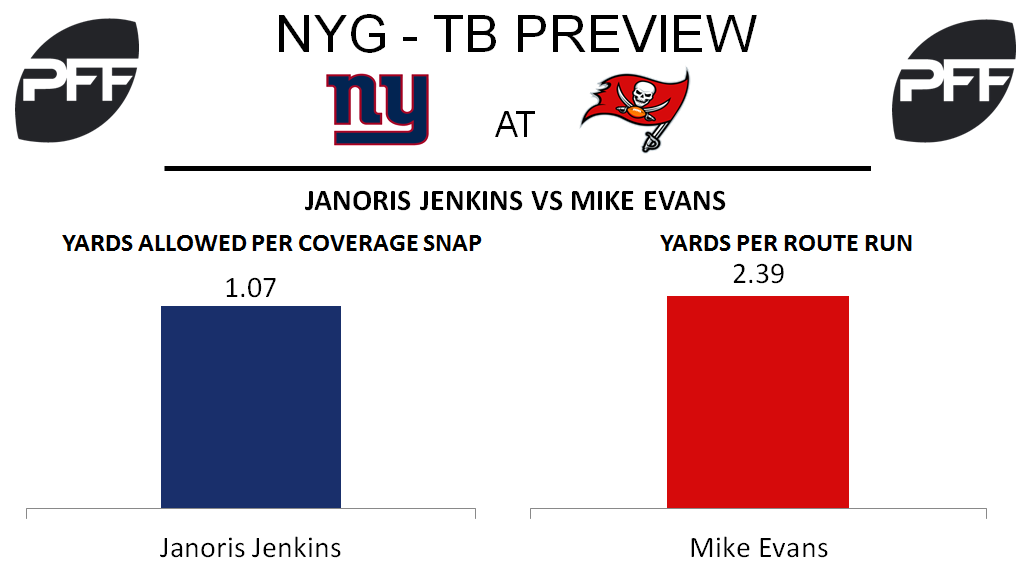 HB Jacquizz Rodgers vs. LB B.J. Goodson – In his second year out of Clemson, linebacker B.J. Goodson has become an integral part of the Giants' defense. Goodson has been out since Week 1 and without Goodson, the Giants allowed 193 yards on the ground last week. In his one start this season, Goodson missed one tackle while coming up with 16 total tackles, which was good for a 19.0 combined tackling efficiency. Running back Jacquizz Rodgers has gotten off to a slow start through the first two games. So far this season, Rodgers ranks 41st out of 50 qualified running backs in overall grade with a grade of 48.9.
T Demar Dotson vs. EDGE Jason Pierre-Paul – Bucs' right tackle Demar Dotson has been one of the best tackles in the NFL so far in both pass blocking and run blocking. He has excelled especially in pass blocking, as he has earned a pass-blocking efficiency rating of 98.0, which ranks seventh out of 70 qualified tackles. Dotson will be matched up mostly against edge defender Jason Pierre-Paul this week. Pierre-Paul has rushed 94 times from the defensive left side, which are the most rushes from that alignment among 4-3 defensive ends. Despite the high amount of snaps, Pierre-Paul has not lived up to his potential so far and has generated a pass-rush productivity rating of just 5.9.