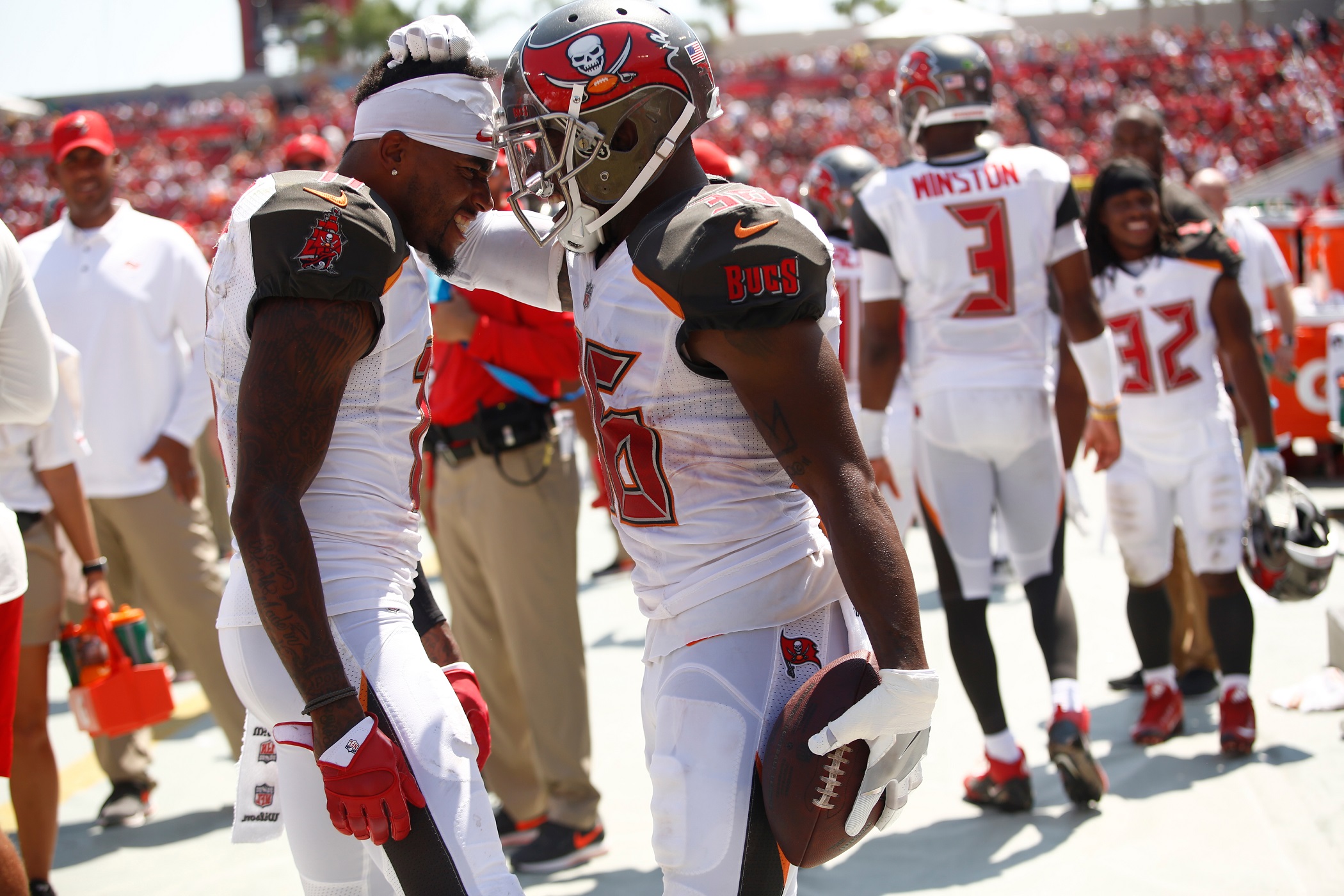 TAMPA, FL - SEPTEMBER 17: Defensive back Robert McClain #36 of the Tampa Bay Buccaneers celebrates with teammate wide receiver DeSean Jackson #11 following his 47-yard interception for a touchdown during the second quarter of an NFL football game against the Chicago Bears on September 17, 2017 at Raymond James Stadium in Tampa, Florida. (Photo by Brian Blanco/Getty Images)
Each week, the PFF analysis team will bring you break downs of the most important matchups for each game of the NFL season.

Coverage by: Bill O'Brien
WR DeSean Jackson vs. CB Trae Waynes – With star wide receiver Mike Evans likely to draw top cornerback Xavier Rhodes, the Buccaneers will likely need another receiver to step up outside of the marquee matchup between Evans and Rhodes. Jackson is one of the NFL's premiere deep threats and got off to a decent start last week in deep passing by catching one of his three targets of 20 or more yards down the field for 21 total yards. Waynes will need to be bounce back from some early season struggles as he has surrendered 2.42 yards per coverage snap, which ranks 65th out of 67 qualified cornerbacks.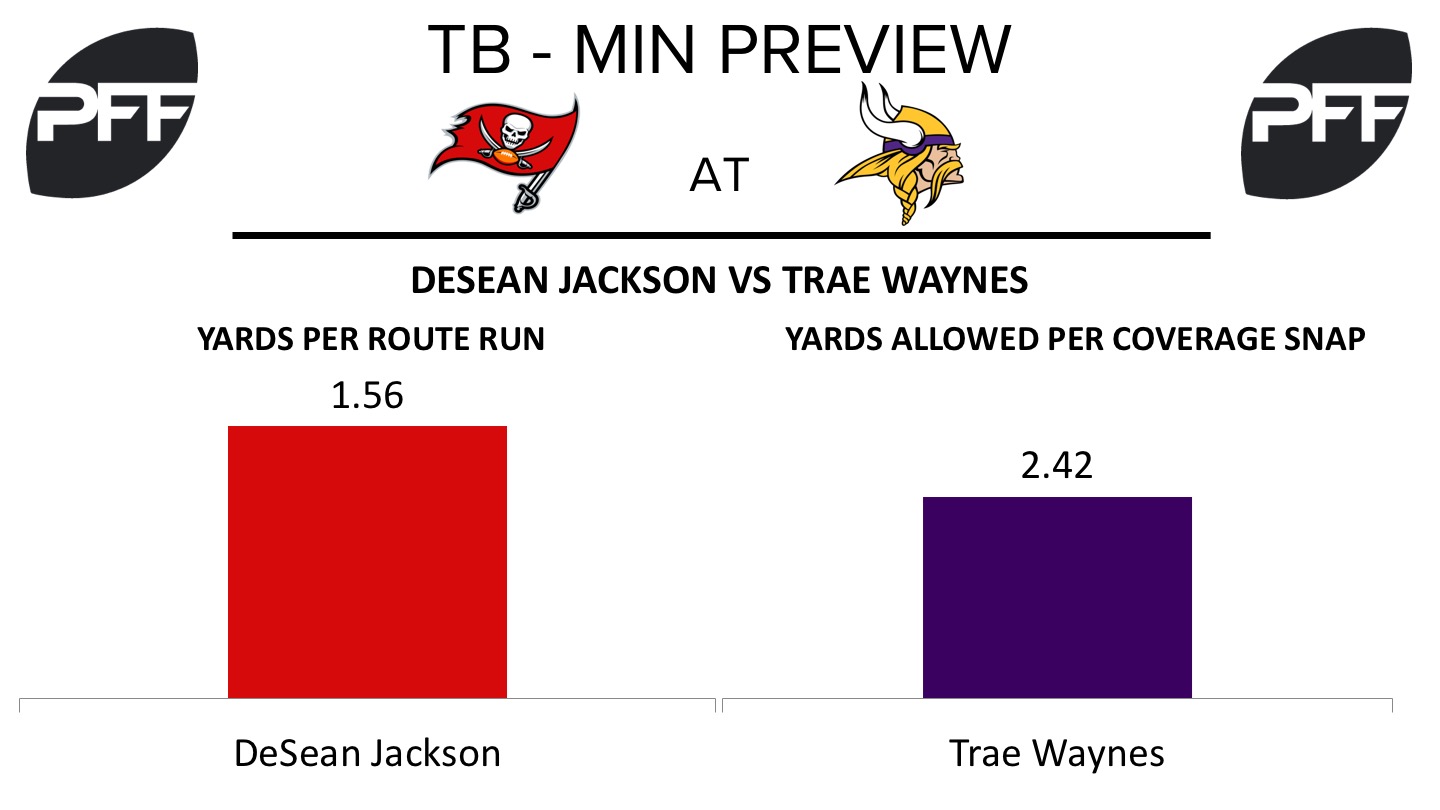 RB Jacquizz Rodgers vs. LB Eric Kendricks – Running back Jacquizz Rodgers drew the start and played well last week earning the highest game grade among Bucs' running backs with an overall grade of 70.0. Rodgers will be met with a difficult challenge from Vikings linebacker Eric Kendricks. Kendricks comes into the game after earning an overall grade of 80.0, which ranks 17th out 67 qualified linebackers.
T Donovan Smith vs. EDGE Everson Griffen – Left tackle Donovan Smith drew a tough matchup last week seeing mostly edge defender Leonard Floyd in passing situations. Smith ranks 64th out of 70 offensive tackles in pass-blocking efficiency with a rating of 88.2, while surrendering five total pressures. This week will be no easier as Smith will likely draw Everson Griffen in most passing situations. Griffen has rushed from the defense's right side on 61 of his 63 pass-rush snaps, earning the ninth highest pass-rush productivity rating out of 56 qualified 4-3 defensive ends with a rating of 13.1

Coverage by: Elliott Rooney
G Joe Berger vs. DI Gerald McCoy – Vikings guard Joe Berger will face-off against one of the NFL's best interior defenders Sunday. Berger has been okay through two weeks, earning an overall PFF grade of 79.6 which ranks 14th. He ranks 28th in terms of pass-blocking efficiency (PBE) with a rating of 96.5, allowing three total pressures over his 72 pass-block snaps (PBE measures pressure allowed on a per snap basis with weighting towards sacks). McCoy dominated in Tampa Bay's first game of the season, he earned an overall PFF grade of 91.8 against the Bears. McCoy dominated rushing the passer, tallying nine total pressures on his 27 passing snaps, leading all DTs in Week 2 with a pass-rush productivity (PRP) of 25.0 (PRP measures pressure created on a per snap basis with weighting towards sacks).
RB Dalvin Cook vs. LB Lavonte Davis – While not as good as his Week 1 performance Cook still impressed in Week 2 particularly as a runner, his run grade of 84.0 was the fifth highest for Week 2. When running with the ball he forced four missed tackles on his 12 rushing attempts for an elusive rating of 78.6 that ranked sixth in Week 2. David is the highest graded linebacker through two weeks of the season, in Tampa Bay's first game of the season he earned an overall grade of 91.3. David ranks ninth among inside linebackers in terms of run-stop percentage after collecting two stops on 16 run snaps against the Bears (a run stop is a tackle made in run defense that results in a "WIN" for the defense).