Beyond providing data for all 32 NFL teams, PFF also supports network broadcasters with game-preview packets that are used to enhance the in-game experience for fans and viewers. This Broncos-Ravens preview features the same information our broadcast partners use for team research and in-game production.


THE KEY TO CASE KEENUM IS HIS PLAY UNDER PRESSURE
The catalyst of Case Keenum's career year in Minnesota a year ago was his dramatic improvement in play under pressure. Keenum recorded a 78.5 passer rating on pressured dropbacks in 2017, ranking seventh among qualifiers.

DEMARYIUS THOMAS THRIVES IN CONTESTED SITUATIONS
Broncos wide receiver Demaryius Thomas ranked third in catch rate (58.6) in contested situations among receivers with at least 20 contested targets in 2017.

VON MILLER IS THE ENFORCER ON DEFENSE
Broncos' Von Miller is arguably one of the best defensive players in football largely because of his consistency. He has the most games with four or more pressures than any other NFL edge defender since 2014.

BRADLEY CHUBB HOPES TO BE MILLER's HEIR TO THE THRONE
At NC State a year ago, Bradley Chubb was an all-around player that could positively affect both the run and passing game along the edge. He ranked second in total pressures (59) and first in run-stop percentage (11.0) among draft-eligible edge defenders in 2017.


JOE FLACCO MAY BE ON HIS WAY OUT
Since recording a 105.2 passer rating from a clean pocket in 2014, Ravens signal-caller Joe Flacco has been on the decline. He earned a career-low 87.6 passer rating when kept clean this past season and is off to a middling start with a 95.3 passer rating from a clean pocket in 2018.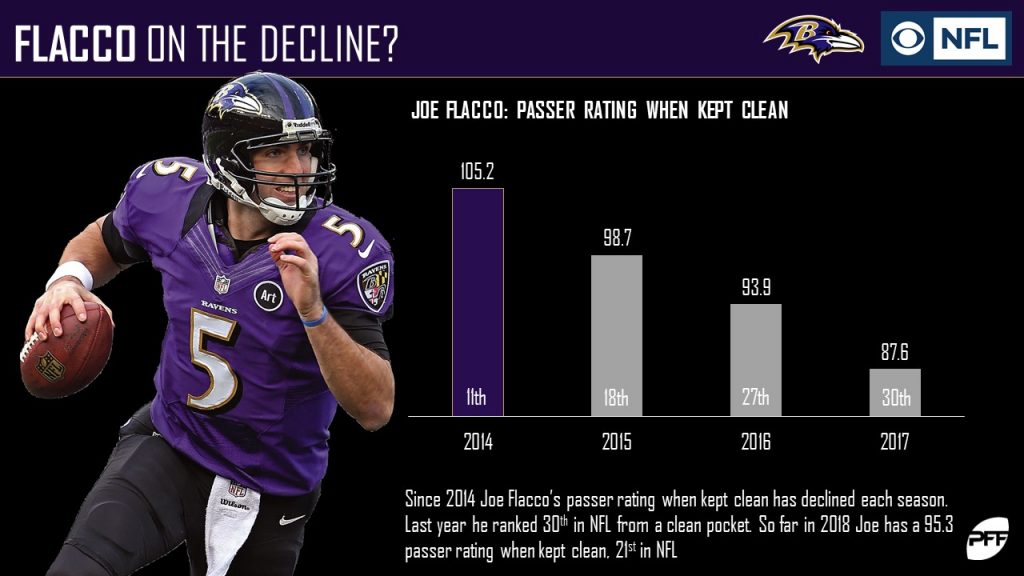 ALEX COLLINS NEEDS TO BREAK OFF SOME HOME RUNS
In 2017, Ravens running back Alex Collins tied for second in total carries of 15-plus yards, but he has yet to pick up where he left off this season. Zero of Collins' 16 runs this season have gone for 15 or more yards.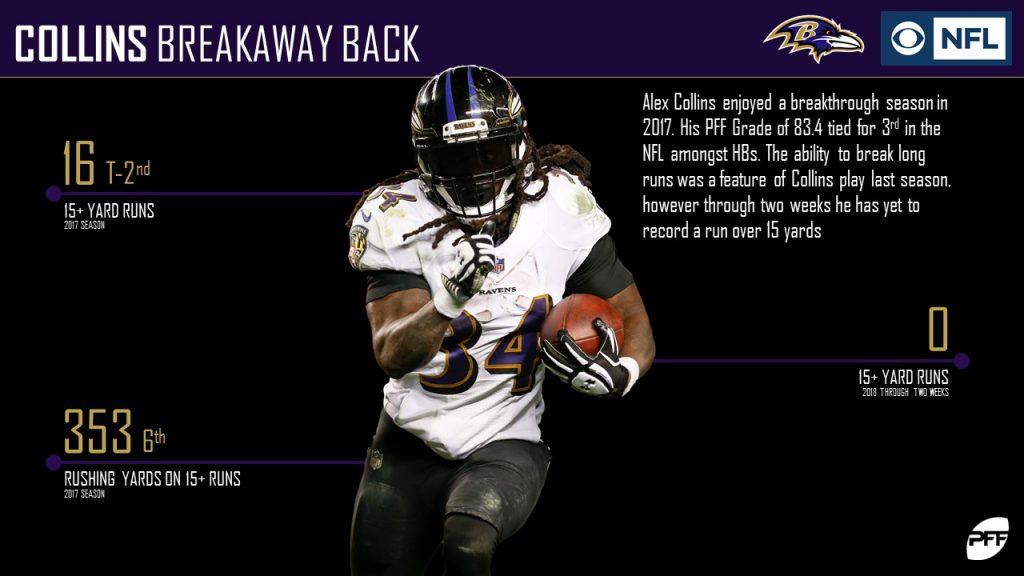 TERRELL SUGGS BECOMING AN AGELESS WONDER
Rapidly approaching 36 years old, Ravens star edge defender Terrell Suggs is a timeless piece to the Baltimore defense. He totaled 77 pressures in 2017, which fell just five pressure short of his career-high 83 pressures in 2010.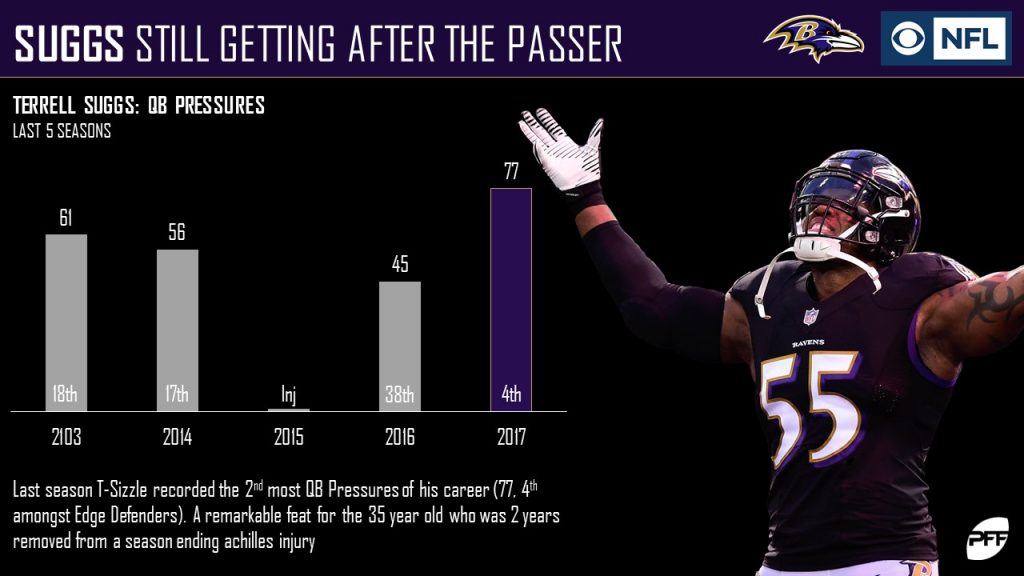 RAVENS' BIG MEN FEAST IN THE TRENCHES
Ravens' Michael Pierce and Brandon Williams are two vastly underrated interior defensive linemen that have repeatedly taken over games in the trenches. Pierce and Williams both earned top-seven run-stop percentages in 2017.