The Pittsburgh Steelers visit the Cincinnati Bengals in Week 13 of the 2017 NFL season. PFF previews the top player matchups of the game.

Coverage by: Mike Manning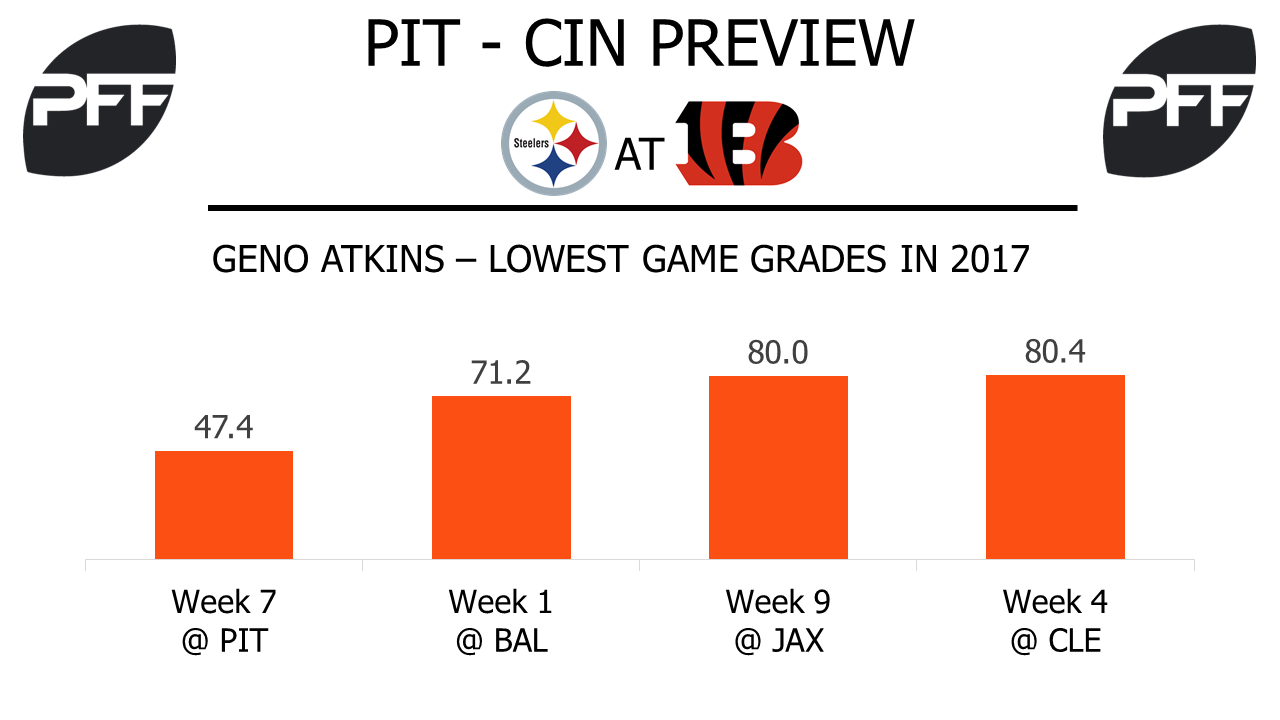 RB Le'Veon Bell vs. LB Vontaze Burfict – With 42 missed tackles forced this season, Bell ranks second in the league among halfbacks behind only Kareem Hunt's unbelievable 61. But Bell's 42 has come on a league leading 313 touches this season, nearly 100 more than Hunt's 220. Bell is on pace for 455 touches this season which would make him only the second halfback to reach 450 or more touches in a season since 2006, tying Larry Johnson's 455 in 2006. Knowing Bell is a focal point of the offense, Burfict will look to add to his 18 run stops and try to slow down the Steelers' back. With a run-defense grade of 86.7 this season, Burfict is the league's ninth-highest graded run defender at linebacker.
WR Antonio Brown vs. Bengals cornerbacks – In the past two weeks, Brown leads the league with a perfect passer rating of 158.3 when being targeted on 24 targets over that span. Brown is the league's highest graded receiver at 93.9 overall, even after dropping his first pass of the season in Week 10 against the Colts. The Steeler's receiver saw a little bit of each Bengals' cornerback in the Week 7 matchup with William Jackson faring the best, not allowing a catch to Brown on four targets, while Dre Kirkpatrick and Darqueze Dennard combined to allow a passer rating of 110.4 to Brown. Adam Jones will be active as well after missing Week 7, but his 43.7 overall grade this season is by far the lowest of his career.

PFFELO Ranking: 18
Coverage by: Lorin Cox
QB Andy Dalton vs. Steelers pass-rush – Dalton hasn't let pass-rushers affect his throws too much. This season, he has a 69.0 percent adjusted completion percentage when under pressure, the fifth-highest in the NFL. However, the pressure he is under is converted to sacks 24.1 percent of the time, tied for the third highest this season. Only one of his eight interceptions this year have come under pressure. The Steelers pressure quarterbacks on 42 percent of their passing plays and converts sacks on 10 percent of their pressures, both the second-best rates of any defense. Quarterbacks under pressure have not thrown a touchdown against Pittsburgh and have a NFL passer rating of 62.7, the 10th lowest in the league.
RB Joe Mixon vs. LB Ryan Shazier – Mixon is coming off of his highest-graded game of the season. He was the highest-graded running back in Week 12 at 93.5 overall. In that game he forced four missed tackles on 23 carries and picked up 71 yards after contact in a 114-yard performance. On the season, he is the 14th-highest graded running back at 80.1 overall. No linebacker has missed more tackles this season (19) than Shazier, but he's still the eighth-highest graded linebacker in the NFL at 84.7 overall. He's been targeted 58 times in coverage this season, the third-most at his position, but he leads all linebackers with six pass breakups so far.