After each week of the NFL season, and once our exhaustive All-22 review process is in the books, PFF will be bringing you the insights from our play-by-play grading of every NFL game with our team of the week.
This year we will match the new and improved All-Pro system when it comes to offensive and defensive formation, with a flex player for both sides of the ball that can be either a receiver, slot weapon, tight end or running back on offense, and anybody in the defensive secondary on defense. This gives us the flexibility to reward the player that best deserves it across multiple positions, rather than shoehorning in somebody just to fit a slot receiver or cornerback role. 

OFFENSE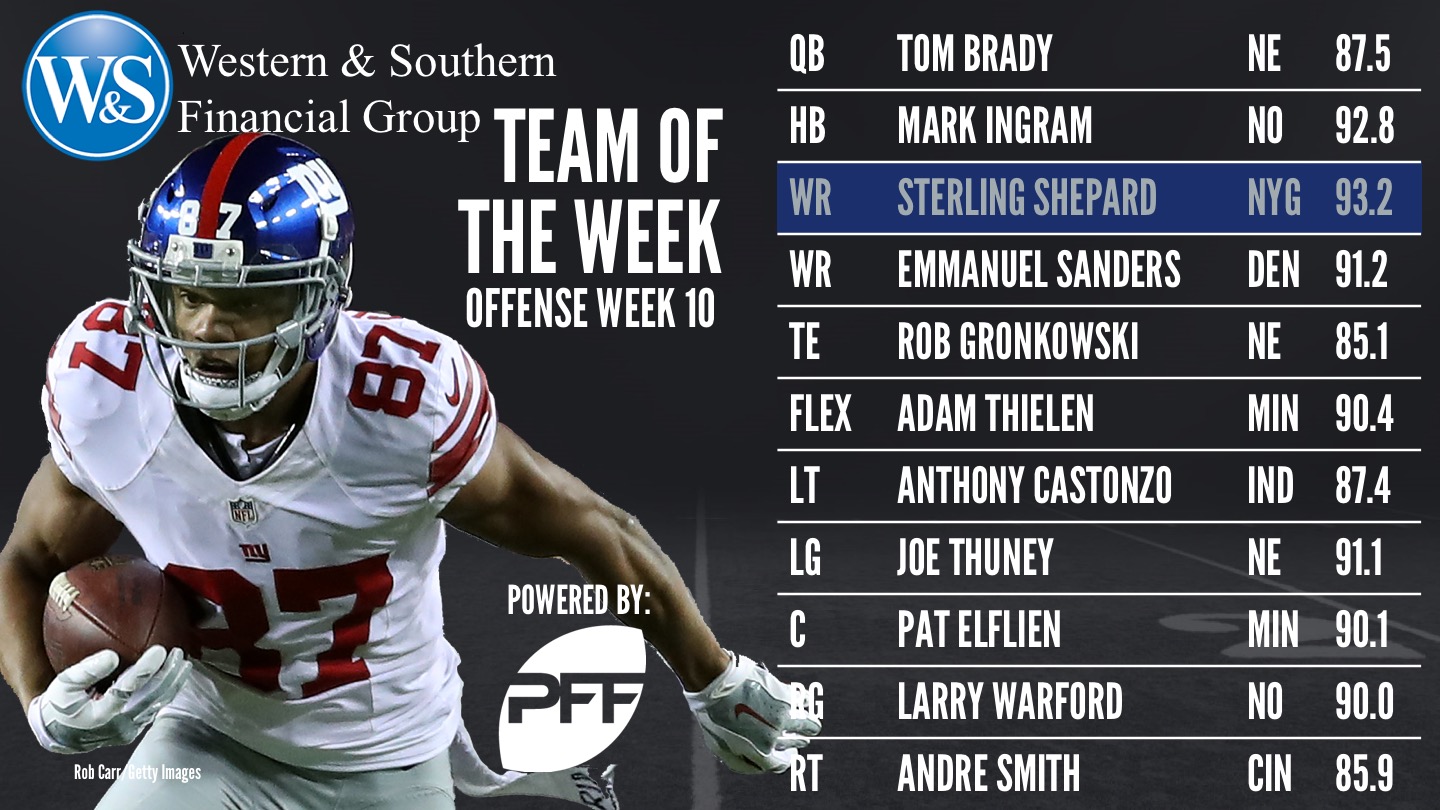 PFF Grade: 87.5
Elite Stat: Tom Brady had an adjusted completion percentage of 81.3 percent this week.
After getting spotted points by the Denver special teams units, the Patriots were able to carve up the Denver defense with ruthless efficiency. Tom Brady completed 70.4 percent of his passes from a clean pocket, but on the few occasions Denver were able to pressure him (eight times), he completed 85.7 percent of his passes and had a perfect passer rating of 158.3. Brady is once again the best quarterback in the game and adds to his tally of team of the week appearances.
PFF Grade: 92.8
Elite Stat: Mark Ingram had an elusive rating of 115.6, the best mark in the league this week among backs with more than 15 carries.
Mark Ingram and the Saints absolutely dominated the Buffalo Bills on the ground in this game. As a team they came just two yards shy of a 300-yard rushing performance, and Ingram accounted for 131 of them, with 102 of them coming after contact. He scored three touchdowns and broke five tackles on his 21 carries, consistently racking up positive yardage and making things happen behind some dominant blocking.
PFF Grade: 93.2
Elite Stat: Sterling Shepard gained 3.55 yards per route run this week.
Sterling Shepard has been elevated to the No. 1 position for the Giants due to all of their injuries, and he is really showing what he is capable of. In this came he caught 11 of the 12 passes thrown his way for 142 yards, including more than one spectacular catch. His best was a one-handed effort that came down the left sideline as he reached around a defensive back and made the play despite the coverage.
PFF Grade: 91.2
Elite Stat: Emmanuel Sanders gained 4.28 yards per route run this week.
The Broncos were in a hole all game long, but there was certainly life coming from Emmanuel Sanders in the passing game. He opened the game with a nice gain and ended up catching six of ten passes for 137 yards, 56 of which came after the catch. Sanders went up against Malcolm Butler most of the game and caught five passes for 99 yards against him despite close coverage most of the game.
PFF Grade: 85.1
Elite Stat: Rob Gronkowski gained 2.55 yards per route run this week.
Robbed of a touchdown by a replay review, Rob Gronkowski still managed to catch four of six targets for 74 yards, beating three separate Denver defenders for catches as the Broncos tried to find a player that could match up with him one-on-one. As is always the case, whoever it was came up second best and Gronkowski was one of he key weapons in the Patriots passing attack.
PFF Grade: 90.4
Elite Stat: Adam Thielen gained a crazy 6.15 yards per route run this week.
Adam Thielen has become one of the game's best receivers and arguably the best slot weapon in the NFL. He exploded this week for 166 yards against Washington, scoring a touchdown against Josh Norman and beating five different Washington defenders for receptions. Case Keenum had a passer rating of 145.1 when throwing Thielen's way.
PFF Grade: 87.4
Elite Stat: Anthony Castonzo allowed one pressure this week.
The Colts offensive line was largely overwhelmed against Pittsburgh, but most of the damage came up the middle against their defensive linemen. On the edge, they actually help up relatively well, and in particular Anthony Castonzo was excellent on the blind side. Castonzo allowed just a single hurry across 31 pass-blocking snaps, but also was the one member of the line to perform well in the run game.
PFF Grade: 91.1
Elite Stat: Joe Thuney allowed no pressures across 38 pass-blocking snaps.
The Denver defense was overmatched again this week, and Joe Thuney had the best game of his young career at left guard for the Patriots. Thuney didn't allow any pressures at all across his pass-blocking snaps, and his run blocking was excellent. His season has been inconsistent, but far more impressive than his rookie season, and his highs this year speak to his ability to be a very promising player down the line.
PFF Grade: 90.1
Elite Stat: Pat Elflein allowed two pressures from 30 pass-blocking snaps.
The Vikings line has been much improved this season, and games like this from rookie center Pat Elflein will help it get even better. Against Washington he did allow a couple of pressures, but they were both hurries, and his run blocking more than made up for that. He was given a boost with Washington electing to play Ziggy Hood at nose tackle, but this was an impressive game from the rookie.
PFF Grade: 90.0
Elite Stat: Larry Warford allowed no pressures from 25 pass-blocking snaps.
The Saints offensive line was a dominant force against the Bills, blowing them off the ball and opening up huge running lanes for their stable of backs to exploit. Warford didn't allow any pressures across his passing plays, but like the rest of that line he was dominant in the run game, and the Saints gained 106 rushing yards just on runs that went immediately either side of his blocks.
PFF Grade: 85.9
Elite Stat: Andre Smith allowed one pressure this week.
Andre Smith hasn't had a season to remember back with the Bengals, even if he has found himself with playing time due to the team's struggles on the line. This game though was a flashback to his 2012-13 seasons where he was one of the game's best right tackles. He allowed one pressure in the game, but put his size and strength to good use in the run game.
DEFENSE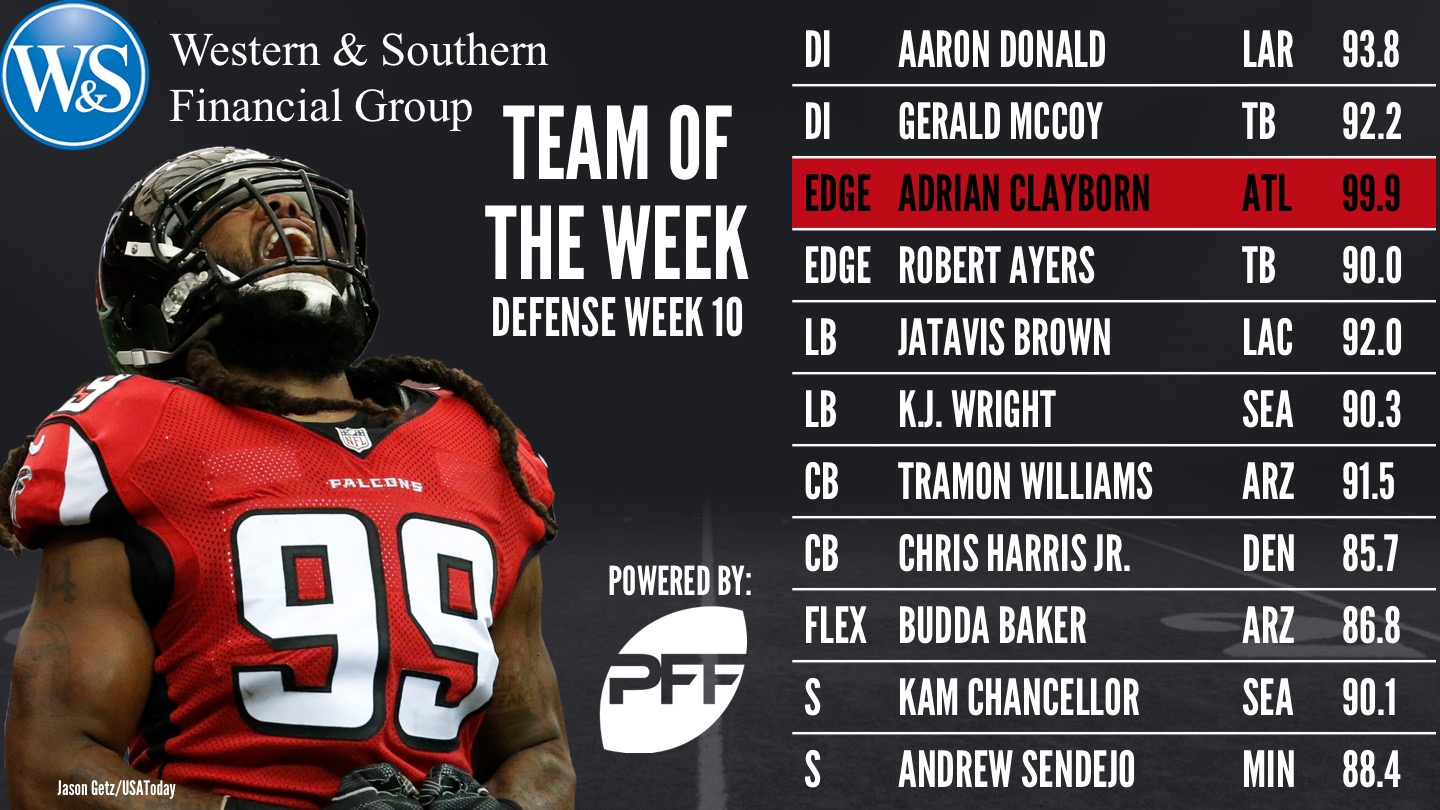 PFF Grade: 93.8
Elite Stat: Aaron Donald had a pass-rush productivity score of 22.6, the best at his position this week.
We may have to rename one of the interior defender spots on this team of the week after Aaron Donald, as he consistently becomes one of the first names on the sheet week in and week out. Against a poor Texans offensive line, Donald's dominance didn't take a clairvoyant to predict. He had a sack and eight additional hurries from his 34 pass-rushing snaps, ending the game with three defensive stops overall.
PFF Grade: 92.2
Elite Stat: Gerald McCoy had five pressures against the Jets.
Gerald McCoy and the rest of the Tampa Bay defensive line went to work on the Jets this week. McCoy finished the game with two sacks, two hits and a hurry from 37 pass-rushing snaps, totaling four defensive stops overall. He was dominant against both the run and pass, proving too quick for the Jets linemen to block and prevent from surfacing deep in the backfield time and time again.
PFF Grade: 99.9
Elite Stat: Adrian Clayborn had 11 total pressures and six sacks from just 33 pass-rushing snaps.
There's no doubt level of competition was a huge factor in this, but Adrian Clayborn took Chaz Green, and later Byron Bell, to pieces all game long. Virtually every time he found himself one-on-one with a blocker he was beating them and generating pressure, ending the game with six sacks and 11 total pressures. This was a truly dominant defensive performance against a backup tackle, and a true endorsement for backups needing help.
PFF Grade: 90.0
Elite Stat: Robert Ayers had five total pressures against the Jets.
Robert Ayers didn't get himself a sack, but did knock the quarterback down three times and hurry him another two occasions in his 36 pass-rushing snaps. Ayers also had an impressive performance in the run game, posting three defensive stops there as the Bucs suffocated the Jets offense that had been so successful the week before.
PFF Grade: 92.0
Elite Stat: Jatavis Brown had had a run-stop percentage of 10.0 against the Jaguars.
With the Jaguars coming into the game as one of the league's most punishing rushing attacks, the pressure was going to be on the Chargers linebackers to match them in physicality. As it happened, the Jaguars took to the air in the game, allowing Jatavis Brown to spend 43 of his 53 snaps focusing on the pass. He finished the game with four defensive stops and the three receptions he allowed in coverage totaled negative yards.
PFF Grade: 90.3
Elite Stat: K.J. Wright had a run-stop percentage of 21.7 against Arizona.
Back on Thursday night the Seahawks defense was somewhere near its best, even if it suffered a huge loss with the injury to Richard Sherman. K.J. Wright ended the game with a team-leading six defensive stops, and broke up a couple of passes in coverage from the ten times he was targeted in the game.
PFF Grade: 91.5
Elite Stat: Tramon Williams allowed 14 yards from six targets in coverage this past week.
The Cardinals have been desperately searching for a cornerback to play opposite Patrick Peterson and not be a liability for years. They found one on Thursday night at least in the shape of Tramon Williams. Williams was thrown at six times, allowing just three receptions for 14 yards. He broke up all three of the incomplete passes.
PFF Grade: 85.7
Elite Stat: Chris Harris allowed just 11 yards from four targets against the Patriots.
Chris Harris may have seen the Patriots rack up points, but he had a fine performance on an individual level, largely shutting down Brandin Cooks when those two went head to head. Harris was thrown at four times, and he allowed two catches for 11 yards, breaking up one of the incompletions. Cooks caught just one of three targets when covered by Harris Jr., for just six yards.
PFF Grade: 90.1
Elite Stat: Kam Chancellor had a run-stop percentage of 19.0.
Kam Chancellor played the game against Arizona effectively as an extra linebacker in the box, a fact reflected in his run-stop percentage of 19.0. The Seahawks were dominant against the run, stuffing Adrian Peterson and the Cardinals ground game repeatedly, and Chancellor was one of the big reasons for that, dominating his blocks on the fringes and proving too tough for receivers to block.
PFF Grade: 88.4
Elite Stat: Andrew Sendejo didn't allow a catch on three targets in coverage.
Andrew Sendejo's tape this week was a perfect highlight of the play never being over until the very end. Twice his man had a touchdown pass in his hands in the end zone only for Sendejo to break it up before the play had been completed. These are the fine margins defensive backs are working with, and this week Sendejo was on the right side of them.
PFF Grade: 86.4
Elite Stat: Budda Baker played 29 coverage snaps and was targeted just once in primary coverage.
Budda Baker had the best game of his young career against Seattle back on Thursday night, and it came in the first game that he has seen more than ten snaps on defense. Baker made six solo tackles and two defensive stops, while also breaking up a pass in coverage and allowing just one reception for four yards when in primary coverage.
Several kickers were perfect in Week 10, and while Barth didn't attempt any kicks from 50 yards and beyond, he was the only kicker to make three kicks of 40 yards and longer, doing so in the Bears loss to the Packers.
Fun fact of the week; Berry hasn't had a negatively graded punt since Week 4 against the Baltimore Ravens. Against the Colts in Week 10 he was outstanding, with three of his six punts landing inside the opposing 20-yard line.
Agnew might not have found the end zone, but he did have two huge punt returns in the fourth quarter in a game that the Lions needed every bit of help they could get. On his final two punt returns, Agnew forced three missed tackles.
Ebner was impressive on special teams for the Patriots, making two tackles on kick returns in their win over the Broncos. He also had two key blocks on kick returns and, in a game where the Patriots special teams strength was clear, he stood out above anyone else.