The Minnesota Vikings dethroned the Green Bay Packers to take the NFC North crown last season, but a missed 27-yard field goal meant they were one-and-done in the playoffs. Mike Zimmer's side will build on that year and avoid repeating the same mistakes as they look to become legitimate Super Bowl contenders in 2016. Do they have what it takes to make that happen? Let's take a look through the roster:
[More: Be sure to check out PFF's ranking of all 32 NFL QB situations, offensive lines, running back units, receiving corps, secondaries, and defensive front-sevens. Catch up on all the team previews here.]
Bridgewater struggling in the system
Quarterbacks: 16th
The situation with most team's quarterback is pretty simple — they're either viable or not — but the state of play in Minnesota with Teddy Bridgewater is a little more complicated than that. At the tail end of his rookie season, Bridgewater was playing fantastic football. In the second half of the season, only two QBs had a higher PFF grade than he did that year — Aaron Rodgers and Drew Brees. He was one place above Tom Brady, who had bounced back from his poor start. But Bridgewater did not perform well in his second year, and looks entirely ill-suited for the passing attack Norv Turner has crafted.
Bridgewater is one of the league's most accurate passers, especially underneath, but the Vikings have eschewed the kind of spread-influenced offense much of the league runs that would likely suit Bridgewater very well, and instead of still attacking deep and using a lot of seven-step drops. In this offense, Bridgewater may never be better than average, despite his ability to improvise and make plays.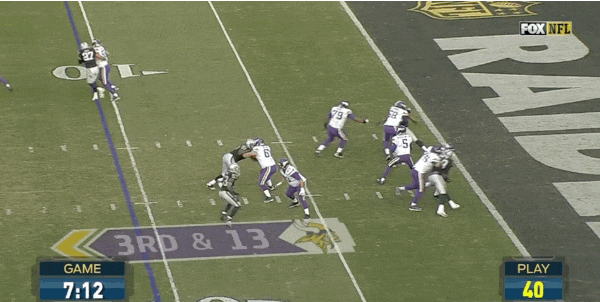 Peterson can still make big-time plays, but…
Running Backs: 5th
Adrian Peterson is an all-time great, and still capable of making big plays in an instant with the ball in his hands. Few runners are more punishing over a game to a defense, and he is capable of carrying the team at times. The trouble is that he isn't a capable receiver or blocker, and in a passing league he has no presence in that area of the game, meaning he isn't even on the field in many of the team's most game-crucial situations. Matt Asiata and Jerick McKinnon deputize as passing down backs for him in those situations, but neither is a guy that would unseat a player of genuine quality in all three phases.
(PFF Fantasy Insight: The Adrian Peterson situation has been one of fantasy's biggest topics this offseason. Jeff Ratcliffe explained why Peterson is no longer a top-five fantasy RB, while Dan Schneier tried to find a rationale for the other side. He's currently No. 6 at the position in our staff consensus ranks, and Jerick McKinnon needs to be on every dynasty player's radar.)
All eyes on the rookie
Receiving Corps: 24th
Like the QB situation, the Minnesota receiving corps is influenced by the passing scheme, which isn't often putting them in the best place to succeed. Stefon Diggs broke out as a rookie with a surprise season but over the second half of the year actually graded very average, catching just 27 passes over the final nine weeks. Diggs needed help and much will rest on the shoulders of rookie Laquon Treadwell. He graded well but not spectacularly in college over the past two seasons at PFF, but our advanced data shows he had real problems separating on anything but the quickest underneath stuff. His best facet is his work after the catch that saw him break 17 tackles in 2015 and 14 the year before in just nine games before injury struck.
O-line still searches for its identity
Offensive Line: 15th
There is a quality offensive line somewhere in the unit of players the Vikings have, but it remains to be seen if they'll be able to discover it by the time the season rolls around. The Vikings have as many as seven linemen that have enjoyed high quality seasons in the past and maybe up to five that have shown All-Pro level play over a season throughout their careers, and yet the only one to do so within the last two years is likely on the bench (Joe Berger). Most of this unit is going back as far as 2012-13 for their best play, and the more recent tape isn't nearly as pretty. Getting John Sullivan back can't be a bad thing, but given how well Berger played in his stead last year it may be a sideways step at best. Moving Fusco back to RG where he enjoyed his best football could be the biggest impact move they have made, but where exactly this unit will end up as a group is anybody's guess.
Joseph and Floyd make for a dynamic duo
Front Seven: 6th
This is where we get to the true quality of the Vikings roster. Mike Zimmer has added to a defense that already had a couple of key pieces in place and brought a real nasty streak to the team that can suffocate opposing defenses. When healthy, Linval Joseph and Sharrif Floyd form a very effective DT duo, while Everson Griffen is a quality DE. This could be the season that Danielle Hunter emerges alongside him after a very promising rookie campaign that saw good grades as a run defender and pass rusher. Anthony Barr has become one of the league's best young LBs and while Eric Kendricks wasn't stellar as a rookie, there were flashes of what could be to come. The only real weak link is the team's loyalty to Chad Greenway, who has far outlived his quality play and is getting on the field purely for veteran savvy and leadership at this point.
Harrison Smith leads the way
Secondary: 7th
Harrison Smith may just be the league's best safety, and is probably the league's most versatile. The Vikings tied him up to a big-money contract, and he leads this unit. Xavier Rhodes didn't kick on in 2015 as we expected after a fine season the year before, but Captain Munnerlyn and the ageless Terence Newman both had good years to create a very solid CB group. Rookie Mackensie Alexander and second year player Trae Waynes both have big time talent, but some rough edges that need work, and it will be interesting to see how much playing time both could earn this year. If either works out this unit will be in good shape for years to come.