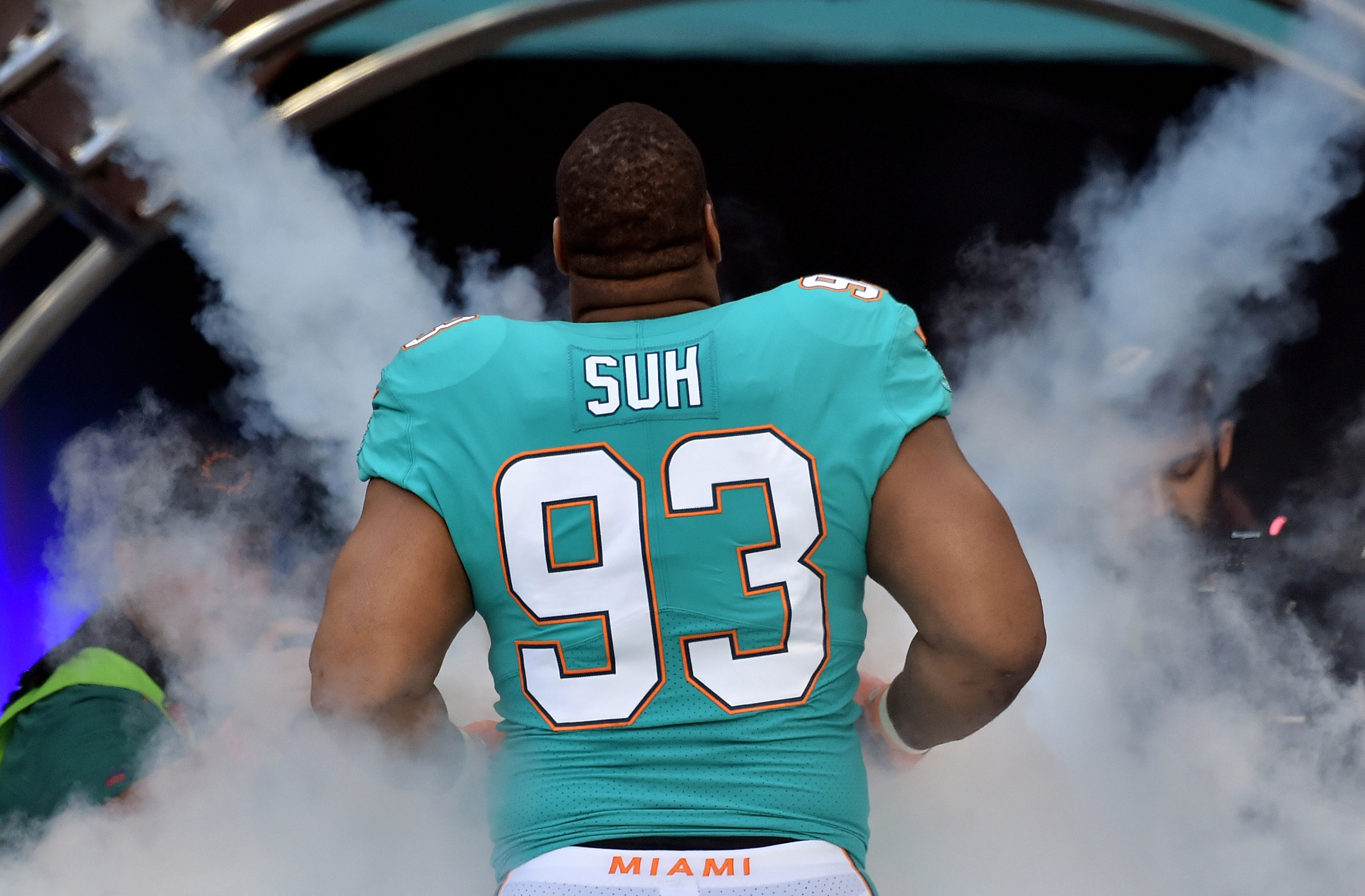 Dec 3, 2017; Miami Gardens, FL, USA; Miami Dolphins defensive tackle Ndamukong Suh (93) is introduced prior to a game against the Denver Broncos at Hard Rock Stadium. Mandatory Credit: Steve Mitchell-USA TODAY Sports
March is almost over but it's possible that the Los Angeles Rams signing of Ndamukong Suh on Monday evening will go down as the most important move of the offseason. After turning the Rams into a playoff contender in 2017, head coach Sean McVay has seen his defense transformed during an aggressive offseason to date. After adding cornerbacks Aqib Talib and Marcus Peters, the signing of Suh up front indicates that the Rams expect to be among the top teams in the NFL in 2018.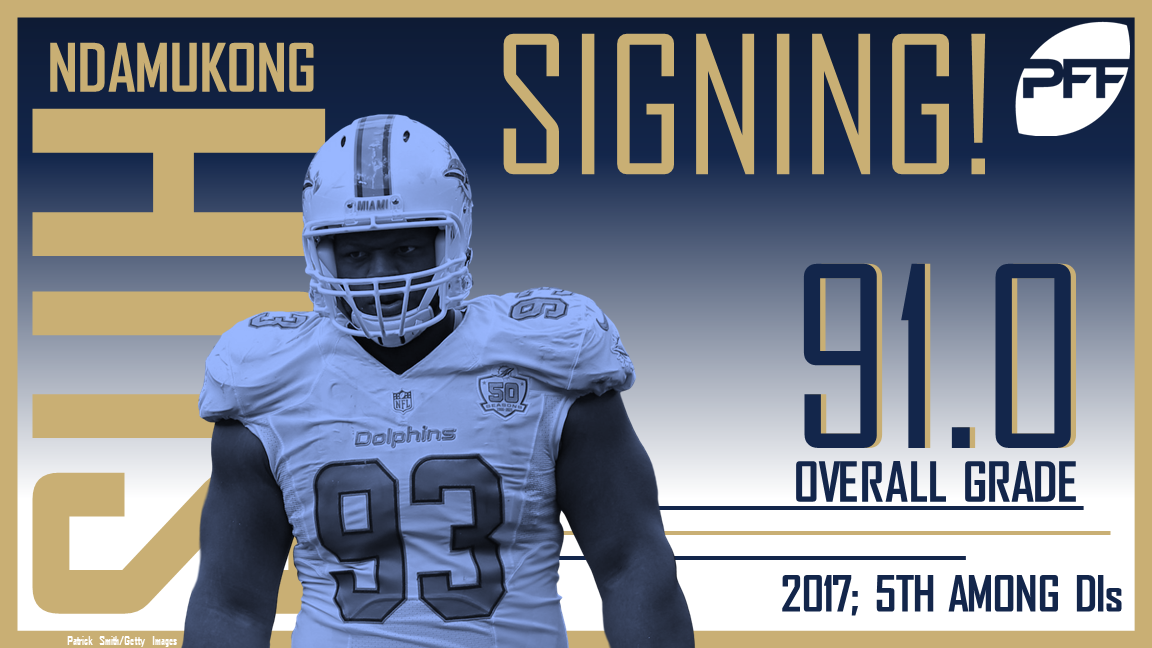 On the surface, the move will strike fear into opposing offenses, particularly in the NFC West, but what does the move mean for Suh, star defender Aaron Donald and the rest of the Rams defense in 2018?

Headline dominance
The raw numbers in 2017 suggest that this is a move that will allow the Rams' defense to wreak havoc this season. Suh racked up five sacks, eight hits and 30 hurries over the course of the season, ranking 13th among players on the defensive interior in terms of total pressures. Those numbers are impressive, but they pale in comparison to Donald, who has solidified his position as the premier defensive player in the NFL, racking up 91 total pressures in the 2017 regular season.
The new duo's dominance goes beyond just 2017 too, with both Suh and Donald ranking in the top 10 in total pressures on the defensive interior in each of the past four seasons. In terms of PFF grade, Donald has produced grades of 99.3, 98.5 and 99.7. That's a three-year run that eclipses even what J.J. Watt did between 2012 and 2015. While not quite up there with Donald, Suh has still produced grades of 92.5, 89.3 and 91.0 over the past three seasons.
What is incredible, is that a player of Suh's level will be considered the complementary part of this duo, and the fact that defenses will likely have to focus on Donald, should free him up to put up some impressive numbers before he hits free agency again in 2019.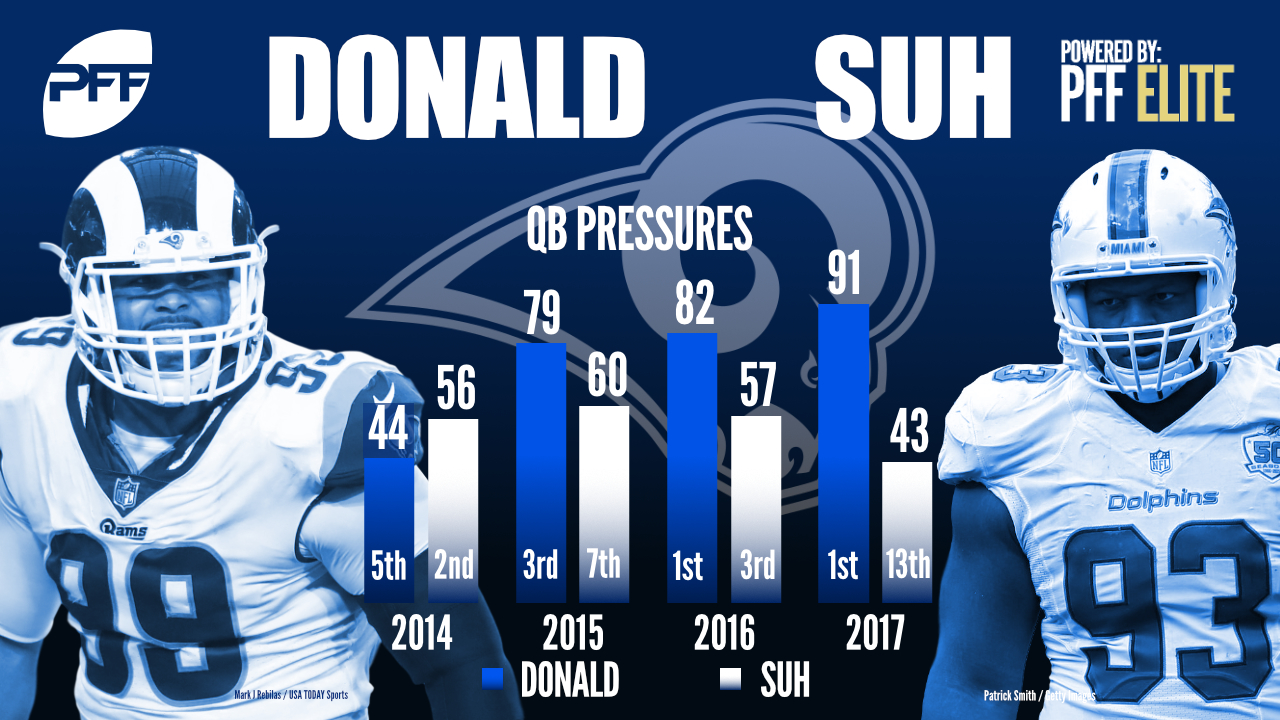 How they could be used
After the initial reaction for what this means for opposing quarterbacks and offenses around the NFL, the next interesting discussion point is how the Rams will use both of them. When you look at how they were both utilized in 2017, you see that both Suh and Donald saw a significant number of snaps at 3-tech. The 3-tech is the most fashionable position on the defensive interior, lining up on the outside shoulder of the guard and generally being the position people think of when they think of disruption, both in the passing game and the running game.
While Donald and Suh saw 505 and 442 snaps at 3-tech respectively, the biggest difference in 2017 was that Suh saw significantly more snaps between 1-tech and 2-tech. While Donald saw just 38 snaps lined up in those spots, Suh saw 229. At 2-tech, a player will line up over the guard, and at 1-tech he will be lined up inside, so the fact that Suh has experience playing at these spots will allow the Rams to use both of them at the same time.
What will be interesting to see is how the move impacts Michael Brockers. He saw 150 snaps at 1-tech, 162 at 2-tech, 90 at 3-tech and 226 at 4-tech. With the Rams giving Donald 788 snaps and Brockers 727 including the playoffs in 2017, and with Suh seeing 877 with the Miami Dolphins, it's likely that Brockers will see a reduction in snaps in 2018. That being said, with three talented players, this move will allow the Rams the opportunity to rotate more, keeping the trio fresher late in games.
Stating the obvious, but Suh can make plays when not lined up at 3-tech pic.twitter.com/mreZn6rP1z

— Gordon McGuinness (@PFF_Gordon) March 27, 2018
What it means for the NFC West
With this addition to the Rams' defensive front, the San Francisco 49ers decision to add Weston Richburg to their offensive line this offseason looks even better. Richburg has exceled in pass protection, allowing just two sacks, one hit and eight hurries in 2016, his last full season at center. That will be key with question marks at guard as Laken Tomlinson allowed 39 total pressures in 2017, Joshua Garnett struggled as a rookie and missed all of 2017, and new signing Jonathan Cooper has graded at 67.0 or lower in three of the four seasons in the NFL when he has seen the field.
The Arizona Cardinals added offensive lineman Justin Pugh, but the question remains whether or not he'll play tackle or guard in 2018. Elsewhere on the Cardinals line, Mike Iupati saw just 70 snaps before injury ended his season, a year after allowing 32 total pressures. At center, A.Q. Shipley is coming off the lowest graded season of his career at 45.8, struggling as a run-blocker and allowing 18 total pressures including five sacks.
Offensive line has long been the biggest issue for the Seattle Seahawks, and this signing by the Rams brings that even more into focus. With big issues on the offensive interior, with new signing D.J. Fluker producing grades of 50.2 or lower over the past three seasons, they will be looking for Justin Britt to get back to the form that saw him grade at 79.9 in 2016, and second-year man Ethan Pocic to kick on in his sophomore season in the NFL.