The majority of free agents have already signed on the dotted line this offseason, but there is one big name still available on the market that doesn't seem to be making the headlines – Ndamukong Suh.
Suh is no doubt one of the more polarizing players in the NFL; while many have lauded his play on the field over the years, he has earned a reputation as being a player who toes the line between playing hard and playing a little too over-aggressively. Be that as it may, he has been a consistent force on the interior over recent seasons, and he is one of only six players at the position who have recorded 80.0-plus overall grades in each of the last four campaigns.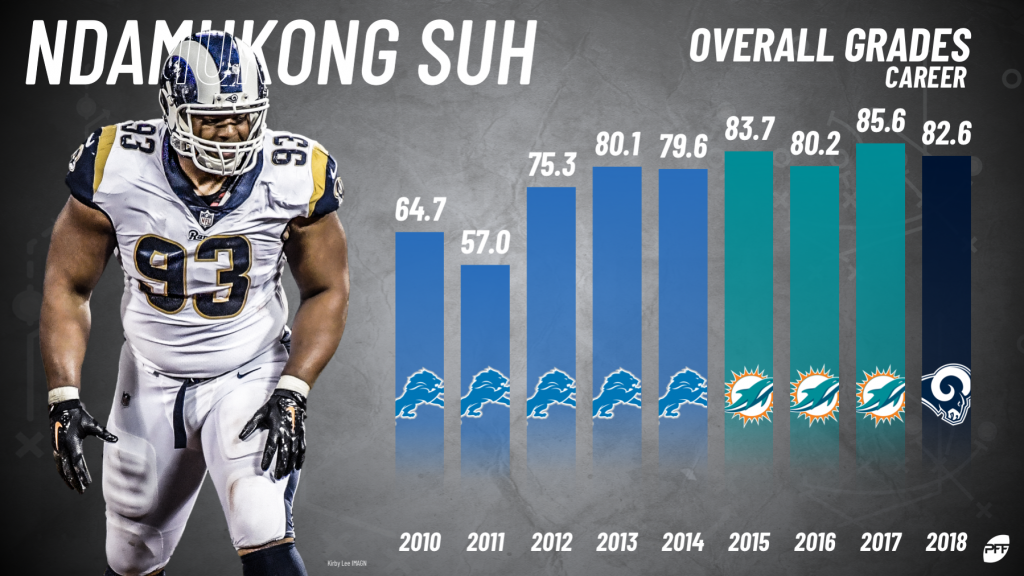 Suh is also one of the more durable players in the league and has been a pinnacle of health throughout his career, averaging 935 snaps per season including the playoffs. He has only missed two games over his nine-year career and has finished with at least 40 quarterback pressures in every single season since 2010.
The 2018 season may not have been a banner year for Suh, but his performance throughout the Rams' campaign is proof that he can still be a difference maker in the NFL. The ninth-year interior defender played the third-most snaps of any defensive tackle during the regular season, and when it was all said and done he had earned an 82.6 overall grade – the third-best mark of his career. His career-best overall grade (85.6) came just a season prior season with the Miami Dolphins, which perhaps shows that his play isn't falling off as much as people think.
Over the last three seasons, Suh has been one of the most productive run stoppers in the entire NFL. He's earned a run-defense grade of 91.1 over that span, sixth among qualifying players at the position, while his 83 run stops are tied for the seventh-most.
He obviously doesn't come without concern, as the 32-year-old is coming off his lowest-graded season as a pass rusher, but even that resulted in a cool 57 pressures last year, while he also managed to tally nine pressures in the postseason, two more than even teammate Aaron Donald.
Unfortunately for the Rams, they seemingly don't have the cap space to re-sign Suh, but he would be a solid addition to another team as a rotational impact player who can be a disruptive force against the run who can also contribute to the pass rush. Signing him to a one-year deal was a good move for the Rams last year, it could be so again for the next team that steps up.