This list takes a look at the players who saw the largest increase in PFF overall grade from the 2015 season to the 2016 season. The players considered had to see enough snaps during both seasons to qualify for a ranking. Many on this list had very unimpressive 2015 seasons, so while they did improve, they still did not achieve a high-quality or elite-level grade.
Quarterback
1. Andrew Luck, Colts
2015 season grade: 45.1
2016 season grade: 92.4 
Since 2013, Luck has ranked ninth, fifth, 37th, and fourth in PFF grades among QBs. In his 2015 season, he was plagued by injury, missing the first two games of his career (shoulder) before going down with a lacerated kidney and a partially-torn abdominal muscle. In 2016, Luck recorded a 112 QB rating (fifth) when throwing from a clean pocket. For perspective, this number dropped to 91.9 (29th) in 2015. He is elite when healthy, ensuring his place on the list because of an outlier season.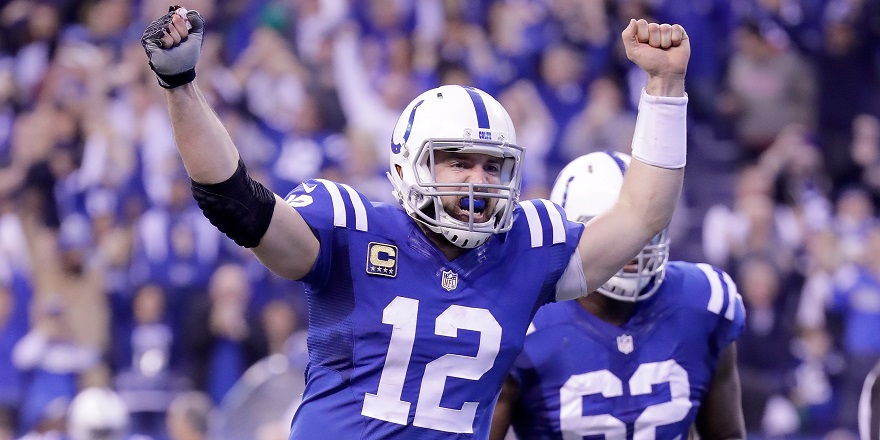 2. Colin Kaepernick, 49ers
2015 season grade: 42.9
2016 season grade: 61.9
Kaepernick may come as a surprise to most, as his 2016 campaign wasn't very impressive. While he didn't improve on his passing, he was once again dangerous with his legs. Kaepernick earned an 89.6 run grade this past season, third-highest among QBs since 2015. 6.8 yards per rush is nothing to sneeze at, and if he wants to keep his value in the league, he'll continue to make plays with his feet by scrambling.
3. Matthew Stafford, Lions
2015 season grade: 76.8
2016 season grade: 85.4
Shortly following WR Calvin Johnson's retirement, Matthew Stafford earned the highest PFF grade of his career. Who would've thought? He vastly improved in two vital stats that measure QB success—deep-ball accuracy (34.0 percent in 2015 compared to 42.4 percent in 2016) and accuracy under pressure (61.5 percent compared to 65.7 percent). In stepping up his game in these areas, Stafford led the Lions' charge to the playoffs. Get this man some more weapons and missing O-line pieces (Detroit has signed RT Ricky Wagner and G T.J. Lang this offseason), and his improvement should continue. 
Running back
1. DeMarco Murray, Titans
2015 season grade: 51.9
2016 season grade: 77.7
Moving from Chip Kelly's inside zone to Mike Mularkey's "exotic smashmouth" proved to be an absolute game-changer for DeMarco Murray. From Dallas to Philadelphia to Tennessee, the running back hasn't been a stranger to changes in scenery. Not only did Murray run the ball more aggressively, but his pass blocking improved, as well. He allowed just four QB pressures across 115 pass-blocking snaps. Running behind one of the league's best O-lines with an emerging quarterback will continue to help Murray, and he may find even more success next season if the Titans can add some playmaking wide receivers.
2. Tevin Coleman, Falcons
2015 season grade: 50.3
2016 season grade: 74.1
As one of Matt Ryan's most dangerous weapons during the Falcons' Super Bowl run, Coleman did most of his damage catching the football. He gained a position-high 2.44 yards per route run, having massive success on running back screens, flares, backfield outs, and standard WR routes. Running these patterns, Ryan had a perfect passer rating (37 targets, 33 receptions, 463 yards, and five TDs) when targeting Coleman. He did show slight improvement running the football, but is better used as a versatile change-up to teammate Devonta Freeman.
3. Melvin Gordon, Chargers
2015 season grade: 59.4
2016 season grade: 82.5
2016 was an incredible breakout sophomore season from Gordon, who notched 12 total TDs and two fumbles. What a difference from his rookie season, in which he failed to find the end zone and fumbled a position-high six times. After undergoing knee surgery this offseason, Gordon's believers were few and far between. Teammate Danny Woodhead tore his ACL in Week 2, yielding nearly all responsibilities to Gordon—and boy, did he shine. Showing explosiveness, Gordon recorded 16 runs of 15-plus yards (tied for fourth among 53 RBs).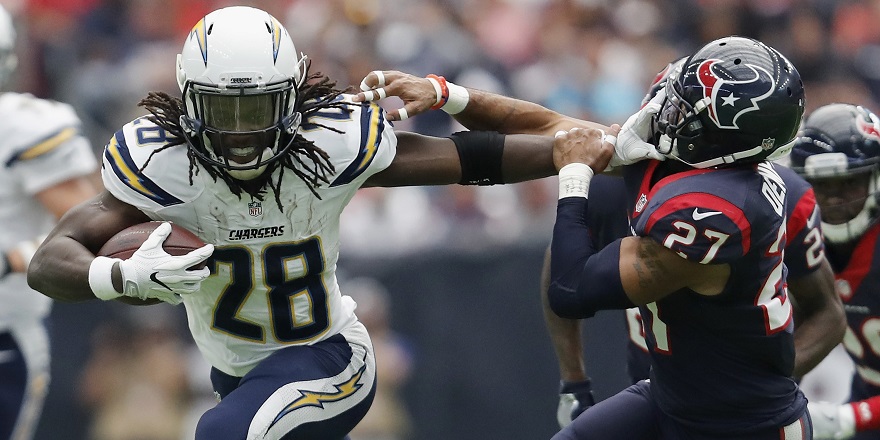 Wide receiver
1. Taylor Gabriel, Falcons
2015 season grade: 48.9
2016 season grade: 81.3
Another Falcon on the list, Gabriel made leaps and bounds this past season after leaving Cleveland for Atlanta. The change of scenery did wonders, leaving a below-average passing attack for the best in the NFL. He spent 78 percent of his snaps as an outside receiver, compared to 52 percent as a member of the Browns. This proved to do great things for Gabriel, as he dominated DBs after the catch on screens. In 2015, he gained just 0.88 yards per route run (tied for 83rd among 85 qualified WRs). With the Falcons utilizing his shiftiness and speed correctly, he nearly tripled his production on a per-route basis. His 2.45 yards per route run ranked third among WRs, just behind teammate Julio Jones and Bengals star A.J. Green.
2. Brandon LaFell, Bengals
2015 season grade: 47.2
2016 season grade: 75.7 
Brandon LaFell left Tom Brady in 2015 for Andy Dalton in 2016 and recorded the highest-graded season of his career. So what was different for LaFell in Cincinnati? The answer is rather simple: he dropped only two of 66 catchable passes, good for a 3.03 drop rate that ranked 14th of 96 qualified WRs. In New England, LaFell dropped 10 of 47 catchable passes, ranking dead last among WRs in that regard. It's true that he dealt with a foot injury in 2015, and that very well may be the reason he struggled so immensely after an encouraging 2014 season with the Patriots. Playing next to one of the NFL's best WRs in Cincinnati—A.J. Green—probably didn't hurt, either.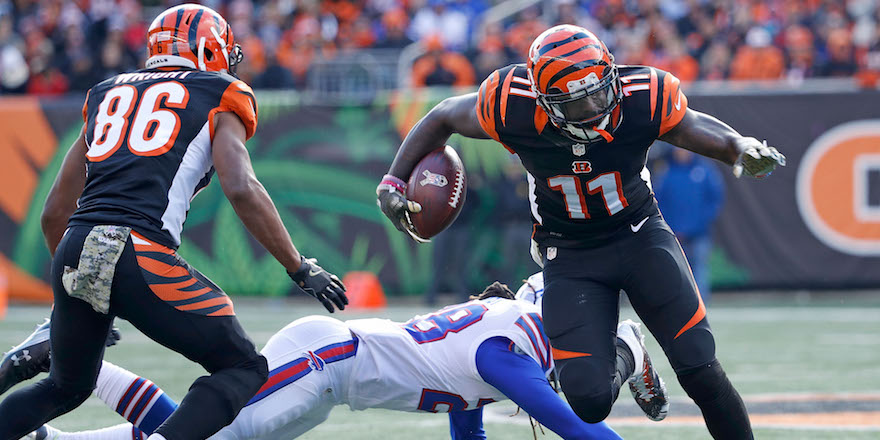 3. Dontrelle Inman, Chargers
2015 season grade: 49.4
2016 season grade: 77.6
After Keenan Allen went down in Week 1 with an ACL tear, the Chargers were short their team's best receiver. Needing playmakers to step up, Inman answered the call. In 2015, he split his time evenly out wide and in the slot. This past season, Inman spent 71 percent of his snaps as the outside WR. He seemed to prefer this, as his production on deep passes exploded. He was targeted seven times on deep passes without a single catch in 2015. A season later, he was targeted 13 such times, and he notched six receptions for 215 yards and a TD. The Chargers would be wise to utilize Inman more as a deep threat going forward to see continued improvement on his end. 
Tight end
1. Jared Cook, Packers (now with Raiders)
2015 season grade: 52.6
2016 season grade: 79.9
Cook left the Rams and joined the dynamic Packers' offense in 2016. While he saw some drop-off in production as a run-blocker, he became a reliable target for Aaron Rodgers down the stretch. Only Travis Kelce earned a higher receiving grade than Cook from Week 14 on. The biggest difference for the former Green Bay tight end was his sure-handedness. In 2015, he dropped a staggering 10 of 48 catchable passes, finishing last in drop rate (20.83) among TEs. Cook made an effort to better his hands going into this past season, hauling in 30 of 32 catchable passes.
2. Vernon Davis, Redskins
2015 season grade: 56.6
2016 season grade: 73.3
Who said you can't make a comeback at age 33? Davis hit his stride in 2010 and kept running until 2013, never ranking worse than 14th among TEs in terms of PFF overall grade. When the 2014 season came along, however, he found himself ranked near the bottom of the league for consecutive seasons (63rd in 2014 and 47th in 2015). Then Davis came to Washington, and his career took a turn for the better. His blocking numbers stayed relatively steady, but it was his receiving numbers that saw a large uptick. In terms of yards per route run, Davis went from 1.14 (32nd) to 2.05, which ranked fifth among 40 qualified TEs this past season.
3. Travis Kelce, Chiefs
2015 season grade: 72.8
2016 season grade: 88.3
Arguably the league's best receiving TE, Kelce took his play to a whole new level in 2016. He didn't just see improvement from a receiving perspective, either—his blocking took a step up, as well. In 2015, Kelce surrendered three QB pressures on 52 pass-blocking snaps, leaving him in the middle of the pack in terms of pass-blocking efficiency (95.2). A year later, Kelce surrendered only one QB pressure on 32 pass-blocking snaps, finishing with a 97.7 pass-blocking efficiency that ranked 11th among 46 qualified TEs. On the ground, Chiefs RBs gained 6.1 yards per carry running to the outside of the TE. In 2015, they gained 5.3 yards per carry. On top of all this, Kelce nearly doubled his deep-pass production in 2016, as he caught five-of-five targets for 157 yards. If he continues to round out his game, he'll likely find himself as PFF's top-graded TE yet again in 2017.